Teen girl's life hangs by a thread after acid attack
Jadav Lal Das had been making wedding plans for his elder daughter, Samjhana Kumari Das, in the next few years. But Das's hopes were dashed when Samjhana, 18, and his younger daughter Sushmita Kumari, 15, were attacked with acid last Wednesday.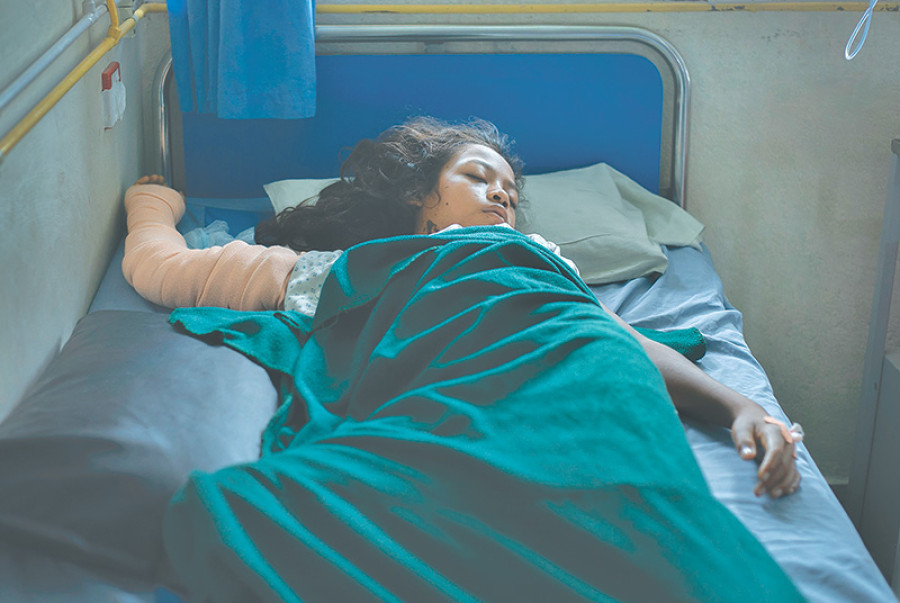 bookmark
Published at : September 17, 2018
Updated at : September 17, 2018 20:42
Kathmandu
Jadav Lal Das said he had been making wedding plans for his elder daughter. But his hopes were dashed when Samjhana Kumari, 18, and his younger daughter Sushmita Kumari, 15, were attacked with acid last Wednesday.
As Das recounted his plans for his daughters in an interview with the Post on Sunday, Samjhana was battling for life at the operation theatre of Kirtipur Hospital.
"I'm working day and night to provide for my family. Now, this tragedy has fallen upon us. What will happen to my daughters now?" an anxious Das said outside the operation theatre.
The acid attack on the two girls from Rautahat comes at a time when the entire country has been enraged over the rape and murder of 13-year-old Nirmala Pant of Kanchanpur, and the subsequent failure of law enforcement to find the culprits.
Samjhana and Sushmita were attacked with acid around midnight of September 12 while they were asleep at their home in Chandrapur Municipality. After having dinner together, Das left the home with his son to sleep at a local snooker pool house, which he owns. The pool house is only a few minutes' walk from his house.
A few hours later, as heavy rains beat down the corrugated zinc sheet roof over the pool house, Das got a call from his wife, asking him to come home immediately. When he reached his home, both of his daughters were screaming in pain.
"They had taken out the bulb from the verandah before breaking into the room where they were sleeping. This shows it was pre-planned," Das said.
According to Rautahat District Police chief Superintendent of Police Kedar Dhakal, the crime was motivated by revenge.
"We have not been able to nab anyone yet, but in most of the cases of acid attacks and setting fire to the victim, revenge remains as the major cause," said Dhakal.
The Das sisters were brought to Kirtipur Hospital the same morning as the district hospital didn't have the resources or facilities for treatment. According to Dr Surendra Jung Basnet, deputy head of the Plastic Surgery Department at Kirtipur Hospital, Samjhana suffered 35 percent burn, from her head to her abdomen, whereas Sushmita, the younger sister, received nearly 5 percent burn, mostly injuring her hands.
"In Nepal, there is a high chance of death when there's 40 percent burn because treatment becomes difficult due to insufficient skin to replace. It is also difficult to find donors," said Basnet.
Doctors have already performed two surgeries on Samjhana. They told the Post that the 18-year-old is still in danger because of the health complications that start appearing later in burn cases.
"Acid burns have deeper impact on skin and organs. Burned skin slowly starts deteriorating, increasing cases of infection and other complications like chest and kidney damage," said Basnet, adding that the government assistance could help the Das family in treatment.
Das, who came to Kirtipur with only Rs20,000, says he's had to spend over Rs200,000 for the treatment. Two organisations have supported the family with Rs45,000, while a neighbour provided Rs50,000 as assistance. The rest of the expenses have been managed as loan.
"If anyone had any animosity with me, then they should have harmed me, not my innocent daughters. They had not done anything [wrong]," Das said as he fought back tears.
Responding to a petition filed by the Forum for Women, Law and Development in June last year, the Supreme Court had ordered the government to provide immediate financial support for victims of acid attacks and burns to cover their expenses.
The new Criminal Code also includes a strong provision for compensating the victims as well as punishing the perpetrator of such crimes. According to Ramesh Dhakal, spokesperson for the Law Ministry, the perpetrator will be sentenced to jail for up to eight years and fined a maximum of Rs500,000 if the victim's face is damaged in acid or any chemical attack.
For damage to any other parts, the culprit will be jailed for three years with a fine up to Rs300,000. These amounts are given to the victim as compensation.
"For this, the victim has to file a case and the court order the compensation amount from the perpetrator once s/he is identified," said Dhakal.
Meanwhile, the victim can access financial support for immediate treatment from the Gender Violence Fund under the Ministry of Women, Children and Senior Citizens. "They can also approach the ministry to get immediate relief for treatment," said Dhakal. But Das said no one, including the hospital staff or members of law enforcement, told him he could get financial support from the government to save his daughters. "No official has come forward to help," Das said. "And I don't know how to reach them."
---
---