Tourism board, Everest region lock horns over new trekking rule
Guideline says foreigners cannot visit national parks and conservation areas on their own.

The tourism board is set to pass the rule on Thursday, to be in effect from Saturday. Post File Photo
bookmark
Published at : March 30, 2023
Updated at : March 30, 2023 07:43
Kathmandu
The Nepal Tourism Board and local authorities in the Everest region are at loggerheads over a proposed rule requiring foreign trekkers to be accompanied by a Nepali guide or porter.

A new guideline prepared by the national tourism promotion body says foreign trekkers should visit Nepal's national parks and conservation areas only through a government-registered trekking company.
Visitors also have to obtain a trekkers' information management systems (TIMS) card.
The tourism board is set to pass the rule on Thursday, and it will come into effect from Saturday while local authorities have threatened to go to court to have it cancelled.
A copy of the guideline obtained by the Post says a trekker found travelling on designated trekking trails without a guide or TIMS card faces a Rs12,000 fine.
A trekking company taking trekkers on trips without a TIMS card will be fined Rs10,000 per trekker.
Officials stationed at the check posts will receive 20 percent of the fine money for stopping illegal trekkers as a special encouragement allowance, according to the proposed guideline.
The guideline says the TIMS card is not required for those holding expedition permits for climbing mountains.
Tourists visiting restricted areas with permission from the Department of Immigration do not require the card either.
Foreign visitors travelling to the mountains or restricted areas for sightseeing by helicopter are exempt too. But they need to have a TIMS card and guide if it is a one-way trip.
Two or more than two foreigners travelling to mountain regions by two- or four-wheeler do not need a guide, but they should possess a TIMS card.
A foreigner travelling alone by vehicle needs to have a TIMS card and guide, according to the proposed guideline.
A foreigner travelling by mountain bike should possess a TIMS card and guide.
Officials of diplomatic missions and development partners and their families will be charged Rs500 per TIMS card. It is not required if they are going on an official visit.
Trekkers from the SAARC region have to pay Rs1,000 per card and trekkers from third countries are charged Rs2,000 per card.
TIMS cards are also available online, and they are valid for 90 days, according to the guideline.
Trekkers below the age of 10 do not require a TIMS card but their personal information will be stored online.
TIMS cards and guides are not necessary for areas that are easily accessible by motor vehicle and are risk-free, including hiking routes.
"We have created a new provision requiring trekkers to go through a trekking company. The trekking company will arrange a guide or porter for them," said Mani Raj Lamichhane, director of the Nepal Tourism Board. "The objective is to ensure the safety of trekkers."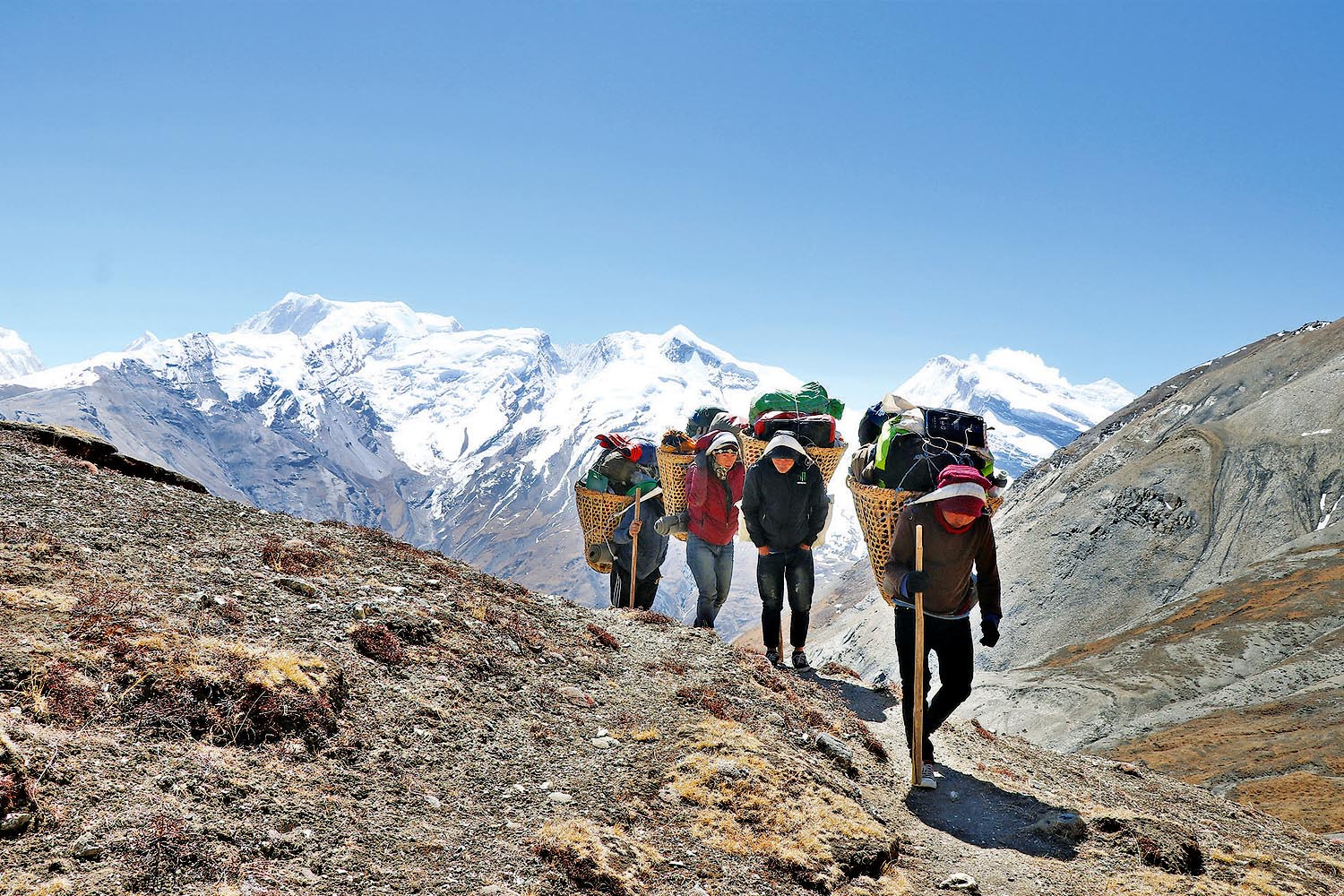 Photo courtesy: Prem Rai
The guideline contains a list of 44 trekking trails in Kanchenjunga, Makalu Barun, Everest, Rolwaling, Panchpokharai Bhairavkunda, Helambu, Langtang, Ganesh Himal-Ruby Valley, Manaslu, Annapurna, Mustang, Dhaulagiri, Dolpa and Humla where trekkers must be accompanied by a guide.
Local authorities in the Everest region have strongly opposed the new guideline saying that it limits the right of free movement of foreigners.
On Sunday, Khumbu Pasang Lhamu Rural Municipality issued safety information for trekkers which says, "While it is not mandatory to take a guide while trekking in the Everest region, we highly recommend taking one, especially when you are trekking in high altitude zones and high passes. They help troubleshoot, are a conduit into the local culture and keep you safe."
Mohan Prasad Chapagain, chief administrative officer of the municipality which has jurisdiction over the Everest region, told the Post, "We have not restricted solo trekkers in the Everest area."
Laxman Adhikari, chairman of Khumbu Pasang Lhamu Rural Municipality Ward No 4, told the Post that the decision curtails trekkers' free movement. "We oppose the Nepal Tourism Board's decision."
Khumbu Pasang Lhamu Rural Municipality started collecting trek card fees from foreign trekkers from October 2017 by exercising the powers granted by federal law.
As per the Intergovernmental Fiscal Arrangement Act 2017, a local government may levy and recover tax and non-tax revenues in accordance with local law.
"The tax raised by the Nepal Tourism Board and non-governmental organisations like the Trekking Agencies Association of Nepal is illegal as per the law," said Adhikari. "So the tax or royalty collected through the TIMS card is naturally illegal."
According to him, they have written to the Tourism Ministry in Kathmandu about the decision. "If the decision is not withdrawn in the case of the Everest region, we will go to court."
Lamichhane insisted that the decision would apply to all trekking areas.
Nepal's private travel and tourism bodies, particularly the Trekking Agencies Association of Nepal, have been lobbying for a one-trekker, one-guide system, since 2012.
Nilhari Bastola, president of the Trekking Agencies Association of Nepal, told the Post in a recent interview that making guides mandatory for solo trekkers would not only increase employment, but also ensure safety.
He said that the mandatory guide provision would provide new jobs for 40,000 Nepalis. "It will not create any big financial burden for trekkers as a guide's fee ranges from $25 to $50 per day, depending on the distance."
The United States Embassy in Nepal has also issued a travel advisory advising all travellers to avail themselves of information regarding local rules and requirements prior to travel.
"The US Embassy has long maintained a 'Do Not Trek Alone' warning for American travellers to Nepal and that position remains unchanged," the embassy said in its travel advisory issued recently.
Every year, some 10 to 15 trekkers go missing, mostly sole trekkers, said Bastola.
Nepal Tourist Police said three to four foreigners go missing annually on different trekking routes.
According to the Tourist Police, they are currently searching for five missing trekkers from South Korea, India, Israel, Jordan and Malaysia. Among them, four have been missing from last year while a Malaysian trekker has been missing since 2015.
During the pre-Covid period, Nepal received 1.19 million foreign tourists. Among them, more than 300,000 went trekking in the Himalayan foothills.
Nepal's Tourism Ministry statistics show that the Annapurna area is the most popular trekking zone receiving the highest number of 181,746 trekkers. According to government statistics, the Everest region receives over 57,000 trekkers annually.
---
---