Crumbling jungle villas hark back to golden safari era
In 2012, the government removed luxury jungle resorts inside Chitwan National Park citing possible harm to its ecology. They want back in.

Sangam Prasain/TKP
bookmark
Published at : February 18, 2023
Updated at : February 19, 2023 11:19
Taking a round staircase one floor up, you enter the living area provided with natural furnishings. The bedroom and balcony offer landscape views of the jungle.
You are in Temple Tiger resort inside Nepal's first national park—Chitwan National Park–that reconnects you with nature and wildlife. The luxe tree houses and villas used to offer vacation experiences with eco-conscious ethos a decade ago.
Not so anymore. The independent villas built on stilts four feet above the ground with clay plaster walls are now falling apart.
The doors and windows are sagging. The black tin roof has disintegrated into a mess. The modern bathroom inside the villa looks intact. Almost all the villas have been overgrown with bushes.
Abandoned to its fate after being banned by the government, the resort has been overtaken by the jungle—and now shelters snakes and wild animals.
In 2012, the government announced the closure of luxury jungle safaris inside the protected zone citing possible harm to the park's ecology, and issued eviction notices to all seven luxury resorts there.
Basant Raj Mishra, chairman of Temple Tiger Resort, had only one thought on his mind: How to feed the elephants? How to bring high-end tourists?
Mishra quickly went to work building similar villas outside the park.
"The old villas are more attractive. They give a feeling of adventure—living inside the jungle," said Lillian Jean Delmonico, 71, from the United States, who regularly visits the Temple Tiger Resort in Nawalparasi, now Nawalpur.
"This is my fifth visit. In Nepal, it is like living an adventure."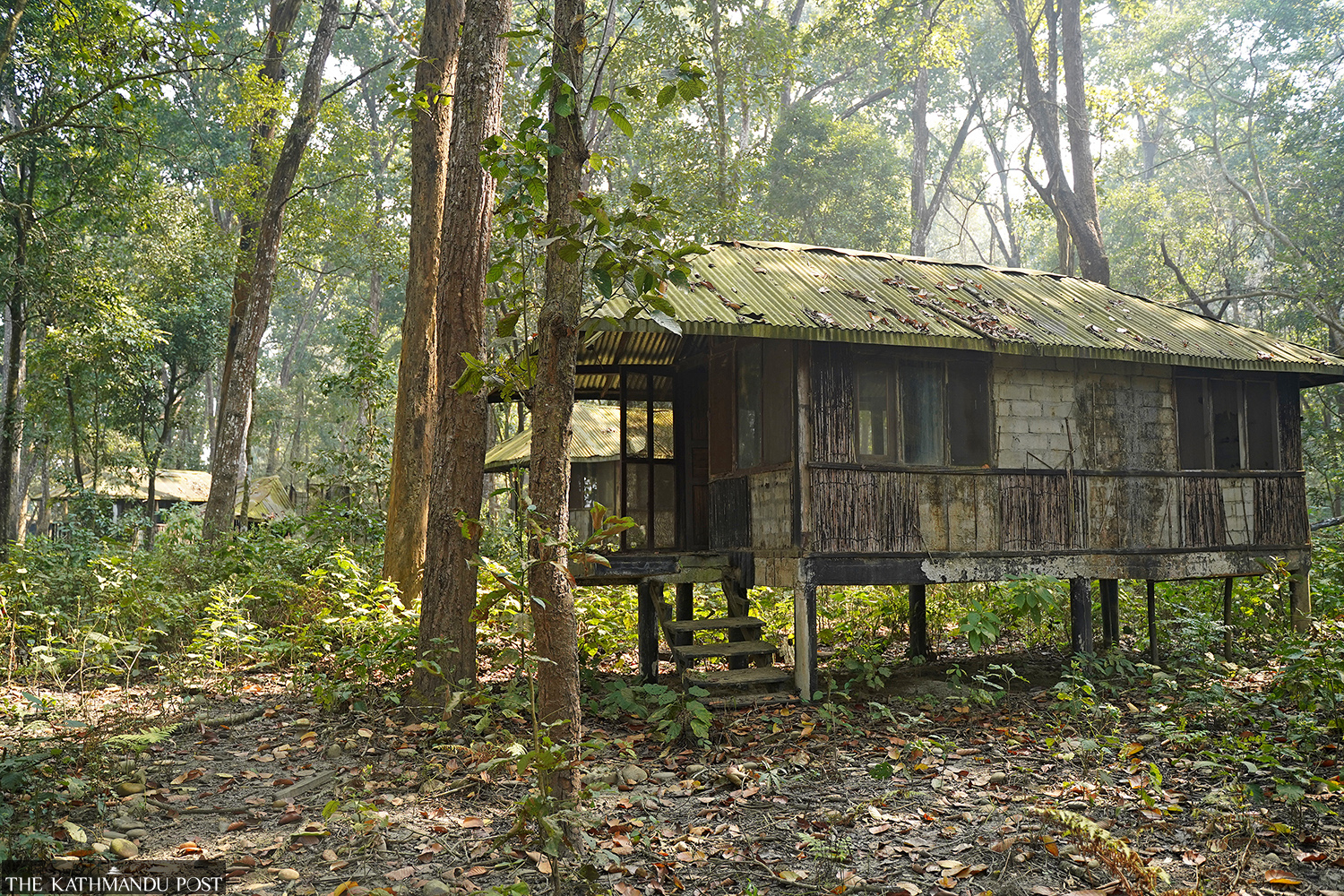 Angad Dhakal/TKP
All six resorts, namely Tiger Tops Jungle Lodge, Machan Wildlife Camp, Chitwan Jungle Lodge, Gaida Wildlife Camp, Island Jungle Resort and Temple Tiger Hotel are now operating outside the park after being told to clear out. Narayani Safari is located outside the park.
There are many safari resorts now, more than 300 in Chitwan and Nawalparasi.
The national park is home to 70 species of mammals, 49 species of reptiles and amphibians, 541 species of birds, 120 species of fishes and several species of invertebrates.
The park is especially renowned for its protection of the one-horned rhinoceros, Royal Bengal tiger and gharial crocodile. Tourists go on elephant and jeep safaris to observe the wild animals.
A new attraction for sightseers is the decades-old jungle safari villas disintegrating peacefully in the middle of the jungle, reminders of glory days gone by.
"It's one of the products that visitors want to learn about and observe," said Ishwari Thainat Chaudhary, a guide at Temple Tiger. "They take photos, make TikTok videos and spend almost an hour observing these old structures."
Many have started to call them museums.
"The properties, however, are decaying. They need to be conserved. They are a decades-old legacy," said Chaudhary.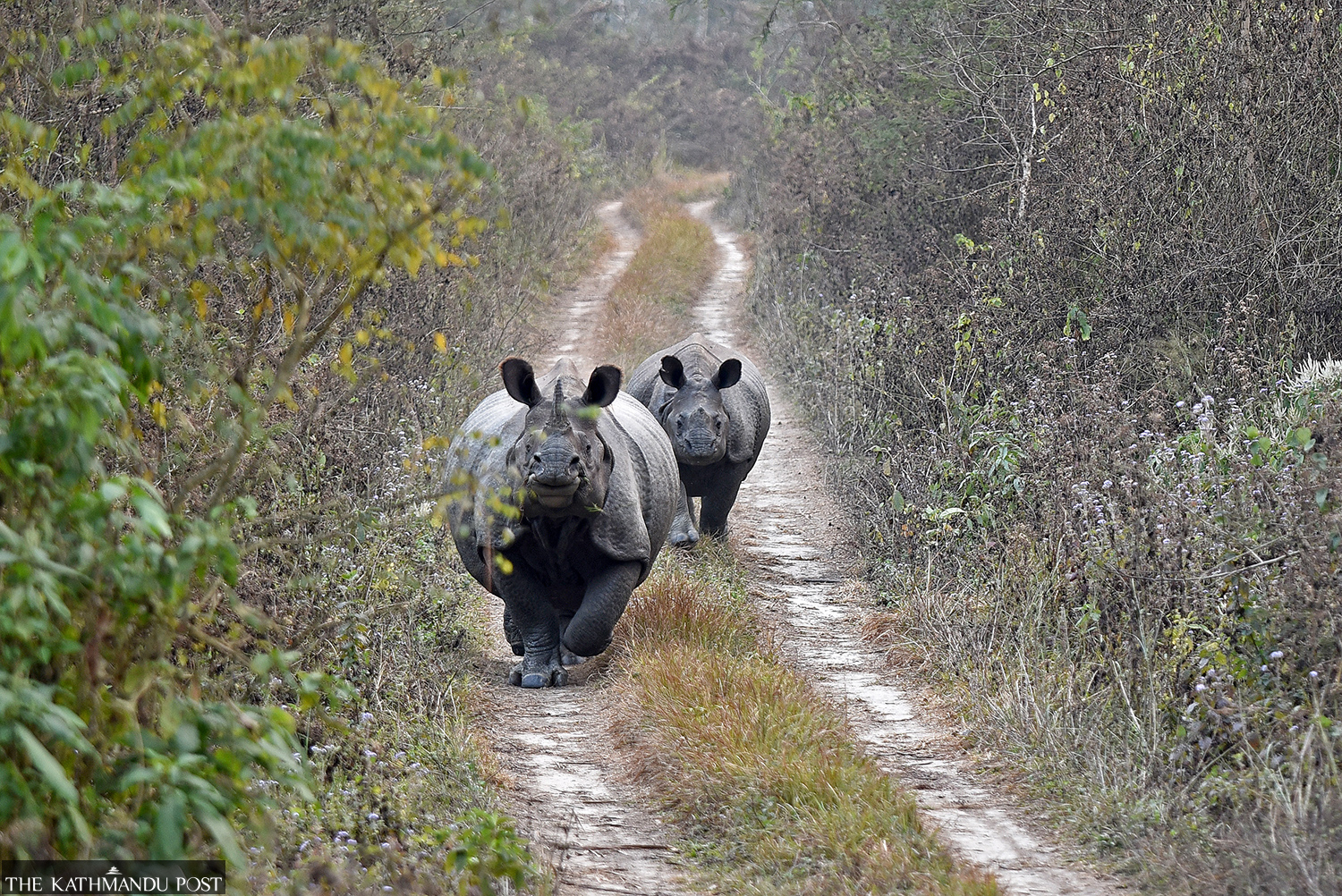 Angad Dhakal/TKP
Then known as Royal Chitwan National Park, the wildlife sanctuary was established in 1973, and received the status of a UNESCO World Heritage Site in 1984.
The path-breaking jungle resort, Tiger Tops Jungle Lodge, was founded by British tourism entrepreneur Jim Edwards in 1964, nine years before Chitwan National Park was established. More resorts opened in the 1980s and 1990s.
"Operating a lodge within a protected wildlife area differs greatly from being positioned outside. The jungle experience cannot be recreated artificially, no matter how expensive or how many stars your hotel has," said Jack Edwards, director of Tiger Tops, the youngest son of Jim Edwards.
"True wildlife enthusiasts know this and are willing to pay very good money for the privilege of living in the wild. Since we were removed, the rates of high-end properties have not increased, in fact, the average price in the luxury segment has come down since 2012."
He said that the Tiger Tops brand is still well-regarded in the travel industry.
"It is one of Nepal's few true internationally recognised brands. The government should permit us to resume operations as opposed to conserving them."
The lodges have given up hope that they will be allowed inside again.
"But there is always a hope," said Mishra, executive chairman of the Temple Tiger Group.
"Not only us, the park's budget also depends on tourism. Without that income, taking care of the rhinos, tigers, deer, bears and crocodiles and conserving the park that spreads over 952.63 sq km too will suffer."
Nepal was a pioneer in wildlife tourism in Asia, and successful wildlife conservation was the key reason behind the large number of high-end safari-goers.
"Because we were inside the national park, it greatly contributed to anti-poaching efforts and tracking rogue predators," said Mishra.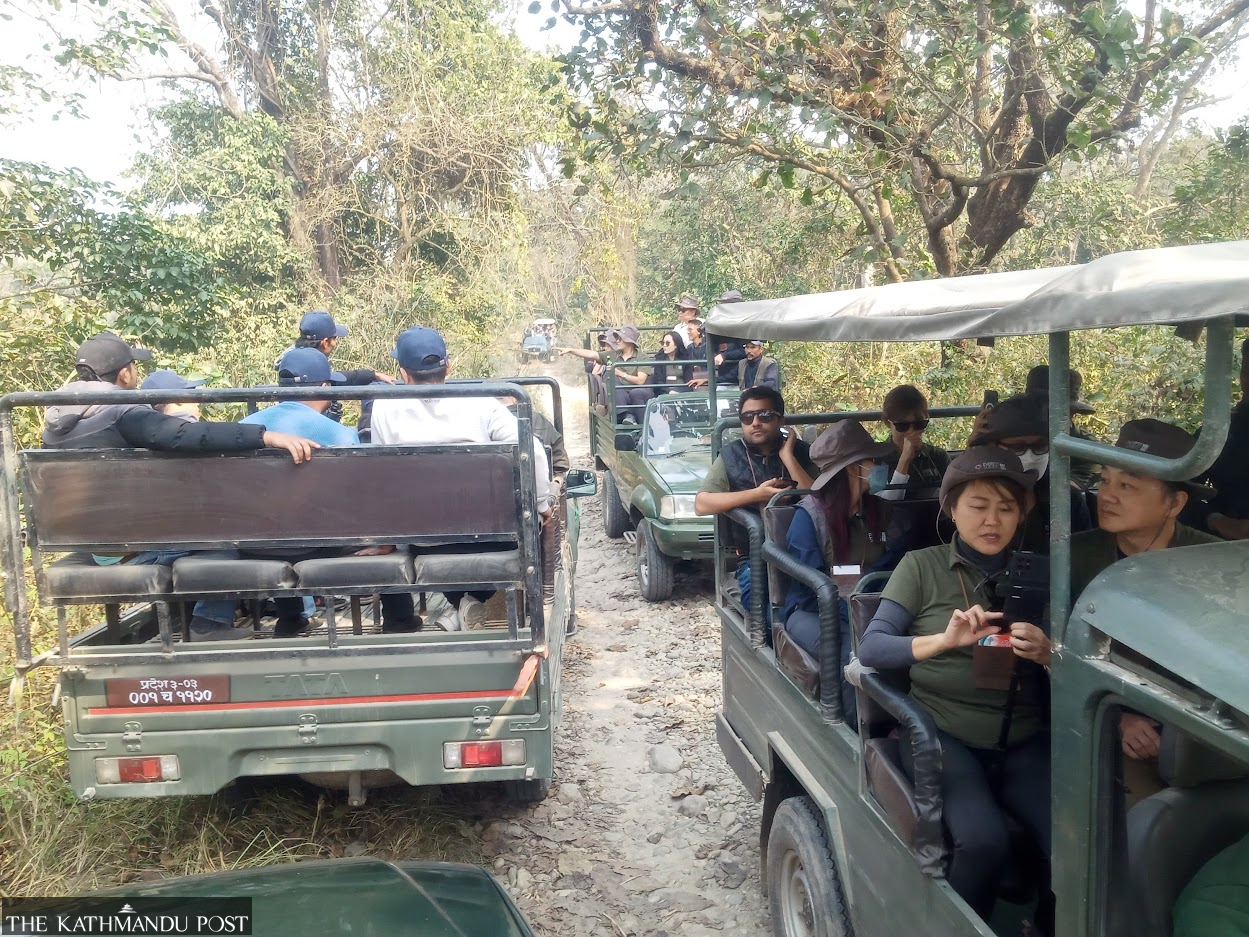 Sangam Prasain/TKP
Ramprit Yadav, who was head warden of the country's best-known Chitwan National Park for over two decades, said the government should give these resorts special importance as they made the park globally popular.
"They are still waiting to operate inside the park. They should be allowed to enter the national park with strict laws. We should not forget their contribution to high-end tourism and conservation, especially Tiger Tops. They were the ambassadors of Nepal's luxury tourism."
According to Yadav, these jungle resorts were allowed to operate within a 12 km radius of each other to prevent overcrowding.
Maheshwar Dhakal, director general of the Department of National Parks and Wildlife Conservation, said that the government was positive about reopening Chitwan National Park to luxury resorts.
"New regulations are under discussion," he said. "We want to make the process more transparent. We have planned to call for open bids, allowing equal access to potential operators. The new regulations will regulate them and determine how many should be allowed."
But work on the new regulations has stopped due to frequent changes in government.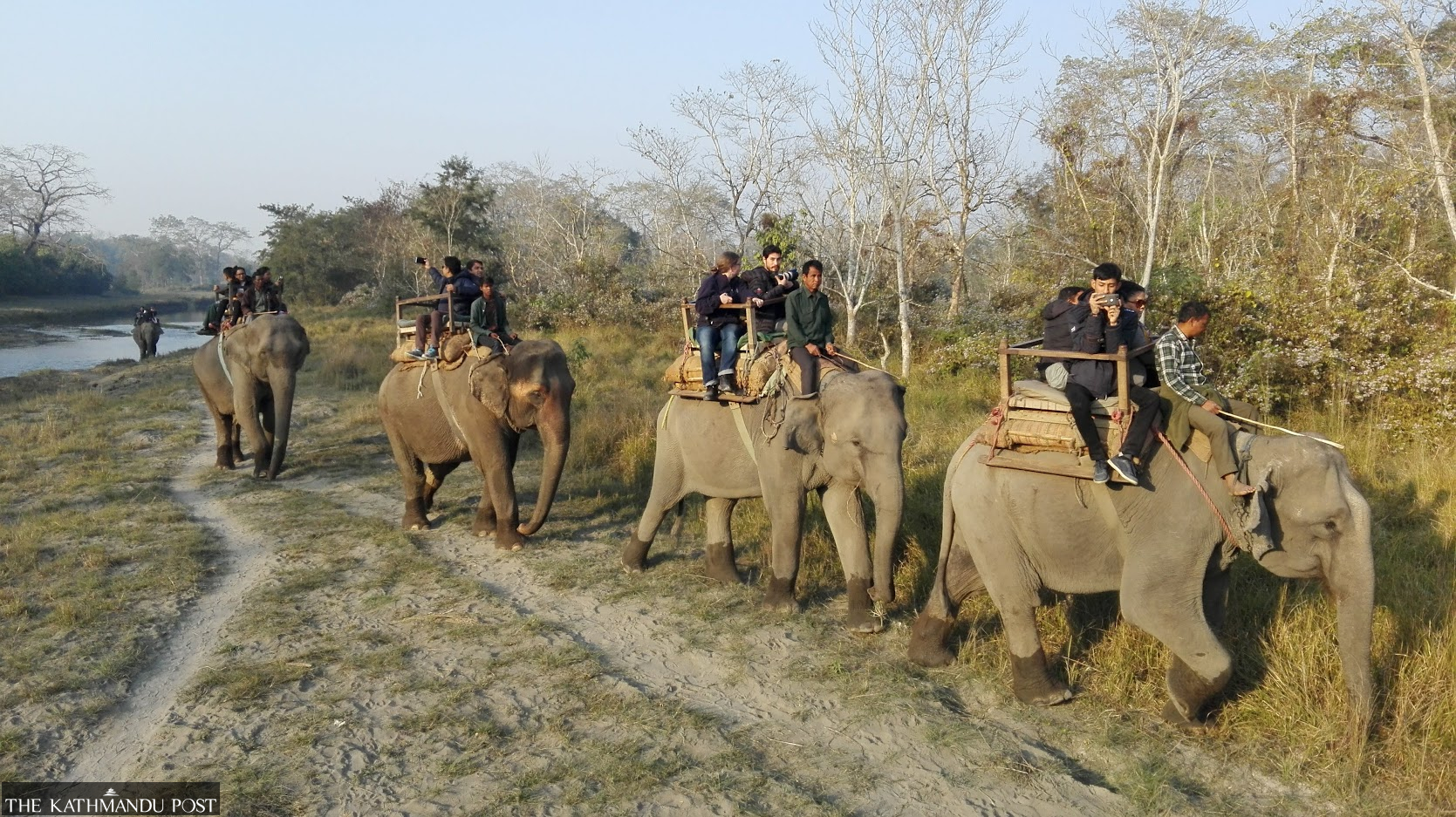 Sangam Prasain/TKP
In the 1960s, Tiger Tops took the first steps to establish national parks in Nepal and shoot tigers with cameras instead of rifles. Since then, it has been continuously working for wildlife conservation in Nepal.
In 2016, Tiger Tops joined forces with world-renowned elephant welfare expert Carol Buckley from Elephant Aid International to introduce a new way for tourists to experience one of the most magnificent creatures of the jungle, the Asian elephant. It stopped elephant-back safaris.
"We currently have 12 elephants. We feed them by purchasing fodder and grazing them on both private and community land," said Edwards.
"We believe that riding elephants can be done in a responsible way. Compared to providing rides, our new concept is more enjoyable for both our clients and elephants. We are unlikely to return to elephant riding."
Mishra says the government does not allow elephant trade.
"We cannot sell them. We have to feed them. We admire the elephant welfare groups that have been lobbying to stop elephant safaris. Riding elephants can be done in a responsible way. We can reduce the number of passengers per elephant from four to two," said Mishra.
"This way, we can earn and give them food and medicine. Otherwise, it's very expensive to feed these jumbos."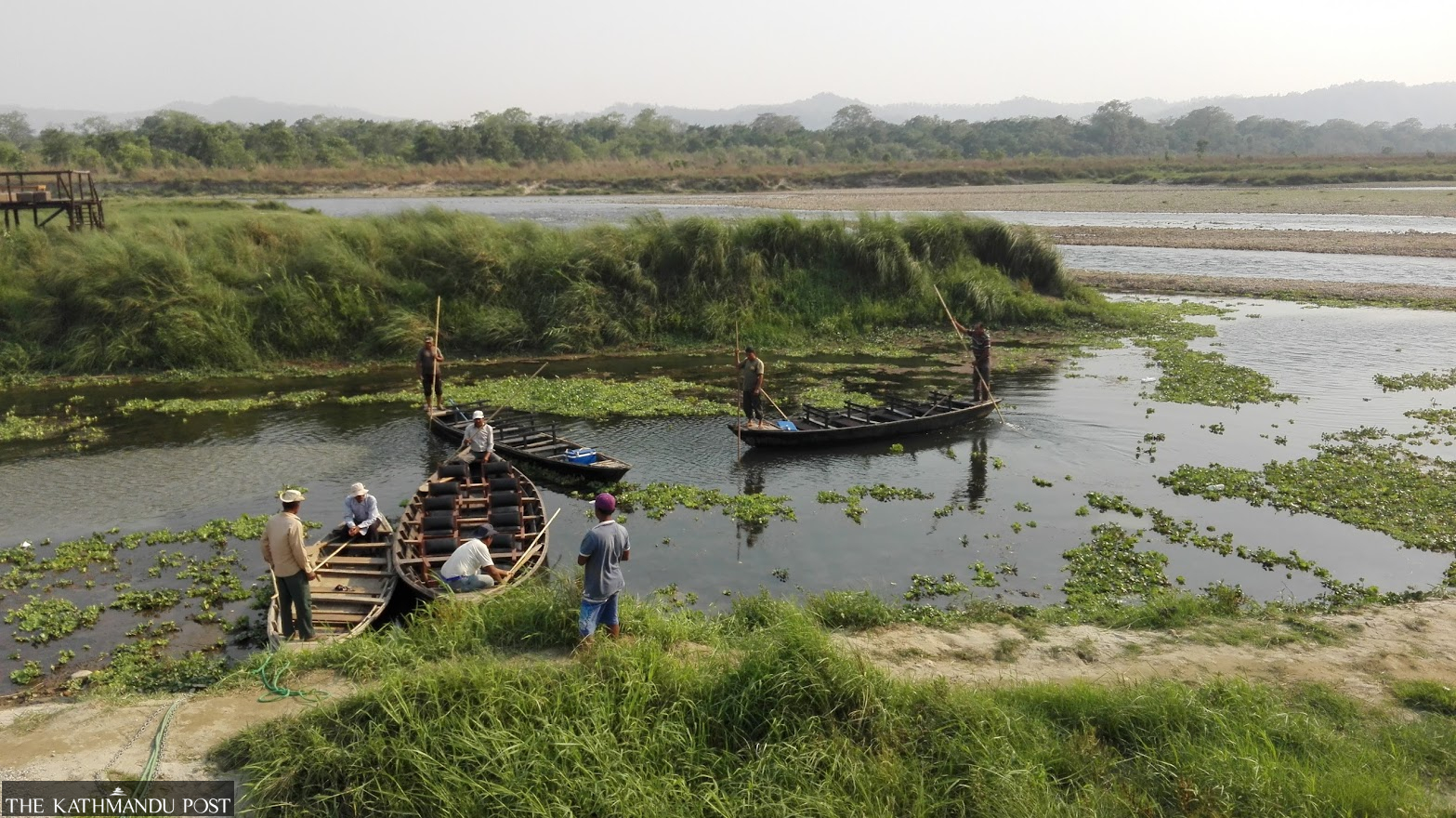 Sangam Prasain/TKP
Jungle safari operators are concerned by the frequent changes in national park policy. "This year, we got a permit to operate jeep safaris after five months while in other areas, the permits were issued after three months," said Mishra.
"We were assured by the park that they would issue the permit for jeep safaris in September. But actually, we got it only on January 24. We don't know why the park authority was indifferent to us. We need a uniform law."
Chitwan National Park is closed during the monsoon—June to September—because of the rains as the roads inside the park become impassable.
There are three key entry points for safaris—Sauraha and Kasara in Chitwan and Amaltari in Nawalpur.
"The Supreme Court has issued a directive that suggests to the government to reopen our properties. We are waiting for the government to take action," said Edwards.
---
---