Farmers' income waxing in Myagdi from beekeeping
Those engaged in the occupation say they are now able to send their children to better schools in cities and towns.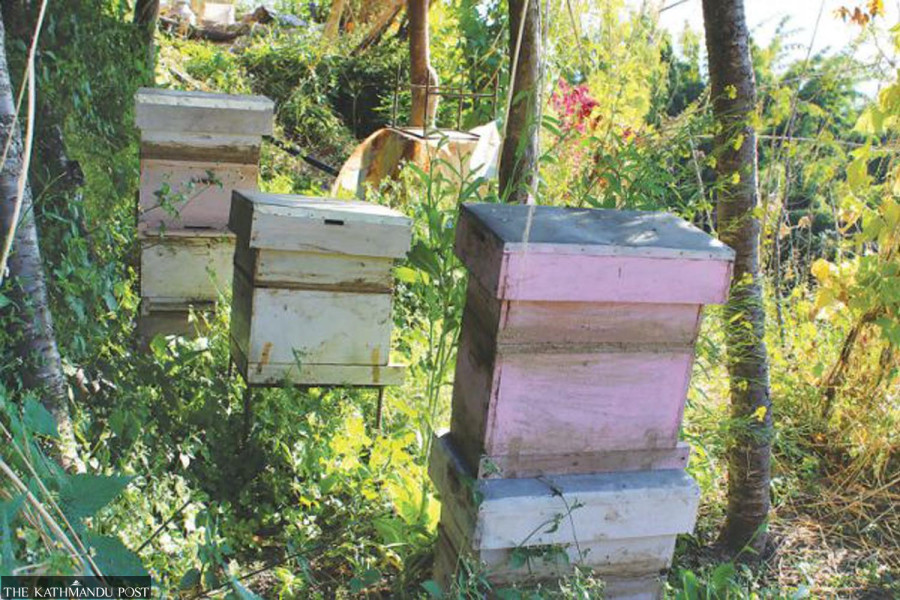 The price of honey in the district ranges from Rs1,500 to Rs1,700 per kg. GHANSHYAM KHADKA/TKP
bookmark
Published at : December 9, 2022
Updated at : December 9, 2022 07:55
Myagdi
Former migrant worker Govinda KC had turned to beekeeping to use his leisure time productively, but then became a full-time farmer after he started making good money selling honey.

KC, who lives in Myagdi district in the hills of western Nepal, says he earns Rs1.2 million to Rs1.5 million annually from his hives.
Returning home after a stay of 10 years in Saudi Arabia and Iraq as a migrant worker, KC joined a beekeeper training programme to keep himself occupied.
"I took beekeeping training from the then Agriculture Development Office to start commercial honey production about 10 years ago. I make Rs1.2 million to Rs1.5 million annually by selling honey and hives containing bees," KC told the Post.
"My knowledge of producing queen honey bees is the x factor that has boosted my income," said KC who lives on his farm in Kuhu in Mangala Rural Municipality Ward 1 with his hives and a few head of cattle.
KC is not the only one making a good income from beekeeping in the district. Surkemela in Beni Municipality Ward 6 and Dadhuwa in Beni-5 are also buzzing with bee hives. The bee farmers here take home around Rs1 million each annually.
As beekeeping has become a highly lucrative business, more farmers have started commercial honey production in recent years.
Bee farmers extract and sell their honey by mid-October, and then move the hives to the mustard fields to graze the bees.
"Besides selling honey, many farmers also sell hives with honey bees," said Dil Bahadur KC, another bee farmer. "I sell at least 200 beehives annually."
The production of queen honey bees using modern technology has made it easier to produce more honey bees, according to Dil Bahadur. "I decide whether to produce more honey or more beehives depending on the advance orders from the municipality and local agricultural groups."
With demand for honey bees rising, large beekeepers have been selling more hives than honey. Some of them earn more than Rs2 million annually.
The farmers say they have no problems selling the honey or honeybees because the buyers pay them in advance. "There is more demand for honey produced in rural areas," they say. "People can buy extracted honey or a honeycomb during the extracting season."
The price of honey in the district ranges from Rs1,500 to Rs1,700 per kg.
While it costs Rs3,000 to Rs3,500 to make a modern beehive, farmers have been selling a hive containing bees for as much as Rs10,000.
Abundant forests, warm and sunny climate and ample pastures make the district suitable for beekeeping.
While traditional beekeeping can be seen in almost every settlement, Surkemela, Rakhu Orange Pocket Area, Dadhuwa, Kuhu, Thaiwang, Bharjula and Rakhu villages are known for commercial honey production.
According to the data of the Agriculture Knowledge Centre in the district, more than 25 tonnes of honey is produced in the district annually.
The bees spend more time breeding than making honey during the period mid-November to mid-February. In mid-March, farmers again extract the honey and divide the colonies.
Honey is extracted from the hives three times a year–in mid-October, mid-March and mid-June, according to the farmers. A hive yields 4-5 kg of honey at a time.
Farmers who sell beehives do not extract the honey in mid-March, but divide the colonies in order to increase the number of hives.
The then Agriculture Development Office had declared a dozen settlements including Potlekhet, Piple, Daduwa, Ghaar, Bhakimli, Kuhu and Bharjula as beekeeping pocket areas by forming a farmers' group with more than 140 members.
The federal restructuring of the state has created difficulties for the pocket area and the development of apiculture.
According to the agriculture division of Beni Municipality, only 90 farmers in the municipality are engaged in beekeeping. Around half a dozen beekeepers from Surkemela, Dadhuwa and Kaulegauda produce around 550 kg of honey annually.
"We were in a dilemma for a few years, but from last year, we started distributing beehives containing honey bees at 50 percent discount to farmers through the ward offices," said Aakriti Dhungana, head of the agriculture division of Beni Municipality.
"Besides continuing the distribution of beehives, we have also prepared a programme to provide basic beekeeping training."
Farmers produce the queen honey bee (Apis cerana, the Asian honey bee) using modern technology.
"We learnt to produce the queen bee at the Agriculture Knowledge Centre. But I am not aware of programmes being conducted for the development of beekeeping," said Ramkumari Khatri, proprietor of Siddhibinayak Beekeeping Centre.
"Beekeeping has made us financially capable of sending our children to schools in Kathmandu," added Khatri, who is the only woman bee farmer in the district.
---
---