Bridges yet to be built 3 years after road was completed
Lack of river crossings has made life difficult—and dangerous—for the residents of Dolpa, eastern Jajarkot and northern Rukum.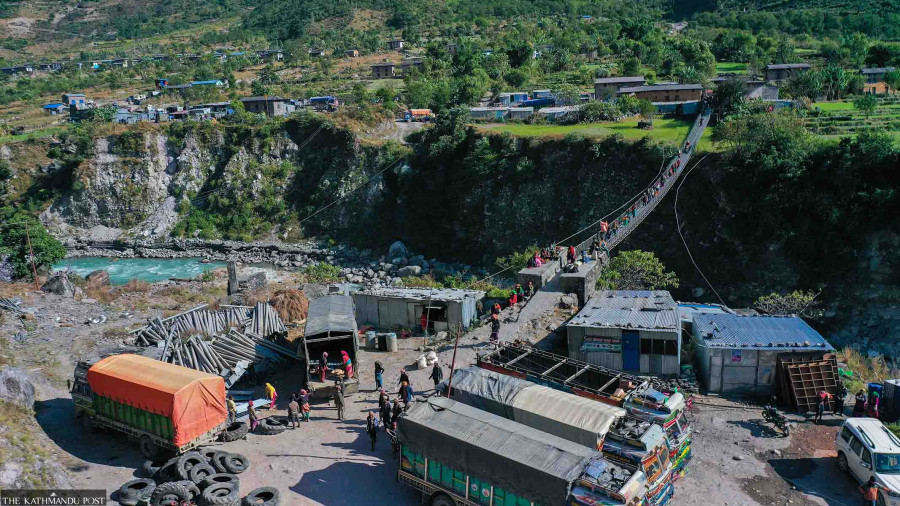 Lack of a permanent bridge in the area has made freight charges extremely high. POST PHOTO: HARIHAR SINGH RATHORE
bookmark
Published at : December 1, 2022
Updated at : December 2, 2022 08:04
Jajarkot
The completion of a road linking Dolpa and Jajarkot has brought little cheer to locals because of the absence of bridges. The 118-km road was completed three years ago, but the contractors are yet to build five bridges which means porters still have to carry goods on their backs.

Lack of river crossings has made life difficult—and dangerous—for the residents of Dolpa, eastern Jajarkot and northern Rukum, three remote districts in western Nepal.
One Bailey bridge at Chaukha in Ragda of Jajarkot district; three concrete bridges at Khadang, Kabargad and Tripurakot Bagar; and another Bailey bridge at Rupgad in Dolpa remain to be built. Workers have only laid a simple foundation at the construction sites.
The completion of concrete bridges at Holu Khola, Rimma and Chisapani in Jajarkot, and Bailey bridges at Kaina Khola and Nalgad, has facilitated transportation immensely, but locals continue to face hardships because of delays at other sites.
Transportation is expensive, and this has pushed up the cost of everything for residents who are mostly poor.
"The price of cement in Dolpa is more than double what it costs in Jajarkot. Cement costs Rs3,500 per quintal in Dolpa while you can buy it for Rs1,600 in Jajarkot. The price of a bundle of tin roofing sheets costing Rs11,000 in Jajarkot goes up to Rs18,000 when it reaches Dolpa. Eggs cost Rs500 per crate, sugar Rs130 per kg, lentils Rs200 per kg and rice Rs100 per kg," said Tej Prakash Buda, a local businessman of Dolpa.
"Lack of bridges has made transportation tremendously difficult and expensive. Because of the high price tags of the goods, there is very little profit for traders," he said.
The government has awarded a contract to build a Bailey bridge at Tallu Bagar over the Bheri River. This bridge connecting Jajarkot and western Rukum is of vital importance because it links Dolpa with the national road network.
Lack of a permanent bridge in the area has made freight charges extremely high. Residents of the three districts have to pay more for all their needs despite having a road connection.
The government had awarded the Rs38.5 million contract to Him Sagarmatha Khadka Krishna JV last December with a completion deadline of June this year. But workers have only finished building the foundation at one end and erecting a pillar in the middle.
"Because of the very slow pace of progress, the contractor was summoned to the office and told to finish the remaining work by mid-January next year," said Ashutosh Karna, head of the Road Division Office at Chaurjahari.
"The construction of Rupagaad bridge near Dunai, the headquarters of Dolpa district, has also been terribly slow. It was supposed to be completed by mid-April this year," said Karna.
"Locals have also been suffering due to the delay in the completion of a bridge over the Bheri River linking Nalgad Municipality-11 of Jajarkot and Aathbiskot Municipality- 6 of Western Rukum," said Jayakrishna Hamal, a local of Thulibheri Municipality of Dolpa.
"The road has been completed, but we haven't been able to feel that we have a road because there are no bridges. There are nearly five dozen rivers on the road segment. There is no bridge even over the Bheri River. Porters have to carry the goods across the suspension bridges and reload them on the vehicles waiting on the other side of the river," Hamal said.
Vedanidhi Adhikari, chief district officer of Dolpa, said that locals have to take the vehicles across rivers over unsafe wooden bridges as a bridge at Rupgad of Thulibheri Municipality remains unfinished.
"The bridge is important to connect the district headquarters Dunai with Jufal and the Bheri Corridor," said Adhikari. "Market access for local products like apple, Himalayan aromatic herb and other herbs have been difficult, and local traders have been bringing in daily essentials by paying exorbitant truck charges."
According to Adhikari, it costs as much as Rs80 per kg to transport goods from Nepalgunj to Dunai.
"Porters charge up to Rs40 per kg to carry goods across suspension bridges. All construction materials have to be transported over the same road, and delays in delivery and high costs are major problems," said Harichandra Budha, a local trader of Dolpa.
"The government has already awarded a contract to blacktop the road from Khalanga, headquarters of Jajarkot district, to Nalgad Municipality-11, and it is sad that the bridge is yet to be built," Budha added.
Local activist Rajendra Bikarm Shah claims that road improvement work has been moving ahead very slowly too, not only bridge building. "Delays in building bridges and upgrading roads have slowed down the construction of a service track for the Jagdulla Hydroelectricity Project," said Shah.
Karna, chief of the Road Division Office, said that the remaining four bridges in the Bheri Corridor would be completed by mid-May next year.
"The construction materials have been stored in Surkhet and Nepalgunj, and the contractors have been told to transport them to the project sites and finish them as soon as possible."
The Dolpa-Jajarkot road is part of the Bheri Corridor. It was built by the Nepal Army and handed over to the Nepal government three years ago.
The Road Division Office had then commenced the work of road upgradation and bridge construction.
"The process of issuing the contract for blacktopping the remaining portion of the road was started after completing an Environmental Impact Assessment and other related tasks. Yet builders have already received the contract to blacktop the road," said Karna.
"It has already been a year since the contract was issued, but the contractor has not begun even the most basic job," said local resident Bharda Bohora.
The construction of the strategically important road connecting Pasagadh, Jajarkot with Dunai, Dolpa began in 2008. Work stopped for two years because of a design conflict, and resumed after it was sorted out.
---
---