Directive to prioritise local workforce stems from lack of understanding, experts say
If the government wants to replace foreign workers, observers stress the need to produce skilled manpower first when Nepali youths are leaving the country in droves.

Nepal has a small skilled workforce. Post Photo
bookmark
Published at : August 5, 2022
Updated at : August 5, 2022 06:48
Kathmandu
Lawmakers have asked the government to save employment opportunities in Nepal for Nepali youths so that they don't have to go off to foreign lands while foreigners take over local jobs.

The parliamentary Industry, Commerce, Labour and Consumer Welfare Committee on Monday directed the government to collect data on industrial workers in order to gradually replace the entire foreign labour force with Nepalis.
But experts say that's easier said than done, with some even calling it a political stunt to appeal to voters with tall promises of jobs ahead of the general elections. Nepalis go to the polls on November 20 to elect a new Parliament and seven provincial assemblies.
Estimates put the number of Nepalis entering the labour market at 500,000 annually. More than 80 percent of them fly abroad, mostly to the Persian Gulf and Malaysia, for the lack of adequate opportunities at home.
The International Labour Organisation says that a large number of the labour force, especially the youth, opts for overseas migration in search of higher income and dignity at work.
Nepal's unemployment rate has been estimated at 11.4 percent, according to the Nepal Labour Force Survey 2018-19 published by the Central Bureau of Statistics.
Manohar Ghimire, information officer at the national statistical body, said they don't have fresh data on unemployment.
Nepal has a small skilled workforce. The government has never been serious about producing skilled manpower, economists say.
Though the government announces creating thousands of jobs every year, the target has never been met.
The budget for the fiscal year 2020-21 aimed to generate more than 700,000 jobs through various programmes. In 2021-22, then finance minister Bishnu Prasad Paudel, through the budget, had announced plans to create 350,000 new jobs under the government's employment-related schemes and plans.
Every successive government has presented various plans to help encourage entrepreneurship and startups, but they remain on paper only.
The government has been unveiling programmes to promote youth entrepreneurship almost annually, but none of them has been implemented, according to the Auditor General's report published recently.
The directive of the House panel has surprised many. In the last fiscal year ended July 16, Nepal saw the second highest labour movement to foreign countries. More than 600,000 Nepalis have obtained permits to work abroad. The figure excludes students and workers going to India for seasonal jobs.
"We have directed the labour department to collect statistics first, and then act to gradually replace foreign workers with Nepalis," said Bimal Prasad Shrivastav, chairman of the committee.
"The move is aimed at prioritising Nepali citizens for employment," Shrivastav said, adding that a large number of Indians were found to be employed at various factories during an inspection visit.
"Most of the factories and companies we visited had hired foreigners due to the lack of skilled Nepali human resources," he said.
"But the aim is not to displace foreign workers," said Abhishek Pratap Shah, a member of the committee. "Foreign workers are important because they transfer their skills. The domestic workforce should replace them sooner or later," he said.
"This is applicable to all foreign workers, be they labourers or managers. We know that this is not immediately possible. We need to prepare a roadmap."
Shah added there were enough polytechnic schools in the country to produce skilled manpower.
Economist Puskar Bajracharya argues that it's a lofty dream of the government. "The government has never been serious about producing a skilled workforce."
Bajracharya, a professor at the School of Management, Tribhuvan University, said there are many technical and vocational training centres under the Council for Technical Education and Vocational Training (CTEVT), but they lack industry-specific training.
According to the Department of Foreign Employment, the number of Nepalis going abroad to work surged after 2000, when the Maoist insurgency that started in 1996 reached a peak.
In the fiscal year 2000-01, just over 55,000 Nepalis left for foreign employment. With the country's economy suffering due to the insurgency, Nepali youths had no choice.
From just 3,605 migrant workers who received work permits in 1993-94, the number started to multiply, reaching as high as 527,814 individuals in 2013-14, swelling by nearly 147 times in two decades.
Political unrest in the country adversely affected economic growth.
According to the central bank, for most of the past decade, the economic growth rate hovered around a mere 3–4 percent. Growth peaked at 6 percent in fiscal 2007-08, following the 2006 Comprehensive Peace Accord between the Maoists and the government.
The economy encountered another problem after the end of the conflict in the form of severe power shortages. Between 2007 and 2017, a massive electricity supply shortage caused up to 18 hours of rolling blackouts daily.
In the last fiscal year ended July 16, more than 628,503 people received labour permits, the second highest number on record, according to government statistics.
"The directives are pleasing to the ears, but it is impractical at the moment," said Dinesh Shrestha, vice-president of the Federation of Nepalese Chambers of Commerce and Industry (FNCCI), the apex body of the country's private sector.
"Employers hire foreigners because they are more efficient," said Shrestha. "If the government wants foreign workers to be replaced, it needs to produce efficient and professional Nepali manpower first."
As Nepalis are travelling abroad in droves, businesses and manufacturers are likely to suffer in the near future, insiders say, with the most impacted being the hospitality industry, particularly hotels.
"There is a significant number of foreign labourers, mostly from India. They are employed in large and medium-scale industries," said Bajracharya. "Obviously, the country's policy should focus on replacing foreign workers, but Nepal does not have skilled manpower in such numbers."
Industries are not going to replace their workforce just because the government says so, according to Bajracharya. "If the government seriously considers making this happen, it needs to cooperate with the private sector to provide training and skills to Nepalis and stop them from going abroad. But that is easier said than done."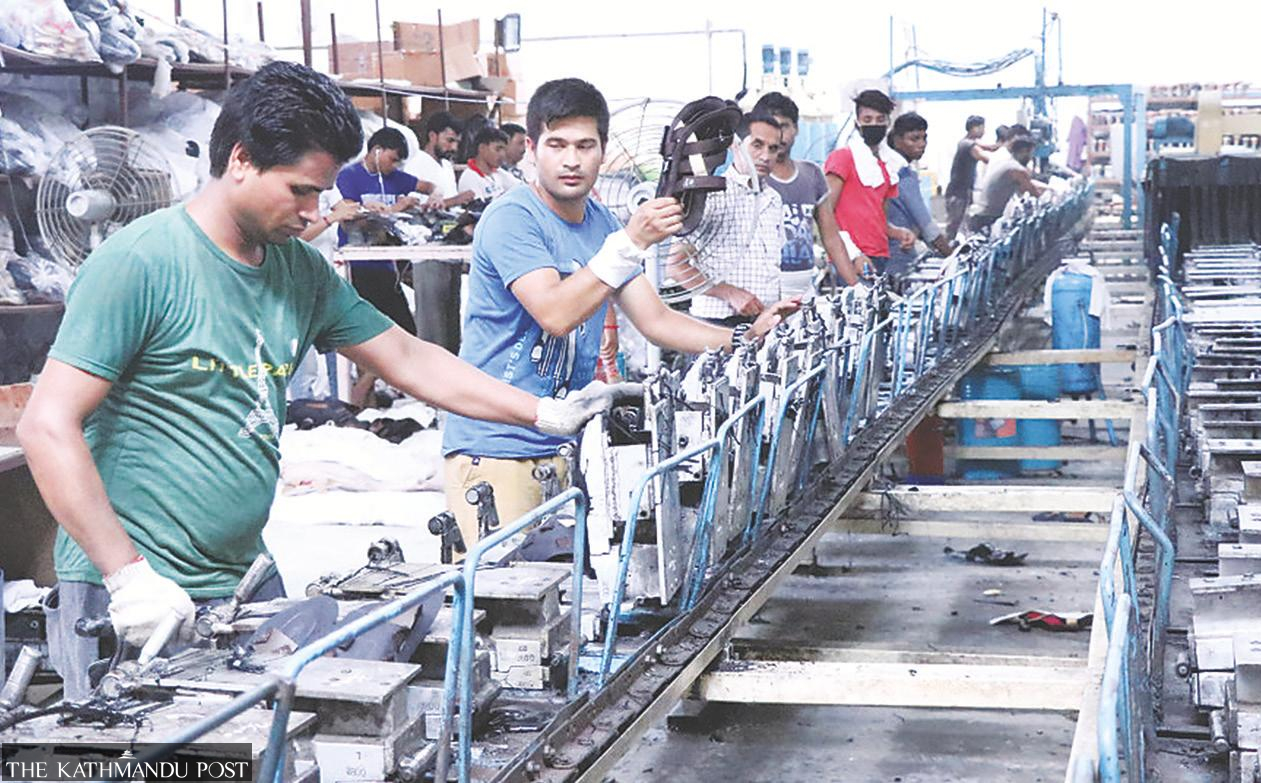 As Nepalis are travelling abroad in droves, businesses and manufacturers are likely to suffer in the near future, insiders say, with the most impacted being the hospitality industry. Post File Photo
The government had also launched the Prime Minister Employment Programme in 2018-19, but the wage-employment scheme, so far, has been a let-down.
According to reports, local units deployed jobseekers hired under the scheme to do trivial work like rearing stray animals and gardening, among other such tasks.
In the last fiscal year, Rs12 billion was allocated for the scheme, which provided 76 days of work on average to 147,433 individuals, government statistics show.
The budget for the scheme, which aims to provide employment to 200,000 individuals this fiscal year as well, has been reduced to Rs7.05 billion.
"The modality of the Prime Minister Employment Programme will be revised," said Finance Minister Janardan Sharma in his budget speech. "Annually, 200,000 jobs will be created for registered unemployed persons through the employment service centre."
Rajeev Pokharel, joint secretary at the Employment Management Division under the Ministry of Labour, Employment and Social Security, concedes that the Prime Minister Employment Programme has not been able to provide result-oriented programmes.
"It could only provide simple work. However, the Labour Ministry has been working to create the required technical manpower in the industrial sector through this scheme," he said.
"The ministry is trying to make the Prime Minister Employment Programme more productive. Instead of providing simple jobs for 100 days, we believe a training programme in that period will be more beneficial for the individual as well as businesses," Pokharel said.
"Though we don't have records of the exact number of workers employed in Nepal's industrial sector, we estimate that a large number of foreign workers are employed in Nepali factories since most of these jobs are seasonal," said Pokharel.
"If we can equip Nepali citizens with the necessary skills, they would get these jobs instead of foreigners. The goal is to prioritise Nepalis in the domestic labour market."
---
---