Nepal sees highest post-Covid monthly arrivals in October
Total foreign tourist arrivals by air reached 100,148 in the first 10 months of this year. The figure, however, represents another depressing year for the tourism industry.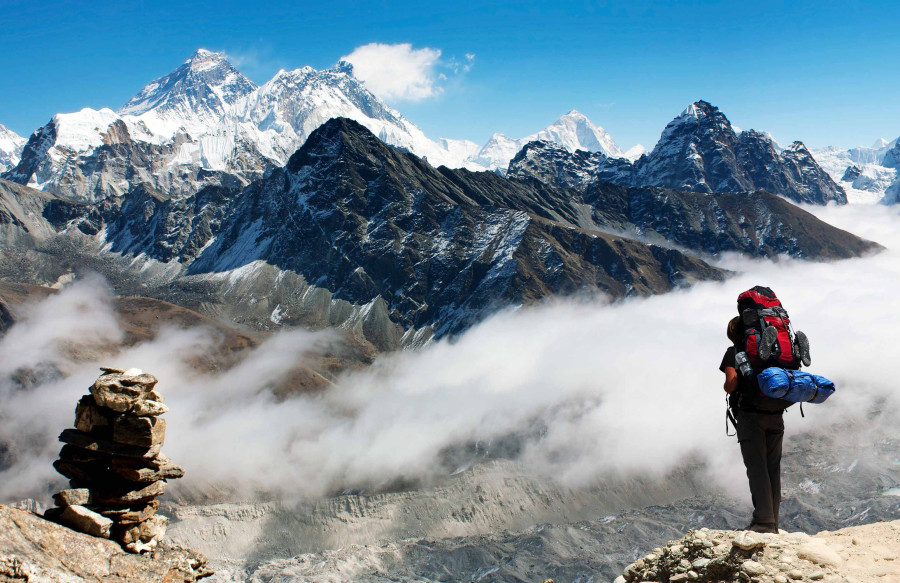 In October 2019, before the pandemic appeared, Nepal's busiest tourism season attracted 134,096 visitors. SHUTTERSTOCK
bookmark
Published at : November 1, 2021
Updated at : November 2, 2021 03:03
Kathmandu
Nepal saw the highest post-Covid monthly arrivals in October, pushing the total number since the start of the year across the 100,000 mark.

Insiders said the surge could signal the beginning of a rebound in the tourism industry, which has been flat on its back since the first lockdown in March 2020 when the country slammed the doors shut to all visitors.
According to data released by the Nepal Tourism Board on Monday, Nepal welcomed 23,284 foreign tourists by air in October. Total foreign tourist arrivals by air reached 100,148 in the first 10 months of this year.
In October 2019, before the pandemic appeared, Nepal's busiest tourism season attracted 134,096 visitors.
During the same month in October 2020, two months after the country emerged from a four-month-long coronavirus lockdown, 2,025 visitors entered the country.
According to the Asian Development Bank, international tourism arrivals, which declined by 80.8 percent in 2020, may gradually recover, as trekking routes and expeditions resume.
Hotels and restaurants, travel and tourism will likely take more time to recover to pre-pandemic levels until the sustained containment of Covid-19.
Travel trade entrepreneurs said the arrival figure was disappointing.
"It's because the government delayed the decision to open up," said Khum Bahadur Subedi, president of the Trekking Agencies Association of Nepal. "It was evident that tourists won't come at short notice. We had expected a partial recovery in arrivals this autumn, the country's peak tourism season."
But, according to Subedi, there are high hopes for a full spring season recovery if there are no threats of a Covid-19 resurgence.
Deepak Raj Joshi, former chief executive officer of the Nepal Tourism Board, said that the government's response was very weak to boost the Covid-19 hit tourism industry. "There was no hassle-free travel environment and no assurance of safety against Covid."
He charged that the vaccination rate in Nepal was too slow to encourage foreigners to travel to the country. "If the government had timely opened up Nepal to foreigners, we would have expected at least 700,000 tourists by October," said Joshi. "Everyone was busy in politics. The tourism industry was never on the priority list."
Last Friday, a colourful celebration was held at Velana International Airport to welcome the 1 millionth tourist to the Maldives. "The figure in Nepal is indeed disappointing," said Joshi.
India became the largest source of tourist traffic to Nepal in October with arrivals of 8,736, followed by the United States (4,711) and the United Kingdom (1,381).
Nepal on September 23 threw away the seven-day quarantine requirement and resumed issuing on-arrival visas to all vaccinated foreign travellers in a bid to bring its virus-ravaged tourism industry back to life.
Visitors should have received their last dose of the Covid-19 vaccine at least 14 full days prior to entering Nepal. Those who are not vaccinated or partially vaccinated will not get on-arrival visas. They have to get their entry permits from Nepali diplomatic missions, and also spend 10 days in quarantine in government-listed hotels.
Unvaccinated or partially vaccinated tourists have to mandatorily quarantine themselves at the hotel for 10 days at their own expense. On the 11th day, if they test negative, they are free to travel, according to the rule
Travel and tourism businesses, which accounted for around 8 percent of the country's gross domestic product and provided more than 1.05 million jobs directly and indirectly in pre-Covid times, were the hardest hit after travel restrictions came into force in late March last year.
Last spring, the government reopened the country to foreign travellers in the hope of lifting the economy and employment by reviving tourism.
Subsequently, Nepal received a record-high number of foreigners aspiring to climb the world's tallest peak, Mt Everest, as the Covid-19 pandemic appeared to have petered out. But fresh Delta outbreaks and slow vaccine rollout again cast a pall over the country's tourism.
After the second Covid-19 wave hit Nepal in April, the country slid into a devastating crisis with the authorities enforcing strict lockdown measures. About two months later, the restrictions were relaxed gradually, and since September 1, almost everything has been allowed to reopen.
Daily coronavirus infections have also fallen sharply from a high of 9,317 on May 11, 2021 to 533 on Monday. Restrictions on businesses have been eased, and encouraging signs of an economic revival are emerging even as concerns persist about renewed outbreaks.
Only 22.4 percent of the total population had been fully vaccinated as of October-end. Tourism-dependent Nepal hosted 230,085 foreign tourists in 2020, a drop of more than 80 percent compared to 2019, reminiscent of arrival levels in 1986.
---
---