Farmers get raw deal as middlemen take the lion's share
Ginger, tea and cardamom growers are forced to sell their produce for whatever prices they can get due to obstacles in exporting agro products to India.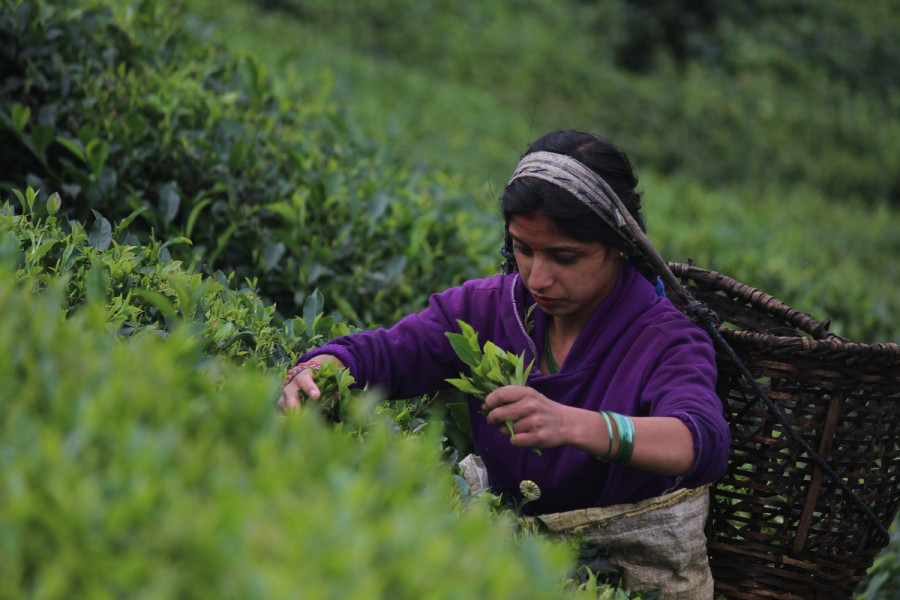 A woman picks tea leaves at a tea estate in Ilam. Post File Photo
bookmark
Published at : August 27, 2020
Updated at : August 28, 2020 15:11
Jhapa
Pema Yolmo of Ramphok village in the eastern hill district of Ilam collected a bumper ginger harvest earlier this year. He took home 3.2 tonnes of the root, which is prized as a spice, and was expecting to have a good year.

But things didn't happen as Pema had thought. He was paid much less for his crop than he had expected. He had to sell his ginger for Rs50 per kg to Nepali middlemen acting for Indian traders who would ship the products to India.
Apparently, Pema didn't know that ginger fetches Rs100 per kg in Birtamod, the trade hub in the plains for farm produce from the eastern hills.
By the time the ginger crosses the border into India, the price would have risen to Rs160 per kg—more than three times what Pema was paid.
Farm produce pass through at least two layers of middlemen before they reach the actual exporter, according to a number of traders the Post talked to.
In Ramphok and many other places in Ilam, the prices are set by a small cartel of middlemen since farmers can't take their crops to market due to lack of access.
"We could get a good rate if we could take our produce to market ourselves," Pema says, "but the middlemen won't let us do that, and there's no designated market to sell our crops on a large scale."
For years, farmers like Pema have been selling their produce ranging from ginger, cardamom and broom grass to tea through brokers. As a result, they get a raw deal, Pema said.
Indian middlemen hold a monopoly on purchasing crops from farmers in the eastern hill districts. Growers allege that local government officials work in cahoots with these middlemen.
"They fix a rate that is favourable to them rather than the farmers," said Pema. "The Indian traders run a syndicate, we can't do anything."
Tea and large cardamom farmers face the same problem. According to Yam Bahadur Subedi who grows large cardamom on his 40-ropani farm, he barely breaks even.
One of the main reasons why farmers are forced to take whatever they can get is obstacles to exporting Nepali agro products to India. Indian states have been increasingly hostile to Nepali imports, say Nepali farmers and businessmen.
In the early days of the pandemic, the Indian state of West Bengal had stopped the import of Nepali agro products for a few days. But the pandemic was merely an excuse, say traders.
Shanta Chhetri, a Rajya Sabha member representing Darjeeling, had asked the Indian Upper House to ban the import of Nepali tea, claiming that it was of a low quality and not fit for consumption.
This was not the first that there had been objections to the import of Nepali tea in the Indian market. Earlier, an association of tea producers from Darjeeling had presented a letter of demand to the then president of India Pranab Mukharjee to bar entry to Nepali tea.
Institutional hostility is coupled with the spread of insidious misinformation about the quality of Nepali tea, according to Suresh Mittal, president of the Nepal Tea Producers' Association, Jhapa.
"Nepali tea has been tested in India's central food lab," he said. "Our tea is not of poor quality. Actually, it is Indian tea that is often proven to be toxic; but Indian tea entrepreneurs have been spreading misinformation about the quality of Nepali tea."
Moreover, some Indian traders have been falsely branding Nepali tea as a product of Darjeeling and exporting it to third countries, according to Mittal.
Uday Chapagain, operator of Ilam-based Gorkha Tea Estate, agrees with Mittal. "Nepali tea in general is of a far superior quality than Indian tea," he told the Post. "Incidents where entrepreneurs from across the border are falsely branding our tea as their own have malicious motives."
The whim of border officials and bribes influence tea exports to India, according to Narendra Khadka, chair of the Nepal Ginger Entrepreneurs' Association.
India had banned the import of ginger two years ago, alleging that Nepali ginger was impure. Crops worth millions went to waste as a result. "It all depends on India's whim," he said.
Indian customs officials also ask for bribes of up to Rs50,000 per truckload, he said. Each truck carries 13 to 22 tonnes of ginger.
"We have informed the government and the Indian Embassy in Kathmandu, but the demand for bribes hasn't stopped."
Nepal grows around 300,000 tonnes of ginger annually, making it the world's third largest producer after China and India.
One-third of this annual harvest comes from the eastern region. Traders said that 90 percent of the ginger produced in Nepal is exported to the Indian market.
In the fiscal year 2019-20, Nepal exported 8,846 tonnes of ginger worth about Rs435 million. India and Bangladesh are the major markets for Nepali ginger.
Nepal exports tea worth nearly Rs3 billion annually, according to data from the Mechi Customs Office. Most of the tea is orthodox tea which, according to Mittal, is of the best kind.
Demand for CTC tea produced in the Tarai belt is also high, he said.
The major market for Nepali tea is India, but India also sends its tea to Pakistan and Europe and America. Often, the tea re-exported by India to third countries is of Nepali origin, Nepali tea entrepreneurs say.
In Jhapa, the tea acreage has expanded to 9,489 hectares, according to the Tea and Coffee Development Board. An estimated 15,954 tonnes of tea is produced annually.
Laxman Pokhrel, information officer at the National Tea and Coffee Development Board, said that his office hadn't received any complaints about low prices or other unfair practices in the tea business from farmers.
"As far as we know, tea farmers have been getting good returns for their produce," he told the Post. "We are in talks about exporting our product to not just India but other countries too. We will announce our decision soon."
Last year, agro products worth about Rs5.26 billion were exported from the Mechi Customs point.
Shipments have slumped this fiscal year due to the coronavirus crisis, dealing another blow to already embattled farmers.
"As of now, the local unit only determines the price of tea. But we are not in contact with ginger and large cardamom farmers, so farmers sell it to whoever they like at whatever price is fixed between them," said Bir Bahadur Lapcha, spokesperson for Suryodaya Municipality, Ilam.
Govinda Acharya, nodal officer at the Trade and Export Promotion Centre, said that most farmers do not produce on a large scale, and they sell their crops from their farms to middlemen because they need quick money.
There are plenty of things we need to consider before exporting our products to third countries, he added.
"There is no purification equipment, and traders don't pay much for unprocessed products. We don't have processing and cold storage facilities," he said. "Before we attempt to export to other countries, we need to test the products for quality and use of pesticides. For exporting to third countries, we need to grade the products and there should be a policy decision regarding tariffs."
But farmers like Pema Yolmo want simpler solutions that will help them get a fair price. He said that establishing an auction market in the district would allow farmers to get better rates for their crops.
"The only option we have at the moment is to wait for the traders and let them take our produce at the price they set," he said.
---
---