Nepali tea manufacturers hold their stocks as prices crash
The price of CTC tea has plunged by 50 percent to IRs 65 per kg over the year.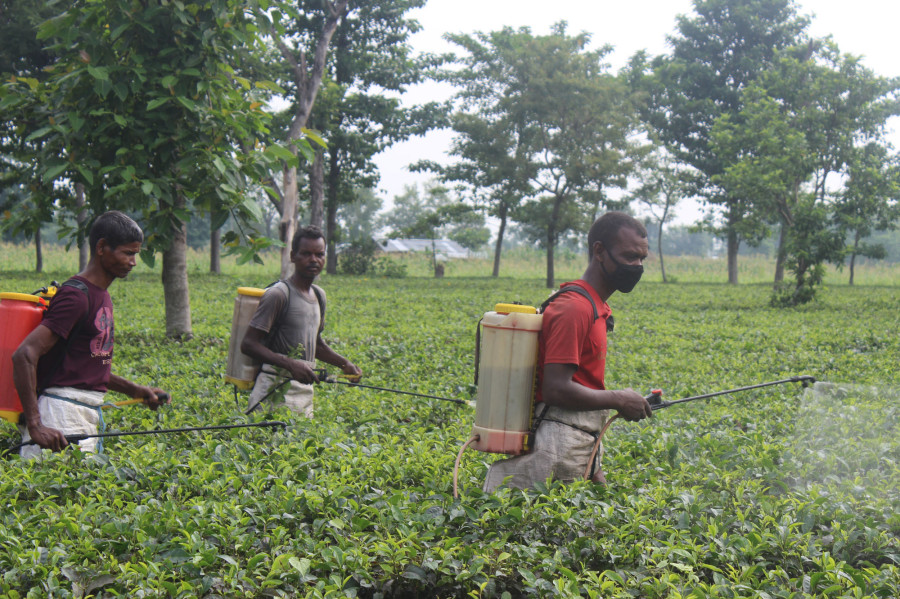 A view of the underconstruction departure hall of Gautam Buddha International Airport in Bhairahawa. PHOTO COURTESY: Civil Aviation Authority of Nepal
bookmark
Published at : January 28, 2020
Updated at : January 29, 2020 08:20
Birtamod
Tea manufacturers in Nepal's tea-growing heartland in the east have filled their warehouses with their products because selling at the prevailing price will not allow them to break even, they said.


The price of CTC (crush, tear, curl) tea has been in continuous free fall in the Indian market where most of the Nepali production is shipped. Over the year, the price of CTC tea has plunged by 50 percent to IRs65 per kg.

Entrepreneurs said they are not even able to get their investment back by selling at that rate, so they would rather hold their stocks.

There is no auction system to sell tea leaves in Nepal, and the price is determined by Indian traders who are the largest buyers.

Around 70,000 kg of CTC tea is stored in various warehouses because producers cannot get its value, said Harka Bahadur Tamang, president of the Small Farmer Tea Producer Cooperative, Haldibari.

"How can we sell the tea when we cannot even recover our investment?" he asked. The tea factory operated by the cooperative produced 500,000 kg of tea this year, said Tamang.

"The tea factory operated by Parakhopi Tea Producer Cooperative of Haldibari has 30,000 kg of tea in stock," said Parbat Dagi, secretary of the cooperative. He gave a similar reason for keeping their products in the warehouse.

"We have been waiting for the price to increase, but there isn't any sign of that happening," he said. It costs Rs140 to produce 1 kg of tea. Dagi said the factory produced 500,000 kg CTC tea this year. After not getting good prices for their tea, they sold 70 percent of the production in the Nepali market, he said.

"We have been selling tea at Rs200 per kg. But only a few traders purchase tea in the country," he said. "Nepali traders are trying to buy tea at the same price as Indian traders, and this has created a problem for us," he said. CTC tea was sold for a minimum of IRs110 per kg in India last year, said Dagi.

According to the statistics of the Nepal Tea and Coffee Development Board, around 20 million kg of CTC tea is produced in Jhapa annually. Five tea factories in the district produce orthodox tea too.

"The price of orthodox has also fallen by 50 percent in the Indian market," said Kumar Bhandari, operator of Tulsibari Tea Factory. He said that 35,000 kg tea packaged after a sample lab test was also stored in a warehouse.

Orthodox tea was sold at Rs240 per kg in the Indian market last year. But this year, Indian traders are not offering more than IRs70 per kg, he said.

As there is no market for Nepali tea within the country, farmers and entrepreneurs are having a hard time selling their products, said Satendra Kumar Karna, a tea farmer and facilitator.

According to him, 95 percent of the orthodox tea produced in the country is exported to India. "The government is not taking the tea sector seriously, and this has been creating market problems every year," he complained.
---
---