Nepal is pedalling towards a new form of tourism
Visit Nepal 2020 hopes to capitalise on the potential of Nepal becoming a prime destination for adventure mountain biking.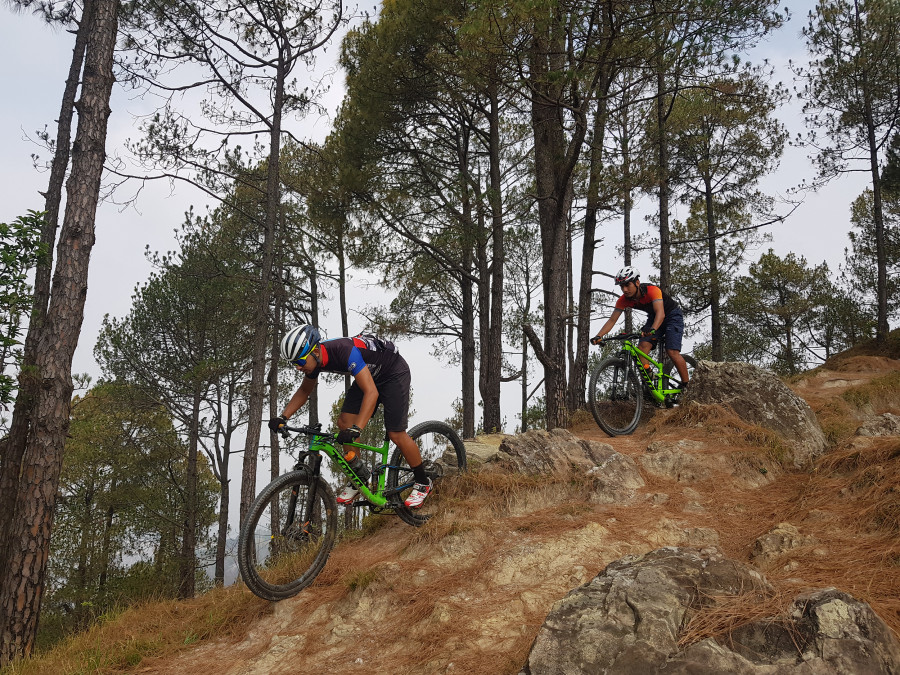 Courtesy: Ajay Chhetri
bookmark
Published at : December 14, 2019
Updated at : December 14, 2019 09:02
Kathmandu
While most trails around the Himalayas are pounded by foot or hoof, hikers and riders will soon have to share space with one more form of locomotion—the bicycle. With new trails opening up and roads reaching previously inaccessible areas, adventurous mountain bikers are increasingly taking to Nepal's hills and mountains.
The KaliX Mountain Biking Festival was wheeled out on Friday as an official Visit Nepal 2020 event, in recognition of mountain biking's tourism. The KaliX festival joins established biking events like Yak Attack, YakRu, Pokhara IV, and the Grand Himalayan Enduro, which is part of the Enduro World Series. Nepal, and the world, appears to be slowly waking up to the country's potential as a premier adventure biking destination, with features on Red Bull TV and National Geographic.
"Mountain biking was always there, but somewhere on the sideline," said Raj Gyawali, founding director of the Kathmandu Kora Cycling Challenge and the travel company Social Tours. "Right now, more and more people are getting into sustainable ways of tourism. Mountain biking is one of those."
Gyawali officially announced the KaliX festival on Friday at the Visit Nepal 2020 offices. The event will be held along the Kaligandaki gorge, said to be the deepest in the world, and follows a Visit Nepal 2020 directive to develop offerings for mountain bikers.
The portal nepalbycycle.com, which was also launched on Friday, will provide information on trails and the KaliX festival, which will have both competitive and recreational events for different styles of riding like enduro and cross-country. Alongside the event, associated trails will also be demarcated and dedicated mountain biking trails explored, said Gyawali.
The potential of mountain biking in Nepal has not yet been fully trapped, said Shyam Gyan Limbu, managing director of Gravity Nepal and race director for Grand Himalayan Enduro. Limbu, who started cycling in 2009, said that he's seen a meteoric rise in the domestic popularity of the sport, but wanted to see it pushed as part of Visit Nepal 2020.
"One of the challenges we face is that mountain biking [in Nepal] is not as well known around the world, compared to other countries," he said.
Mustang is one of the most popular destinations for visitors, he told the Post, but there is a swathe of other opportunities around the country.
Cycling tours have been benefiting from increased access in recent years. While trekkers may lament road construction in areas like Annapurna, Manang and Gorkha, it has actually favoured cyclists, according to Limbu. As soon as a path is cleared for a road, it almost instantly becomes rideable for cyclists, he said.
"On the Annapurna circuit, we used to carry our bikes 60 percent of the time, and ride 40 percent," said Limbu.
Five-time Yak Attack winner Ajay Chettri calls it the "hike and bike", something that tourists actually look for—he took a group over Gorkha's Larke Pass via mountain bike. But with a new road, the Annapurna Circuit is easier to access while Manaslu may become a mountain biking destination in the coming decade.
Gyawali doesn't necessarily agree that "rampant" road construction has been good for cyclists. The benefits of construction mostly came in the form of being able to access places previously unreached, such as Mustang.
The growing popularity of mountain biking has meant that there are between 2,000 and 3,000 bikers visiting Nepal every year, Gyawali estimates, but that's not enough for the industry to survive. Events like KaliX could go some way towards bringing in more bikers but it would be best for Nepal to target Asia, rather than Europe or the Americas, says Chhetri.
"It's expensive to come here and it's far away for many," he said. "The government should be targeting Asia as there are lots of mountain bikers here."
Gyawali agrees, as there is growing interest in mountain biking in Asia, particularly in China, Indonesia and Thailand, which poses potential for growth.
But mountain biking is not just for tourists; there is a lot of domestic interest and potential. There are cycle rallies in Kathmandu that attract up to 3,000 people and that number is only likely to increase, bolstered by Lalitpur's cycle lanes and Kathmandu's proposed plans.
No matter what part of town one lives in, there is an available trail or two not far away. If one lives in the north, there's Shivapuri; in the south, there are places such as Phulchowki, Hattiban and Chobhar; towards Bhaktapur, people can venture into the hills, to places like Nagarkot, said Chhetri. There are also tours that span from Chitwan to Tansen, to Pokhara.
"Those are good for people who don't want to do hardcore stuff at high altitudes," said Chhetri.
Although there are hopes that Visit Nepal 2020's newfound acknowledgement of the sport could lead to a mountain biking boom, Gyawali remains circumspect.
"I never know with these things because there are so many factors that go into it," he said. "But there's no doubt about it—the sport is on the rise."
---
---