Nepal has been named one of the cheapest countries to visit. Here's why that's not good news
A new report by the World Economic Forum ranks Nepal in 15th position for price competitiveness while placing it poorly in terms of other criteria.

Nepal scored badly on the quality of air and ground infrastructure. Post File Photo
bookmark
Published at : September 12, 2019
Updated at : September 12, 2019 11:46
Kathmandu
Nepal is one of the cheapest countries to visit in the world, according to the Travel and Tourism Competitiveness Index by the World Economic Forum.
The report, which was published last week, places Nepal in 15th spot among 140 countries in terms of price competitiveness, behind countries like Iran, Egypt, Kazakhstan, as well as neighbouring India.
But the ranking has not exuded confidence among tourism officials in the country, at a time it has been trying to draw more high-spending tourists, particularly as it gears up for the Visit Nepal 2020 campaign. Although tourist arrivals to Nepal crossed the coveted one-million mark for the first time last year, with 1.17 million foreign visitors streaming into the country, their spending plummeted to a seven-year low.
"This is obviously not good news," said Deepak Raj Joshi, chief executive officer of the Nepal Tourism Board. "But we have to admit that Nepal is increasingly becoming a budget destination due to the influence of platforms like A‌i‌r‌b‌n‌b and Oyo‌, online marketplaces for arranging lodging services that match budget-minded travellers."
According to statistics released by the Tourism Ministry, the average spending per tourist per day last year dropped to $44, the lowest in seven years. The average spending was $54 per day in 2017. In 2003, during the height of the Maoist insurgency, the per day spending of tourists was at a record $79.1.
But the bad news doesn't stop there.
In the report, Nepal trails behind India (34th) and Sri Lanka (77th) in terms of travel and tourism competitiveness in South Asia. It has also been ranked 91st in terms of safety and security.
Nepal also lagged behind when it comes to air quality and ground infrastructure. It ranked 134th in terms of environmental sustainability, 131st on ground and port infrastructure, and 126th on tourism service infrastructure.
The report said South Asia ranks low on infrastructure, with underdeveloped tourist service infrastructure representing its greatest relative disadvantage. Low information and communications technology readiness, international openness, safety and security, and health and hygiene are other key weaknesses.
The 140 economies were ranked in four sub-indexes: enabling environment, travel and tourism policy and enabling conditions, infrastructure, and natural and cultural resources. Together, these four sub-indexes include a total of 14 pillars, which are used to score a country's overall travel and tourism competitiveness. The top five performers in the world, according to the report, are Spain, France, Germany, Japan and the US.
Price competitiveness, the only category in which Nepal performed better, was measured by comparing costs relating to airfare ticket taxes and airport charges, which can make flight tickets much more expensive; the relative cost of hotel accommodation; the cost of living, proxied by purchasing power parity; and fuel price costs, which directly influence the cost of travel.
"The online payment system, which has been growing rapidly in Nepal's hospitality industry, does not give a real picture of the revenue earned from foreign tourists," Joshi said. "Our digital smartness is very weak to show the actual revenue earning and the spending of tourists in Nepal."
The purchasing power parity of tourists is another key factor. Appreciation of the US dollar against the Nepali rupee plays a key role in Nepal's tourism industry. Travel trade entrepreneurs say that when the greenback strengthens, tourists get more bang for the buck and the number increases, but the country's revenue does not increase.
In Nepal, for the last two years, the exchange rate has remained in favour of foreign visitors, tourists get Rs115 for $1. The rate, when compared to September 2017, means a 13 percent bonus to foreign visitors to the Himalayan nation.
The report, produced by the Switzerland-based World Economic Forum, is published every two years.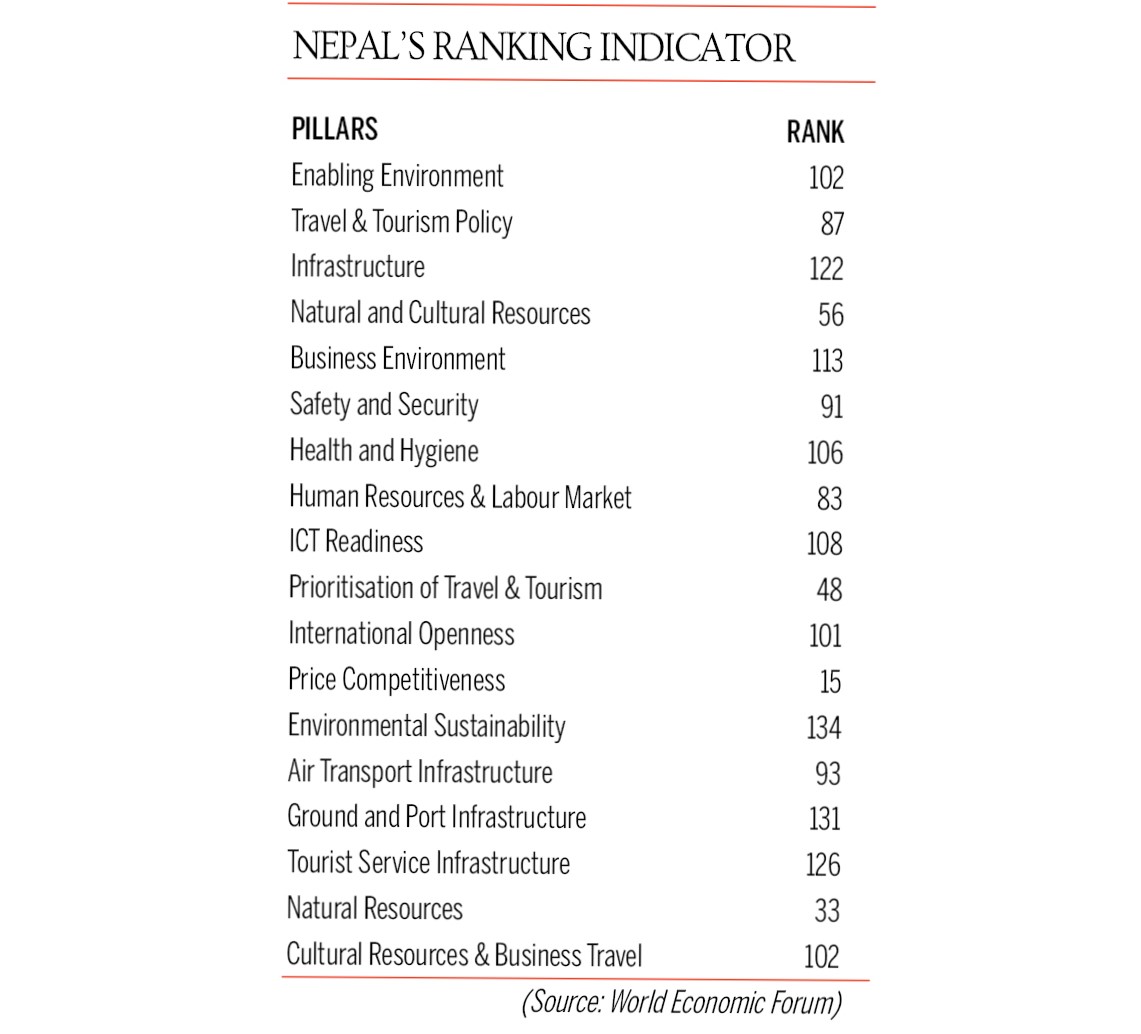 ---
---