Fruit prices soar with festivals just around the corner
Importers are raising prices to offset losses incurred during chemical testing.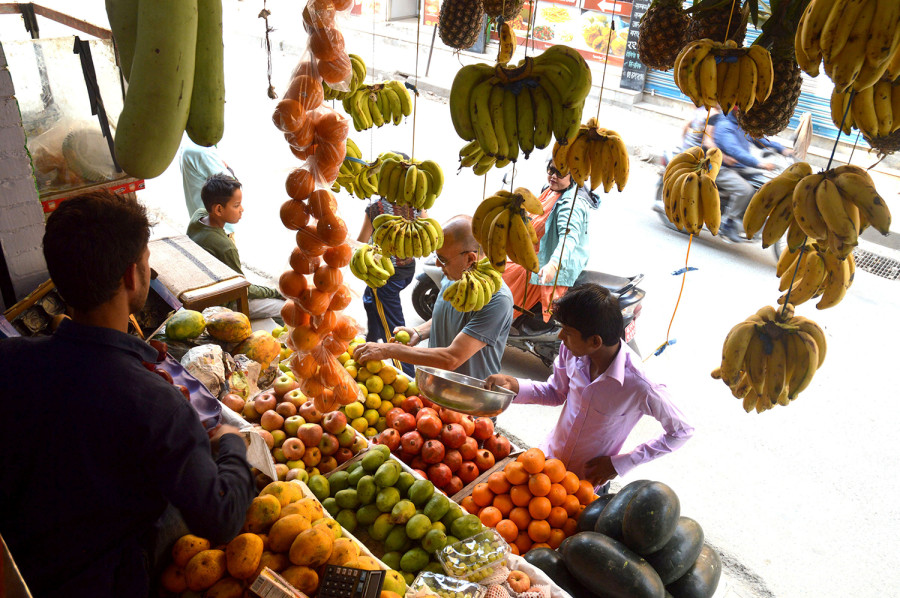 Post file photo.
bookmark
Published at : August 10, 2019
Updated at : August 10, 2019 20:30
Kathmandu
With the festive season just around the corner, fruit prices have become dearer by up to 113 percent compared to the same period last year.
The records of Kalimati Fruits and Vegetable Market Development Board show fruits like apple, banana, mango, pomegranate, pineapple and sweet orange seeing the biggest price hike. Binod Raj Pandey, general secretary at Fruits Wholesaler Association, attributed the rise in prices to supply delays caused by the quarantine issue and devastating floods last month along with the soaring price of fruits in the international market.
A Cabinet meeting on June 17 had decided not to allow the import of fruits and vegetables without testing for pesticide residues. But just two weeks later, the government decided to rescind the decision. However, the Supreme Court ordered the government to continue testing for chemical inputs in imported farm products.
The move has hit importers' bottom line as they incurred heavy losses due to their compulsion in testing the imported goods compounded by the unavailability of chemical testing labs at border points. This meant that importers had to send their produce to distant labs just to get customs clearance.
According to Pandey, importers have raised the price of fruits to compensate for their losses. One of the major fruits consumed during the festive season, apple, has jumped to Rs245-370 per kg, up from Rs115 per kg a year before.
Likewise, the price of pomegranate has gone up by 30.77 percent to Rs255 per kg. Last year, the fruit was available at Rs195 per kg. Similarly, banana now costs Rs115 per dozen, a jump of 21.5 percent.
Price of mango has increased by 45 percent, and consumers now have to pay Rs225 per kg.
According to the association, imported products account for 90 percent of the turnover, mainly during the festival. According to the current macroeconomic statistics of Nepal Rastra Bank, import of fruits nearly doubled to Rs9.7 billion during mid July-mid June of the previous fiscal year.
Despite the government's commitment to tackle price hikes and malpractices in the market, consumers continue to be left disappointed year after year.
The situation has gotten so bad that even the government authority is helpless to stop it.
Yogendra Gauchan, director general of the Department of Commerce, Supply and Consumer Protection Management said that they were not able to conduct regular market inspections as per the Consumer Protection Act 2018 due to the lack of direction from the government. "However, we will devise a work plan on market inspection for the upcoming festivals. If middlemen and traders are found creating an artificial shortage to raise the prices, we will take prompt actions against them," Gauchan said.
---
---