Tribhuvan International Airport posts 12 percent passenger growth in 2018
Tribhuvan International Airport continued its run of year-over-year passenger growth in 2018, marking yet another record year for the country's sole international aerial gateway.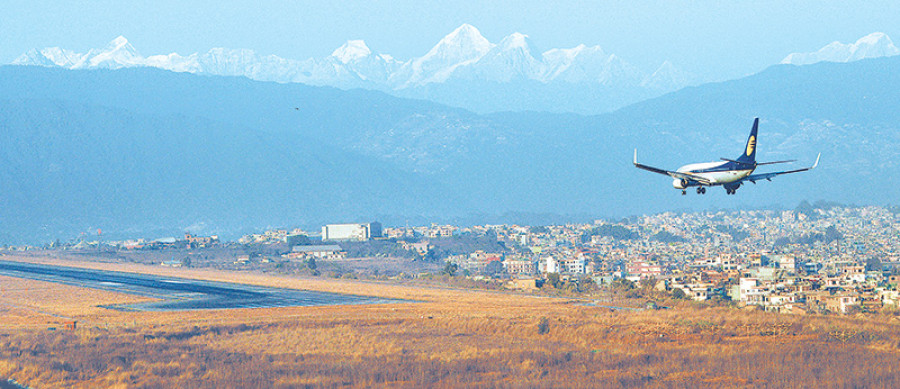 bookmark
Published at : February 24, 2019
Updated at : February 25, 2019 10:19
Kathmandu
Tribhuvan International Airport continued its run of year-over-year passenger growth in 2018, marking yet another record year for the country's sole international aerial gateway.
According to figures released by the airport, 4.34 million international passengers travelled through the airport last year. That marked an 11.70 percent increase over 2017. The figure shows that Tribhuvan International Airport (TIA) handled 11,898 international travellers daily in 2018.
Passenger traffic at Nepal's sole international airport has been growing since 2003, except for an 8 percent drop in 2015 when the country was struck by a severe earthquake.
Taking into account domestic flyers, the country's saturated airport handled 7.19 million passengers altogether, last year. There were a total of 129,511 flights over Nepali skies, with 74 percent of them being domestic flights.
"2018 marked a new passenger traffic record. And we are likely to get more this year as well," said Pratab Babu Tiwari, spokesperson of TIA.
Tiwari attributed the international passenger growth to three factors: increase in the number of foreign tourists, growing number of students abroad and rise in the movement of parents going abroad to visit their children.
Foreign tourist arrivals crossed the one-million mark for the first time in 2018 with 1.17 million foreign tourists streaming into the country. Among the total arrivals, 969,287 individuals came by air. According to Nepal Rastra Bank statistics, in the last fiscal year, 358,815 Nepalis have been issued a labour permit to work abroad, excluding in India.
But as passenger traffic at the TIA continues to grow, it faces an increasing infrastructure challenge, leading to capacity constraints. The TIA, which was designed to handle 1,350 passengers per hour, has to at times process over 2,500 passengers in an hour, creating chaos at the airport.
"We will be bringing a new international terminal building into operation by December this year which will handle 900 additional passengers per hour," said Tiwari. "To reduce congestion at the airside, a remote parking bay at the eastern side of the runway that will accommodate two wide body jets and two ATR 72s aircraft will come into operation within a month," he said.
Besides, another parking bay at the southern side of the runway with capacity to accommodate two wide body jets is expected to come into operation by June this year, he said, adding that these three facilities will address the growing congestion at the airport to some extent.
A breakdown by airlines shows that Nepal Airlines topped the list of carriers with the highest number of passenger carriage in 2018. It flew 491,979 passengers, up 26.69 percent year-on-year. The growth has been attributed to the increased capacity of the airline after it added two 274-seater wide body Airbus A330 jets into its fleet last year. The international passenger market share of Nepal Airlines reached 11.32 percent in 2018.
India's Jet Airways notched up the second position flying 450,949 passengers, down 3.91 percent as compared to 2017.
Doha-based Qatar Airways saw the strongest passenger traffic growth. It flew 337,464 passengers last year, up 29.68 percent.
Dubai-based low-cost carrier Fly Dubai saw its passenger traffic grow by 15.14 percent. The airline flew 337,464 passengers in 2018. India's flag carrier Air India saw a 13.95 percent growth in passenger carriage to 237,441.
Another low-cost carrier Air Arabia saw negative 19.19 percent growth as it received 232,418 flyers.
Nepali private carrier Himalaya Airlines saw its passenger traffic jump by 24.60 percent. It flew 224,153 passengers. Malaysian-based low-cost airline Malindo Air posted 9.33 percent growth, flying 177,805 passengers last year.
Likewise, Thai Airways saw its passenger carriage grow by a marginal 0.36 percent to 170,995.
Oman Air saw its passenger numbers plunge 5.71 percent to 167,129 last year, according to TIA statistics.
---
---