LESSONS FROM A BANGLADESHI MAN
Shahidul Alam is many things. He is a photographer, but also a writer, activist and teacher. Although I have never had the chance to sit with him in a classroom, he has taught me many lessons.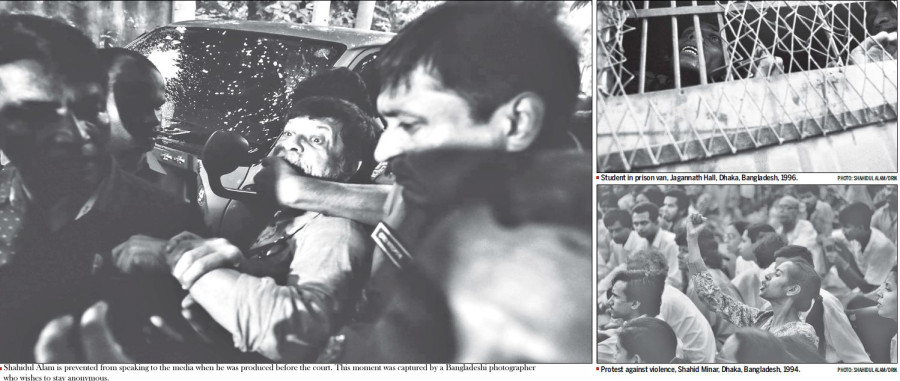 bookmark
Published at : September 1, 2018
Updated at : September 2, 2018 13:29
Shahidul Alam is many things. He is a photographer, but also a writer, activist and teacher. Although I have never had the chance to sit with him in a classroom, he has taught me many lessons.
I first met Shahidul at the opening of 'A People War' exhibition here in Kathmandu. It was 2007, I think. I saw him from afar, in his signature kurta and chappals, and hesitated to approach him for a few minutes. I was told he was the founder of many important institutions including Drik Picture Library, Pathshala South Asian Media Institute, Chobi Mela and Majority World—all in Bangladesh. Quickly though, in true Shahidul fashion, he had us completely at ease, asking questions, seeking to understand. That first encounter resulted in a follow-up meeting the next day, by the end of which he had invited one of our team members to Dhaka for a fully funded one-year South-to-South fellowship.
Institution building as a human enterprise
Over time, as we got to know Shahidul better, we learned that this is what this man does on a daily basis—connects individuals and institutions around the world, with resources and opportunities, to learn from each other, and grow together.
Watching Shahidul work, often times from a distance and sometimes when lucky, from close proximity, I have come to learn that institution building is not about the edifices we construct and the hardware we amass. Institution building is a slow process of nurturing people, our capacity to be more effective professionals, but also and perhaps more importantly, nurturing our spirit and convictions.
What does it take, in our socio-economic, cultural and political contexts, to do the work that we do? To nurture the institutions we are building and make them work, every day, over time, through resource crunches, political pressures, health crises and heartache? Shahidul has shown us that it takes courage, passion, perseverance and kindness to keep doing what we do, introspecting and re-calibrating while taking stock of our flaws as well as our collective magic.
Leadership, friendship, and building community
Speaking of collective magic, I have been in wonderment these past weeks about the outpouring of support from people and institutions around the world against this brutal attempt to silence Shahidul. Who is this man that the entire world is standing up for? How did he make so many friends—from Nobel Laureates, lawyers, heavyweight institutions in his own field and beyond, to, of course, photographers and activists from around the world?
People who know Shahidul Alam will testify that the man is deeply rooted in Bangladesh, but constantly on the move and constantly connected. If you know him, it is not difficult to conjure up an image of him seated calmly somewhere, at an airport, on a boat, in a conference hall, furiously writing e-mails, proposals and poems. I have wondered how he does it and been concerned about the human phenomenon many of us refer to as 'burn out'. But the concept somehow seems to escape Shahidul. He is relentless. He is constantly thinking forward, and backwards, and in every possible direction. He is building relationships and projects laterally but also creating of ripple effects everywhere he goes—instigating, inspiring, breaking down egos with his twinkling eyes and grizzly hugs. He sees value in all these multiple ways of working and being. He makes friends with everyone, organically and by choice—from the youngest person in the room to the VIP in the suit and the security guard who holds his door.
Shahidul has many critics too, of course. Somehow, he seems to be in touch with them, engaging, listening but constantly putting forth his convictions in the blogosphere, on the streets, in conference rooms and at dinners. Watching him, I have learned that it means nothing to have expansive reach with no depth and commitment. If leadership had a look, then it might be the kurta-chappal one. If leadership had a smell, it might be of Star Kebab in old Dhaka where we sit on a long table and he orders us the most delicious maach-bhat. And if leadership had a sound, it might be the roar of Shahidul's courage as he tells us to carry forth while he stands behind bars for speaking truth to power.
Patriotism
It took me a while to understand why a man with a PhD in chemistry chose to move back to his land of birth and start a picture agency. In his book.
My Journey as a Witness, Shahidul writes about the first big flood he photographed in 1988: "What do you photograph in a flood? A submerged house, a boat on a highway, people wading in the water? The worst flood in a hundred years! Statistics are irrelevant. As those before them and after them, they will always face floods. What difference does it make whether 60 percent are starving or 75 percent have gone hungry? Does it matter which country sends the relief wheat? What's relevant are the feelings kindled, the shared kilogram of rice, a solitary dry house for all, and that others have felt the pain. What's significant is that when the roads are dry and the walls repainted, a nation that once cared quickly forgets."
Among many other things, I have come to admire the ease and eloquence with which Shahidul switches from English to Bangla. The flair with which he wears his chappals—to class and meetings and award ceremonies, including the one in 2014 where he was awarded the Shilpakala Padak by the President of Bangladesh. Shahidul makes me think about what it means to belong, to a place and a people, to the majority world. What it means to grow roots and still be an engaged global citizen. His work and his life speaks to us that love for one's country and people, often referred to as patriotism, means standing your ground and speaking truth to power, no matter the consequences.
Activism
Rebecca Solnit writes that "Activism is not a journey to the corner store, it is a plunge into the unknown." Shahidul, his life partner Rahnuma, and their community are reminders that as individuals, collectives and institutions, we are often plunging into the unknown as we seek to create change and equality, whether in our personal or professional lives. His life is a lesson that despite the unknown, we keep at it. Activism is a life-long commitment to organising, speaking up when the need arises, doing, thinking, writing and marching on.
Solnit continues to say that "Anything could happen, and whether we act or not has everything to do with it. Though there is no lottery ticket for the lazy and the detached, for the engaged there is a tremendous gamble for the highest stakes right now."
Shahidul is currently imprisoned for being a witness and telling the truth. From his jail cell, he continues to inspire, bringing so many together from around the world, to stand our ground, call for justice and act as a community. Even in this darkest of times, I continue to learn from him.
Around that time, I met Abdul Malik, a young man in his early twenties, on an Aeroflot flight bound for Tripoli. He dreamt of somehow changing his destiny. I dreamt of somehow recording his dream. I have never seen him since and I don't know if he made it back home, bought that piece of land he had hoped for, or had managed to arrange a marriage for his sister, but I have seen his dream in many eyes, both fresh and weary.
Photo: Shahidul Alam/Drik
Rejoicing at Ershad's fall Mirpur Road, Dhaka, Bangladesh, 1990. Resistance to General Ershad was mounting and by the end of that year it all came to a head. The government had enforced strict censorship. Newspapers stopped publishing in protest and there were tanks on the streets. The adrenalin flowed as we marched through the teargas and my camera began to respond. Braving the curfew, I tried to capture the raw courage of a people against the cruelty of a tyrant. Photo: Shahidul Alam/Drik
The elections were a glorious site. People thronged to polling stations. I photographed a woman in a ballot booth, avenging Noor Hossain's dealth with her voice. Sadly, it didn't result in democracy, since democratically elected leaders are often scantily disguised autocrats. Photo: Shahidul Alam/Drik
Phalan and Iqbal in Lalmatia, Dhaka, Bangladesh, 1995.Photo: Shahidul Alam/Drik
Estemah, Tongi, Bangladesh, 1988. Photo: Shahidul Alam/Drik
Woman collecting flood water, Jinjira, Dhaka, Bangladesh, 1988. Photo: Shahidul Alam/Drik
Remains of a home after cyclone, Hatia, Bangladesh, 1991. Photo: Shahidul Alam/Drik
- Gurung Kakshapati is a photographer, curator and co-founder of photo.circle
---