The new ride
For Kathmandu's three million daily commuters, getting on overcrowded and unpredictable public transportation services can be a dreaded affair.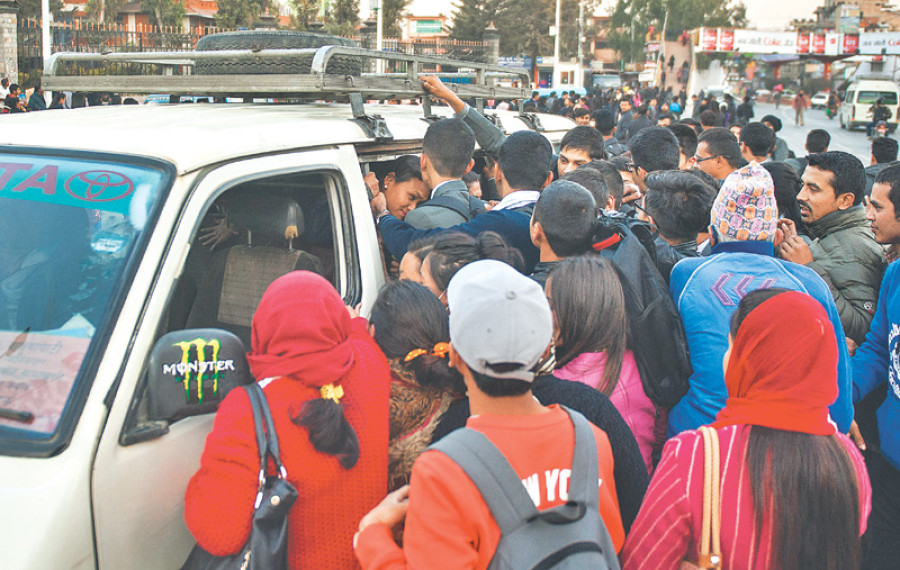 bookmark
Published at : February 18, 2017
Updated at : February 18, 2017 09:17
For Kathmandu's three million daily commuters, getting on overcrowded and unpredictable public transportation services can be a dreaded affair. Even short trips in the Valley—crammed into a bus or a micro with no room for personal space—can be a draining, tasking chore. To get on a public vehicle in the Capital is to have your patience tested. The problem is more acute in the evenings when a sea of office-goers swarm into what vehicles are available, with 'toughing it out' the only option.
Realising the need for efficient, economical and expedient transportation service in the city, Sixit Bhatta co-founded Tootle—a ride sharing application that offers a new and easy way of giving and getting rides in the Valley.
Tootle connects over a thousand bike riders in the Capital to offer pickup and drop-off services to commuters anywhere in the city.
All you have to do is download an app, sign up and request for a ride. Your ride will be on its way after you confirm to a confirmation call.
"Initially, we wanted to build an application to track Sajha buses for commuters. Tootle came about in this process. There are about 601,951 registered motorbikes in the city. We thought that by utilising this abundance of bikes, we could also help tackle the omnipresent problem of inefficient transportation. Our intent is to share economy with ride sharing," says Bhatta.
And since its launch this New Year, the public response towards the startup has been building. Avantika Jhunjhunwala, a 19-year-old student and a frequenter of Tootle, is delighted that her commute in the Valley has become much easier and comfortable. "I'm so grateful that something like this has been initiated in the Valley.
I can now avoid packed buses that give me headaches and over-priced taxis. Tootle is like a middle ground—convenient, transparent and reasonably priced," she says, adding that Tootle allowing you to select the gender of the rider you receive a ride from has come as an added bonus.
Further, the fares are based on the kilometres you travel—payments of which you can either make with the driver themselves, or through credit you purchase with the app.
Rojita Tamrakar, an MBA student and a professional, is a Tootle partner—she gives and takes rides via Tootle. But rather than the extra money she is making, which is an added value for her, she states that the social aspect of the service—helping to reduce congestion while offering better transportation services—has kept her using the app. She acknowledges, "The traffic congestion in the city is getting worse by the day.
Tootle helps reduce that too, if only so much, and that has been a motivating factor for me. I've given rides to mostly working people and their response has been positive towards the service provided."
Tootle could stem the way for an efficient point-to-point transportation service in the Valley. On paper, it could revolutionise the way Kathmandu's denizens commute. However, placing your safety in the hands of a stranger you've never met is a cause of concern for many current, and prospective, 'Tootlers'. While Tootle makes efforts to address these concerns by making sure to verify the rider's license, offering rider-rating services on the app, and sometimes, even cross-checking with the customer regarding the service provided, the issue, nevertheless, continues to exist.
For many others, getting a ride from a stranger itself is a bridge too far. In the fall of 2015, when the 'unofficial blockade' brought Kathmandu to a standstill, Carpool Kathmandu, another similar initiative, had begun to gain ground. The then-ongoing fuel shortage brought commuters together, and their apprehensions about riding with complete strangers were set aside.
But despite showing promise, the initiative eventually fizzled out after fuel supplies normalised. "Carpool's popularity skyrocketed because there was a lot of need of ride sharing during the shortage.
People push their boundaries when there's need. Their apprehension about hitching rides with strangers was never really a concern for us," says Sumana Shrestha, who started the Facebook community. "It didn't work after [the blockade], because people didn't feel the urgency, and our team didn't spend much time making people realise what great potential it had, with or without the shortage in place," she adds.
Bhatta admits that apprehensions about sharing rides with strangers are one of Tootle's biggest challenges and a barrier they're actively working on dissolving.
"The culture of riding with strangers was never really fostered in the city and people are wary of strangers. This is why we promote the values of treating a Tootle partner as a friend with a bike."
But for what it is, the app is already beginning to gain a footing, completing 30-40 rides every day; and, were it to gain momentum with daily commuters, as intended, it could pave the way for a much needed transformation of the way Kathmandu commutes.
Of course, the Valley's transportation system still needs a larger systemic reboot, but with growing acceptance for initiatives like Tootle and Carpool Kathmandu, private citizens are already doing what little they can.
---
---