All about vitiligo
Dermatologist Sagar GC dispels misconceptions about the condition and explains its causes, symptoms and treatment.

Shutterstock
bookmark
Published at : October 18, 2023
Updated at : October 18, 2023 08:24
Kathmandu
People often experience various skin issues, some obvious and others subtle. One common skin concern is vitiligo, a condition that causes the skin to lose its natural colour, leaving white patches. While many are familiar with vitiligo, there's often a lack of complete understanding.

Dr Sagar GC, a Nepal Medical Council-certified dermatologist and consultant at Civil Service Hospital, is well-versed in this issue. He holds an MBBS and MD from Kathmandu University and also serves as a dermatologist and aesthetic surgeon at the Bhaktapur Skin and Cosmetic Centre.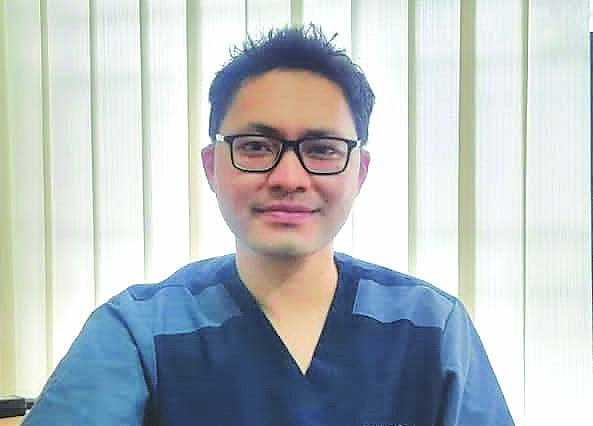 Photo Courtesy of Sagar GC
Here, Dr GC explains vitiligo, its triggers, and the available treatment options in detail.
What is vitiligo?
Vitiligo is a long-term skin condition where pigment-producing cells, called melanocytes, are destroyed, resulting in white patches on the skin. These patches often appear symmetrically on both sides of the body and can occur anywhere, commonly affecting the face, neck, hands and skin creases. People with vitiligo have skin that is more susceptible to sunburn due to its paleness.
Vitiligo can develop at any stage in life, although it's rare to be born with the condition. Typically, it affects individuals under twenty years of age. The condition varies in duration, lasting from six months to a year. Vitiligo tends to have a widespread pattern of progression, though there are instances where it stops spreading. It can affect people of all ethnicities and genders, being more noticeable in individuals with darker skin but also impacting those with lighter skin.
What are its causes?
The direct cause of vitiligo remains unknown, although it may be a side effect of certain diseases. Genetics plays a significant role in most vitiligo cases, with a 40 percent chance of passing it on to offspring if one parent has the condition. Sunburn can also trigger vitiligo, as the sun is a known culprit for various skin abnormalities besides cancer.
Scientific studies suggest that vitiligo is an autoimmune disorder. In this condition, the immune system mistakenly attacks and destroys melanocytes. Certain diseases like Addison's disease, pernicious anaemia, psoriasis, rheumatoid arthritis, systemic lupus erythematosus, thyroid disease, and type 1 diabetes are associated with vitiligo. These conditions can trigger vitiligo by causing the immune system to target melanocytes.
What are the symptoms?
Vitiligo typically begins with small white patches on the skin, which gradually expand. These patches usually appear on the hands, forearms, feet, and face. However, they can also emerge on mucous membranes (the moist linings of the mouth, nose, genital, and rectal areas), eyes, and inner ears. Hair in affected areas might turn white too, including on the scalp, eyebrows, eyelashes, beard, and body.
While larger patches can grow and spread, they often stay in the same location for years. Smaller patches might change places over time as different areas of the skin lose and regain colour.
The extent of depigmentation varies among individuals. Some may only have a few unpigmented patches, while others might experience widespread loss of skin colour. Importantly, mucous membranes like those in the mouth or nose are also susceptible to vitiligo.
People with vitiligo might notice changes in their self-esteem and self-image due to concerns about their appearance. This can impact their overall quality of life. However, it's essential to know that well-known personalities like Winnie Harlow, who also has vitiligo, serve as inspiring examples.
Additionally, individuals with vitiligo should be aware of the risk of developing uveitis, an eye condition characterised by eye inflammation or swelling. Regular eye exams are recommended for individuals with vitiligo to monitor for any potential complications.
How does one treat vitiligo?
Vitiligo affects the skin's appearance but does not harm overall health, although sunburn in affected areas can be uncomfortable. While rapid vitiligo treatments are limited in Nepal, visiting a dermatologist is key. They can help restore colour (repigmentation) or remove remaining colour (depigmentation) from the skin.
For extensive vitiligo, treatments such as medications, phototherapy or surgery are available. Psychotherapy is also recommended for patients with vitiligo. It is advisable to avoid using cosmetics on affected areas.
---
---