Why do we want the big, fat Nepali wedding?
From a mehendi ceremony to a bachelorette party to a filming/photography crew, Nepali weddings these days have become more massive, lavish and expensive.

Brides and grooms hire photographers and spend hours to capture the 'perfect shot', which looks like a photo straight out of a magazine. Photo Courtesy: Wedding Dreams Nepal
bookmark
Published at : February 18, 2020
Updated at : February 18, 2020 07:54
Kathmandu
Deepika's engagement ceremony was everything she had ever wished for. A designer outfit, professional makeup, a palace-like venue, her family having a ball and top photographers documenting the special day. Deepika, 26, who wants to be known by her first name only, was the first one in her family to have such an extravagant engagement ceremony, and the first to add the ritual of an exchange of rings.
"Traditionally in our Newa culture, we have the kochi, the first ceremony of the wedding in which the groom's presence is not necessary. In this ceremony, the groom's family visits the bride and performs pujas, as to confirm the wedding," says Deepika. She opted for a ring exchanging ceremony instead, replicating an Indian ritual she's seen many a time in Bollywood movies.
Like Deepika, many urban Hindu Nepalis these days are opting for weddings that include a series of events that reflect an assimilation of various cultural practises, some straying from traditional practice, like synchronised dance performances, mehendi and haldi ceremonies, bachelorette parties, cinematic wedding videos. And while doing so, they are not shying away from spending exorbitant amounts of money.
According to Anup Ghimire, director of Wedding Dreams Nepal, a wedding management and planning company, "Most people want big weddings because it's a special time. They want it to be memorable for themselves and for everyone else."
Weddings have always been an important aspect of society, especially in the South Asian region. It is estimated the Indian wedding industry, which is the biggest in South Asia, is worth an approximate $50 billion dollars alone. From making Bollywood actors serve food to your guests and hiring Beyonce to dance at your sangeet—people are willing to do anything to make people remember their wedding.
But why do people want such grand celebrations? Dissecting this psyche, Lalita Bashyal, a sociologist, says wedding celebrations have always been a huge deal in Nepali society, as weddings are generally associated with power and status. "In our context, wedding celebrations have always been a symbol of status. That's why people want weddings to be big in order to reflect their social position," says Bashyal, a teaching faculty at Madan Bhandari Memorial College. "People will feel that their status-quo in society might get affected if they don't throw big celebrations. That's why they opt for grand weddings."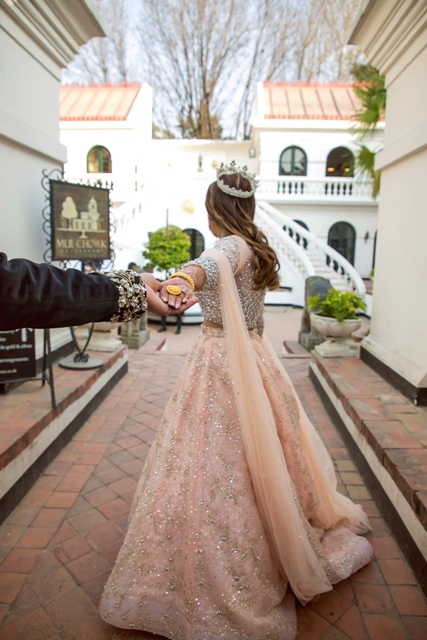 Photo Courtesy: Wedding Dreams Nepal
People also want to document all their celebrations. Gone are those days when wedding photos would be limited to the brides and grooms bowing their heads in shyness, their families beside them. Today, brides and grooms spend hours for the perfect shot, which looks like a photo straight out of a magazine. Some even go a step further and have a pre-wedding photoshoot. Along with photos, couples want videos too, particularly crafted for social media.
"They also come with a pre-plan of where they want their video to be shot at and even the kind of music they want in their video," says Bishwas Magar, director of Wedding City Nepal, who has been in the business for almost five years. There's also a high demand for drone shots, a reflection of how important photos have become for the newlyweds. "Since from a bird eye view everything looks stunning, couples are trying aerial photography for their weddings," says Ghimire, of Wedding Dreams Nepal.
Social media also has a lot to do with this trend of organising big weddings, says Rajesh Ghimire, hairstylist and makeup artist at Arden the Beauty Point, Kupondole. "When people see someone's wedding pictures and videos on social media and other people raving about it, they want something similar," says Ghimire.
According to sociologist Bashyal, people's habit of seeking gratification from others has also contributed to this need for organising big weddings. "Previously, weddings were a private affair. But with the advent of social media platforms, more people are sharing their precious moments with their friends and families and it has been a barometer for the couples to determine whether their wedding was hit or not on the basis of how their wedding has been received on those platforms," says Bashyal.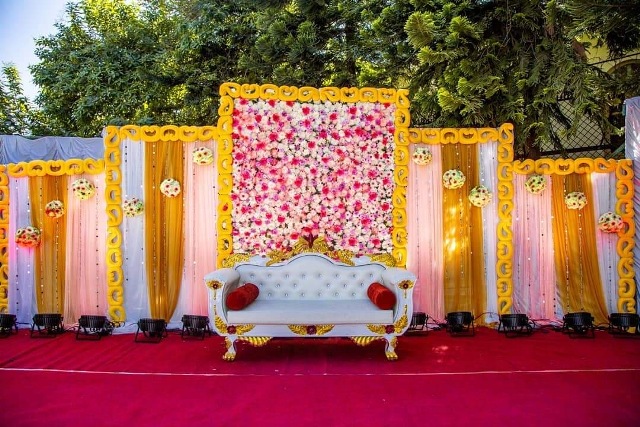 Photo Courtesy: Welcome Event Management
Many also believe that people's fixation on grand weddings, with the inclusion of events like mehendi and sangeet, is partly also a result of people's fascination with Bollywood.
"Bollywood is definitely one of the main reasons why people want big weddings and include multiple events like mehendi and sangeet," says Riza Poudel, a wedding planner at Welcome Event Management. According to Poudel, the needs and aspirations of clients are getting bigger and bigger and that has made it challenging for them to handle weddings.
The shift in the decision making power of planning weddings and celebrations, from the hands of elders to those who are taking nuptials, is also one of the reasons why weddings have become so much bigger, says Prathana Shrestha, co-founder of MP Luxury Bridal, a wedding design firm.
"Couples are getting more involved in the planning and execution of the smallest details rather than leaving it completely to the parents. They are experimenting with new approaches, and considering the abundant resources and inspiration online and offline, it is fairly natural for brides and grooms to want nothing less in their celebrations," says Shrestha.
And that's what people who are about to tie the knot say too. "I will replicate the same grandeur in my wedding ceremony because it's a one-time thing. Obviously it has to be special," says Deepika, who has been frequenting boutiques in Kupondole and Indra Chowk, trying to find the perfect outfit for her wedding.
---
---