City removes bus park from Khula Manch with no alternative venue for it
Authorities say there will be a bus park at the centre of the Capital city only after the view tower is built. No one knows when that is. Meanwhile, people suffer waiting by the roadside for buses.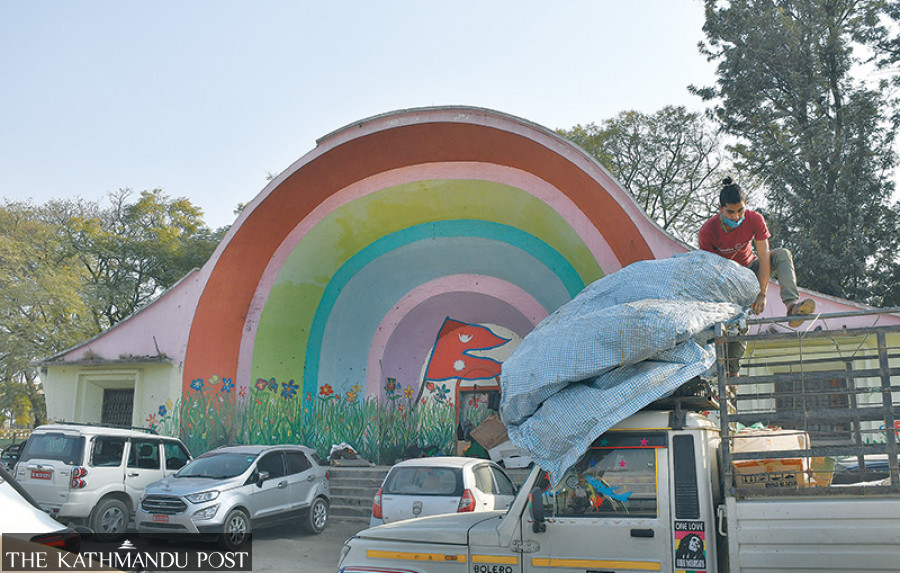 Post File Photo
bookmark
Published at : July 16, 2021
Updated at : July 16, 2021 07:54
Kathmandu
On Thursday noon, the sky was leaden with rain set to start any moment in downtown Kathmandu. In front of the padlocked western gate of the Khula Manch where there used to be a temporary bus park until April, Prakash Bhandari, his wife Barsha and their five-year-old daughter were waiting for a bus to Sundarijal.
"We have been standing here for nearly an hour and rain can start anytime, but we haven't been able to find a bus to Sundarijal," said Bhandari, 37, who had seen the bus park in operation until the imposition of the Covid-19 prohibitory orders two and a half months ago and was unaware of its closure until Thursday.
At the padlocked gate, the Kathmandu Metropolitan City has put up a notice saying that the public transport vehicles that used to operate from the Khula Manch-based buspark are now operating a 'pick and drop system'. Passengers can board buses to Banepa and Panauti from the Bir Hospital and Safa tempos from the New Road Gate, the notice says.
Officials at the Metropolitan Traffic Police Division said 600 public vehicles plying short routes in and around the Kathmandu Valley operated from the temporary bus park.
But the closure of the bus park has left both passengers and bus operators confused.
"The KMC should have made an alternative arrangement for a bus park before closing this one," Kabin Singh, 50, was also waiting for a bus to Sundarijal. "It's really puzzling."
Bhandari and Singh are among tens of thousands of people who rely on public transport to travel to the Kathmandu outskirts like Dhulikhel, Sundarijal, Naikap, Banepa and Panauti among other places and are suffering due to the closure of the bus park.
But the heart of Kathmandu will not have a bus park any time soon, according to authorities.
Ishwor Man Dangol, spokesperson at the City, said a new bus park will materialise only after the completion of Kathmandu View Tower.
He was referring to the building of a view tower at the original bus park, east of Khula Manch where a multi-storied view tower is being built. The city has made an agreement to make a bus park in its basement.
Hardly half of the job on the view tower has been completed. Authorities pass the buck when it comes to taking the responsibility
But when asked about the proposed view tower, he asked the Post to contact City's administration chief Mahesh Kafle.
But when reached out to Kafle, he said the view tower does not come under his jurisdiction.
"When I was a chief of Public-Private Partnership division of the City, the City had given five years' contact to Jaleshwor Swachhanda Bkoi Builders, now there is just two months to complete tenure, I do not know the further development," said Kafle.
In 2016, the Kathmandu Metropolitan City decided to have half of the Khula Manch as a bus park to facilitate the construction of the view tower. Initially, the bus station at Khula Manch was planned for six months but it remained there for over five years.
Dongol also said alternative arrangements have been made for buses that used to go farthest from the padlocked bus park.
"In case of buses going to places like Panauti, Sindhupalchok, Kavrepalanchowk that used Khula Manch are now being operated from New Bus Park [at Gongabu] but for other short routes within the Kathmandu Valley they are being operated in pick and drop rules," said Dangol.
It is not just the public but bus drivers are equally at a loss by the mismanagement.
"This total mismanagement has confused passengers and we bus operators are also equally pressured these days," said Shyam Khadgi, a bus driver who has been driving on the Kathmandu-Dhulikhel route for the past 18 years. "We cannot even take a proper rest."
It was after numerous protests by heritage activists, locals and citizen-led groups calling for vacating Khula Manch in 2019 which continued till this year, the City finally cleared the buspark from Khula Manch and padlocked its gate on April 28, making pick and drop rules but has not come up with any plan to make a bus park.
Kathmandu Valley went under lockdown on April 29 and public buses were now allowed to ply as the second wave hit the country. From the June first week the lockdown was gradually loosened and from the third week of June public buses were allowed on the basis of odd-even rules. From July 6 onwards all public buses were allowed, but at the heart of Kathmandu, there is no place for buses to park. With the only drop and pick up rule passengers have to wait by the road, come rain or shine.
According to the Kathmandu District Administration Office, public transport vehicles operating inside the Kathmandu Valley will have to make sure that they do not carry passengers more than their seating capacities, all passengers are wearing masks, drivers and helpers are wearing masks, visors and gloves, sanitisers are available at the doors of the vehicles and the vehicles are sanitised daily. Likewise, the Safa tempos and blue microbuses should not carry more than nine passengers and need to install a plastic screen in the aisle.
Meanwhile, the historic Khula Manch is in derelict condition, some part of the empty place is covered with bushes, still there is debris of the demolished temporary structure where construction workers of Bir Hospital and Durbar High School stayed for over four years. But neither the City has a specific plan to reshape or preserve the Khula Manch nor does it have any alternative to make a City bus park.
Deputy Mayor Hari Prabha Khadgi says that the City should never have taken Khula Manch as an alternative to the old bus park.
"Khula Manch had to be left open. The bus park has now been removed from there," said Khadgi. "The city needs a bus park but Mayor Bidya Sundar Shakya is not concerned about the issue. Before removing the bus park from Khula Manch, the City mayor should have thought about an alternative."
---
---