Earthquake victims in Far West languish in temporary shelters
Hundreds in Doti and Bajhang have been awaiting resettlement to safer places.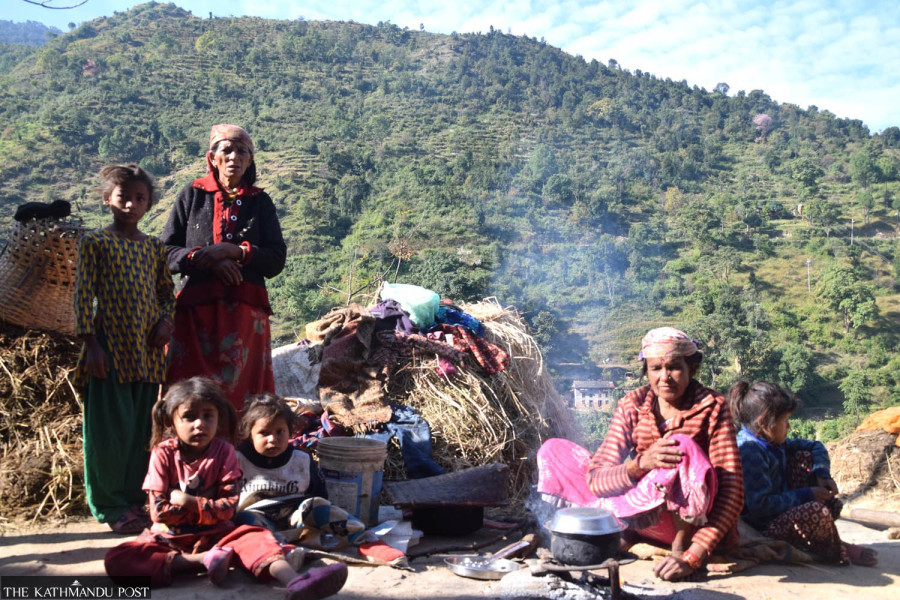 All displaced families in Biskhet village are landless freed Haliyas—indentured farm labourers. Post Photo
bookmark
Published at : November 20, 2022
Updated at : November 20, 2022 07:47
Bajhang/doti
Eighteen Dalit families of Biskhet village in Thalara Rural Municipality-8, Bajhang have been staying at a plastic tunnel set up after the earthquake on November 8. The earthquake measuring 6.6 magnitude on the Richter scale has its epicentre in Khaptad National Park area in Doti and its aftershocks had damaged their huts, forcing them to relocate.
The flimsy shelter is overcrowded with as many as 75 people from 18 families taking shelter under the single plastic tunnel set up on leased land. The displaced are hoping for permanent resettlement immediately to avoid the long harsh winter that awaits them. But they have not received any support from the local authorities since the earthquake.
"Days are still okay with some sunshine but nights are getting colder and frosty," said Chakhudi Damai, aged 68, one of the residents at the tunnel. "We haven't had a good night's sleep since we left our home. We don't have enough space inside the tunnel to lie down at night."
All displaced families in Biskhet village are landless freed Haliyas—bonded farm labourers.
"My house is on the verge of collapse and going back to live there is out of question," said Paru Damai, a mother of three small children. "The adults are somehow enduring the hardships but it is difficult for children. I'm worried my children will fall ill if they have to spend the winter here inside this tunnel."
Lalmati Damai, another resident at the tunnel, said her family doesn't have enough clothes and bedding to get through the winter and nobody has provided any relief or any support. "The ward chairman visited us and said that efforts are on to provide us with tents, clothes and other relief materials but we haven't received anything yet," she said.
Biskhet is also prone to landslides and with the landmass weakened by the earthquake and its aftershocks, the villagers are scared to return to the village and restless as they have nowhere to go.
"This monsoon was tough on us," said Padam Damai, another displaced person. "We are currently taking shelter in the tunnel but we had to leave our livestock behind in the village. I am extremely worried about them."
According to the data of the Thalara Rural Municipality, 45 houses were completely destroyed, 73 incurred severe damage and 353 houses sustained partial damage in the earthquake.
Prakash Rokaya, chairman of the rural municipality, says they are making efforts to manage the budget to find a suitable location to shift the Haliya settlement from the landslide-prone village.
"We will soon distribute tents and clothes to the displaced," Rokaya said. "We will have to move them elsewhere and it is taking longer than we had anticipated finding a suitable location."
At least six people died, 12 were injured, and hundreds were displaced by the earthquake that rocked the Purbichauki Rural Municipality of Doti.
According to Dev Bohara, general secretary of Nepal Red Cross, Sudurpaschim, 1,412 houses were completely destroyed and 3,802 houses were partially damaged in the quakes.
The victims who have since then been living in temporary shelters are facing a shortage of relief materials, Harka Bohara of Gauragaun in the rural municipality told the Post. "There is a shortage of tarpaulin, tents, winter clothes and medicines," he said.
The chairman of the rural municipality also says additional relief material has not arrived from the District Disaster Management Committee for them to be able to distribute among the victims.
Saraswati Khadka, another victim, said the situation at the makeshift habitat is getting worse by the day. "There are pregnant women, small children and old folks who will be suffering in the harsh winter days the most," she said. "Those whose houses are damaged completely or partially can't return home. But the school building we were taking shelter in is filled beyond capacity. People are living on the streets now."
---
---