Youths head for India in droves indifferent to elections
Say earning livelihoods and feeding their families are more important to them.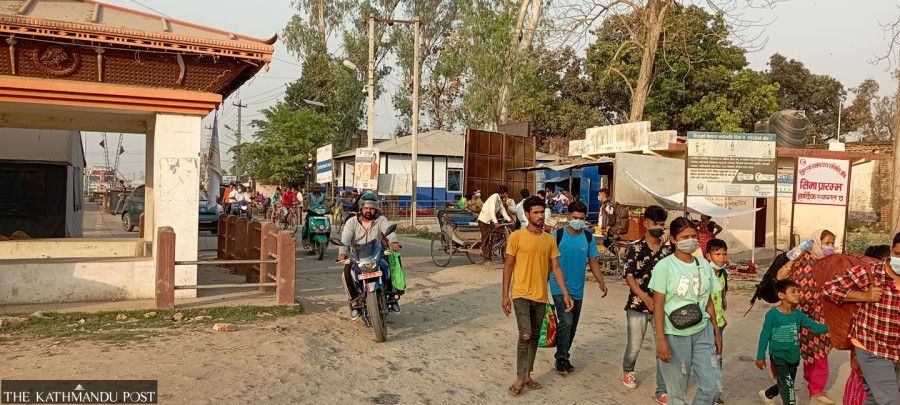 Nepalis crossing over to India via the Jamunaha border in Banke in this recent photo. Thakur Singh Tharu/TKP
bookmark
Published at : April 1, 2022
Updated at : April 1, 2022 15:38
Nepalgunj/kanchanpur
"What have we gained in return for casting our votes?"

A frustrated Dhan Lal Rawat, who was heading towards India from Nepalgunj last week in search of work, expressed his thoughts regarding the upcoming local elections slated for May 13.
Rawat, 18, was accompanied by around half a dozen of his friends who were also crossing the Nepal-India border and heading towards Manali in search of work.
"Politics does not feed our families. Earning a livelihood and looking after our families is more important to us than casting votes in the elections," said Rawat, "We are heading towards Manali as it is the season for vegetable farming and there will be plenty of work there."
With the government announcing local elections, various political parties, local and national level leaders among other party members have amped up publicity campaigns. While most political parties are organising various election-related functions, some political leaders are busy party-hopping in hopes of getting a ticket and winning the upcoming elections.
On the flip side, the election fever has not yet gripped hundreds of thousands of youth in Sudurpaschim, Karnali and Lumbini provinces as they are more concerned about migrating to India in search of employment after a lull in economic activities during the pandemic.
Various border points in Sudurpaschim and Lumbini provinces have been witnessing long queues of people leaving their villages in search of work in India.
According to the Area Police Office at the Nepalgunj border point, around 100 youths are crossing the border daily to India for work.
"Around 100 Nepalis are entering India through the Jamunaha border point in Nepalgunj on a daily basis," said Sub-Inspector Min Bahadur Bista, chief at the Area Police Office in Jamunaha.
On March 24, Ram Bahadur Pariyar of Bijuwar in Pyuthan Municipality crossed the border to find work in the Indian state of Rajasthan. He says casting his vote in the upcoming election is the last thing on his mind. "We couldn't go to India earlier because the job market hadn't opened up because of Covid restrictions," said Pariyar. "But now everything is open so if I don't leave now good jobs will all be taken up. As for the elections, whoever comes to power will not give us jobs or take care of our families so why stay back to cast our votes?"
According to the records at the border points in Sudurpaschim and Lumbini, youths from Kalikot, Jumla, Humla, Dolpa, Salyan, Surkhet, Dailekh, Rukum from Karnali province and from Lumbini Province—youths from Bardiya and Banke among other districts are among those leaving for various places in India, including Himachal Pradesh, Gujarat, Delhi, Punjab, Rajasthan among others, in search of work.
Thirty-year-old Gajendra Bahadur Rana of Taratal in Madhuban Rural Municipality in Bardiya district was also crossing the border on the same day as Pariyar. Like many others, Rana said he has no interest in the upcoming elections and is heading for Punjab to find work.
"We have cast our votes in every election, what have we got in return? Who will look after our families if we wait until elections?" asked Rana.
Gyanendra BK of Barbardiya Municipality in Bardiya district, who was at the border point along with Rana, lamented the apathy shown by the political leaders after the elections were over.
"Leaders promise us of creating jobs here and developing our villages but they never do anything for us," said BK, "We are heading to India and will return after three to four months."
As for Rawat from Nepalgunj, he does not buy the promises political parties make before and during the elections. "Every political party shows us the dream of employment, construction of smart cities among others and it is not a new slogan for them," said Rawat, "As soon as the elections are over, they forget the campaign-trail promises."
Most of the people who are migrating to India for work expressed aversion towards politics stating that the political leadership had failed to deliver on their promises.
Rawat said that many youths in the region, including him, are fed up with the hollow promises of politicians.
"We would not have to leave our country and family if only the elected leaders created employment opportunities for us as they promised during the elections," said Rawat.
The indifference of the youth to the upcoming elections is a blow to aspiring political candidates, says Hima Kumari Chaudhary, deputy chief of Geruwa Rural Municipality in Bardiya district. Chaudhary aspires to contest for chair of the rural municipality in the upcoming local polls on May 13. "Youths are important to us. I would request them all to stay back but I also understand their need to prioritise their livelihoods and families," she said. "Hopefully we will be able to do something for them in our own country in future," said Chaudhary, who belongs to the Nepali Congress.
---
---