Early marriage and teen pregnancy rampant in Karnali Province
According to the Ministry of Social Development, 41,000 teenage girls got married in Karnali in the last three years.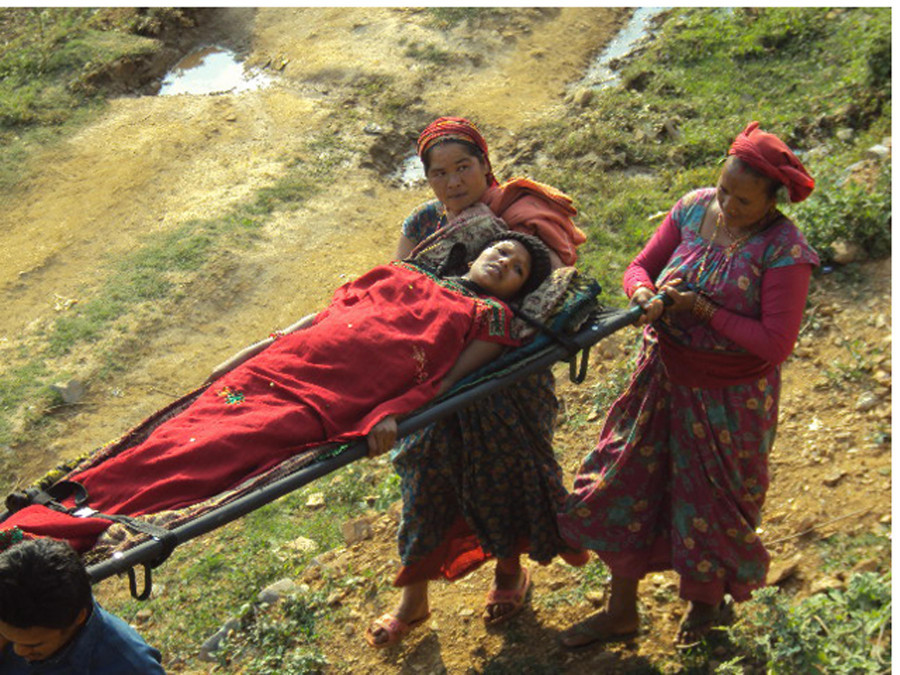 A total of 40,961 teenage pregnancies were reported from several districts of Karnali in the last three years. Post File Photo
bookmark
Published at : April 7, 2021
Updated at : April 7, 2021 08:19
Birendranagar
Saraswati Damai, a resident of Sarkegad Rural Municipality Ward No. 3 in Humla, got married to Daljit Pariyar nine years ago. She was 14 years old and a fifth grader at the time of her marriage.

Damai bore her first child at the age of 15 and by 20, she was a mother to three children. Three years ago, she died of excessive bleeding while giving birth to her fourth child.
Most teenage girls in Karnali Province meet the same fate as Damai. Married at a young age, these girls lead the life of young mothers who face complications in their reproductive health that sometimes prove fatal.
According to the data of the Ministry of Social Development, 41,000 teenage girls got married in Karnali Province in the last three years. Out of them, 19 percent went through teen pregnancy.
Manisha Nepali, a teenager in Jumla, says most teenage girls in the region are putting their lives at risk by marrying young.
"Society pressurises girls to marry early and bear children even when they are not prepared, physically and emotionally, to take such responsibilities," Nepali said.
One of the most pressing reasons for marrying young, besides societal pressure, is poverty, says Nepali.
"Most of the girls get married at a young age owing to the poor economic background of their family. The family and the girls themselves look at marriage as a means to escape from poverty," she said.
Four years ago, Danta Oda, a pregnant teenager in Jumla, died while giving birth to her third child. She was a mother of two children at the age of 18.
Her father Manu Oda says he regrets marrying off his daughter at a tender age.
"My daughter could never enjoy life due to the burden of household chores. I think she would have survived if we had taken her to a hospital on time," he said. "We don't have proper access to health care due to the remoteness of our villages."
Sunita Singh, a local resident of Junichande Rural Municipality in Jajarkot, became a mother at the age of 16. She was only 14 years old when her family married her off. Her husband left her soon after and remarried. Singh now is a single parent to her daughter and lives a life of hardship.
"I regret giving in to the family pressure of marrying early. I would have had a much easier life if I had chosen to stay unmarried," said Singh.
In the last three fiscal years, the provincial government has launched various plans, programmes and policies to mitigate the risks of child marriage and teen pregnancy. But the result so far has been dismal.
Highlighting some of the programmes aimed at addressing the issue of child marriage in Karnali, Social Development Minister Dal Rawal said, "We have started 'bank account of daughters, for secured life' and 'daughters and daughter-in-law's scholarship' programmes with an aim to make girls economically independent so that they can live a life of dignity."
With these initiatives, the provincial government aims to eradicate child marriage that plagues the province and its girls.
"The government has decided to open a bank account in the name of girls and deposit money in their accounts until they turn 20. They can withdraw money only if they marry after 20 years of age," said Rawal.
According to the data available at the Ministry of Social Development, Rukum (West) is at the top of the list for child marriage in Karnali Province. Within the last three years, the district reported 71.6 percent of child marriage cases while the figure stands at 70.66 in Dailekh, 69.88 in Salyan, 69.76 in Jumla, 68.82 in Surkhet, 65.86 in Jajarkot, 59.17 in Kalikot, 57.39 in Mugu, 52.38 in Humla and 49.95 in Dolpa.
According to the ministry, most children are married between 15 to 19 years of age. A total of 40,961 girls became pregnant in several districts of Karnali in the past three years.
Although Nepal abolished child marriage in 1963, the practice is still rampant in rural areas of the country. According to the Civil Code, the minimum age for marriage in Nepal for both women and men is 20. As per Article 173 of the Criminal Code, a person found guilty of either committing or arranging a child marriage is subject to a jail term of up to three years and a fine of Rs 30,000. However, in many cases, these legal provisions, aimed at protecting children from child marriage, have ended up being used to penalise them instead.
Rawal says that the provincial government is going to coordinate with local governments to formulate new laws to address child marriage in Karnali.
"The prevalent laws, plans and campaigns haven't been effective. We plan to raise awareness on the issue in the entire region through awareness programmes in coordination with police administration, children clubs and local people," Rawal said.
---
---