Karnali government's decision to set up isolation facilities yet to be implemented
Designated health institutions face difficulties in setting up isolation wards due to lack of budget.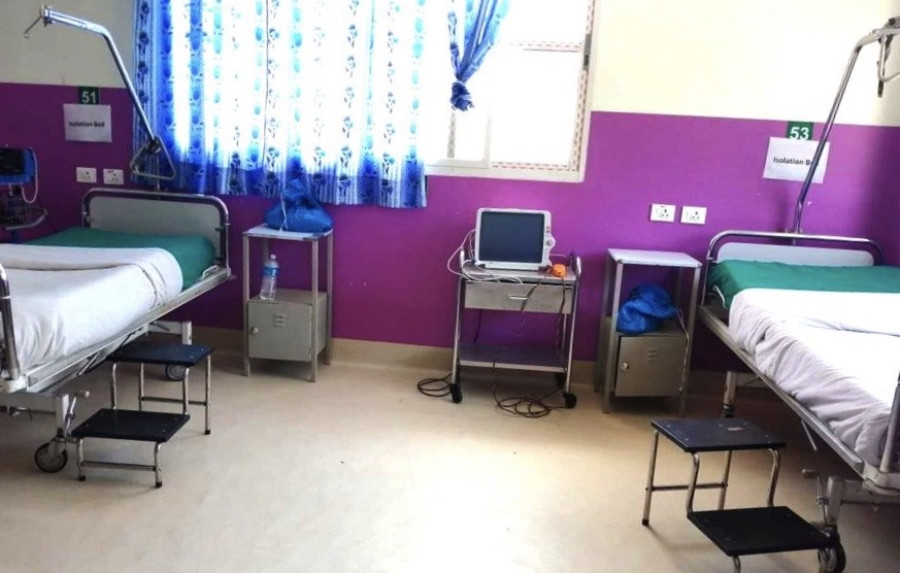 An isolation ward at Chaurjahari Hospital in Rukum (West). Health officials say they are purchasing medical equipment for the ward on credit. Post file photo
bookmark
Published at : April 7, 2020
Updated at : April 7, 2020 08:47
Surkhet
The Karnali government's decision to build isolation wards in three hospitals in Surkhet, Jumla and Rukum (West) is yet to be implemented, as the hospitals lack the funds to set up the facilities to test and treat Covid-19 patients.
On March 26, the provincial government had announced to establish Covid-19 isolation wards at Karnali Provincial Hospital in Surkhet, Karnali Academy of Health Sciences in Jumla and Chaurjahari Hospital in Rukum (West).
"The funds allocated by the provincial government is not enough to set up an isolation ward," Bishwaraj Kafle, of Karnali Academy of Health Sciences, told the Post.
Kafle said there was also confusion regarding the utilisation of funds.
The provincial government had allocated Rs 10 million but under a different heading, causing confusion among the officials whether they should utilise the entire funds for Covid-19 preparedness and response.
"The funds remain unused with the District Disaster Management Committee," Kafle added.
The academy is equipped with a Biosafety Level 2 Laboratory to conduct tests for common pathogens, but to run tests for the novel coronavirus or SARS-CoV-2, it should install a polymerase chain reaction (PCR) machine.
Kafle said the academy's hospital needed a PCR machine to conduct Covid-19 tests and a couple of ventilators to treat patients.
Meanwhile, Churjahari Hospital in Rukum (West) has not yet received the funds allocated by the provincial government to set up an isolation ward. The government had issued Rs 5 million to the hospital.
Dil Bahadur Giri, chief administrative officer at the hospital, told the Post that the hospital management was preparing to set up a 20-bed isolation hospital in a community school building and a four-bed isolation ward in the hospital.
"Since we haven't received the funds yet, we are buying the necessary equipment and resources on credit. So far, we have managed equipment worth Rs 1 million, but they are not enough. We are still not prepared to test and treat Covid-19 patients," Giri said.
He urged the authorities concerned to release the funds immediately.
At Karnali Provincial Hospital in Birendranagar, Surkhet, works to set up an isolation facility have been hit by the ongoing lockdown.
"We have already started the tender process for the procurement of ventilators and other ICU equipment, but the lockdown has affected the supply," Dr Dambar Khadka, medical superintendent at the hospital, told the Post.
The hospital, which has two ventilators and four ICU beds, is planning to add four more ventilators and 10 ICU beds. Khadka said the hospital has already purchased equipment worth Rs 5 million for its isolation facility.
Khadka said the hospital started running Covid-19 tests from Thursday and had carried out 23 swabs tests for coronavirus infection as of Saturday. All test results were negative.

The provincial government has said that it would soon hold discussions and allocate the funds necessary to set up isolation facilities in the three hospitals.
"The government is not indifferent towards the problem. We will hold a meeting soon and provide the necessary support to manage the isolation wards," Bimala KC, minister for land management, agriculture and cooperatives, told the Post.
KC also leads the committee formed by the provincial government to set up and manage isolation wards for Covid-19 patients.
The federal and provincial governments have allocated Rs 26.2 million to the provincial hospital to set up a laboratory for Covid-19 test and expand other health facilities.
Frequently asked questions about the coronavirus outbreak
UPDATED as of September 22, 2020
What is Covid-19?
Covid-19, short for coronavirus disease, is an illness caused by the coronavirus SARS-CoV-2, short for severe acute respiratory syndrome coronavirus 2. Common symptoms of the disease include fever, dry cough, fatigue, shortness of breath and breathing difficulties. In severe cases, the infection can cause pneumonia, severe acute respiratory syndrome, kidney failure and even death.
How contagious is Covid-19?
Covid-19 can spread easily from person to person, especially in enclosed spaces. The virus can travel through the air in respiratory droplets produced when a sick person breathes, talks, coughs or sneezes. As the virus can also survive on plastic and steel surfaces for up to 72 hours and on cardboard for up to 24 hours, any contact with such surfaces can also spread the virus. Symptoms take between two to 14 days to appear, during which time the carrier is believed to be contagious.
Where did the virus come from?
The virus was first identified in Wuhan, China in late December. The coronavirus is a large family of viruses that is responsible for everything from the common cold to Middle East Respiratory Syndrome (MERS) and Severe Acute Respiratory Syndrome (SARS). After an initial outbreak in Wuhan that spread across Hubei province, eventually infecting over 80,000 and killing more than 3,000, new infection rates in mainland China have dropped. However, the disease has since spread across the world at an alarming rate.
What is the current status of Covid-19?
The World Health Organisation has called the ongoing outbreak a "pandemic" and urged countries across the world to take precautionary measures. Covid-19 has spread to 213 countries and territories around the world and infected more than 31,405,983 people with 967,505 deaths and 22,990,260 recoveries. In South Asia, India has reported the highest number of infections at 5,557,573 with 88,943 deaths. While Pakistan has reported 306,304 confirmed cases with 6,420 deaths. Nepal has so far reported 65,276 cases with 427 deaths.
How dangerous is the disease?
The mortality rate for Covid-19 is estimated to be 3.6 percent, but new studies have put the rate slightly higher at 5.7 percent. Although Covid-19 is not too dangerous to young healthy people, older individuals and those with immune-compromised systems are at greater risk of death. People with chronic medical conditions like heart disease, diabetes and lung disease, or those who've recently undergone serious medical procedures, are also at risk.
How do I keep myself safe?
The WHO advises that the most important thing you can do is wash your hands frequently with soap and water for at least 20 seconds or use hand sanitizers with at least 60 percent alcohol content. Avoid touching your eyes, nose and mouth with unclean hands. Clean and disinfect frequently used surfaces like your computers and phones. Avoid large crowds of people. Seek medical attention if symptoms persist for longer than a few days.
Is it time to panic?
No. The government has imposed a lockdown to limit the spread of the virus. There is no need to begin stockpiling food, cooking gas or hand sanitizers. However, it is always prudent to take sensible precautions like the ones identified above.
---
---