Dengue cases exceed 1,000 in Chitwan
Highly populated wards in Bharatpur Metropolitan City worst hit with the dengue outbreak.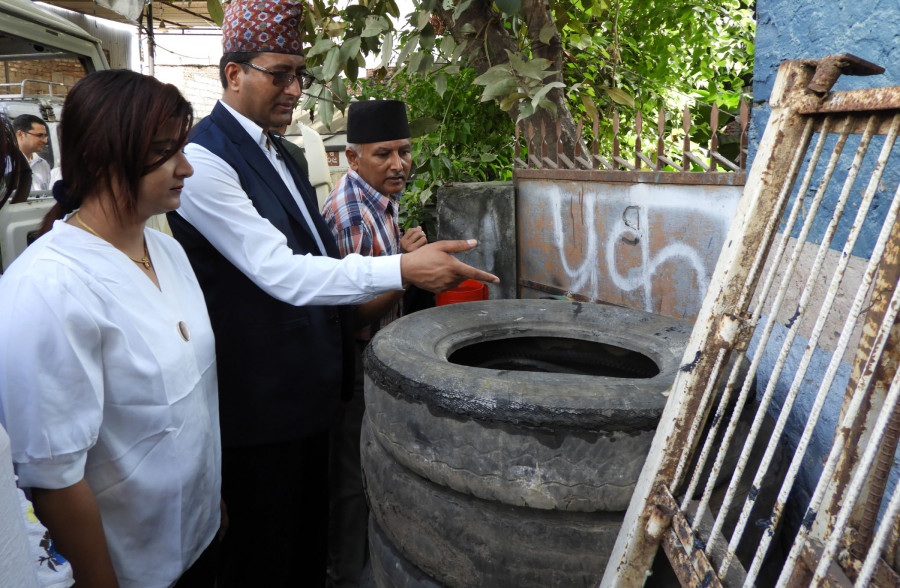 Chief District Officer of Chitwan Jitendra Basnet (2nd left) participates in a search and destroy campaign against dengue-carrying mosquitoes in Bharatpur, Chitwan. Ramesh Kumar Poudel/TKP
bookmark
Published at : September 8, 2019
Updated at : September 8, 2019 08:06
Chitwan
The number of patients infected with dengue, a mosquito-bite disease, has exceeded 1,000 in Chitwan.

Ram KC, the vector control inspector at the District Public Health Office (DPHO) in Chitwan, said 1,036 patients have been infected with dengue in the district. According to Ram KC, this is the highest number of dengue cases ever recorded in the district.
The health authority had conducted tests on 2,892 patients who visited various health institutions in Chitwan.
The Bharatpur Metropolitan City is the worst hit with the dengue outbreak. "Wards 1, 2, 3, 4, 10, 11 and 12 are greatly affected with dengue in Bharatpur," said KC, adding that around 800 dengue infected people are from these wards alone.
All the worst-hit wards of Bharatpur are highly populated areas. "The mosquitoes lay eggs on old tyres, outdoor units of air conditioners, water tanks, plates used to keep flower vase and stagnant waters. We should not leave stagnant water in and around our houses," said KC, urging all to take part in the 'mosquito search and destroy' campaign in the area.
Four persons died of dengue and scrub typhus, an infectious mite-borne disease caused by Orientia tsutsugamushi, in the past two months in Chitwan.
The DPHO said one patient died of dengue, another died due to both dengue and scrub typhus while typhus claimed the other two lives.
Earlier, Chitwan had recorded its highest number of dengue patients in 2010. A total of 739 people had been infected with the infectious disease that year.
An awareness rally was organised at Kamalnagar area of Narayangadh, coinciding with the 14th Civil Service Day, on Saturday. The rally was led by Chief District Officer Jitendra Basnet. "We saw a lot of mosquito larvae in old tyres and stagnant waters. We have to work together to control the disease," said Basnet.
Kamalnagar and Pulchowk areas have been greatly affected by the dengue outbreak. However, the search and destroy drive has not been launched there in an effective way.
Dengue is an infectious disease contracted from mosquitoes belonging to the Aedes Aegypti genus. According to doctors, its symptoms range from mild fever to incapacitating high fever, severe headache, muscle and joint pain, and skin rashes. Several districts including Chitwan, Sunsari, Morang, Jhapa, Makwanpur, Kaski, Kathmandu have been affected with the disease this year. According to health officials, Chitwan and Dharan are witnessing a sharp rise in the number of dengue cases.
Earlier, two health experts from the World Health Organization, who visited the Capital a few weeks ago, warned the agency concerned under the Health Ministry about possible outbreak of the deadly disease in the Valley.
With the alarming rise of dengue cases in Chitwan, Epidemiology and Disease Control Division in Kathmandu deployed public health office Resham Lamichhane in the district to monitor the efforts that are being made to control the disease.
"Proper treatment should be provided to patients infected with dengue. The important thing is to carry out preventive measures. We have to underscore the search and destroy a campaign," said Lamichhane. According to him, the ward offices of the metropolis, political parties, civil society and the local organisations have been mobilised to launch the search and destroy campaign.
The government hospitals in the area have been carrying out dengue tests, but test kits are not enough. Following complaints, that private hospitals are charging a hefty amount to test dengue, the district administration office started monitoring such institutions. "We held discussions with private hospitals, and came to a conclusion that private hospitals cannot charge more than 10 percent of the cost price of the dengue test kit," said CDO Basnet.
---
---