These reusable cloth pads are comfortable, cheap and healthy
Reusable Cloth Pads, started by former tailor Januka Sapkota Parajuli, could save women over Rs 1,500 a year, while also benefiting the environment.

- Shutterstock
bookmark
Published at : July 28, 2019
Updated at : July 29, 2019 09:30
Kathmandu
Neeta Karki started out using menstruation pads made out of pieces of cloth cut from her mother and grandmother's old saris. During her school days, she would use the pads, then wash and iron them before reusing them. But she soon realised that wasn't the best option. As soon as she started high school, she switched to disposable store-bought sanitary pads, as they were easier to use and more comfortable while wearing pants and skirts. But now, after 10 years of using disposable pads, she's switched back to reusable cloth pads, only these are not made from old saris.

"I was scrolling through Facebook when I saw a post about reusable cloth pads. I knew that they existed but I thought of giving them a try after learning of their health and financial benefits," said 28-year-old Karki.
She ordered a packet of four reusable cloth pads from the Facebook page for Reusable Cloth Pads, which cost her Rs850. She immediately noticed a big difference.
"The pads very comfortable and soft," she said. "I would often get rashes using store-bought pads but there were no rashes or itchiness anymore."
These reusable cloth pads are the brainchild of Januka Sapkota Parajuli, a housewife and mother of two. Parajuli had been a tailor for nine years, when she acquired an interest in remodelling soft fabric into reusable cloth pads, after seeing that school-going were using pads made out of old saris and pieces of cloth. Unlike old saris, she uses fabric that is thin, comfortable and does not leak.
But the idea really only took off after she went through a number of training programmes from World Youth International, an Australian charity. The programmes helped instil confidence in her and encouraged her to start her own manufacturing company. With savings from her tailoring business and small loans from friends, Parajuli established the RJ Pad Udhyog in 2013 at an initial investment of Rs100,000.
"I purchased small machines and the necessary fabric to make sanitary pads with that money," said Parajuli. Initially, she worked alone, producing around 20 pads a day.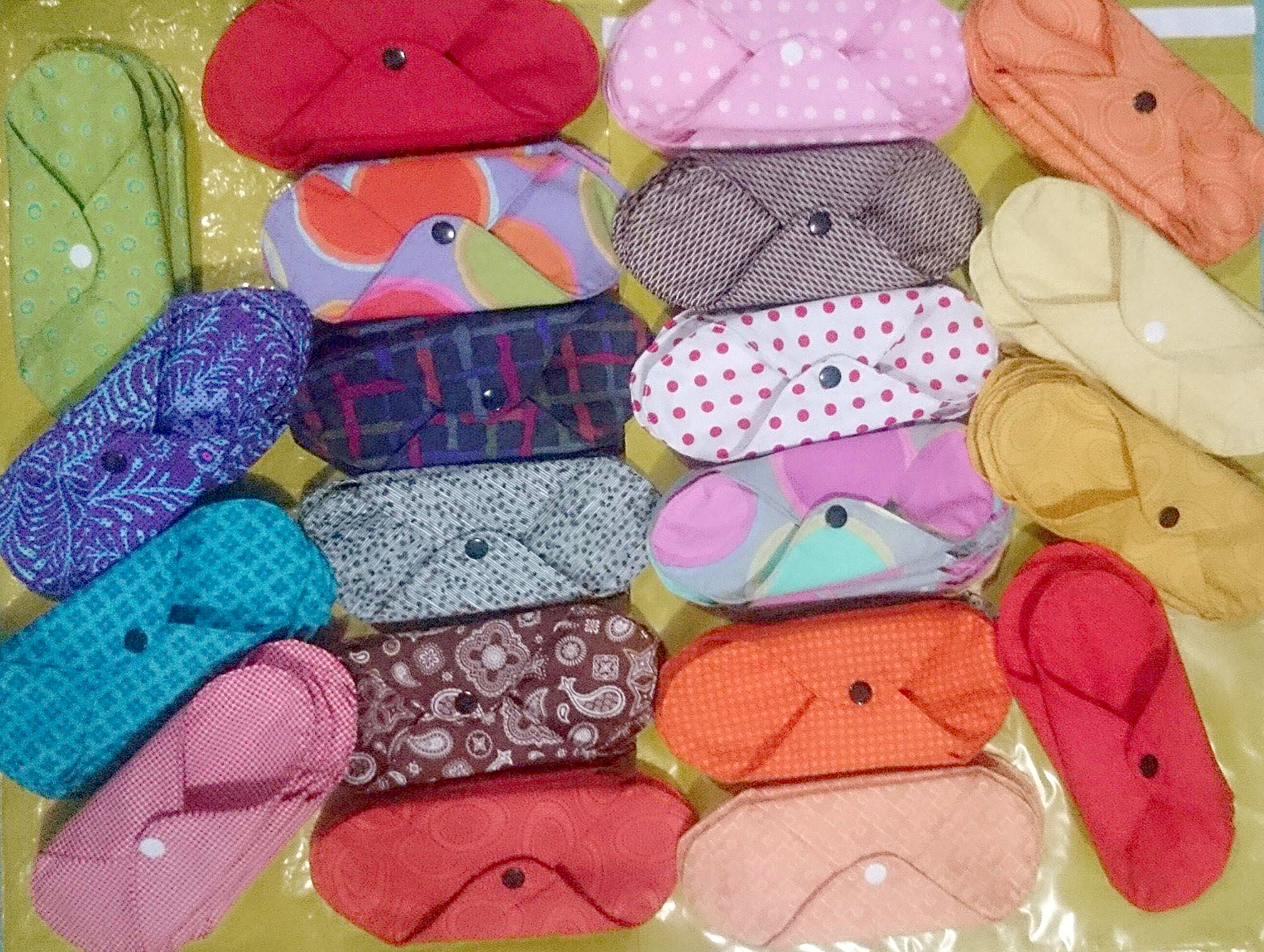 Courtesy: Reusable Cloth Pads
Since reusable cloth pads were something new to the Nepali market at that time, she didn't have a lot of demand. She took to marketing her pads at various mothers' groups and schools in Mandan Deupur municipality in her home district of Kavre.
"At that time, my products were seen as a little too expensive," said Parajuly.
A packet of four reusable sanitary pads costs Rs850 and includes three medium-sized pads and one large pad. One medium-sized pad costs Rs200 and a large one Rs250.
"The total cost of production for making a medium-sized pad is Rs190, where the materials used alone cost Rs150," she said. Since the pads can be reused for two years, they are actually much cheaper in the long run than disposable pads. By comparison, a packet of disposable pads costs Rs200, which adds up to around Rs2,400 a year. Switching to reusable pads can save women up to Rs1,550 a year.
Parajuly's reusable cloth pads use four layers of fabric—first is cotton fabric, second a waterproof fabric to prevent leakage, then a white flannel fabric and last is another layer of cotton. The pads also have a plastic bottom on the side to attach the pad securely to underwear.
"We've learned from many of our customers that our pads have almost no leakage problems, as the bottom attaches to the underpants and does not move," said Parajuly.
The only thing women need to take care of is washing the pads properly. Dettol can be used in the wash and they should be dried directly in the sun. They can also be ironed, said Parajuli.
The pads are not only economically better but also have health and environmental benefits. Increased airflow in reusable cloth sanitary pads means there are fewer chances of yeast infections, compared to disposable pads, said Januka Thapa, chairperson of the Mandan Charity Society, which distributes pads from Parajuly's RJ Pad Udhyog.
Harmful gels and polymers used in disposable pads are also not great for women's health, she said.
One article states that a woman menstruates for nearly 3,500 days, or 10 years, over the course of her life. This means that a woman uses 11,000 to 15,000 sanitary pads during their lifetime, which amount to 50 kg of waste. These pads can take 200 to 1,000 years to decay, another study shows.
"If women start using reusable pads, it will bring a huge change in the environment as well," said Thapa.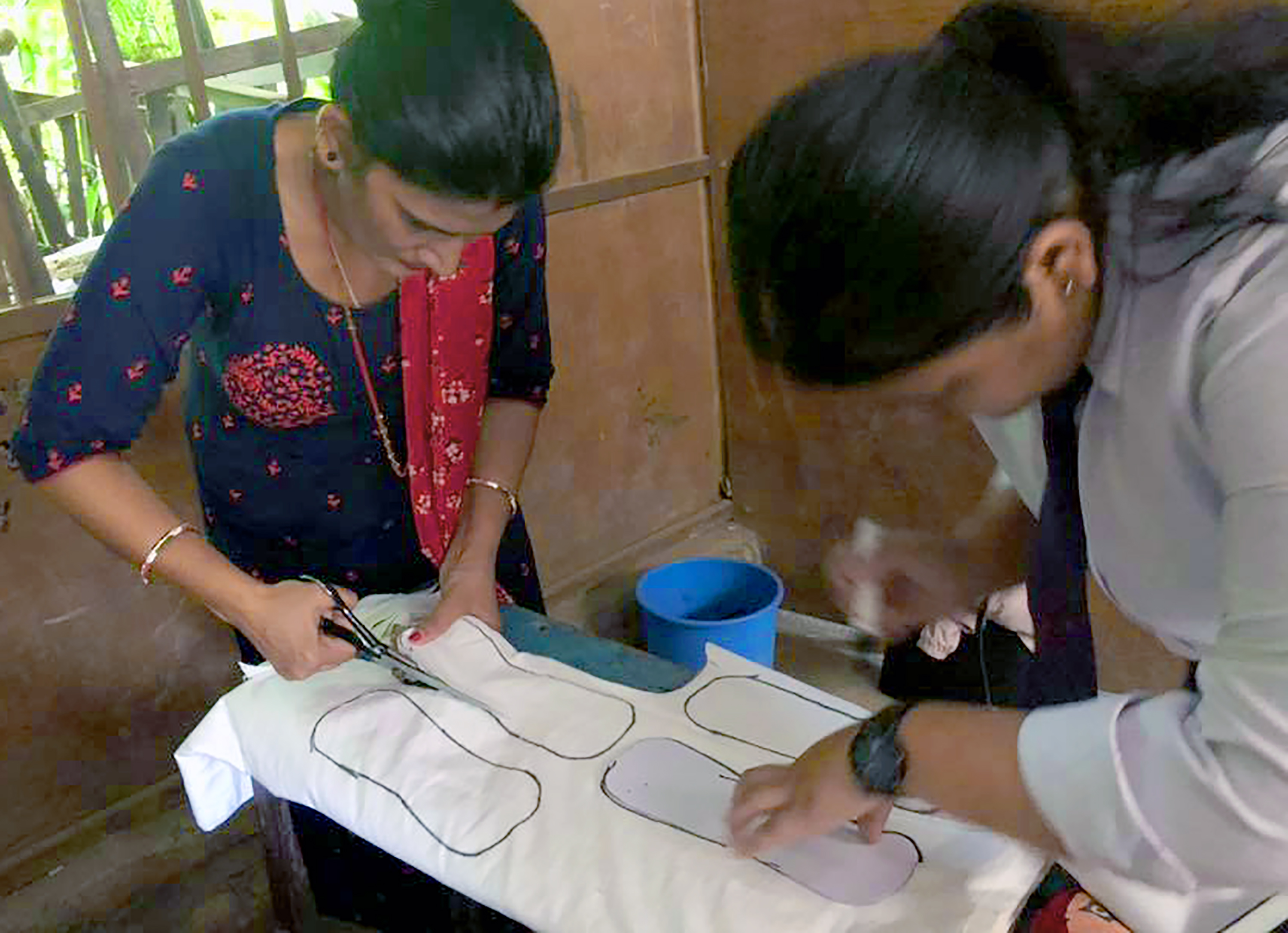 Workers making reusable pads. Courtesy: Reusable Cloth Pads
Slowly but surely, Parajuly's cloth pads have taken off. She's moved her small factory to Tindobato in Banepa and has hired two more people to work with her. She produces 25 pads daily, making Rs 300,000 a month. The Mandan Deupur municipality has also been buying pads worth Rs 100,000 from Parajuly for three years now, and distributing them for free in schools. Ten rupees from the sale of each packet of reusable cloth pads go to the Mandan Charity Society, which plans to distribute the pads in rural areas.
"All of this would not have been possible if my husband hadn't supported me," said Parajuli. Her husband, Raju, left his job at the Centre for Integrated Urban Development to help her with the business.
Reusable pads can be ordered online by visiting the official Facebook page for Reusable Cloth Pads, and from two retail shops in Mahaboudha and Koteshwor. They receive online orders of around 10 packets daily, she said.
Parajuli now has plans to expand her product line to include panty liners for Rs50 and to reduce the use of plastics she uses cloth bag made by herself.
At a time when women are increasingly adopting tampons and menstrual cups, cloth pads provide value for money, along with multiple benefits in health and the environment.
"I already have to wash my clothes so it is not a big deal to wash a few pads," said Karki. "Though my step might be minuscule, I feel happy that I have contributed to saving the environment by switching to reusable pads."
***
What do you think?
Dear reader, we'd like to hear from you. We regularly publish letters to the editor on contemporary issues or direct responses to something the Post has recently published. Please send your letters to tkpoped@kmg.com.np with "Letter to the Editor" in the subject line. Please include your name, location, and a contact address so one of our editors can reach out to you.
---
---