Gandaki Province ill-prepared for fire incidents
Delayed response, insufficient fire engines, shortage of workers and lack of water refilling stations make disaster mitigation difficult.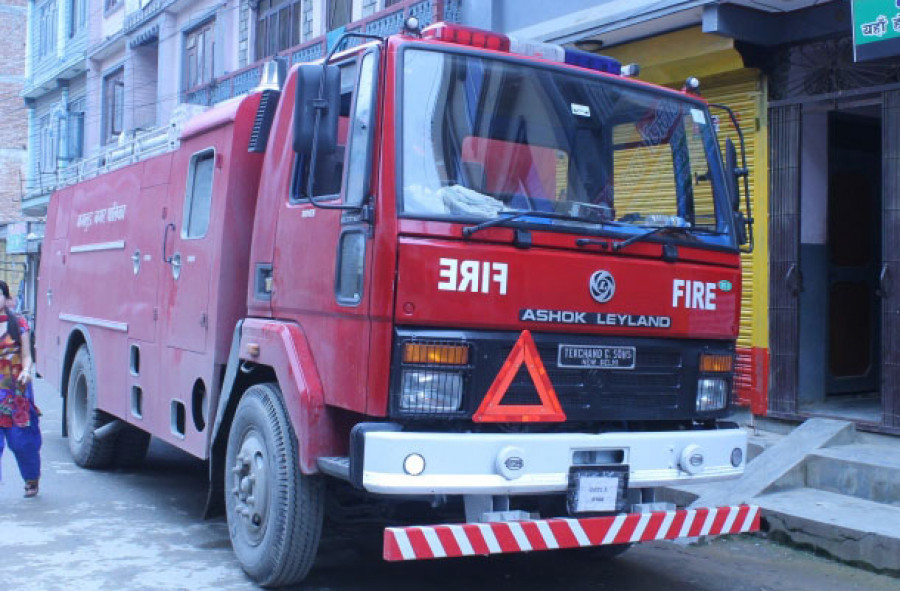 Prakash Baral/TKP
bookmark
Published at : April 19, 2021
Updated at : April 20, 2021 07:43
Baglung
Saraswati Harijan, owner of Srijana Furniture in Baglung Municipality, woke up at 2am on April 11 to find her factory alight in flames. In no time was she out of bed and outside her factory calling for help from her neighbours.

"My house is just next to the factory. I woke up and rushed outside. The factory and the shop was engulfed in a huge inferno," said the 35-year-old. "We informed the police and with their help tried to control the fire from spreading. The fire engine from Baglung Municipality arrived an hour later. It was too late by then."
By the time two more fire engines from Beni in Myagdi and Kushma in Parbat reached the scene, Harijan had lost properties worth around Rs 2.2 million.
Forest and house fires are a common occurrence in Nepal during the dry season, which starts from November-December and continues until the onset of monsoon in June-July. This fiscal year, with low rainfall recorded from December to February, Nepal witnessed an unusually drought-like situation and an increase in house and forest fires in almost all 77 districts.
Incidents of inferno—both house fire and forest fire—were high in several districts of Gandaki Province.
However, despite the rise in the number of fire incidents, all levels of governments in the province were found to have made inadequate preparations for fire-related disasters. The local and district level administrations are struggling to manage even basic firefighting services such as rapid incident response and timely dispatch of fire engines.
Delayed response, insufficient fire engines, shortage of trained firefighters and fire engine drivers, and a lack of water refilling stations coupled with narrow and rough roads are making rescue operations difficult in most districts of Gandaki.
According to the Fire Brigade Operation Working Guidelines, it is the responsibility of the respective local unit to own, maintain and regulate fire trucks while the District Police Office is responsible to take action in case of fire.
Baglung Bazaar, the district headquarters of Baglung, witnessed four massive fire incidents in the past two months. As first responders, the security personnel of Nepal Army, Nepal Police and Armed Police Force and the local people were involved in dousing the fire in two places. They carried buckets of water to the incident sites in the absence of a fire engine to control the infernos.
Of the total 10 local units in Baglung, only Baglung Municipality has a fire engine. The fire engine, which was purchased six years ago, is unreliable for it has remained unused and has become rusty for a lack of maintenance, say local people.
"We call for the fire engine whenever a fire breaks out but more often than not they tell us that it is out of order," said Bidesh Kumar Shrestha of Baglung Bazaar, the furniture factory owner's neighbour. "But even when the fire engine arrives, it's only half filled. The local people then have to run helter-skelter to manage water for the fire engine."
The municipality in its defence says its response to fire incidents has been poor because there's only one qualified driver for the fire engine.
"We have only one post for a fire engine driver. It takes time to find him and send him to the incident site," said Yukta Prasad Subedi, the planning officer at Baglung Municipality.
The District Administration Office in Baglung admits that fire fighting efforts have been dismal in the district.
"It is our responsibility to contain fires and rescue victims but we have failed to do so," said Shiva Kumar Karki, chief district officer of Baglung. "We will coordinate with the local units to be better prepared for such disasters."
Two weeks ago, a forest fire spread into a human settlement at Paiyu Rural Municipality Ward No. 6 in Parbat, destroying 20 houses and several animal sheds.
On April 12, Lil Kumari Subedi, aged 54, of Kushma Municipality Ward No. 2 lost her house to a fire caused by a short-circuit. There was no fire engine to save her house.
Mayor of Kushma Municipality Ramchandra Joshi says the office could not send the fire engine to Subedi's house since they received the information late.
"Many places within the municipality do not have road access which makes it difficult for the fire engine to reach the incident sites on time," said Joshi.
While Kushma Municipality has been providing firefighting services to the local people for the past four years, the other local units in Parbat say they are not interested in purchasing a fire engine. They cite poor road networks, high expense to purchase and maintain a fire engine and a lack of skilled firefighters and fire engine drivers as reasons for their decision to not install a fire engine in their local units.
"We have not yet bought a fire engine because we have to invest around Rs 10 million to buy and operate the vehicle," said Padampani Sharma, the mayor of Phalebas Municipality. "The best we can do is coordinate with another local unit and pool in our resources to buy one fire engine for the use of both local units."
In Myagdi district, out of the six local units, only Beni Municipality has a fire engine. The fire engine at Beni Municipality is limited to only urban centres given the poor road conditions in rural villages.
"Fire engines need wide roads. We can't take the engine into narrow streets and small dirt roads. Many places even within the municipality do not have wide roads. Therefore, we provide services only in places where the truck can run," said Narayan Garbuja, the fire engine driver. "Most of the time, the truck remains unused."

In Lamjung, all eight local units have prepared a disaster management plan and formed disaster mitigation committees but purchasing fire engines is not on their agenda.
The only municipality with a fire engine in Lamjung is Besisahar. But the fire engine is used for purposes other than fighting fire.
A hardware store in Danaiphant of the municipality caught fire on April 10. The fire engine arrived at the scene some 45 minutes after the first call was made.
"The fire engine was driven by police personnel and there wasn't enough water in the tanker," said Dolraj Bista, a local resident of Danaiphant. "We somehow managed to bring the fire under control on our own."
According to Inspector Om Prakash Pun of the District Police Office in Lamjung, a police personnel was forced to drive the fire engine due to the unavailability of a fire engine driver.
Ramesh Kumar Pandey, the mayor of Madhyanepal Municipality, says the local unit doesn't have the budget to buy a fire engine.
Sundarbazar Municipality Mayor Janak Raj Mishra shared a similar sentiment.
"We can't take the burden of hiring a driver and technicians for the fire engine," he said.
Local units in Tanahun too have shown no interest in purchasing fire engines, citing challenges in the management and operation of firefighting services.
"Most local units in the district are reluctant to buy a fire engine because of the high costs of purchase and management of the truck," said Gangalal Subedi, chief administrative officer at Shuklagandaki.
As of now, only Byas Municipality and Bandipur Rural Municipality in Tanahun have fire engines. However, only one of the fire engines can be put to use while the other lies unused for a lack of maintenance and management.
Bandipur Chief Administrative Officer Mahesh Subedi said, "The rural municipality has not been able to operate the fire engine to its full capacity since we don't have skilled fire engine drivers."
In Kaski district, Pokhara Metropolitan City has four fire engines. However, Emergency Service Sub-Division Incharge Ramji KC said that the metropolis is not in a position to operate all four fire engines at the same time.
"It requires five people to operate one fire engine. In case of multiple fire incidents, we do not have the manpower to operate all the fire engines at the same time," KC said.
The metropolis' fire brigade has three fire engine drivers and 10 firefighters but only two staff members are on duty at a time.
The metropolis saw a total of 128 instances of fire in the current fiscal year.
Annapurna Rural Municipality Chairman Yuvaraj Kunwar said that the local unit also cannot afford to buy a fire engine.
"We do not have enough budget for a fire engine," he said. "Even if we bought one, we wouldn't be able to dispatch the truck to rural parts of the local unit for a lack of wide motorable roads."
Rupa Rural Municipality relies on the fire fighting services of Pokhara metropolis.
"A fire line has been drawn and water pipelines have been installed in all seven wards of the rural municipality," the local unit Chairman Nawaraj Ojha said. "For now, we call for firefighters from Pokhara in case of fire incidents. But we plan to purchase our own fire engine soon."
Without a fire engine, far-flung Madi and Machhapuchre rural municipalities depend on local resources to fight fire incidents.
There are a total of 13 fire trucks in Gandaki Province. Kaski has four fire engines, Syangja has two while Baglung, Myagdi, Parbat, Tanahun, Lamjung, Gorkha and Nawalparasi (East) have one each. Manang and Mustang do not have a fire engine, leaving the local people to deal with fire incidents on their own.
(Agandhar Tiwari in Parbat, Ghanshyam Khadka in Myagdi, Aash Gurung in Lamjung, Samjhana Rasaili in Tanahun and Pratiksha Kafle in Kaski contributed reporting)
---
---