Overnight landslides in Gandaki districts claim 10 lives
Seven people were killed in three different landslides in Kaski, while three of the same family were killed in a landslide in Lamjung. More than 15 people missing in landslides in Myagdi

Five people including three children were killed in the landslide that swept away one house in Sarangkot Gothadi in Pokhara Metropolitan City at around 2:30am on Friday Lal Prasad Sharma/TKP
bookmark
Published at : July 10, 2020
Updated at : July 10, 2020 23:09
Kaski
At least ten people died in multiple landslides in Kaski and Lamjung district on Thursday night.

Seven people lost their lives in three different landslides, triggered by incessant rains, across various parts of Kaski district.
Kaski Police DSP Subas Hamal informed that five people including three children were killed in the landslide that swept away one house in Sarangkot Gothadi in Pokhara Metropolitan City at around 2:30am on Friday.
The police further informed at least 10 people were injured in the same incident. All of them had gathered at the house for a birthday celebration when the landslide occurred.
The injured are undergoing treatment at Manipal Hospital and Gandaki Hospital, said Hamal.
Likewise, a landslide killed one in Hemja, Pokhara-25 while another landslide at Paitedaanda in Pokhara-26 claimed one life.
Meanwhile, a landslide that occurred in between Kalimati and Fusre Khola has obstructed the Siddhartha Highway, police said.
Authorities informed that a family of three including an 8-year-old was killed in the Lamjung landslide. Aash Gurung/TKP

In Lamjung, three people of the same family died in a landslide that occurred following heavy rains in Besisahar Municipality at around 10 pm last night.
Authorities informed that a family of three including an 8-year-old was killed in the disaster.
The deceased were pulled out from the landslide debris and taken to Lamjung District Community Hospital where they were pronounced dead.
Ghanashyam Khadka/TKP
Similarly, over a dozen houses have been damaged and over 15 people are missing following landslides at Dhaulagiri and Malika rural municipalities in Myagdi district.
In Malang village, Dhaulagiri-6, seven members of a family have gone missing in the disaster, informed ward chairman Rajaram Subedi. The landslide has also damaged a road section leading to the settlement.
In Bim, in Malika-7, eight people are missing in the landslide, according to ward chairman Resham Jugjali.
"The rescue team from police have not been able to reach the settlement as the landslide has blocked access to the area from all sides," said Jugjali. "We have asked for helicopter rescues and are searching for ways to reach the incident site."
The District Emergency Operation Centre said that they have received information stating that over 30 people have been trapped in the area due to the landslide but they haven't been able to conduct a helicopter rescue due to adverse weather conditions.
Likewise, flood at Raghu Khola has swept away the Bailey bridge at Galeshwor and now the flood has turned towards a settlement at Piplegaleshwor. With this, all road links connecting Raghuganga, Annapurna Rural Municipality and Mustang district have been cut off.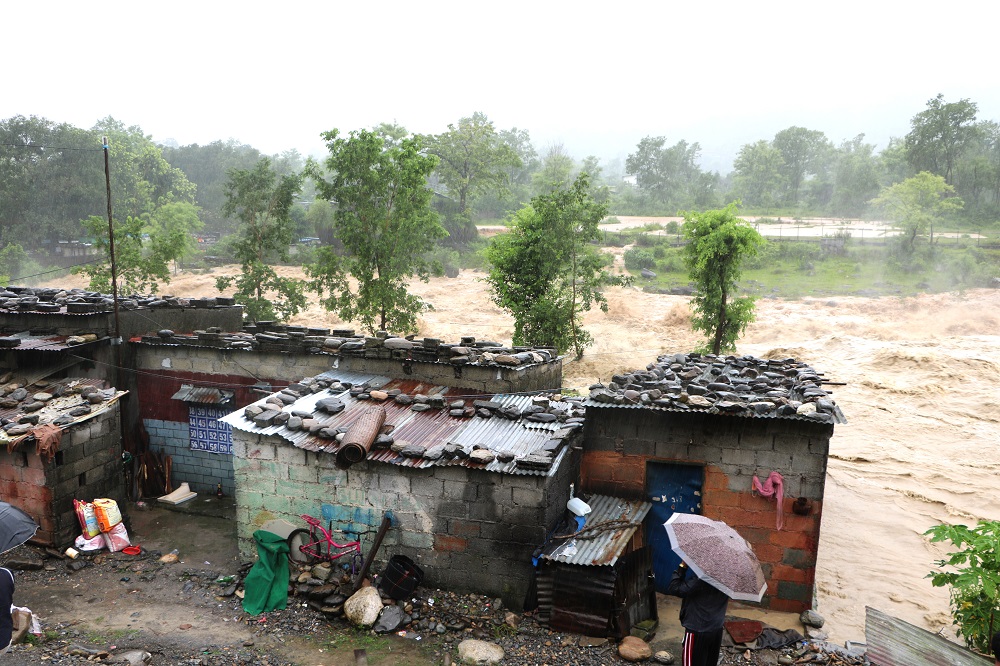 Samjhana Rasaili/TKP
Similarly, 42 houses are at high risk of being washed away by floods in Tanahun. The swollen Seti river entered many settlements in the district on Thursday night displacing around 162 people.
"14 houses in Shuklagandaki Municipality Ward No. 4 and 28 in Ward No. 8 are at high risk of being washed away," said Krisna Prasad Regmi, Ward No. 8 chair. "Over 160 people living in those houses have been rescued and transferred to a safer location."
Aash Gurung from Lamjung, Ghanashyam Khadka from Myagdi and Samjhana Rasaili from Tanahun contributed reporting.
---
---