Bella Chow serves Chinese and Italian cuisines to the Nepali diners
Akama Hotel's signature restaurant offers gourmet food of Chinese and Italian origin, paying attention to their "hard-to-maintain" authenticity.

Anish Regmi/ TKP
bookmark
Published at : November 25, 2022
Updated at : November 25, 2022 08:21
Kathmandu
Hotel Akama, a Tibetan-Nepali style edifice spread over 11 ropanis, lies to the west of Kapan and Bauddhanath Stupa. When investors realised that more could be done with the lavish building, originally built as a residential apartment, they decided to turn it into a four-star hotel.

Inaugurated on 19 February 2019, the hotel is promoted by The Sanima Group with a somewhat vague goal of "Developing Nepal as a Tourist Destination in the World." The hotel, they claim, is a fusion of local Newa and Himalayan culture. Small gestures, they say, make a big difference to the guests.
Aiming to infuse Himalayan culture to its cuisine, the hotel opted to go with Chinese delicacies, especially Szechuan cuisine which has bold flavours of Szechuan pepper, garlic, and chilli.
"We chose to go with the Szechuan cuisine among a variety of Chinese cuisine because it contains Szechuan pepper, which is familiar to the Nepali palate," says Surya Raj Adhikari, the hotel's food and beverages director.
The hotel wanted to give something extra and unique to the guests, which is why Bella Chow, their Chinese-Italian restaurant, was built, five months after the hotel's opening.
"Everyone already knows about Chinese food, Chinese-Thai food. We wanted to try something new," says Sajjan Chandra Khanal, Akama's executive chef. "So we came up with the Chinese-Italian Chow Bella."
Chow means fried noodles in Chinese and Bella means beautiful in Italian; together, they reflect the fusion of Chinese and Italian customs.
The restaurant's menu includes the Smoked Ginger Prawn, Roast Duck Chili & Garlic, Involtini Di Pollo, and Salmon Norvegese, delicacies the guests are recommended to try.
The prices of the food items range from Rs600 to Rs2,550, while the beverages too are competitively priced, priced between Rs250 and Rs2,000.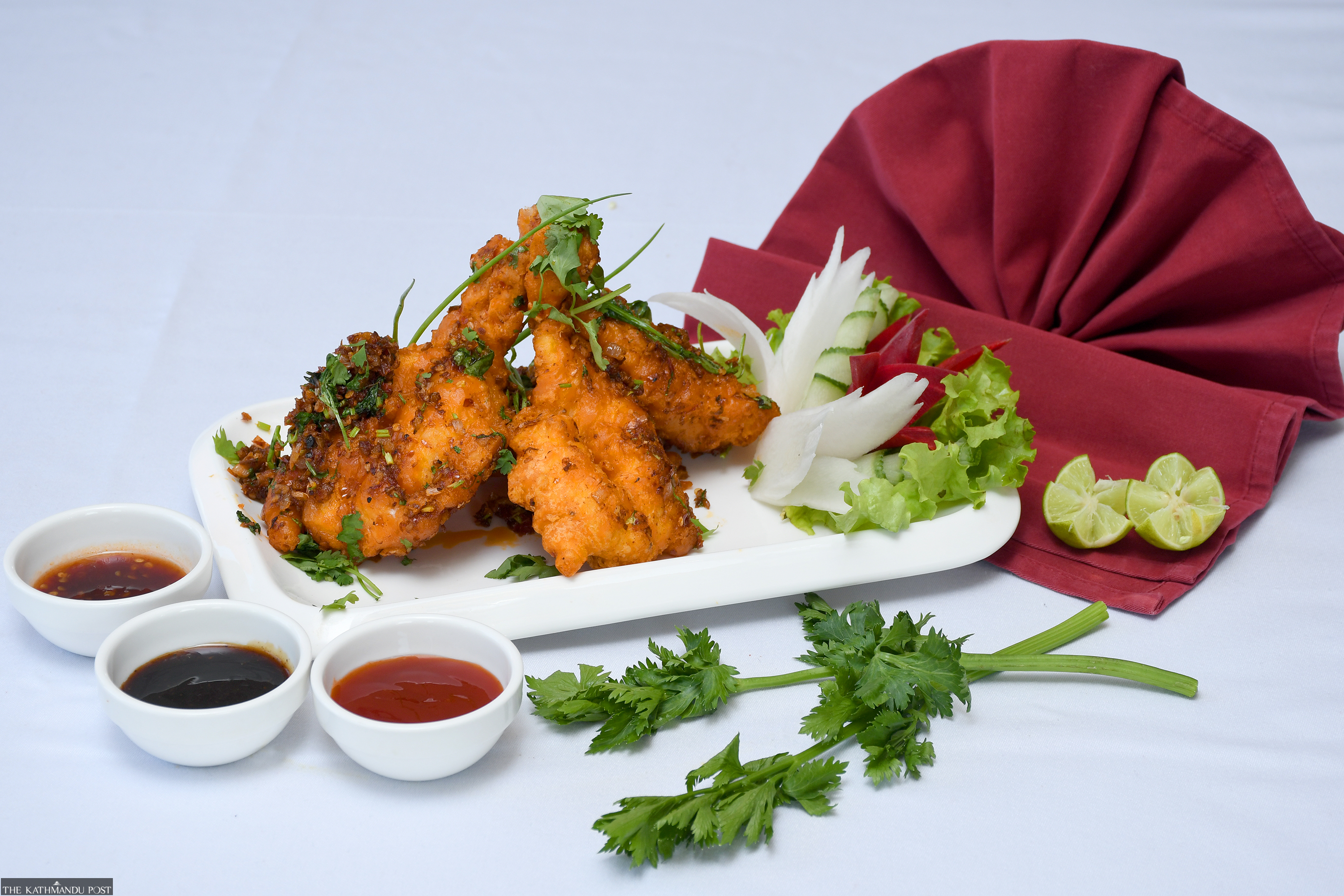 Anish Regmi/ TKP
Their best-selling item, however, is the Smoked Ginger Prawn, a Chinese dish that uses prawns from the Arabian Sea, brought to Nepal via India. The prawns are deep-fried and garnished with ginger and chilli flakes.
Another Chinese dish, Roast Duck Chilli and Garlic, comes with a potion of whole duck roasted in an aromatic herbs pot and tossed with garlic, chilli sauce, oyster sauce and honey, blended with a perfect balance of spice and sweetness.
With their dedication toward serving Italian taste to the guests, Hotel Akama imports exclusive Norwegian salmon all the way from Norway, to prepare Salmon Norvegese, an Italian dish. The item comes with a pan-grilled salmon along with garlic-flavoured spinach and warm hummus. Tulie, a type of baked wafer, accompanies the dish.
The fancy-looking Involtini Di Pollo, another Italian item, is a go-to for those who want to avoid seafood. Stuffed with spinach and cheese, the chicken breast-based dish is bedded with mashed potato and gives a light yet noticeable aroma of rosemary, thyme, and oregano.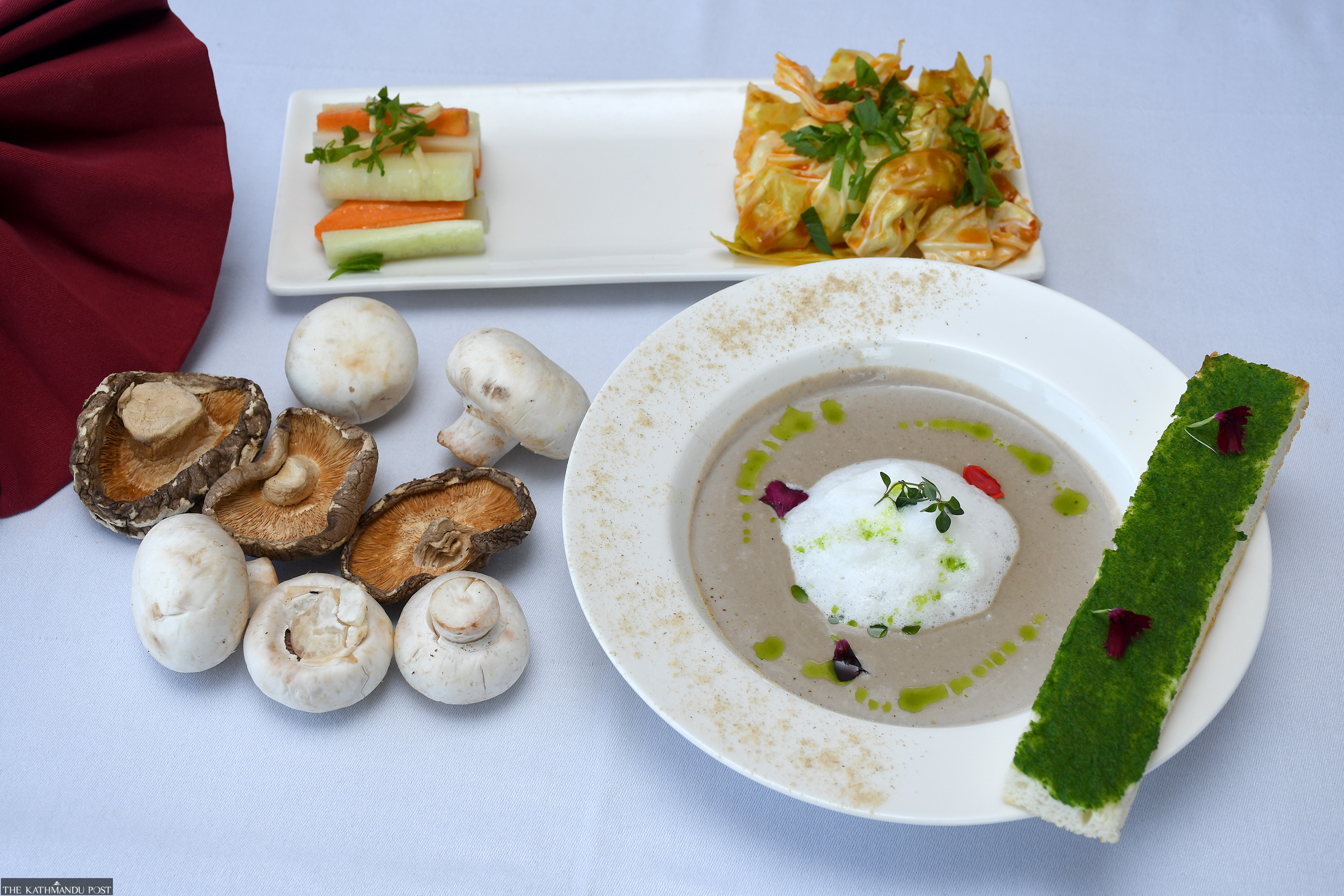 Anish Regmi/ TKP
Chow Bella's Mushroom Cappuccino Shitake Dust Soup is another highlight. This creamy shiitake-flavoured soup is cooked with garlic, onion, and thyme and is served with parsley pesto bread. Milk foam and herb oil are distinctly seen on the top as the thick soup is served.
In the end, to bring sweetness to the table, the restaurant has Fried Ice Cream on the menu. Coated with the chef's secret recipe, the ice cream is quickly deep-fried and topped up with warm chocolate or caramel, as per the choice of guests.
The "hard-to-maintain" Chinese and Italian authenticity is checked by Jitendra Raj Basnet, the Chinese Chef who has around 23 years of experience. In his absence, Ganesh Gautam, Junior sous chef, looks after the kitchen as he is trained by Chef Basnet.
"We always aim to provide our guests with the authentic taste of Chinese and Italian cuisine, for which we import salmon and prawn from Norway and India, respectively," Gautam says. "We also use Five Spices, a special Chinese spice that is a mixture of Szechuan peppercorns, ground cloves, fennel, cinnamon, and star anise, to highlight the authentic Chinese flavour in the dishes."
The hotel not only provides Chinese-Italian food, it also boasts of a Tibetan-Nepali interior decor and ambience. The Souvenir Shop near the lobby showcases the traditional Nepali and Tibetan clothing items and statuettes.
According to Adhikari, the name of the hotel is inspired by lake Akama of Tibet, the lake near the origin place of the 14 Dalai Lamas. "It's a tribute to Tibet, which is now governed by China," Adhikari says.
The hotel gives options of five categories of rooms, namely superior, deluxe, deluxe suite, family suite, and presidential suite, with the prices ranging from $70 to $248 for a night for international guests. For Nepali guests, the hotel charges Rs8,000 and Rs9,000 for a room per night. The lavish place doesn't miss a chance to flaunt its Pool Bar and Sauna and Jacuzzi. The swimming pool and gymnasium are the other facilities it offers to its guests.
---
---