A beginner's guide to ramen in Kathmandu
Everyone knows about chowmein, thukpa and Wai-Wai, but what about the bowls of ramen popping up around town?

Unsplash
bookmark
Published at : February 6, 2020
Updated at : February 7, 2020 07:38
Kathmandu
Noodle soups are firmly placed in Kathmandu's restaurant scene. Thukpa reigns supreme, and is now almost as common as momos and chicken chilly, but there's a relatively new noodle in town that's slowly coming out of its niche: Ramen.
But we're not talking about the instant wai-wai style ramen; we're talking about the labour-intensive noodles that have just about as many forms as momos.
Hailing from Japan, the noodles are known for being cheap, but delicious, fuel that classically fed people at a reasonable price. While it boomed in the early 2010s in the US, and many other places since, it seems Kathmandu is only just getting its first proper taste of the diverse noodle soup. While there have been Japanese restaurants serving select styles of the dish, dedicated restaurants opening up around the Valley such as Budhanilkhanta's Hokkaido Ramen House or Patan's Sanchyan Ramen Restaurant are among the latest to open up, started by people who had worked in Japan previously.
Arjun Adhikari, of Hokkaido Ramen Restaurant, says there has always been a culture of eating noodles in Nepal—so ramen is a natural addition. Also, with the number of Nepalis who have worked, and currently work, in Japan, he felt it was "a necessity".
"Ramen resembles thukpa. So it's easier for their taste buds to like ramen. In fact, the market is expanding for ramen. Nepalis are liking it," says Adhikari, whose ramen restaurants try to be as traditional as possible. The Nepali taste for ramen is so good that the restaurant is opening two more outlets, one at New Road and another in Labim Mall.
While Hokkaido and Sanchyan both serve traditional ramen, both have adapted the Japanese dish to Nepali taste, with the notable addition of chilli. Perhaps even less traditional, Kyubi's Kitchen in Jhamsikhel has a custom ramen menu where people can be as creative they want. Co-founder Pawan Gurung says the dish is also a way for people to have a taste of a different culture. The restaurant, which hinges on an anime theme, puts a lot of focus on aesthetics.
"Other places sell very authentic Japanese ramen too, but ours is more visually appealing," Gurung says.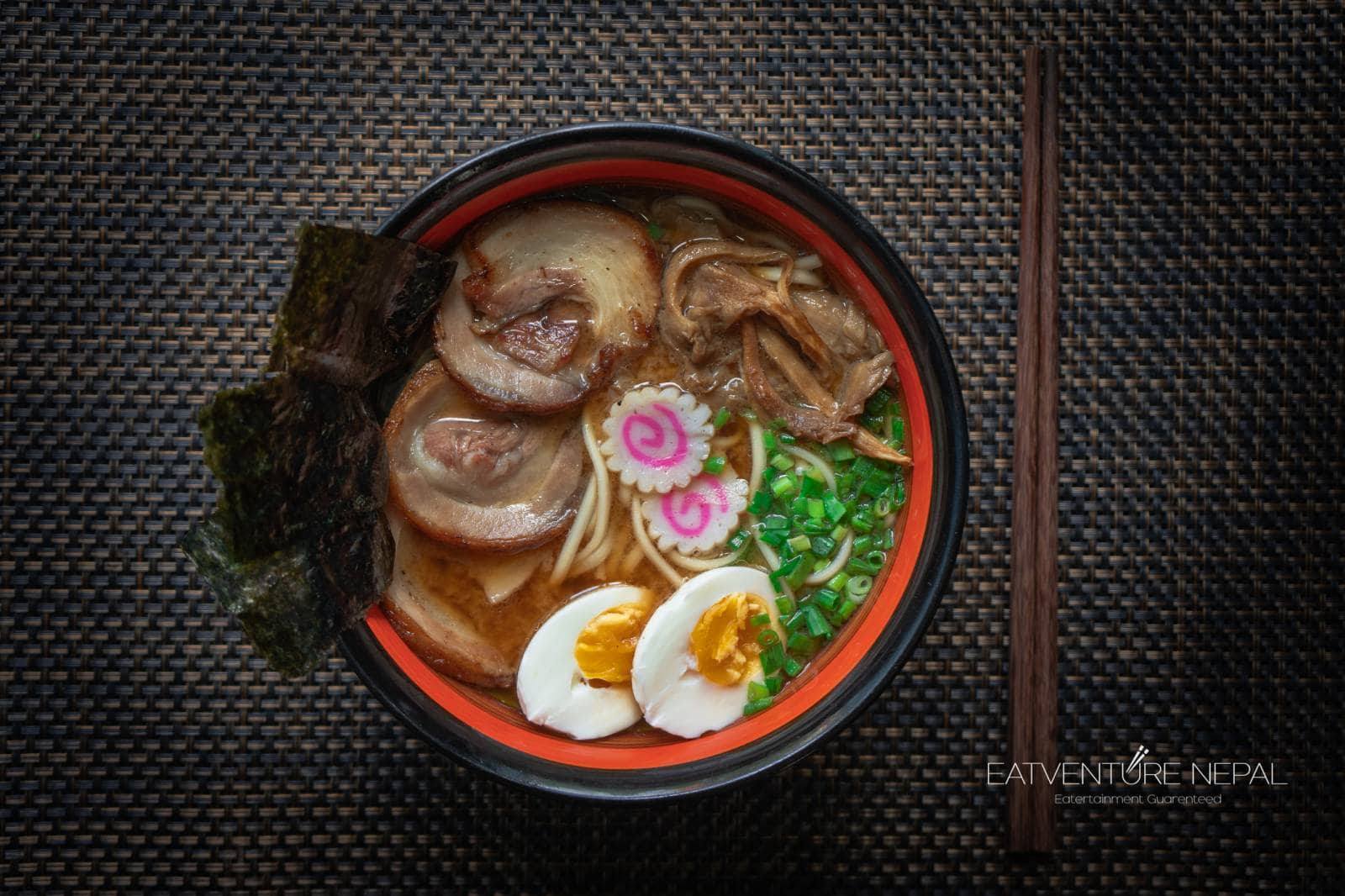 Photo Courtesy: EatVenture Nepal
NYU history professor George Solt traced the history of the noodles in his book The Untold History of Ramen: How Political Crisis in Japan Spawned a Global Food Craze. In his book, he traces the 'invention' story of ramen back to the Chinese, who took their version of the dish to Japan. Then there are three theories regarding its popularisation, according to Solt, which date back to 1665, 1884 or 1910.
"None of the dish's origin stories are mutually exclusive, but each is a different way of linking the past to the present," Solt's book reads. "It is clear, then, that each story represents a contrast in emphasis rather than a set of irreconcilable facts."
Fast forward a few hundred years, and you will find ramen has become as popular as sushi and a symbol of Japanese gastronomy. But what exactly is ramen and what are the varieties? The short answer is the world of ramen is incredibly diverse, but here's a short introductory guide to the noodles.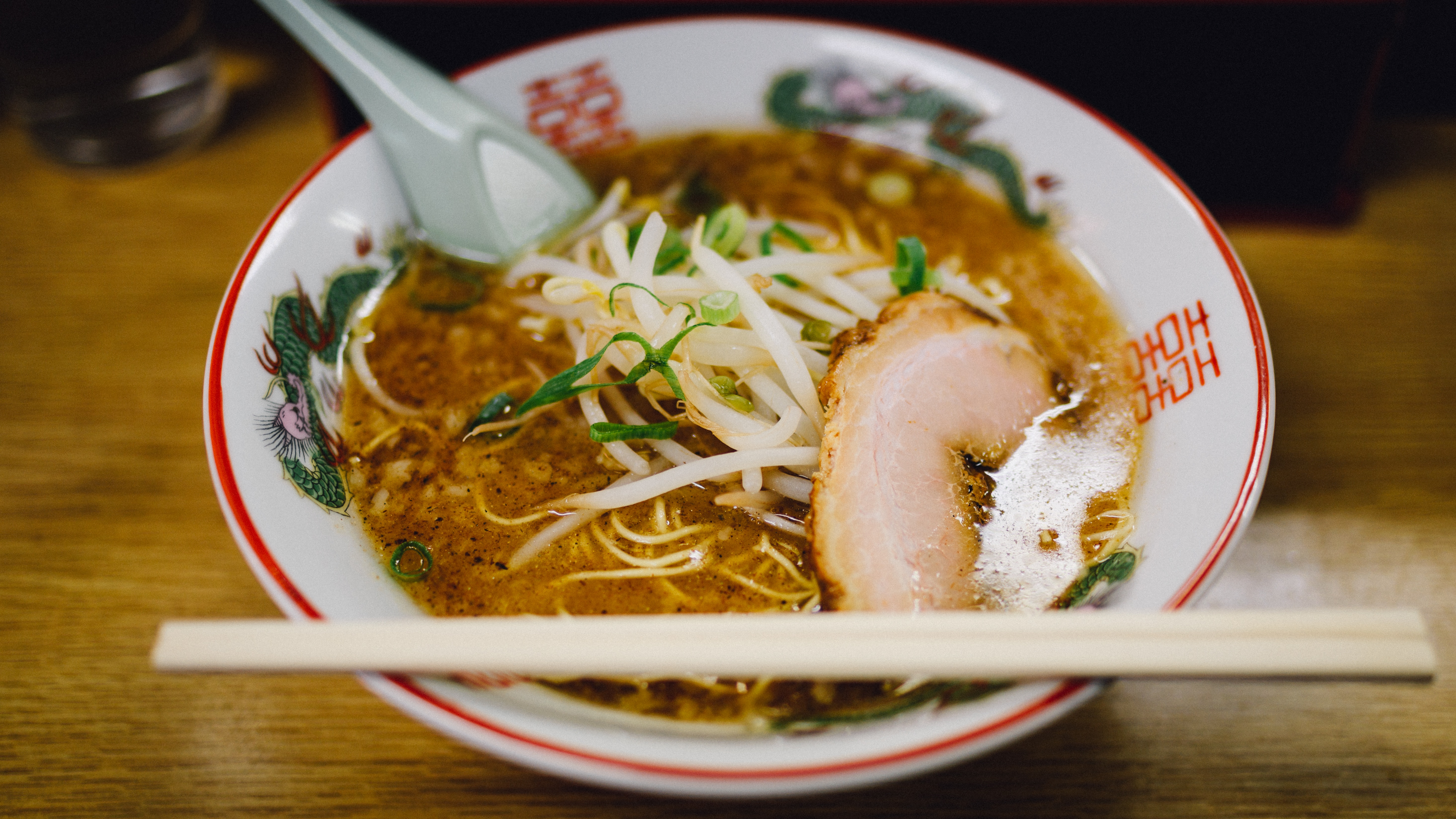 Unsplash
Broths:
Shio: Light and surprisingly refreshing, shio broth takes most of its constitution from chicken, while its name directly translates to salt—which is added to the broth and enriches the flavour.
Shoyu: Pronounced by its addition of soy sauce, shoyu ramen's broth is translucent and brown and most often found around Japan's capital, Tokyo. While soy constitutes much of the flavour, the broth is most often made with chicken. Hokkaido Ramen makes shoyu ramen, which is one of the more popular choices.
Tonkotsu: This pork bone-based broth sticks to the ribs and is one of the heartier stocks in the ramen realm. Particularly popular in the southern island of Kyushu, it is served in Patan's Sanchyan Ramen Restaurant and Jamsikhel's Kyubi's Kitchen. At Sanjay Maharjan's Sanchyan Ramen Restaurant, the broth is cooked for 14-16 hours before acting as a base for the dishes of noodles. Cooking for such a length of time leeches out all the porky flavour, while there's a good amount of fat that accumulates at the top—eat with care, it's always really hot.
Miso: Unsurprisingly, the broth for this ramen is the fermented soybean paste miso. This hearty style of ramen originates from the north, according to Hokkaido Ramen's Adhikari, but can be found just about everywhere.
Others: Believe it or not, ramen can be dry. Hokkaido has a ramen named after Everest, which is a dry ramen—it's the restaurant's most well known dish. Then there are the Nepalified broths, with chilli, which are not the most traditional when it comes to Japanese cuisine. Vegetarian options are also available around the valley, to cater to the non meat-eaters around the city.
Noodles:
The basis of ramen is so simple, yet so complicated. The noodles are alkaline, which basically results in the noodles being yellow and nice and chewy. Both Hokkaido and Sanchyan make their own alkaline noodles in house. But when it comes to them, there's plenty of variation too—thickness and doneness, among them. Kyubi's Kitchen does their ramen differently, using udon noodles, because the chefs found it was better for their version.
Topping and seasoning:
Sanchyan's ramen bowls are typically served with a few slices of roasted pork, a boiled egg, and spring onions—probably what most people think of when they see a bowl in their mind's eye. However, there is nothing stopping people from customising further. There are places around the world that serve fermented bamboo shoots on their ramen, or corn, or even cheese. The most common, other than greens, eggs and perhaps a little seaweed, is slices of steamed fish cakes called kamaboko.
Arguably the most important part of the topping is the chashu pork, typically coming from a fatty cut of the animal, which melts in the mouth, and has a succulent chew thanks to a long time spent roasting or braising. Like ramen, the pork has roots in China—the name chashu comes from char siu, in China, where the final product is quite different.
---
---