Taking formals to new heights
Fashion designer Ramila Nemkul had the idea of launching a boutique concentrating on business-casual designs during her decade-long stay in Finland.

Keshav Thapa/TKP
bookmark
Published at : March 25, 2023
Updated at : March 25, 2023 07:01
Although it has only been five years since the launch of Kasa, its founder Ramila Nemkul is a veteran in the Nepali fashion scene with over 18 years of experience. She calls Kasa, a brand that women—particularly working women—can turn to get their everyday formals and business casual clothing.

The name Kasa derives from the Italian word 'Casa', meaning house. Nemkul considers 'K' her lucky alphabet, so she changed the first letter of the word. The boutique she launched and looked after, before Kasa, called Kavya, also followed this naming formula.
The designer got the idea of launching a boutique concentrating on formal wear during her decade-long stay in Finland. "All the high-end shops selling formal clothing had tags declaring they were made in South Asian countries. This made me think how South Asian designers could also make high-quality formal clothes and find a market for it all over the world," says Nemkul.
Before launching Kasa, Nemkul researched the formal wear (also the general fashion) market across China and South Asia to see how the big brands were running their business and where she could get the best fabrics for her designs.
After returning to Nepal, she decided to open Kasa in Patan Dhoka, Madan Smarak Road, right next to Kavya Boutique. The ground floor of the building houses the brand's first outlet. They have recently also opened another one in Durbarmarg. The rest of the floors are used as the production and storage space for both Kasa and Kavya.
When she first launched Kasa, Nemkul remembers getting suggested to change the niche of the brand by her friends, family and fashion industry insiders. "They would say, 'Do you really think anyone would buy designer formal clothing—much less white shirts in Nepal? They turn yellow after the first wash.' But because I'd set my mind to making formal wear, I stuck with my suits and white shirts," exclaims Nemkul adding that she feels she did the right thing as white shirts are among the best-selling items at Kasa.
Where it all began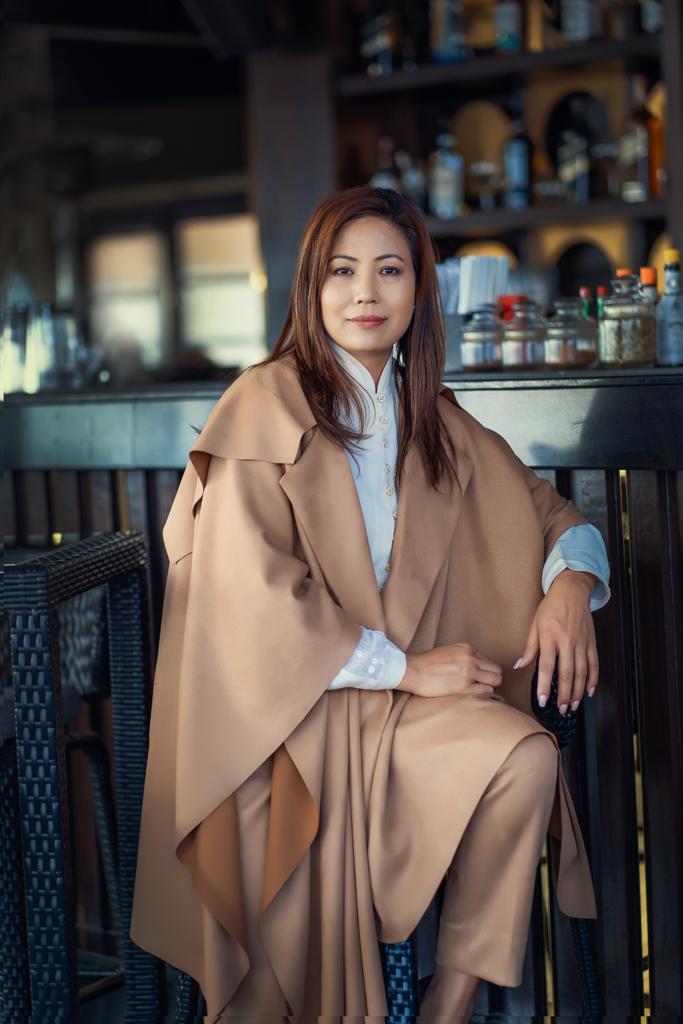 Photo: Courtesy of Kasa
From a young age, Nemkul knew she would pursue fashion as her career. She was interested in clothes—especially making clothes—all her life. She had already been sewing clothes by the time she was in middle school. She recalls staying up all night making dresses she had seen (and liked) earlier that day. She would flaunt these dresses the next day. "I had an incredible ability to replicate clothing," she says.
When asked where she learned to sew and cut, Nemkul says she picked it up from a TV program on home science. "I don't remember what channel it was—probably NTV, I doubt any other channels were around that long ago—but this home science show would occasionally have detailed episodes on tailoring and cutting."
After completing her Plus Two, Nemkul joined IEC College Of Art & Fashion's diploma in fashion design course. She then interned at Chahat Boutique in Kupondole. She had initially planned to do a bachelor's in fashion design after the diploma. "But I was so confident in my designing skills that I didn't think I would need another degree," says the designer.
So, in 2005, she launched Kavya Boutique at Patan Dhoka, by renting the place from her dad, who owns the building. Rato Bangla School had just opened nearby, and she remembers rushing to open the outlet early in the morning so that students going to the school would see the shop and tell their mothers about it.
That was one of the first advertising strategies Nemkul implied to promote her brand. Another way she marketed Kasa was through full-page ads published in 'Nari' magazine. This decision was also met with a lot of criticism by people close to her, as they thought paying Rs25,000 for an ad in a magazine was ridiculous. (This was back in 2005.)
Again, Nemkul stuck to her guns as she believes advertising is one of the most important things for fashion brands. "I am actually thinking of doing a PhD in marketing to know more about it," she says.
The designer already has a plethora of fashion and business degrees under her belt. In 2007, she handed over Kavya to her sister and moved to Finland. She completed her Bachelor's in International Business at Central Ostrobothnia University, Finland, a Master's in Entrepreneurship and Innovation at Aalto University, Finland and a second Master's in Fashion Design and Management from Asian Academy of Film and Television (AAFT), India. Additionally, she also completed a diploma in Fur Design from Centria University, Finland.
Following her footsteps, Nemkul's son is also currently studying Luxury Brand Management in Finland. "Kasa could turn into a family business," she jokes, adding that she is hoping he will take over Kasa in the future.
The collections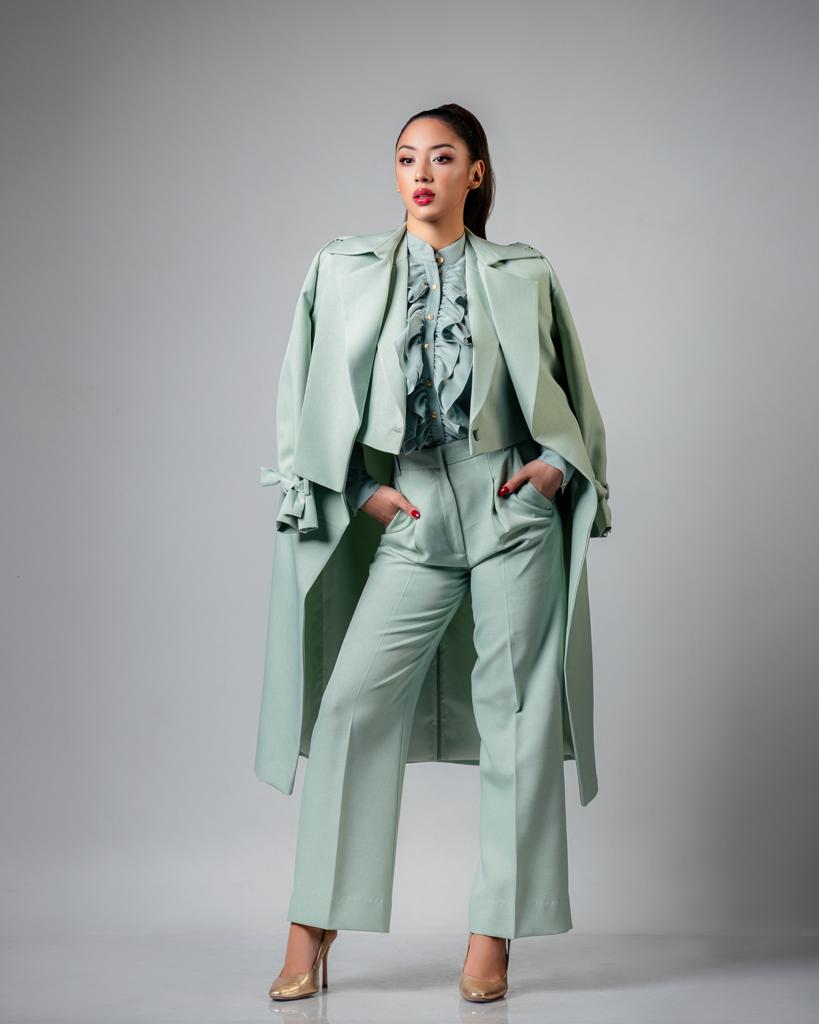 Photo: Courtesy of Kasa
Kasa puts out four collections every year—in summer, fall, winter and spring. While all the collections adhere to the brand's concept of formal clothing, they tweak it enough to differentiate one collection from another.
Nemkul says that her favourite thing about putting together a look is layering. "I absolutely love layering. So I incorporate that a lot while creating Kasa's looks—even in the spring and summer collections," she adds. The spring and summer collections usually have a white shirt as the focal point. The autumn and winter collections, on the other hand, feature a variety of overcoats.
Every collection has about 12 to 20 looks. This adds up to about 80 to 100 looks each year. Nemkul explains that while the spring/summer collections are generally smaller, the autumn/winter collections can feature over 20 looks.
The brand has worked out a collaboration with The Hidden Treasure, where they sponsor Miss Nepal events and have the current Miss Nepal title holders as the face of the brand. Kasa originally had plans to reveal both a spring and a summer collection this year. However, because of the Miss Nepal events that have been taking place over the past couple of months, Kasa couldn't settle on a date for the spring collection photoshoot. So, the brand is releasing a combined spring/summer collection soon.
Kasa recently launched their website too. As they are getting orders from all across the world—mainly from Europe, Australia and North America—Nemkul thought having a website would make ordering easier for the customers.
The upcoming spring/summer 2023 collection will have a total of 12 smart-casual looks. While Nemkul prefers using dark and neutral shades for her designs, she introduced a more pastel and nude colour palette last year and is continuing with that for the upcoming collection.
Nemkul says that most working women—especially doctors, bankers and corporate workers—buy frequently from Kasa. As the brand puts out high-end products, they cater to women who earn well.
Behind the designing process
Kasa has a total of 25 workers, including four designers. While the brand does not have specific themes for every collection, they pick one detail to play with each collection.
In last year's spring and summer collections, they varied the sleeve designs. This time around, they are adding laces to the button-downs.
A couple months before the launch of each collection, Nemkul and the designers at Kasa sit down to discuss the designs. "Everyone pitches their ideas. We also list out things that are trending in the fashion scene and see if we can incorporate an element or two into the collection," says Nemkul. But she adds that Kasa's collections aren't trend-focused. The brand primarily focuses on creating comfortable and chic formal wear.
Putting on a show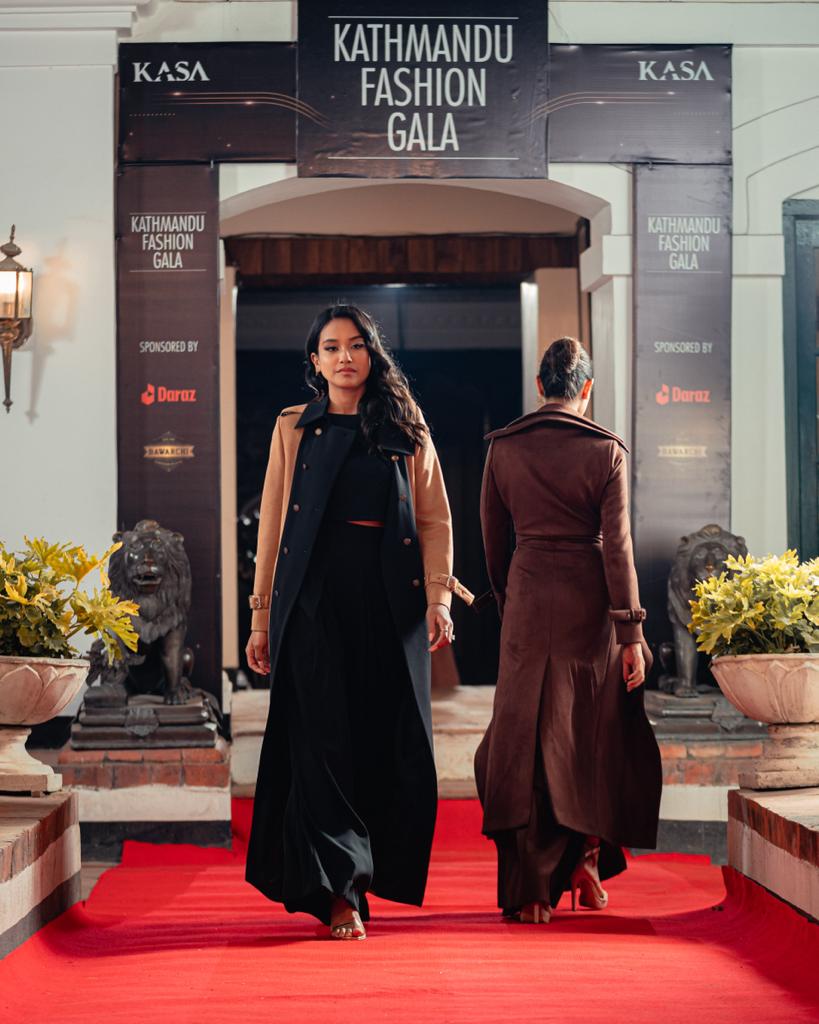 Photo: Courtesy of Kasa
Fashion businesses showcase their work to their potential customers through fashion shows. However, in Nepal's case, things work a little differently.
"While operating Kavya, I participated in TGIF Nepal Fashion Week. But I can tell you that it doesn't really benefit the designers. People come to watch the show for the models, not the new designs," states Nemkul adding that she doesn't see a point in participating in the show anymore.
She has even argued with the organisers because the clothes were treated as the secondary attraction to the event, while they focused on the big-name models. She admits that this frustrated her to no end as she (like every other designer) and her team put in a lot of effort to pull off a fashion show.
This is why Nemkul started organising runway shows by herself for Kasa. She wants to showcase how they can be done well—even in Nepal—if you focus on actually telling a story through your designs. All four of the brand's runway shows have been organised in the winter to launch their winter collection.
Kasa's runway shows are pretty iconic in their own right. The first show took place at the Patan Museum. Nemkul doesn't care much for stage design and fancy seating placements. The models simply strutted around a pit (akin to an orchestra pit) with the audience viewing the designs on sukuls (traditional mats) laid out on the staircase.
An unusual sight one will see at Kasa's fashion shows is how the front row—and honestly, every other row—are filled with everyday people and not celebrities. Nemkul considers showcasing her new collections to her regular customers of utmost priority.
Kasa's most famous fashion show till date is The Mt Everest Fashion Runway. The first Mt Everest Fashion Show took place at Kala Patthar while the second one was conducted at Gokyo.
"I realised that my clothes will not be seen by the international market if I keep doing fashion shows in Kathmandu. So, I had to do something that could be seen the world over," says Nemkul adding that these collections also prioritised sustainability. She reveals that the international models didn't even charge anything for their work as they were simply excited to do a show at Mt Everest.
The most recent runway show, titled Kathmandu Fashion Gala, happened in December last year at Baber Mahal Revisited to celebrate the brand's 5th anniversary. The show featured their winter 23 collection featuring items made from pashmina.
---
---