At this thrift store you can buy clothes for ten rupees
Located in Samakhusi, Sukhawati store is revolutionising the thrift culture in Nepal with affordable prices.

Photo Courtesy: Sukhawati Store
bookmark
Published at : August 27, 2021
Updated at : August 27, 2021 08:44
Kathmandu
Whenever Tej Bahadur Pariyar strolls around Samakhusi, he visits Sukhawati store, even if he doesn't need anything to buy.

"For the last two years, whenever I am in the Samakhusi area, I always stop by the store just in case to see if there's anything nice I can buy for my family and me," says Pariyar, 38. "Sukhawati has become a go-to store for low-income people like us to shop for things at a minimal price, without feeling intimidated."
Sukhawati store, which started in 2014, has become a hub for people who want to buy second-hand items at an affordable price.
Located inside Samakhusi Town Planning, the store sells a wide range of pre-used clothing items at prices that many low-income families can afford to pay. Prices of clothes start from Rs 10 and go up to Rs 200.
The store's founder Chij Man Gurung says he initially opened the business to help the needy buy things at reasonable prices and to introduce the concept of reusing and thrifting in Nepal.
"The culture of giving and donating is intrinsic to Nepali society. But when it comes to donating clothes in Nepal, there's no proper channel that connects donors with the needy," says Gurung. "We decided to fill that gap by opening a store that would allow the needy people to buy the clothes they need under one roof."
Gurung says that he first became aware of the thrift culture during his decade-long stay in South Korea.
"In South Korea, there are plenty of thrift stores people can visit to buy second-hand clothes at affordable prices. I was fascinated by the concept that I even volunteered for two years at a thrift store called 'Beautiful Store' in Seoul," says Gurung. "When I returned to Nepal, I decided to do something similar here."
In 2014, along with eight other members, Gurung started the Sukhawati Foundation under which the store runs. Although the members of the foundation wanted the store to help others, they didn't want to give clothes for free to people, says Gurung.
"We wanted to charge a certain amount, however less it was, for the clothes as we wanted to use the money we collect for other philanthropic initiatives," he says.
The members of the foundation initially collected clothes from their circle of friends and families and sold the clothes from a garage of one of the members on Saturdays.
"We also sold the clothes at Basundhara and Tudhikhel so people who are in need can have access to those clothes," says Samita Rana Magar, coordinator of the Sukhawati Store.
But in a country with a strong stigma of using old or pre-owned items of strangers, making people understand the significance of thrifting, says Magar, wasn't easy.
"People would laugh at us saying that the idea won't work. But we knew how helpful the store could be and didn't let other people's opinions deter us. Instead, we focused on educating our visitors about thrifting and what we were trying to achieve," she says.
As more and more people started buying their clothes, the business gradually started picking up. But the group faced another major challenge. Half of the clothes they received from their friends and families were in unwearable condition.
"In the beginning, we discarded a lot of clothes because they weren't in good condition. Our focus has always been on selling good quality second-hand clothes," says Magar.
At the end of 2014, they opened a physical store in Mhepi and used it as a drop point for people to donate clothes in good condition.
"We also started placing donation boxes in many of Kathmandu Valley's restaurants, housing areas, and shopping marts, places where we knew we would get good clothes as donations. Soon, our store had good quality clothes, and this attracted more visitors," says Magar.
In 2019, when the store relocated to its current location from Mhepi, Magar says the foundation's members decided to also focus on the store's interior design.
"We learned that even if it's just a thrift store, the interiors should be designed in such a way that it looks like normal fashion stores. This encourages more people to visit the store," says Magar.
Once you step into the store, it's hard to discern it from any other clothing store. Donated clothes are first sorted, and selected clothes are then washed, ironed, and displayed in the store. There's also a separate changing room for customers.
Magar believes that the decision to focus on the store's aesthetics has helped attract more people.
"Before, many teenagers and even people of other age groups would feel shy to visit our store. Now since it looks like a normal store, most of them visit, even if they don't feel comfortable buying the clothes," says Magar.
Of late, the store has also been attracting environmentally conscious youngsters adopting sustainable fashion choices.
"I have been buying clothes from Sukhawati store since last year," says 20-year-old Sharmila Pun Magar, a student and a regular customer of the store. "For those trying to be more environmentally conscious with their fashion choices, Sukhawati store is a great place to purchase thrifted clothes at reasonable prices."
The store claims they have received 30,530.73 kg of clothes so far and have already sold 179,774 pieces of clothing.
In 2018, Sukhawati store received the award for the Best Non-Profit Organisation by the Asian Philanthropy Award for its effort in promoting sustainable fashion. Last year, the store opened an outlet in Nepaltar.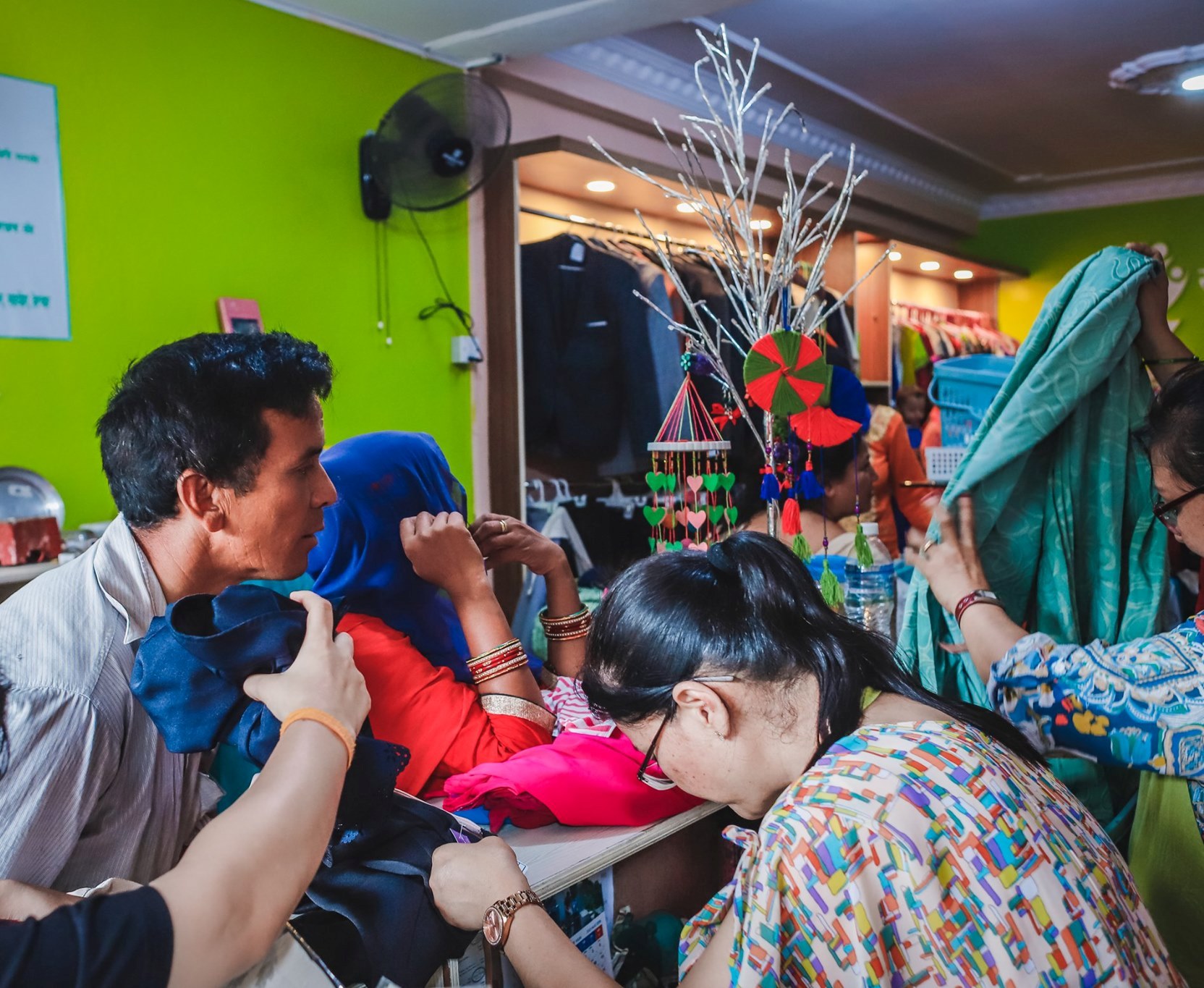 Photo courtesy: Sukhawati Store
Apart from low-income families and the environmentally conscious, the store has also been attracting businesses that upcycle clothes.
Twenty-nine-year-old Preity Gurung is the owner of Mendo, a sustainable fashion brand. She is one of Sukhawati store's regular customers.
"I buy clothes from Sukhawati and upcycle them and sell them to my customers. I love the fact that their clothes are so inexpensive and of such good quality," she says.
In the last few years, many thrift stores have emerged here in Kathmandu, and with more and more people adopting sustainable fashion, the number of such stores is only likely to increase in the future.
But the clothes at the majority of the existing thrift stores in Kathmandu are as expensive as normal fashion stores selling brand new clothes, beating the whole purpose of thrifting.
And that's one thing Sukhawati store will always refrain from doing, says Magar.
"Our core target audience has and will always be low-income people who can't afford to buy clothes from regular stores," says Magar. "While we are trying to promote our store as an alternative to fast fashion clothing, our focus will always be to keep our prices low, so more people can afford to buy from us. If we start keeping our prices high, then it beats the whole concept of thrifting. And by marking our prices low, we can attract more people and also normalise the concept of reusing, which will automatically benefit the environment."
According to Magar, the store is currently earning enough money to keep the business afloat.
"The profit we make from the store is used for the foundation's social initiatives like providing scholarships to children from slum areas," says Magar.
While the store has been seeing an increase in the number of customers, many of them, says Magar, still feel hesitant to openly accept or talk about the fact that they buy clothes from the store.
"A week ago we conducted a survey and found out that many of our customers were happy with our service, but they aren't comfortable openly talking about their clothes being second-hand. This shows how much work we still need to do," says Magar.
But for the majority of the store's low-income customers, the store has meant that they could now buy good quality clothes at prices they can afford. And they believe that more such stores should open.
"For the poor like us, we can't afford to buy clothes from regular fashion stores," says Pariyar, who's currently unemployed. "Whenever I need to buy clothes for my family, I know I can go to Sukhawati and not feel looked down upon while browsing for clothes."
---
---