A 19-year-old designer wants to change the Nepali sustainable fashion scene
Vama, the brainchild of Vardaan Devkota, is the latest clothing brand in Nepal to embrace the concept of slow and sustainable fashion.

Photo Courtesy: Vama
bookmark
Published at : July 15, 2021
Updated at : July 18, 2021 08:04
Kathmandu
A quick look at the Instagram page of Vama, one of the latest clothing brands to be launched in Nepal, is all it takes to understand that the brand's style ethos is chic, light and stylish. In one of Vama's Instagram posts, Sneh Rana, a makeup artist, is seen wearing a white shirt paired with equally comfortable-looking pants. The overall outfit screams comfort and style.
Vama is the brainchild of Vardaan Devkota. His aim for the brand, he says, is to create clothes that make the people wearing it look effortlessly gorgeous.
"My aim is to create outfits that are elegant and comfortable to wear. And I think I have successfully achieved that with Vama," says Devkota.
Launched a week ago, Vama, says Devkota, is a sustainable and ethical clothing brand.
The concept of slow and sustainable fashion isn't new to Nepal. Many sustainable brands have emerged in the last few years, and there are also many stores selling pre-loved clothes and vintage clothing in Nepal. But what makes Vama slightly different from the other brands in the same category is its founder and his goals for the brand.

For starters, Devkota, who is only 19, owns and operates the brand all by himself, making him one of the youngest designers to start his own sustainable clothing brand.
Designing clothes, says Devkota, has always come naturally to him and that he has been designing clothes for himself for many years."I have always loved being extra and have for a very long time relied on fashion to express myself. I designed my own outfit for my bratabandha and even for my 19th birthday party," says Devkota.

When Devkota was younger, he was just taking baby steps into the world of fashion and his love for designing was limited just to his personal sphere. But after he got accepted to study fashion and merchandising at the London College of Fashion, his understanding of fashion deepened and widened and Devkota started looking for opportunities to turn his passion for designing into a full-time profession.
What got Devkota to take the leap and start Vama was the pandemic. Like every other industry, the fashion industry was also impacted when the pandemic gripped the world last year. As the world hunkered indoors and many started working from home, demand for comfortable clothing started trending.
This huge shift in clothing demand planted an idea in Devkota's head—to create a fashion brand that caters to the current needs."During lockdowns, all of us were looking for loose-fitting outfits that were stylish yet comfortable to wear while staying at our homes. And that's when I thought that I could use my skills in designing to create a clothing brand that caters to the current needs," says Devkota.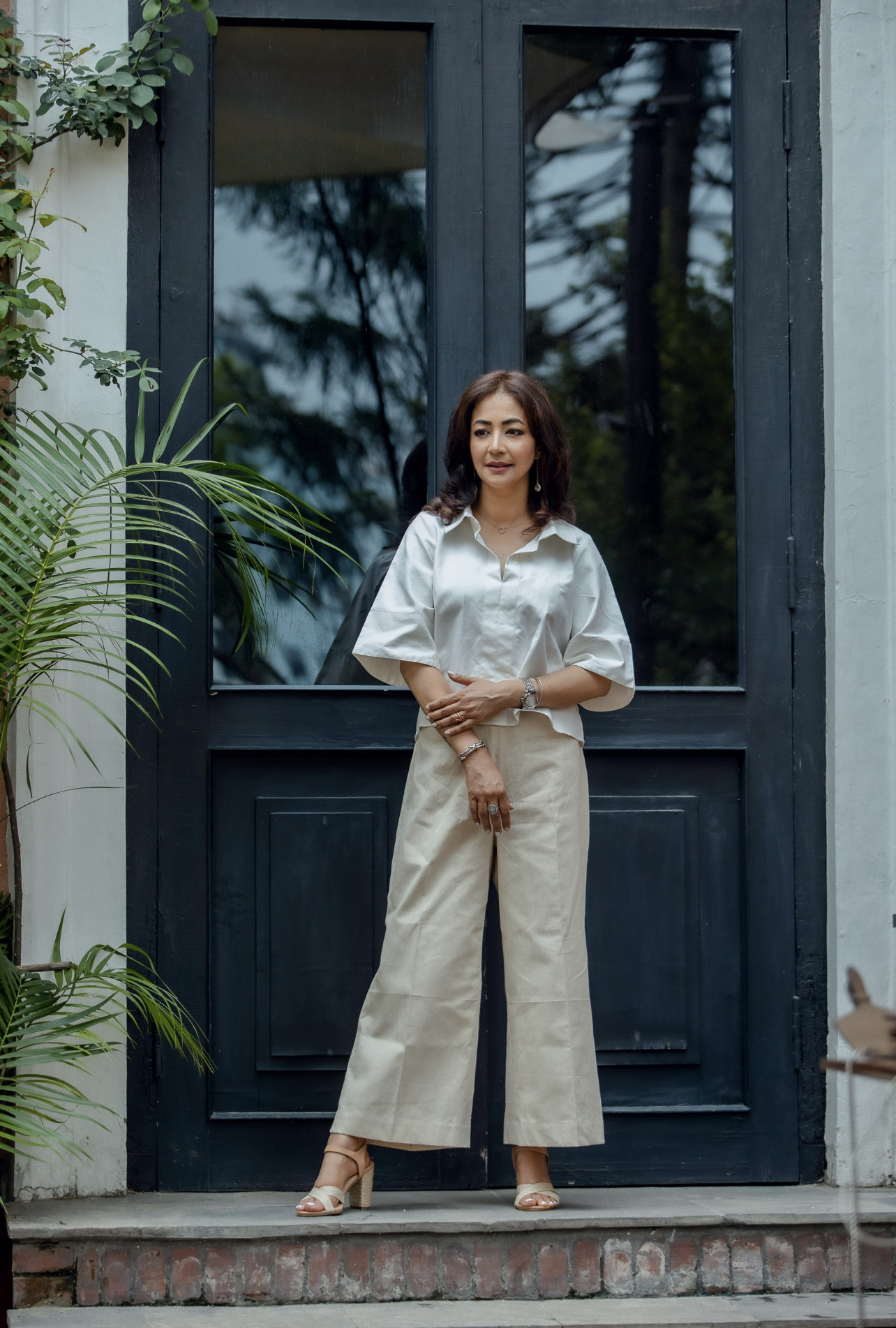 Photo Courtesy: Vama
After he conducted his market research, Devkota got a better idea of how and what he wanted to create through his brand. He also wanted his brand to be sustainable and leave as little carbon footprint as possible.
"As a fashion student, I am aware of the fact that the fashion industry is a big contributor to global warming and climate change—the industry accounts for almost 10 percent of carbon emissions. Today, sustainability and eco-friendliness are aspects that Vama is very focused on," says Devkota.

Devkota says that Vama uses high quality and sustainable fabric like organic fabrics like khadi, pure cotton and cotton linen, and all the designs are made in Nepal. From manufacturing, distribution to promotion, the brand has tried to be as sustainable as it can be, adds Devkota.
"I have tried my level best to make the entire operation as sustainable and eco-friendly as possible," says Devkota.

According to him, the brand is also equally conscious about its production wastage. "We only produce designs in small batches to keep our waste minimum," says Devkota.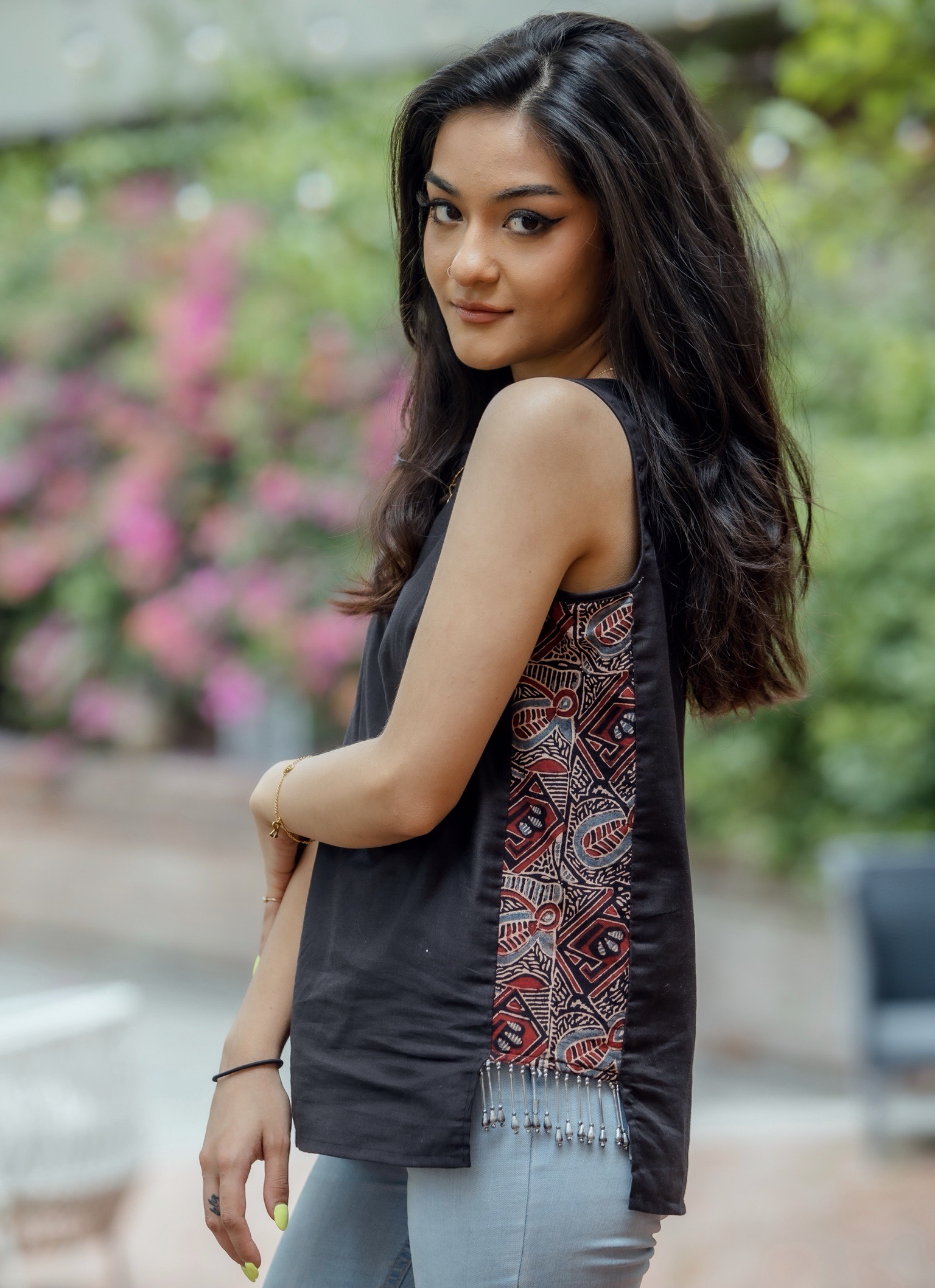 Photo Courtesy: Vama
After months of research and working on designs after designs, Devkota launched the brand last week and released its first summer collection.
From wide-leg pants and shirts to dresses, Vama's summer collection consists of seven types of clothes that are inclusive of all sizes. The products are all hand-stitched and all available designs can also be customised and worn in different styles, says Devkota.
But using high-quality materials and producing limited designs in a nation that is obsessed with affordable fast fashion comes with its own set of challenges.
Vama's outfits cost anywhere from Rs 3,500 to 6,500, with some additional charges for customised pieces. This means the brand caters to a niche market and is inaccessible to the majority of Nepalis.
"I don't want to falsely claim that my brand is affordable because it's not. Vama is a sustainable and ethical brand. We don't mass-produce and use cheap fabrics. Our craftspeople are fairly paid. All of these practices add up the cost," he says. "As for our clothes, they are designed in such a way that you can wear them on any occasion from outings, dinner parties, Zoom meetings to weddings. Just with some accessories and great styling, you can use the same outfit for different events."
Having spent the last few months working on Vama, Devkota says he has become aware of the limitations of starting a clothing brand in the midst of a pandemic.
"There is a shortage of qualified manpower and that has hindered our ability to restock as quickly as we would like to. Likewise, the limited availability of fabric choices has also forced me to limit my designs," says Devkota. "But that said, I believe that the pandemic is a great business opportunity for Vama to grow as a sustainable brand. More people than ever want to buy things that are durable and easily manageable, which provides a great environment for sustainable fashion to flourish."
And given that Vama's entire summer collection got sold out within just three days of launch, Devkota's gamble seems to have paid off.
He is now working on his monsoon collection, which will be followed by the winter collection. If all goes according to his plan, Devkota intends to launch an affordable and sustainable clothing line in the future.
"The ultimate aim is to go international," says Devkota.


---
---