How vintage fashion is slowly gaining a fan base in Kathmandu
Vintage fashion is not just sustainable, it also gives people an individuality that is not possible with fast fashion.

Photo Courtesy: My Ama Wore That
bookmark
Published at : February 5, 2020
Updated at : February 5, 2020 07:51
Kathmandu
The earliest childhood memory Dongaa has is wearing her mother's clothes. The clothes weren't made her size, but she loved adorning herself with the loose-fitting apparel—they were familiar, comfortable, yet distinct.
This unique sense of style got her admirers—her friends. They encouraged her to start a venture, and after years of handpicking outfits—from her travels to Japan, Australia, Bhutan, India and Thailand—she finally started a social media handle, 'My aama wore that', under which she started selling vintage clothes.
"Every vintage piece is a story in itself," she says. "I pick up clothes which have been passed on through generations. Clothes that are interesting, have character and are of good quality."
Like her venture, vintage clothing in recent times has been receiving attention and appreciation from fashion mongers all over the world. From Kim Kardashian West to Jennifer Aniston, everyone has been donning vintage couture in their latest outings in fashion shows and award ceremonies. Even for this year's BAFTAs, attendees were asked to wear outfits that had been worn before or were sustainable or vintage, reflecting the fashion industry's acceptance and advocacy for sustainable fashion and the masses' change in attitude towards utilising vintage clothing.
Just as how vintage clothing is gaining popularity globally, in Kathmandu too, it is being seen as an alternative to fast fashion clothes.
According to Dongaa, who has been operating My aama wore that online for more than a year, there has been a striking increase recently in the number of customers who are opting for vintage clothing in Kathmandu. "From married women to girls studying in Grade 12, women from all walks of life are showing interest in buying my products. This is something I never expected," says Dongaa.
Just as Dongaa, Hana Rai too is passionate about vintage clothing, and has a store in Jyatha, Thamel. From her store, Lagom, Rai has been selling vintage clothes along with thrift clothes, which she has collected from Japan, South Korea, Italy and France.
"It's the sheer joy of collecting clothes that were made from passion without a compromise on quality that made me venture into this business," says Rai. Unlike fast fashion clothes that are produced in bulks, her picks help those who want to express themselves through their clothing, she says.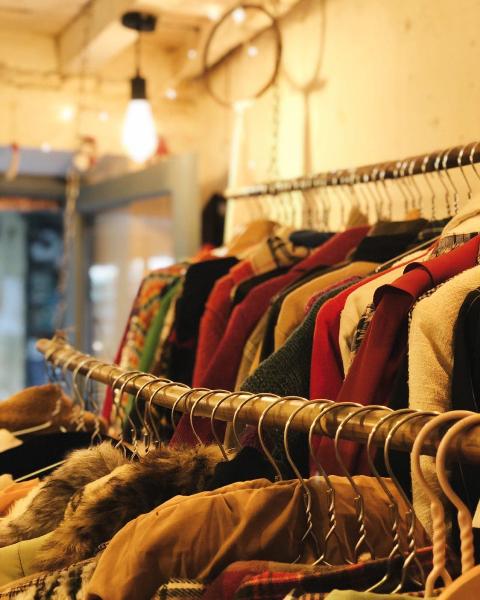 Photo Courtesy: Lagom
Rai also acknowledges the growing interest shown by the Nepali customers in her business. "When I started, my customers were limited to tourists who were wandering around Thamel. But now Nepalis too are curious and show up in my store or connect with me via Instagram," says Rai, who started selling vintage clothes at her store only four months ago.
Vintage fashion choices are not just sustainable, they also give people's fashion choices an individuality that is not possible with fast fashion choices. But as the style is only just burgeoning, both Dongaa and Rai say they often receive customers who ask for styling tips. "I teach them how they can coordinate their outfits with the vintage piece of clothing so they can look chic," says Dongaa.
Another striking difference between such collections and fast fashion clothes is that they offer unisex clothing. Believing that the gender binary concept is outdated, both Rai and Dongaa offer clothes irrespective of their gender. "Clothes are genderless. Anyone can buy whatever they prefer to wear from my store," says Rai.
However, vintage pieces come at a price, which many people may not afford since they can get fast fashion clothes at much cheaper rates. The vintage pieces on Dongaa's online store range from Rs 990 to 14,990, whereas Rai's collections usually start from Rs 1,550 up to 4,000.
However, both Rai and Dongaa believe that their clothes are quite affordable in terms of the quality they provide, their longevity, and for their eco-sustainability.
Many environmentally-conscious people opt for sustainable clothing as a replacement to fast fashion clothes, which is considered to be a major factor responsible for climate change. And while many say that sustainable clothing is a good alternative to fast fashion clothes, vintage clothing advocates say that vintage is the best alternative for those who want to make sustainable fashion choices.
"The process of making sustainable clothes may be less damaging to the environment, but even they use some resources for their operation. If you want to make an effort, why not just re-use available clothes?" says Rai.
And while more and more people are becoming aware of such fashion choices across the world and in Kathmandu, there aren't enough mainstream celebrities and influencers promoting the cause in the Capital, say the two. "The so-called influencers are either selling fast fashion clothes as their side business or are promoting it on their Instagram," says Dongaa. But for people to take up vintage fashion, it is crucial Nepali celebrities too join in the global movement of making environmentally-friendly fashion choices, they believe.
Despite this, both are hopeful about the future of their businesses. "It's going to be big someday. People are becoming more aware and valuing vintage clothes and supporting them," says Rai.
---
---