Men want to wear makeup, but they don't want to be stereotyped
The trend of men wearing makeup isn't new, but social media has definitely helped normalise it.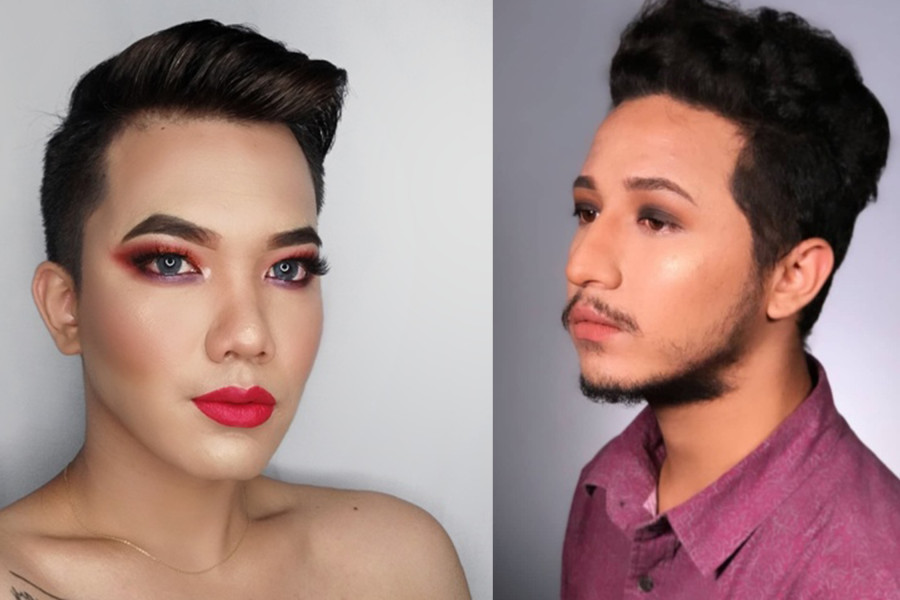 (Left) Anish Tamang and Prasot Kandel are both trying to defy traditional gender norms by wearing makeup. Photos via Instagram
bookmark
Published at : December 26, 2019
Updated at : December 26, 2019 07:47
Kathmandu
Anish Tamang was intrigued by makeup since his formative years. But as he grew up, he was made to realise and understand the social expectations when it came to gender and makeup. But when he decided to take modelling jobs in 2013, makeup became a normal routine. In order to become self-reliant while on the job, he learned a few makeup techniques that led him to become a professional makeup artist.
Now, his regular routine consists of putting on a foundation layer to achieve a smooth sheen across his face, a bit of eye-shadow for a pop of colour on his eyelids and fill the brows with brow-pomade.
"I feel confident and positive when I'm wearing makeup," he says.
Men are no strangers to makeup. From ancient Egypt, Elizabethan-era England, 18th century France to 1930s Hollywood, men were traditionally expected to wear makeup in various ways. But for the last century, makeup has been exclusively reserved for women. In recent years, however, with the emergence of the concept beyond the gender binary and emergence of male beauty influencers in social media, men wearing makeup isn't perceived as peculiar. This has somewhat trickled down to Nepal as well—at least among the urban population of the country.
In the international scene, there are now plenty of men, who have been acknowledged and praised for breaking the barrier of restrictive gender norms when it comes to facial decoration. But that change was led by ordinary teenagers making videos of putting makeup on themselves and posting them online—similar to what Tamang is doing right now.
His Instagram profile is full of photos of himself in various degrees of makeup. He isn't hesitant to showcase his affinity to makeup, which are mostly feminine. But Tamang says, it's mostly for the social media, he hardly takes to the streets of Kathmandu with his 'looks'.
"I only put on a full face of makeup when I decide to click pictures for Instagram," he says. "But mostly, I avoid it when I go out because I don't want to create a stereotypical image of myself ."
But it wasn't easy to face social judgements when he first started wearing makeup. Although Tamang says, his parents have always been supportive, they've had to put up with many condescending comments from their relatives and friends.
"I used to hear people tell my parents, 'you only have one son and he too is wearing makeup.' The reactions were mostly negative," he says.
Prasot Kandel also shares a similar experience when people saw him with makeup. Although Kandel doesn't wear glamorous makeup like Tamang, even a hint of mascara or contouring is enough to throw people in a fit of shock, he says.
The 22-year-old, who was a contestant of the first season of TV game show 'Himalayan Roadies', says he was attracted towards makeup because he likes to stay well-groomed and it makes him feel better-looking.
"Whether it's about applying makeup or my styling choices, there are endless comments from people," says Kandel.
Due to experiences like that of Kandel, the growing industry of men's makeup and grooming part ways with women's in one major factor: unlike women's makeup, men's are designed to be invisible. In order to capitalise on the growing idea of men's grooming, the makeup companies have been attempting to give more 'manlier' names to the same product—manscara, guyliner, tinted moisturiser to name a few.
Wang Yong Limbu, a 24-year-old vlogger, says that this is exactly what he looks for when applying makeup to look presentable for his vlogs. His skin care routine consists of regular use of moisturiser, face wash and facepack.
"Since I need to shoot videos for my vlog and Instagram frequently, I try to take care of my skin, as I need to make sure that I look smart and presentable in the videos," says Limbu.
But like the history of makeup and men's usage of it, it is not an alien trend in Nepal for men to use makeup. Some of the professions demand the usage of makeup, regardless of gender.
Raju Khadgi, who has been in the makeup industry for more than 20 years, says men wearing makeup has existed for a long time in Nepal but it wasn't as normalised as in recent years. Currently working as the head of the makeup department at Kantipur Television, he commends social media for making makeup more approachable to men.
"Earlier, actors and TV presenters used makeup because that was required of their profession," he says. "But now men use it out of personal preference too."
But not all men enjoy the same privilege of buying and wearing makeup comfortably. Many men are still embarrassed from wearing makeup or grooming themselves beyond the norms of masculinity.
"I know a lot of men who are keen to learn and apply makeup to enhance their appearance. But they fear they will be labelled as effeminate on the basis of their choices," says Tamang. "It is difficult to break these barriers."
---
---