Getting ahead of the curve
It was during his third year in college at University of Pennsylvania, US, that Atulya Pandey co-founded Pagevamp, a web designing agency. Pandey, along with his co-founders, started the company to help create websites for people in and around the university.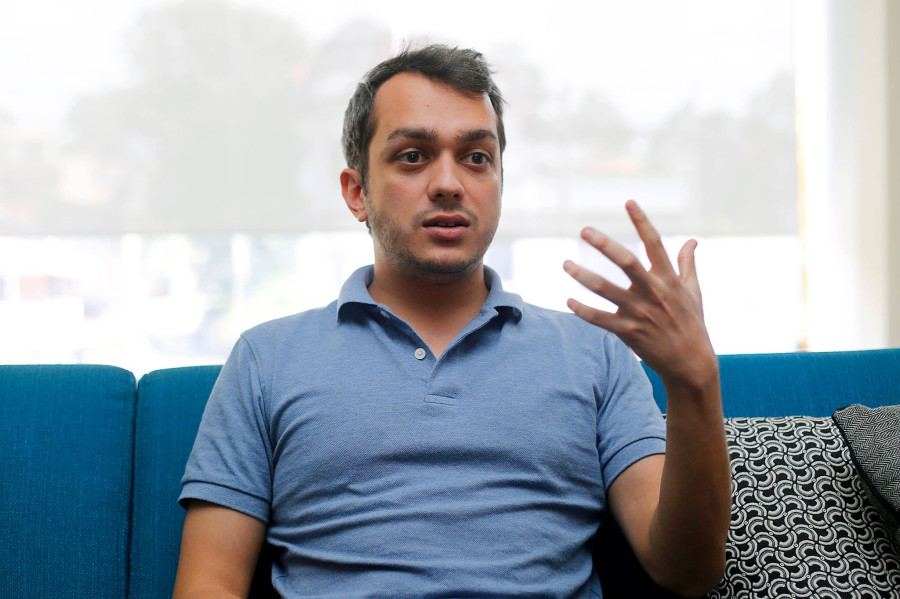 bookmark
Published at : October 1, 2018
Updated at : October 1, 2018 16:01
It was during his third year in college at University of Pennsylvania, US, that Atulya Pandey co-founded Pagevamp, a web designing agency. Pandey, along with his co-founders, started the company to help create websites for people in and around the university. However, in the final year of college, things took a fortuitous turn for the team—they came second at Hackathon—and they decided to take things in full swing. Pagevamp has built a name for itself in the market since its launch in 2013. It has been popular for the user friendly features that allow one to turn their Facebook page effortlessly into an informative website. While the company was established in New York, the core team is based out of Kathmandu from where they connect with their clients and resellers across the world. Currently, the company has resellers in over 40 countries—US, Canada, and Malaysia to name a few. In just five years' time, the company has collaborated with 16,000 small businesses worldwide. In this interview with the Post's Alisha Sijapati, Pandey talks about the company's current status, getting ahead of the curve, and standing out in the market. Excerpts:
What were the initial challenges in starting Pagevamp?
Our initial challenge was to find the best market audience for our product. Working with emerging markets is always exciting, but it also comes with fair share of risks. Making sustainable profit or income in emerging markets can take a lot of time. Figuring out how to go forth effectively and efficiently was one of the biggest challenges we faced.
What stage is Pagevamp currently at. Do you still have challenges?
The challenges are ever-present. There is a new challenge every day. Currently, Pagevamp is trying to find impeccable partners who can enable us to sell our product more effectively. US and Canada are countries where we see big potential. We are already part of the largest marketplace in the region as frontrunners for agencies and resellers that are looking for easy website solutions. As of now, we are focusing on growing within this network as we unlock more.
We also recently initiated another line of business—Pagevamp Studio. This was founded in June 2018 with the aim of working with larger enterprises which need more customised solutions. These clients have invested in the team and they know exactly what they want in a website. Hence, for them, we build tailored products.
In an online business-to-business model, how do you discover your clients?
There is no single method that we abide by to unlock our network of clients. What we do not do is advertise. Companies invest a huge amount of money on advertising through Facebook or Google. We are aware that we cannot compete with big shots that have all the money to spare. Hence, we always choose paths that are more competent in nature. We tap into our existing networks. For instance, in Nepal, we tied up with Ruslan Vodka and the restaurants they are associated with. We worked with one company and gave branded websites to restaurants associated with it to make them relevant. Knocking on every restaurant door would have been too costly. It would not have been feasible. Sometimes, it does get manually intensive to get to these clients, but once you get connected, it's easier to expand the network through their existing resources. That is how we have grown and how we are growing. It is safe to say that word of mouth does play an important role.
What is the biggest risk to your business?
Our biggest blessing is also our biggest risk—Facebook. We are very much dependent on Facebook at this point. And when they change something, it could directly affect our business. So far, we are on the same page. Facebook likes what we do. We do consistently work on backup plans in order to mitigate the risks.
Since you operate digitally, it is easy for others to replicate your model and your services. How do you stay ahead of the curve?
When we first started Pagevamp, we found out that an Israeli company was doing something similar. As it was my first business, I had started panicking. Over time, I have realised that competition is good, it pushes us towards the right direction. I am not necessarily worried too much about competition because what we built in the last five years—the technology and the relationships—cannot be built overnight. This realisation has helped us stay ahead of the curve.
There will always be competition. Nobody has a hundred percent occupancy over the market. One has to be prepared to respond to the competition constructively. We have had competitors who make similar products (and sometimes reproduce it too). But at the end of the day, we are passionate about building quality technology and providing good solutions to our partners, resellers, and customers.
What is your current client base like and what plans do you have for Nepal?
Nepal is a tough market and internet is a recent phenomenon here. Small businesses still don't fully understand branding, so, the sales process is longer. Convincing them to be part of what we do can be time consuming. Meeting the clients and explaining everything from scratch can be a very tedious process.
In Nepal, we have bigger plans for Pagevamp Studio. We could be more useful as a technology partner for brands that are looking for a more tailored product here.
Pagevamp is a global organisation, what prompted you to station your company in Nepal?
The primary reason to start operations here was because Nepal has a lot of potential in technology. It is easy to build a good, capable team here. Without the team and their passion to help Pagevamp grow, it would have been next to impossible for us to take the leap.
An entrepreneur without a team is just like a head without a functioning body. A company succeeds because of its team. A company navigates through challenges because of its team. We have a solid team and an open working culture at our company, there is no hierarchy. Here we take responsibilities collectively and thrive on trust.
---