Coronavirus onslaught
It makes sense for the government to lower its GDP growth target in light of the impact of the outbreak.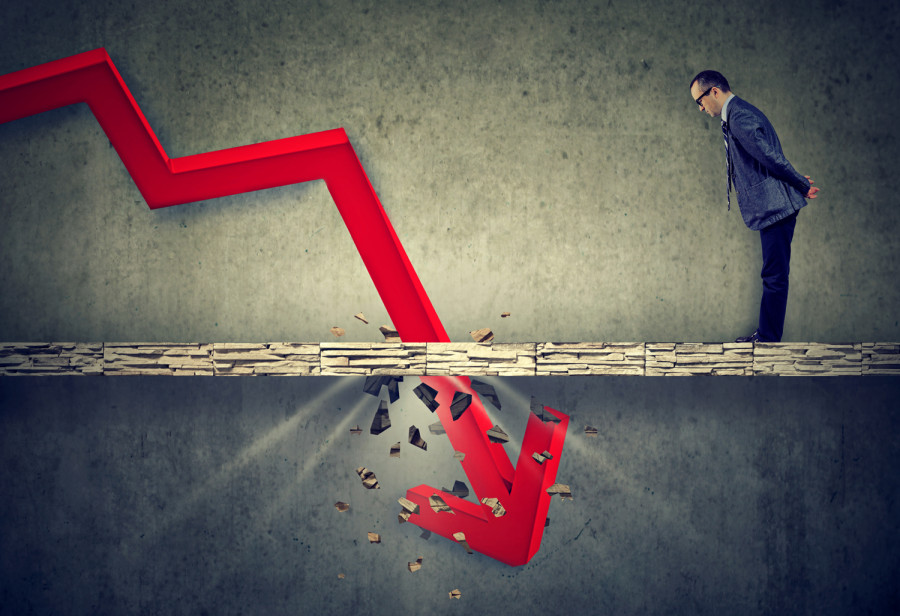 Shutterstock
bookmark
Published at : March 9, 2020
Updated at : March 9, 2020 07:06
During the mid-year review of the 2019-20 budget, Finance Minister Yuba Raj Khatiwada asserted that the government would meet the 8.5 percent growth target despite acknowledging that actual public spending would fall short of the earmarked budget for this fiscal. However, he did not explain the reasons behind the unchanged growth target in the face of lower capital spending and agricultural output. The recent outbreak of Covid-19—a new disease caused by novel coronavirus that originated in Wuhan, the capital city of Hubei province in China—and its effect on the economy is making the growth target more elusive than ever.

In fact, economic performance was already below expectation before the coronavirus outbreak, which is wreaking havoc on global value chains and threatening the global economic outlook. Agricultural output, especially paddy production, is expected to decrease this year due to a delayed monsoon, shortage of fertilisers, use of substandard seeds and an armyworm invasion. Slow public spending has hit industrial output, especially construction, and mining and quarrying activities. During the first half of this fiscal, the government was able to spend only 15 percent of the Rs408 billion capital budget. These factors coupled with the continuing slowdown in the Indian economy—the largest source of investment commitment and inbound international tourists, and to whose currency the Nepali rupee is pegged—mean that a growth target higher than the provisional growth in 2018-19 is ambitious in the first place.
Four effects
The coronavirus outbreak is severely affecting global as well as regional economic outlooks. This epidemic is bound to affect the Nepali economy much more than the effect of the global financial crisis in 2008 and the food price spikes in 2010. Specifically, the Nepali economy will be impacted on four major fronts, affecting economic growth and employment opportunities.
First, the travel and tourism industry, which was gearing up for an expected tourist surge in 2020, is feeling the brunt of Covid-19. This has put a lid on any chance of achieving the ambitious two-million tourist target in 2020, an ill-conceived numerical target that was not in sync with the state of the tourism infrastructure. Investors who borrowed money from financial institutions to establish new hotels and restaurants or refurbish the existing ones will likely face cash flow problems. The expected business bonanza has almost evaporated with the slump in tourist arrivals. All flights from China are suspended now, and inbound visitors from the country have come to a screeching halt. It was partly because of the surge in Chinese tourists—who accounted for 14 percent of the 1.2 million visitors in 2019—that Nepal's travel and tourism industry did not really have an offseason market. The year-round business supported economic activities and employment.
Note that of the total visitors, 70 percent come for holiday and recreation, 8 percent for trekking and mountaineering, and 15 percent for pilgrimage. The increasing fear of catching Covid-19 as it spreads globally will limit visitors from other countries too. Some researchers are already predicting an outbreak in Kathmandu soon, partly owing to Nepal's poor ability to manage infectious disease. This is going to specifically affect economic growth through a lower than expected services output. The direct contribution of the travel and tourism sector (economy activity generated by hotels, travel agents, airlines, and passenger transportation services) is estimated to be about 4-5 percent of GDP. The sector also contributes about 6 percent of the total foreign exchange earnings.
Second, setbacks in project execution and completion is likely in several large infrastructure projects in the airport, hydropower and road transport sectors. In the immediate term, it will affect projects led by Chinese contractors that are employing some Chinese workers and managers. They include the Narayanghat-Butwal road improvement project supported by the Asian Development Bank, Rasuwagadhi-Syabrubesi road project and detailed project review of the Kathmandu outer ring road supported by the Chinese government, and hydropower projects such as Khimti-2 and Langtang Khola, among others. It will directly affect public capital spending, which in turn will exacerbate the finances of some companies saddled with excess installed capacity (anticipating accelerated capital spending), but low capacity utilisation (in reality slow capital spending). It includes the cement industry, whose capacity utilisation had already dropped to 40 percent in 2018-19. Accommodating requests for time and cost overruns for the affected projects may be warranted.
Third, the coronavirus outbreak will disrupt supplies of raw materials and intermediate goods because of China's central role in global value chains. The manufacturing and services sectors in Nepal too will feel the brunt because of reliance on imported goods—be it raw materials, intermediate or final goods. China accounts for about 15 percent of Nepal's total trade. Nepal's top exports to China are handicraft, woollen carpets, noodles and readymade garments. Meanwhile, the top imports from China are telecommunication equipment, readymade garments, electrical goods, machinery parts and chemical fertilisers. Nepal's flagging exports sector will further suffer as a synchronised global economic slowdown will weaken demand for our goods and services beyond China.
Fourth, outmigration for work and remittance inflows will get affected. Outmigration to attractive destinations like South Korea is already suspended. A sharp global economic slowdown due to supplies and economic disruptions will gradually lower investment in migration destinations (such as the Middle East). This will eventually decrease demand for Nepali migrant workers, leading to a deceleration of remittance inflows and potential external sector stress. It happened already when global fuel prices tanked a few years ago.
What next
Unlike in the past, the Nepali economy is not immune to the global outbreak of Covid-19. Unfortunately, there is little the government can do to mitigate the economic impact owing to limited fiscal space and budget execution capacity.
For now, prioritising preparedness and vigilance by deploying resources as well as allocating more funds to the concerned agencies must be the priority. The goal should be to effectively contain the spread within the country in the most cost-effective way, but without compromising quality and standard healthcare procedures. The government will also have to intensify market monitoring to ensure that suppliers and sectoral cartels do not artificially raise prices taking advantage of market uncertainty. It will aggravate cost-push inflation in the face of supply disruption. Perhaps it also makes sense for the government to lower its GDP growth target in light of the impact of the coronavirus, and lower than anticipated capital spending and agricultural output.
***
What do you think?
Dear reader, we'd like to hear from you. We regularly publish letters to the editor on contemporary issues or direct responses to something the Post has recently published. Please send your letters to [email protected] with "Letter to the Editor" in the subject line. Please include your name, location, and a contact address so one of our editors can reach out to you.
---
---