Wandering and wondering in spaces within
Wind Horse Gallery's latest exhibition 'Spaces Within' provides a glimpse into the minds of two artists—Pooja Duwal and Diki Yuthok—and what art means for them.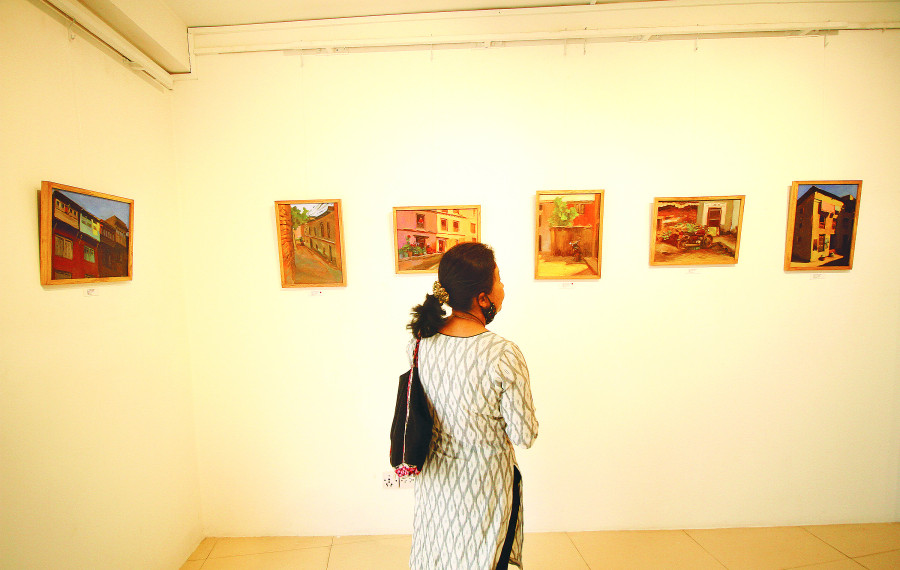 The pieces present the idea of 'spaces' from two different viewpoints, where one artist looks towards the spaces of nature and the other the spaces created by humans. Beeju Maharjan/TKP
bookmark
Published at : April 13, 2021
Updated at : April 13, 2021 21:08
Beauty in the ordinary is often always overlooked. That is why structures of homes and the spaces amid them in Bhaktapur are what Pooja Duwal, a visual artist, chooses to explore—to find innate beauty in the ordinary that we often unsee. In her plein air oil paintings, one can almost hear people's stories, of them moving around, waiting for their families to come back home, preparing food, or just the quiet of the homes waiting for everyone to return. Duwal's paintings put at rest our busy minds; they feel like images we have known and felt.
In one painting, that depicts life in an alley inside Bhaktapur, a woman looks outside her window from her home, down to the house's adjoining pati; another woman and a man are immersed in a conversation. There is a perfect symmetry of light and shadow cast by the afternoon sun perhaps of another building. The painting is simple, and minus the busyness of the streets, it feels deserted, but yet real. Duwal's raw earthen strokes on the houses make the painting genuine.
There's a palpable affinity she draws viewers towards with her series 'Glimpses of Home', the feeling of home and harmony of the idleness, of them unattended. Images of everyday objects, flower pots, buckets to fill water, tankers, and chairs in absence of humans who use them, carry a different kind of wistfulness. They feel personal as though they are pockets of our own memories.
They say the most personal things are what touches people's hearts, it is what makes our work creative, and Wind Horse Gallery's latest exhibition firmly establishes that idea with Pooja Duwal and Diki Yuthok's artworks. 'Spaces Within' as an exhibition is surprising, heartwarming and beautiful.
Surprising because it looks outside of the chaos we are living in. It captures just the beauty in the ordinary, and without the noise, the pieces are soothing and healing. And the artists allow viewers to feel the chemistry and their attachment with their art. The exhibition transports viewers to a quiet world and lets them wander and wonder in spaces captured by the artists carefully and effectively.
Diki Yuthok, who is a visual artist from Gangtok, Sikkim, shares with viewers flowers and images of nature, including owls that have helped her overcome her loneliness. Yuthok's floral portraits capture not just the beauty of nature, but of growth and strength. Unlike botanical illustrations that seek to educate viewers of flowers, Yuthok's flowers speak about the beauty that is within the ordinary that people overlook. Her paintings do not name the flowers, just portray their radiance.
There are paintings of magnolia, cherry blossoms, orchids and rhododendrons that depict their veins, their blooming. In one painting of iris flowers, Yuthok also seems to give flowers the traits of butterflies with popping colours and furls. Her series feels like visiting a floral garden that wants to allure people to the wilderness.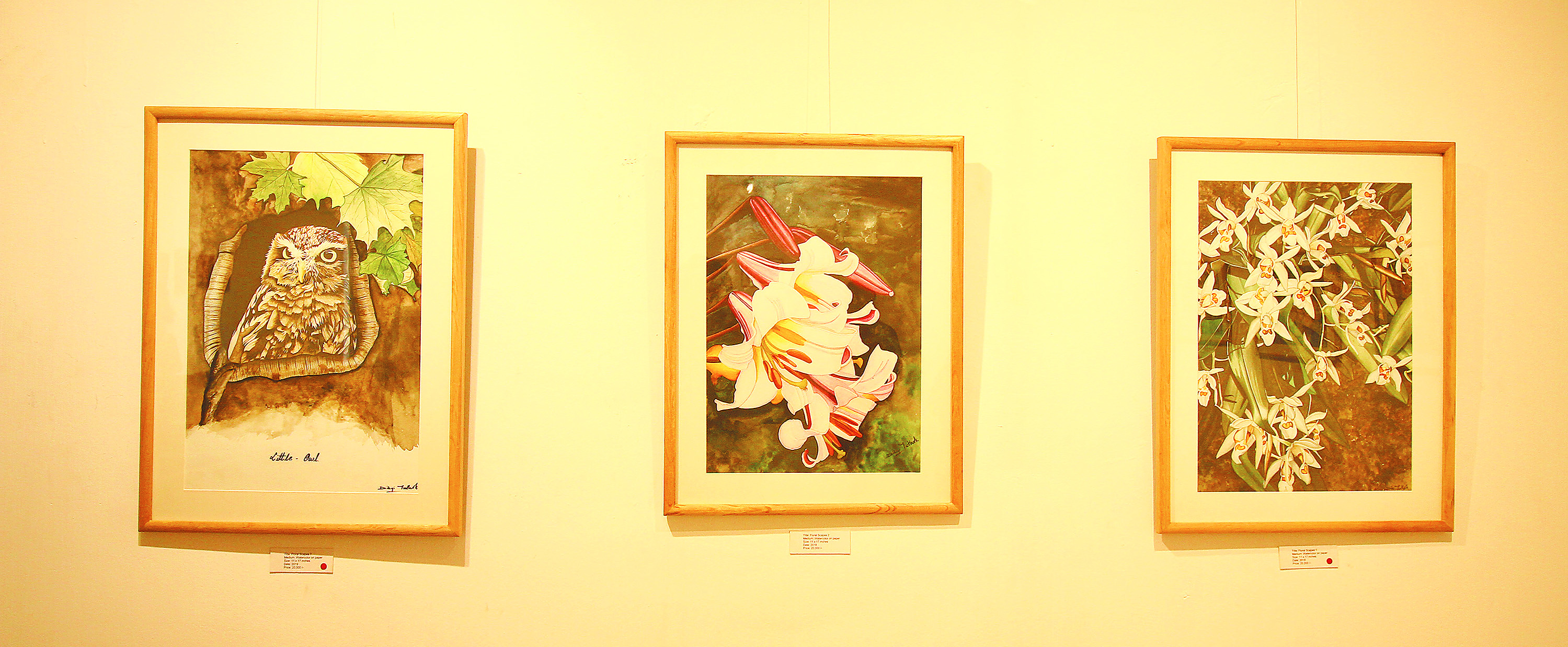 Beeju Maharjan/TKP
Yuthok writes, in her statement, she took up painting floras and nature years back as a way to heal herself from a severe injury she suffered during an accident. At the time, Yuthok remembers feeling isolated from the world and for her, these paintings were a way of filling the void inside her. It was an escape. Perhaps that is also why her paintings feel poignant and personal to viewers.
'Spaces Within', as an exhibition, also provides a glimpse into the two artists' exploration as artists and what art means for them. It juxtaposes the idea of spaces within—the life around them—from two different viewpoints, where one artist looks towards the spaces of nature and the other the spaces created by humans.
Duwal's strokes are raw and her colours and shades emotive. She plays with dark, light and bright colours to portray the light of the day. Her paintings deliberately leave out the noise and focus on the nuanced details of houses, shadows, sunlight, parked vehicles, clothes hanging on wires, and silent alleyways.
Yuthok too presents every detail of the plants, not missing out on their curls and their buds. One can also feel the weather of the flowers blooming if one takes some time with her artworks.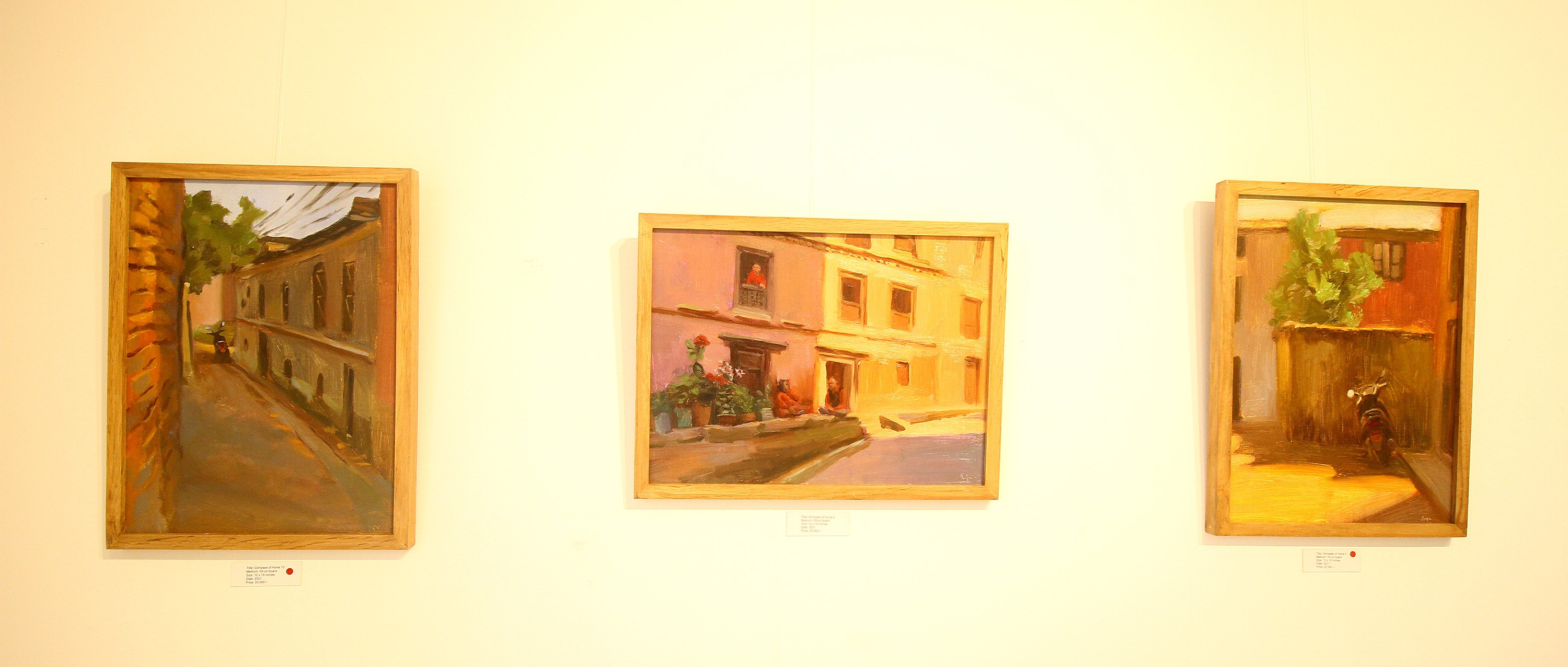 And what's also refreshing in Duwal's work is the images of Bhaktapur, which feel familiar and unique at the same time. Oftentimes, when artists paint Bhaktapur, it's usually festivals or paintings depicting culture and temples. But Duwal's series presents a milieu that is not mainstream in the depiction of Bhaktapur's lifestyle. Although her landscapes of houses focus on traditional old houses, the lens she provides is simple, with the perspective of the structures when one is viewing it from one position.
But clearly, 'Spaces Within' will have different opinions, for it will depend on the subjective experience of the viewers. The exhibition will likely speak more to those who have often lost themselves to these everyday images in their own world, in their own ways. To people who have observed corners of houses as not just mere structures but stories and experience in themselves. It will be most relatable to people who take time to sit back and watch the world move around them. It will most likely even question them to think why they do what they do, and how they are not alone to wander aimlessly in the nature of things.
If lately you are feeling overwhelmed with yourself and of things happening in your world, 'Spaces Within' is an exhibition where you can take a breather. It's not too often that an exhibition touches you so much in simple ways.
Spaces Within will be on display until May 9 at Wind Horse Gallery, Bhanimandal, Jawalakhel.
---
---