Challenging the privileged notions of 'home' through a virtual exhibition
Kaalo.101's latest exhibition features artworks—ranging from paintings, video art, mix-media projects illustrations, and photographs—of 40 Nepali artists.

Screenshot of the artworks that are in display as part of Kaalo.101's virtual exhibition titled Home. Photo Courtesy: Screengrab via Instagram/Kaalo. 101
bookmark
Published at : September 3, 2020
Updated at : September 3, 2020 07:39
Kathmandu
What does home mean for people? Is it a physical space that allows people to be themselves at their own comfort? Or is it a feeling of security and safety in a space that is "one's own"? Are our notions of home guided by our privileges? Can a person ever have two homes?
Deep-diving into such concepts of "home", Kaalo. 101's latest virtual exhibition Home provides a platform to artists as well as the audience to find answers to the many questions people might have about what "home" means, a space that has become more a part of our lives than ever during the pandemic.
As per the theme, the artworks—ranging from paintings, video art, mix-media projects illustrations, and photographs—of 40 artists are divided into eight different virtual spaces.
The exhibition begins in the courtyard of the art gallery in Patan. On the first floor of the gallery, there are three artworks. On the left side of the room, we can see a black and white photo, whose subject is a woman's back with her hands raised in the air. On the woman's back is another image of two hands trying to hold each other.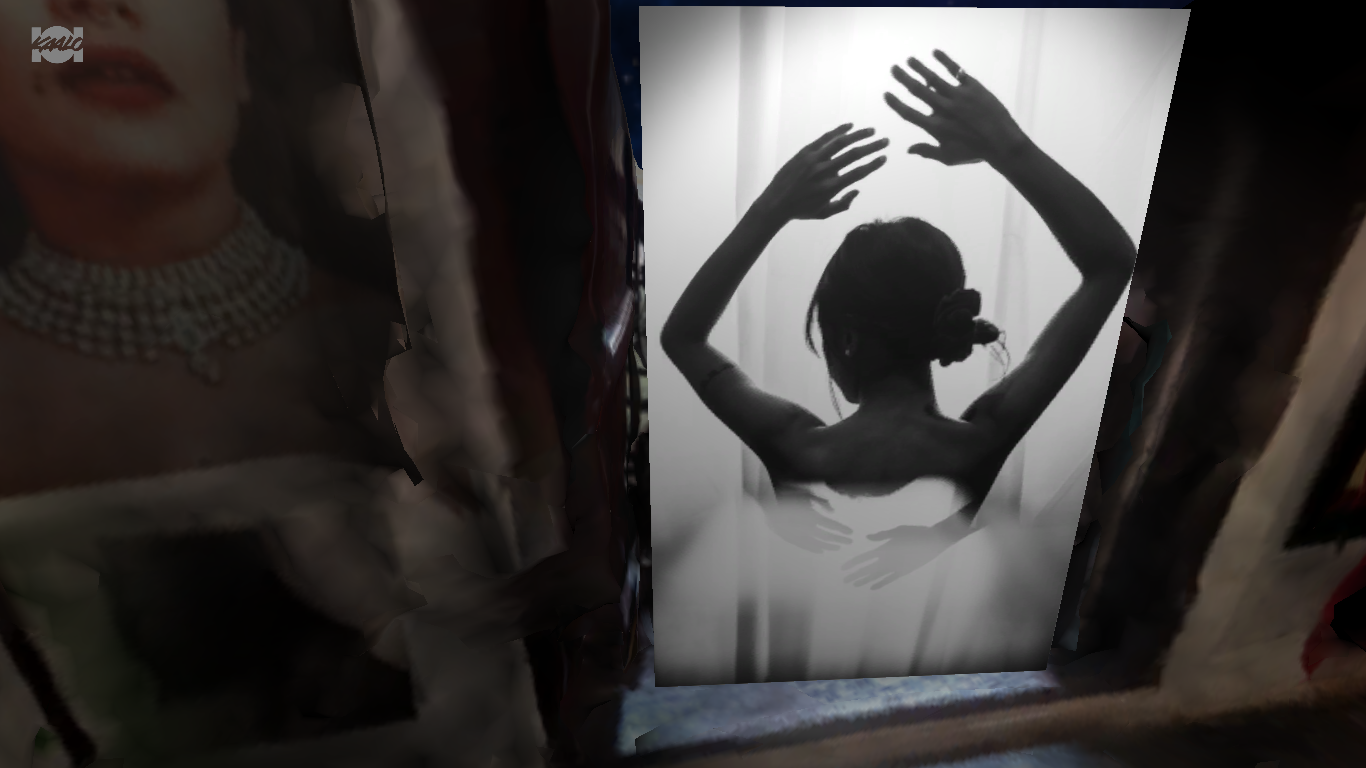 Photo Courtesy: Screengrab via Kaalo.101
The photo, which belongs to artist Sabrina Dangol, has no title, but through words, she describes what it is about. She explains that the picture is a reflection of her state of mind, a state where she has attained peace and tranquility by staying away from colours. She finds solace in darkness and greyness, more than a world full of colours, which she says is deceitful. And through the image, she powerfully depicts it.
Another artwork in the same space is of curator/artist Shivangi Bansal. While Bansal's artwork can be dazzling for viewers, as her use of bright and contrast colours can be too much for the eyes, what makes her art appreciable is her way of fusing the art form in conveying her message. In the centre of the artwork, we can see a figure of a house. Strokes of bright colours circumambulate the house, besides which are images of a temple and a stupa.
The artwork, almost psychedelic, shows us how for the artist, home can be a space where she experiences liberation from the fetters. A space where she can reach a state of transcendence where she improves and develops a new understanding of different facets of life.
Another artwork that leaves an impression is a piece by Nirita Yakthumba. In the untitled painting, which is dedicated to her mother, we see that "home" for the artist is her mother. Her work is a painting where we see a baby coming out of a woman's womb.
But while the baby is a human child, the mother's head is that of a black panther. This morphing of a blank panther head as well as tail into a human body is what makes the work interesting. It is perhaps the artist's portrayal of how fiercely a mother panther protects and nourishes her cub, an indication perhaps of how safe she feels at "home".
One of the underlying themes in most of the artworks in the exhibition is the plight of migrant labourers, for whom home has a deeper, more haunting meaning altogether.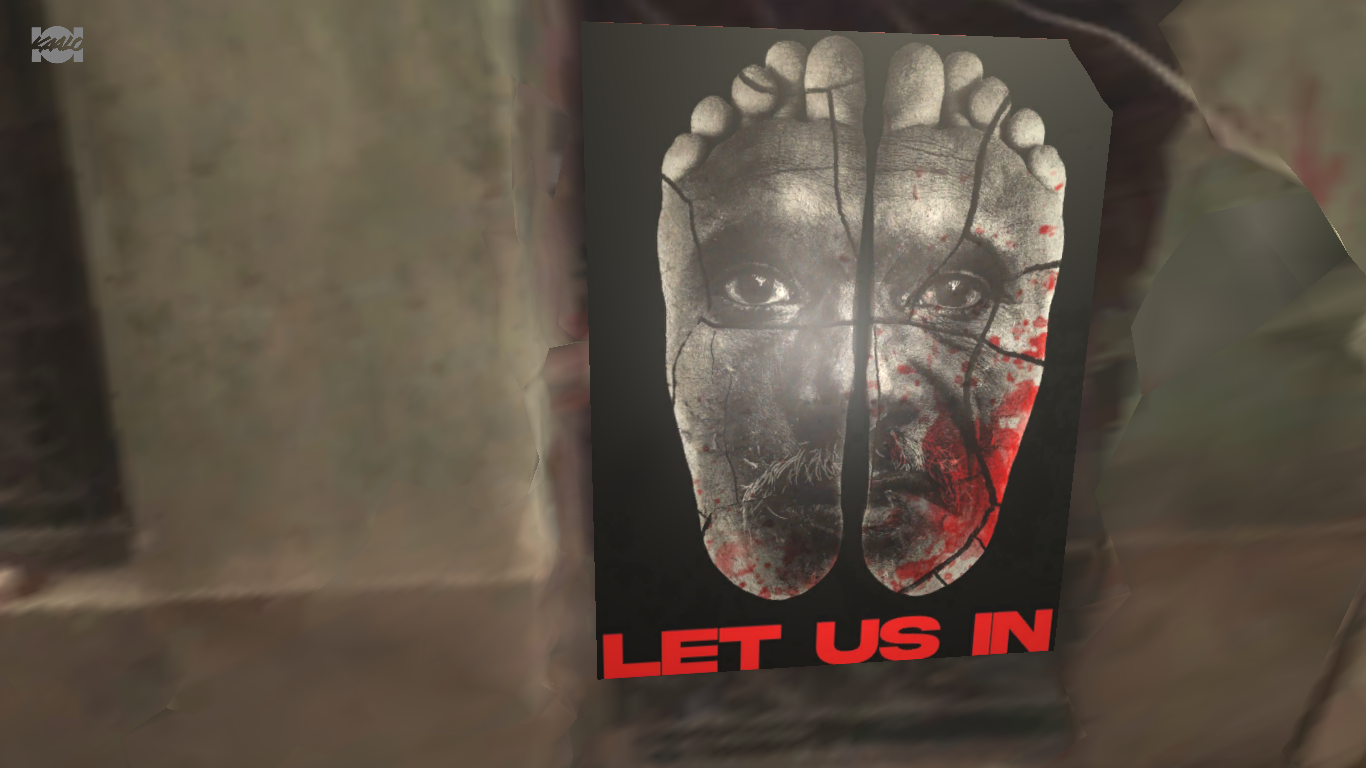 Photo Courtesy: Screengrab via Kaalo.101
One artwork that stands out with this theme is by the artist HYDE. The art does not come with a title of any information about the artist, but their artwork powerfully depicts the plight of migrant labourers as well as the working-class people.
In the artwork, the central image is of a pair of cut and scabbed feet. An image of a man is juxtaposed along with the feet. Blood surrounds the face and the feet, symbolising the unending hardship migrant labourers go through, particularly the difficulty they had to face during the pandemic when they had to walk for days to reach their home.
Another thought-provoking artwork in the exhibition is an artwork by Srijan Ayer. In his untitled artwork, we see a skeleton sitting in a seat inside an airplane. Ayer has dressed the skeleton in a Visit Nepal 2020 promotion t-shirt, criticising the lack of empathy among the people in power, the government, for people like him, as their focus has never been on the plight of the thousands of migrant labourers who leave the country every year, but only on money-minting campaigns. The artwork deftly highlights the journeys of the many workers whose dream of someday going back home remains just a dream.
Similarly, another artwork that leaves an impression is by Robic Upadhayay. In a series of photographs, Upadhayay challenges the preconceived notions of home that guides most privileged people, including you and me. For us, when we say home, we attach comfort and a sense of security with it. But not everyone is lucky to experience that. For some, home can be a place where they have to live compromising their true selves. Likewise, not everyone can feel safe in their homes; some could be living in a hostile and fearful situation.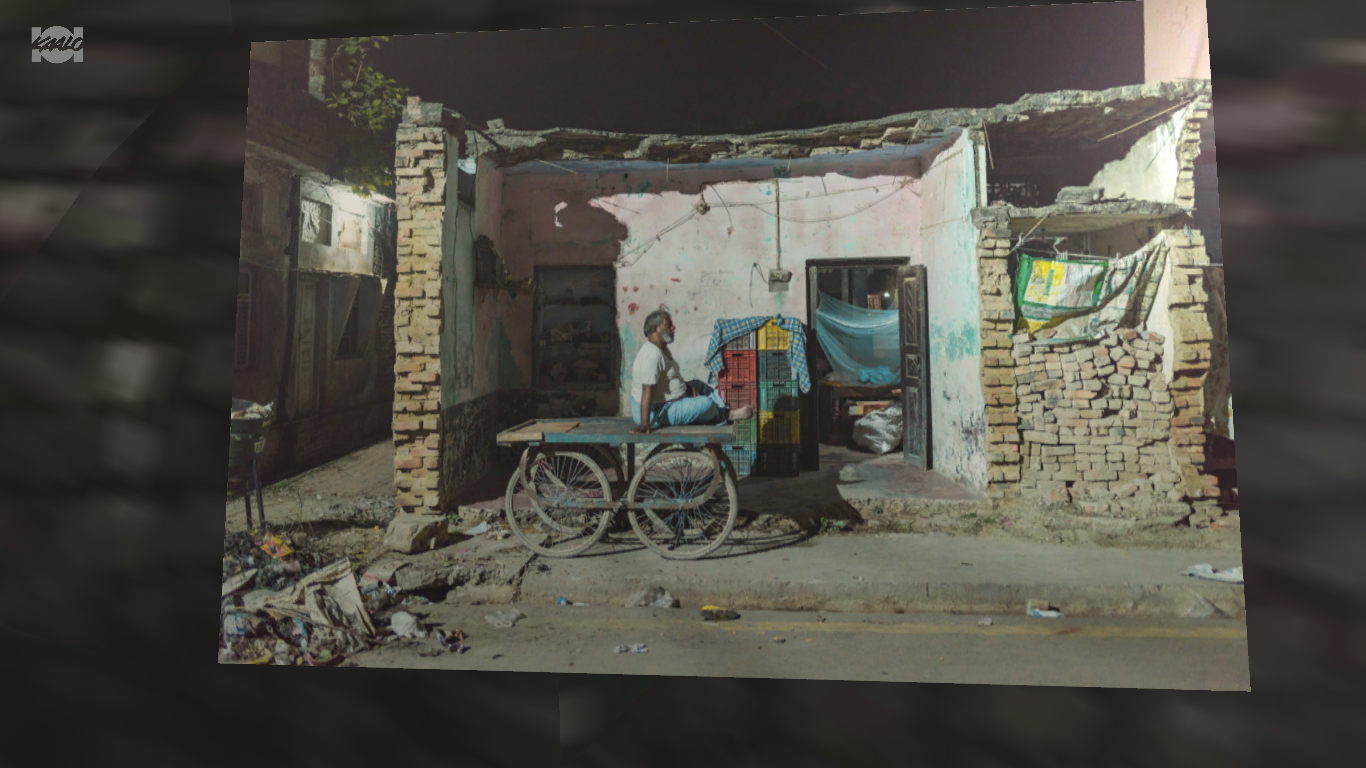 Photo Courtesy: Screengrab via Kaalo.101
Working with such themes, Upadhayay in his nine photos tries to deconstruct the preconceived notions attached to "home". In one photo, we see a rooster trapped in a cage. For the rooster, the cage is home, as it has always lived there. But is the rooster happy, being trapped in the cage?
As an art gallery, Kaalo. 101 deserves credit for putting together an exhibition that is a virtual treat. The use of augmented reality is so engaging and interactive that it feels as though one is witnessing the artworks in real life. However, for someone who is not very well acquainted with tech, the exhibition could feel a bit overwhelming and confusing.
Similarly, there are certain occasions when the audience can't intimately observe the art that's presented, as it's difficult to place the cursor on a specific space and observe the artworks closely, as we can move the cursor in designated places only. Due to this glitch, it becomes difficult to interpret many artworks. For instance, perhaps the desirable effects Puja Duwal and Jyoti Shrestha might have envisioned with their artworks falter because the audience is unable to notice the details of their artworks.
The decision of the gallery to include the artworks of 40 artists in a single exhibition is also something that could have been changed, as for the audience it can be an overwhelming experience to interpret and engage with so many artworks of so many different artists at the same time.
Minus these minor technicalities, the exhibition stands out from most of the virtual exhibitions that are being held by art galleries in the Capital currently.
---
---