How this self-taught artist is making origami cool
Saugat Rajbhandari is among the handful of names who are creating skillful and intricately designed 3D origamis.

Photo Courtesy: Saugat Rajbhandari
bookmark
Published at : July 14, 2020
Updated at : July 14, 2020 08:41
Kathmandu
After working for eight hours in his father's courier service office, Saugat Rajbhandari often comes home exhausted. Yet, he always makes time to fold paper every night—a hobby he picked up almost a decade ago. "There are nights when I keep on folding paper till 1 am," says Rajbhandari, 28. "Though it can become monotonous, just the fact that I can make art by folding paper gives me immense happiness and keeps me motivated."
Origami, the art of folding papers, is traditionally a product of Japanese culture, but it also has its roots in Chinese and European culture. However, it was Akira Yoshizawa, a well-known Japanese origamist, who popularised the art of folding papers and creating well-sculpted artworks through his works in the '80s.
Following his techniques, many celebrated origami artists in the world are now getting appreciated and people today look at origami as a piece of artwork that is beyond being only a mere piece of a craft. And in Nepal, Rajbhandari is among the handful of names who are creating skillful and intricately designed 3D origami artworks.
According to Rajbhandari, it was in 2011 that he fell in love with the art of origami. "A YouTube recommendation of making a 3D origami of a swan was on my feed. I found the whole process interesting and thought of giving it a try," he says.
Although it took him almost a week to recreate the swan, as his hands were new to the whole process of folding the papers patiently, the end product was satisfying, he says. "My family and friends loved it. Their appreciation pushed me and I felt that I found a new hobby to indulge in," says Rajbhandari.
For almost four years, he kept recreating origami artworks by learning from YouTube tutorials. It was in 2015, after gaining confidence and discipline, and developing enough patience, that he decided to start creating his own designs.
"I wanted to make a figurine of the Eiffel Tower. There were no tutorials available back then, but I was adamant about making it," says Rajbhandari, who made a two-foot figurine of the world's famous tower.
In the tutorials, information such as what colour paper to use and how many to use would be provided, so Rajbhandari had to do little calculation while designing. However, when he switched to making his own designs, he had to make all the calculations, such as how many paper sheets to use, which would differ as per the height and the width as well as the structure of the art he was making.
In 2017, he made a figurine of the famous Bollywood actor, Deepika Padukone, which started getting him more recognition on social media. "I was a big fan of hers and followed her work since the beginning of her career," says Rajbhandari, who was blown away by watching Padukone's first performance as Shantipriya in the movie 'Om Shanti Om', leading him to make a figurine on her character which took more than 5500 units of paper, he says.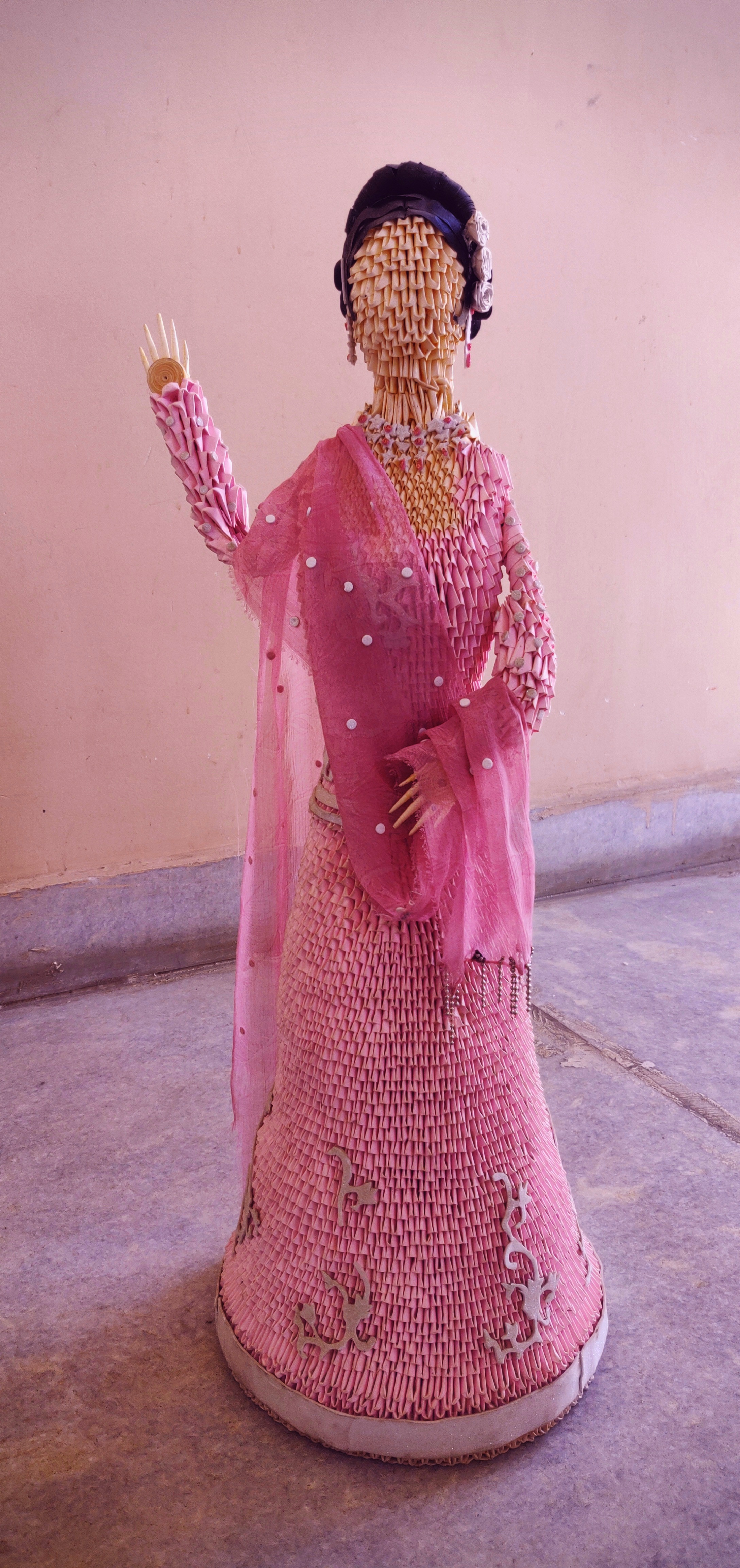 Photo Courtesy: Saugat Rajbhandari
Then in 2018, he made another figurine of Padukone's, another famous character, 'Padmavati' from the film 'Padmaavat'. The figurine also was a big hit on social media, with people appreciating his talent of meticulously crafting the figuring along with adding intricate designs.
He has also designed four figurines of the 2018 winners of Miss Nepals— Shrinkhala Khatiwada, Manita Devkota, Priya Sigdel, and Ronali Amatya—in the costumes which they wore in the national dress round of various pageants. When asked why he made the figurines he says that he was inspired by their hard work. " The four winners represented Nepal in the best possible way. Their hard work inspired many youths like me. Likewise, the costumes they wore reflected our culture as well," says Rajbhandari, who invested three months to make the figurines which had more than 8000 units of pocket each.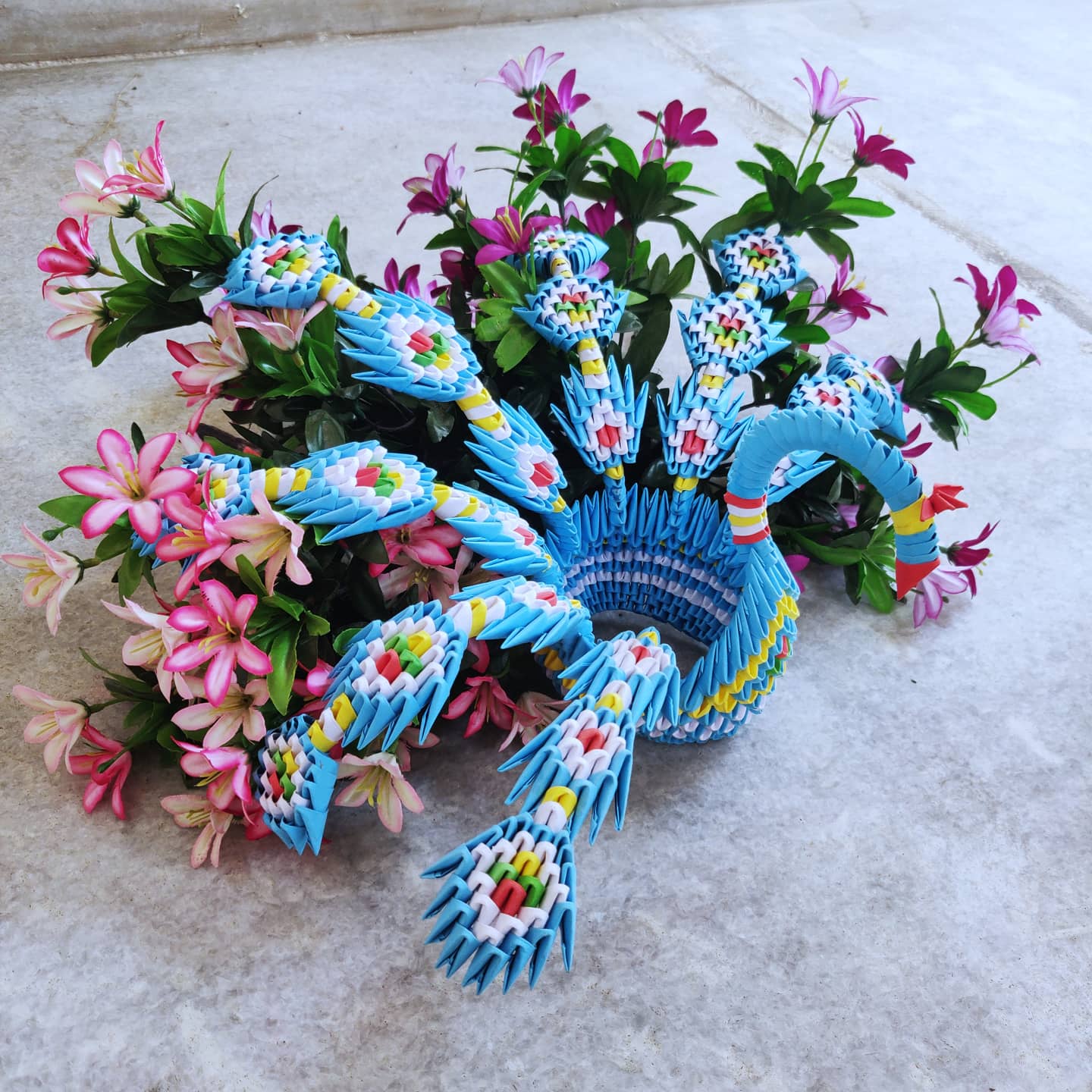 Photo Courtesy: Saugat Rajbhandari
Besides figurines of celebrities, he has also made cartoon characters like minions, pokemon, and Winne the Pooh. Last year, the Japanese Embassy of Nepal, in November, had given him the opportunity of presenting some of his works at an exhibition organised in Kathmandu.
Origami as an artform hasn't evolved in Nepal, as there aren't enough artists and markets for the art, and that is why there is a general perception of looking at it as a mere piece of craft. However, Rajbhandari says that origami is not just folding papers and that it requires patience, discipline, and even a knack for maths.
"When we are creating artworks, we have to be careful of how we place the pockets made from the papers. Likewise, we need to plan how many pockets we might need and apply various techniques as per the design of the art," he says.
For instance, to create a two-foot figurine, he places almost 100 units of paper triangles with pockets (made by folding pieces of paper) as the base and then joins them together by glue. Then, slowly, he starts adding other paper triangles on the top, reducing the number according to his calculation to make sure that the required shape and structure of the art comes together.
However, as an independent artist, he has to work with limitations and sometimes compromise on his art as well. From one sheet of A4 size paper, he can make 32 paper rectangles which are of 5.2cm by 3.5 cm size. Later these rectangles are folded into a triangular shape to make pockets. But since there isn't easy availability of colourful papers that can be easy to work with for his art, he has to compromise on the colours, he says.
But that doesn't stop him from doing what he loves. Even though he isn't receiving any monetary benefits from making origami yet, he is keen on continuing it, he says. "I have been suggested by many people that I can sell my works as they are aesthetically pleasing. But I have never looked at it from a business perspective as I am reluctant to put a price tag on my works," says Rajbhandari.
For him, making origami is like meditating. "When I start folding papers at night after finishing all of my work for the day, all of my stress gets relieved," says Rajbhandari. "As someone who started origami as a hobby years ago, now it has become a part of me. When I fold papers with a motive of making something, it feels like I am meditating, focusing my whole energy with full discipline, to create something that becomes a medium of my expression."
---
---