'Art has to make visible what is less evident in society'
Cosmin Costinas, the artistic director of Kathmandu Triennale, talks about his curation of the exhibition Garden of Six Seasons, currently on display in Hong Kong, and what goes into bringing people closer to art.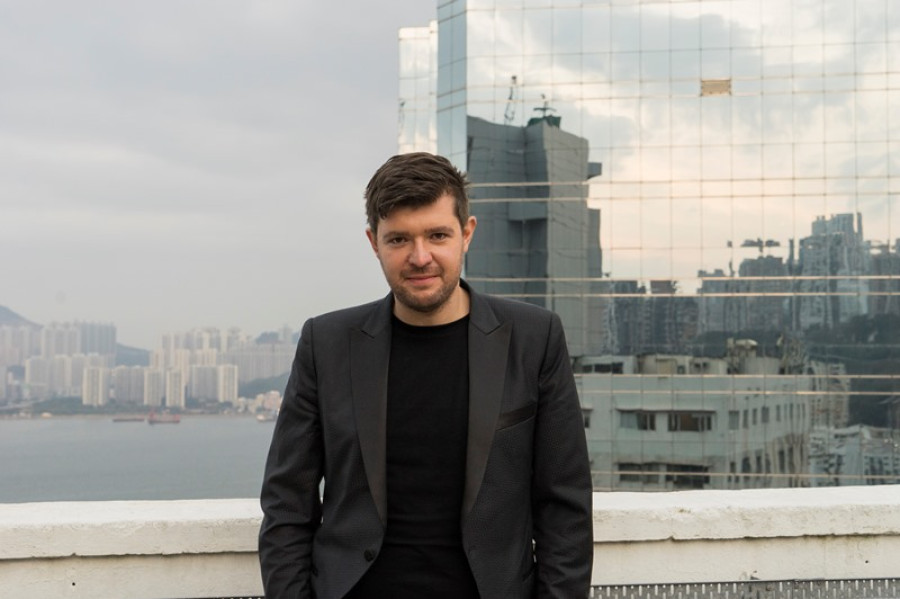 Photo courtesy: Cosmin Costinas
bookmark
Published at : June 10, 2020
Updated at : June 10, 2020 09:04
While Nepal remains in a nationwide lockdown, countries around the world have slowly resumed back to work. In Hong Kong, Para Site, a leading contemporary art centre, is already presenting one of its first exhibitions in months 'Garden of Six Seasons'—a precursor to the Kathmandu Triennale, one of Kathmandu's biggest art events which will be held later this year in December. The exhibition brings together works of 40 international artists, including nine Nepali artists, exploring art within cultures and traditions in diverse communities around the world not just to celebrate art's diversity but to understand and analyse its existence and progression.
Cosmin Costinas is the artistic director of the Kathmandu Triennale. He is also the executive director of Para Site and the curator of the ongoing 'Garden of Six Seasons' exhibition. He started his journey into the art sector as an art writer and critic later working as a curator.
In an interview with the Post's Srizu Bajracharya, Costinas talks about unrealised art in communities, what goes into bringing communities closer to understanding art and the ongoing exhibition in Hong Kong. Excerpts:
How has your journey in the art sector been thus far?
It is daunting to look at art from the outside; it appears to be full of risks. But from early on, I had an inclination in art and literature. And so, it was quite clear that I would want to pursue something between the two. But yes, the path into the art sector is lesser-known, especially when you come from small cities where contemporary art is far-off. I grew up at a time when there was no internet to navigate through things quickly, but knowing lesser-known art more than literature made pursuing art more interesting for me.
But I do believe that art requires an involvement to understand, create an opinion or experience it. For something to be realised, you need to make an effort to follow or understand it. Same goes for art: if you don't understand art, sometimes it's not the problem of the art but maybe because you haven't made enough effort to understand it. And I am not saying this with the arrogance of a professional. But there's also this: nobody would expect a novel or a movie to reveal itself in a minute or two. And I think that is how art should be regarded.
How have you been coping with the new Covid-19 reality? Has it affected your life and the work that you are doing?
This is a global phenomenon and has affected everyone differently, and this is the reality we need to start with when we talk about how the virus has changed our lives.
I live in Hong Kong, which is one of the first places outside of China to be affected with the virus outbreak. But because Hong Kong has experienced the outbreak of SARS before, the response to this outbreak was more intense and we were able to keep the virus outbreak at control. I think we are certainly privileged than other countries, as at the moment things are almost back to the way it was before Covid, except for not being able to travel without being quarantined and that we now wear masks whenever we are outside our homes. That said, from our narrow and privileged position of the art world, things were still better for us. Of course, we had delayed our exhibition by two months than the decided date and some of our other works remain on hold as it's difficult to imagine the shape of the future right now.
But our experience with this reality has opened us more to other realisations. Even being able to see an exhibition in a physical space at this time, while many friends, families and people around the world continue to live under containment, is a valued experience now. We have indeed started to appreciate more things than we did before the crisis. But it's quite difficult to talk about the change the crisis has brought as the crisis is still unfolding and barely beginning—but it's inevitable that socially, economically or politically, this crisis will have many ripple effects.
The 'Garden of Six Seasons' exhibition brings together a variety of work from international artists. How did the idea come about?
The exhibition was conceived in consequence of us trying to build up Kathmandu Triennale, being aware early on that this exhibition will be part of that event. And so we were working with two contexts and situations in mind, which is quite unusual as we are talking about organising the exhibition with different institutions and for different audiences. But it was an incredible experience. What we wanted to do with the exhibition was bring together the multiplicity of artistic languages and other connected languages that exist in our world today.
The exhibition is about how Euro-centric art history has evolved into contemporary art, how in colonial dominance some communities' art were marginalised, and how they survived and continued for artists to be able to talk about them today. How to bridge differences between different vocabularies, both artistic language and of languages is at the core of the exhibition. And that is what we make visible in this exhibition—the multiplicity and analysis of the relationships that have evolved.
There is still a big gap between the artists and their viewers though. How do you think that gap can be reduced?
I would challenge the question by saying that I think it's a very narrow understanding of art which might be new in Nepal, specifically of art that sits in the Euro-centric analogies of sorts. Nepal has a multiplicity of art histories that go back for the longest time in the continued art history of the world. Although Nepal was never colonised, different factors have marginalised art of different communities. But many of these art practices continue, expressing cultural values and building communities like we imagine any art form to be doing.
With Kathmandu Triennale, we want to tell people that Nepal has always practised and known art. And so some of our teams are working to discover art that has been relegated because of how the core of art has been defined over the years. We are particularly looking at indigenous, marginalised communities and how they have been making art to try to find a way to bring those practices to our conversations and our exhibitions, but without erasing the history of marginalisation. I think that is an essential aspect of this world we are living in to see how it functioned.
For those who don't know about the ongoing exhibition, how would you describe it, so as to encourage readers to visit the exhibition when it will take place later this year in Kathmandu?
It's going to be a beautiful exhibition that will leave a powerful impression. And we are very keen to understand and see the power that visual language has over people of different communities and backgrounds. And that is what we will try to show: how art plays a vital role in bringing communities together. I think people will encounter familiarity and novelty that they often miss out in the exhibitions that happen these days.
We are also very keen to develop a strong education and mediation programme with the event as that's an important step to bring people inside the exhibition. But what's also important for us to see is what happens when they are inside this show. It's essential that we are mindful about the traditions, expectation and conversation that takes place in Nepal. I think one should be in a complicated relationship with what one sees outside of the gallery [when they see an exhibition]; it's necessary for that critical engagement to happen. And that is the responsibility of curators and artistic directors as much as it is of the artists. Art cannot be an alien ship or a white cube that looks as if you have entered a different reality. A gallery needs to take the reality that surrounds it, perhaps challenge or respond or celebrate it, to make visible what is less evident in society. And that is what we will be working to achieve both at an educational and discourse level.
What would be your suggestion to young writers pursuing to write about art and critiquing art?
I think it's essential for everyone to follow their curiosity and passion when they are writing about art. You need to be extremely honest to yourself and with the object of your critique and your writing. Try to understand the artist, what probably might have moved them in the first place and try to be generous with that. Also, be mindful of your privilege—-not just in terms of social background but the privilege of your job: of deconstructing what you see. This is not to say that one shouldn't be critical and vocal about works that artists make. But I think you need to understand when is the time to deconstruct the situation of power and when it is more about you being the one exercising authority over a fragile situation.
---
---