Jazzing up the scene
'A Sound From Void' is a four-member collective making music that is a fusion of jazz and hip-hop.

(Left) Sajan Lama, Saurav Shrestha, Luckey Sherpa and Prajwal Ghimire performing a live set at Moksh, Lalitpur. Photo: Courtesy of Subarna Tandukar
bookmark
Published at : April 1, 2023
Updated at : April 1, 2023 07:38
Riding high off its win at Jazzmandu 2022, the jazz and hip-hop band, A Sound From Void, is currently busy working on its upcoming releases. I contacted the band's vocalist Luckey Sherpa a few weeks ago for an interview. He promptly replied, saying he would get back to me after discussing with his fellow band members and figuring out a time that would work in all of their schedules.

All four members of A Sound From Void—Sherpa, pianist Saurav Shrestha who also works the synth, drummer Prajwal Ghimire BK and bassist Sajan Lama—are active in the music industry. They are well-known within the music circle in Kathmandu, and all four musicians work on different projects (outside of the band) simultaneously. "It's a little difficult for us to settle on a time that works with everyone's schedules," says Sherpa.
A week later, I finally sat down with all four members of the band at Karma Coffee in Gyan Mandala, Jhamsikhel, Lalitpur.
The four artists formed A Sound From Void in October 2021. At the time, they were in their last year of the Higher Diploma in Jazz programme at Kathmandu Jazz Conservatory (KJC). While working on different assignments, performances and recitals during the diploma, they naturally always gravitated towards playing with one another and formed the band. They particularly remember their teacher Abhisek Bhadra, the academic director at KJC, music educator and musician who is a part of Jindabaad, Atomic Bush, Ser O Jooni and Cadenza Collective, encouraging all the students to collaborate and work with one another all the time. This, they emphasise, is one of the key reasons they got together and are making music today.
Sherpa was already pursuing music before he joined KJC. He reveals that he was influenced by his cousin, Thinley, who is also a musician, and the two even released a song together called 'Buddhist Flow' in April 2019. They have been consistently working on producing music—regardless of whether they release it or not—ever since. "I see music as my creative outlet and I'm always pushing myself to see how far I can go in expressing myself through it," says the singer.
Sherpa had also released a few solo tracks—namely, 'Over This Distance', 'Indradhanush' and 'Drowning'—before joining the band. All of this was a part of his self-produced project also titled, 'A Sound From Void'. Sherpa tweaked and re-released these songs with the band. He says, "While working with the band, all of these songs have evolved and taken a life of their own. I like the new versions better." The band has also released two original songs, 'Time and Borderline' and 'Yaad Haru' in February and March 2023, respectively.
Drummer Ghimire initially wanted to play every instrument he could get his hands on. After a few years of exploring different musical instruments, he realised drums suited him best. "I used to tap around on different surfaces—trying to lay them like the drums. I did this a lot in school and this annoyed my teachers. But I had fun," remembers Ghimire. He kept working on his drumming skills and eventually travelled to Kathmandu from his hometown Pokhara to join the KJC diploma programme in 2020.
Meanwhile, the band's pianist Saurav Shrestha, who hails from Chitwan, was more into classical music before joining KJC. "There aren't proper training sessions or teachers for classical music in Nepal," he states, adding that he took up piano classes and got more interested in fusion piano after that. He then also came to Kathmandu and enrolled in the Jazz diploma course.
Lastly, the bassist Lama, who was an avid gamer before joining KJC, reveals that he got into music because one of his friends brought a guitar to the cyber one day. "I was intrigued by the instrument. So, I researched it and gradually started playing it," says Lama, who then moved on to playing the bass.
One of their first "official" performances as a band was during Sherpa's recital. All KJC students are expected to organise a solo recital to graduate from the diploma programme. So, Sherpa got together with Shrestha, Ghimire and Lama for his solo recital.
The four artists quip that they didn't have much time to just jam for fun and work on music other than what was required for their diploma assignments. They agree that The KJC diploma is a "pretty intense" programme. However, after they had all graduated in spring 2021, they finally had free time to develop their originals further. It was then that the event organising platform Roya approached the group to feature them in some of their events. By this time, the band had already finished another version of 'Over This Distance', so Roya also uploaded a live version video of them performing the track on their YouTube channel in February 2022. It was recorded in early December 2021. A little while later, they also released 'Time and Borderline' and 'Yaad Haru'.
'Yaad Haru' is A Sound From Void's first song in Nepali. They premiered it on YouTube last month (March 9). The video features a live performance of the song filmed at Moksh restaurant in Lalitpur.
The band focuses a lot on live performances. "Because we perform live, people are familiar with us, and we get noticed by music enthusiasts. Live performances are allowing us to meet new people", says Sherpa.
Currently, A Sound From Void is focusing on releasing songs with good production and engaging music videos. The band promises to release new music with exciting music videos within the next few months.
A Sound From Void's music recommendations:
You Must Believe in Spring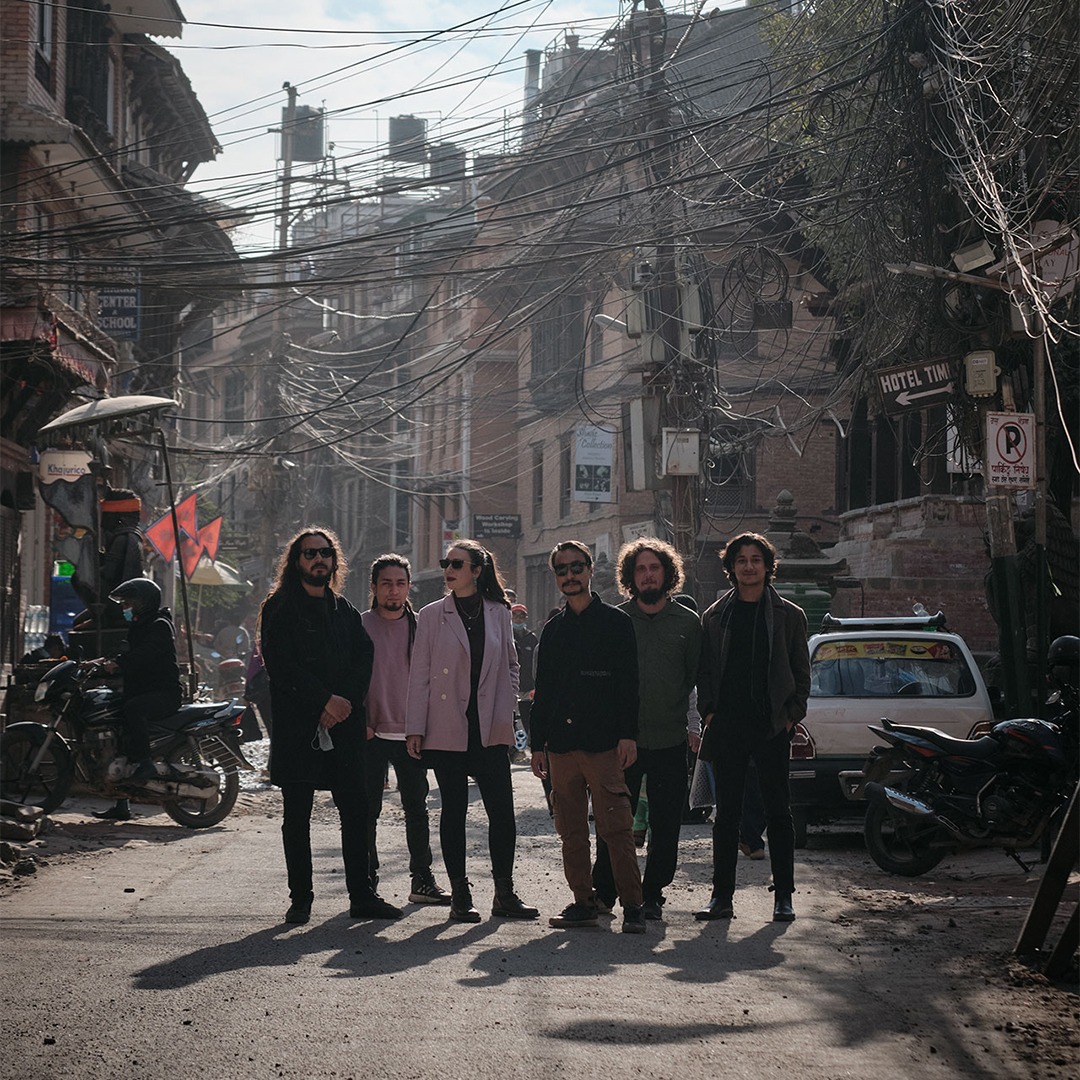 Artist: Ser O Jooni
The members of Ser O Jooni are our teachers, and their songs have inspired us a lot. This particular song has a unique vibe.
The Cave of Rebirth
Artist: Tigran Hamasyan

Two years ago our band got introduced to the musical genius Tigran Hamasyan. His songs fuse jazz with other genres. He also portrays emotions excellently.
Chirliriana
Artist: Ser o Dúo

Ser o Dúo members are also our teachers. We are grateful to have learned from these geniuses and this song portrays their mastery of music very well. Their compositions are magical.
Lift Off
Artist: Tom Misch & Yussef Dayes (feat. Rocco Palladino)
'Lift Off' is a flavourful composition. Misch, Dates and Palladino definitely know what they are doing. The tune has a catchy melody.
The Sun Is In Your Eyes
Artist: Jacob Collier
'The Sun Is In Your Eyes' is a banger of a song. Anyone into jazz—modern jazz in particular—is probably familiar with how good Collier is at singing and composition. His voice is also very soothing.
---
---