Two architects, a palace and a museum
A few weeks ago, at the Taragaon Museum—a venue that is rendered magical by its architecture—Götz Hagmüller released A Picture Book of My Life, a two-volume book telling his extraordinary story in pictures.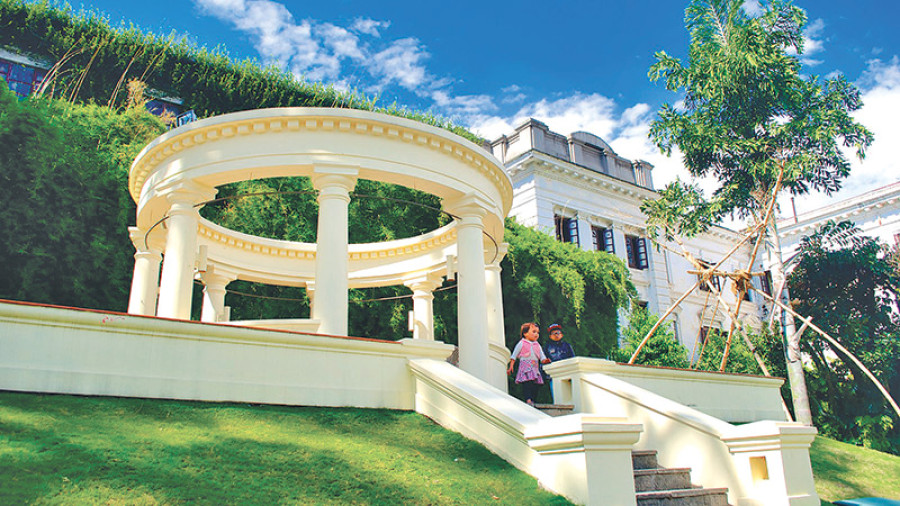 bookmark
Published at : November 26, 2017
Updated at : November 26, 2017 09:37
A few weeks ago, at the Taragaon Museum—a venue that is rendered magical by its architecture—Götz Hagmüller released A Picture Book of My Life, a two-volume book telling his extraordinary story in pictures. That story captures, among many accomplishments, the extreme debt that Kathmandu residents owe to Hag Muller's two, serene, almost divine landmarks, the Patan Museum and the Garden of Dreams. Both projects were funded by the Austrian government, helped along by strong encouragement from Hagmüller who clearly had a vision long before the funds were even in place.
In the immediate weeks after the book launch, it is a pleasure to examine the Patan Museum restoration again, 20 years after its gruelling 14 year long gestation from 1983-1997.
The Patan Museum, for those who have not visited, is housed in the northeast wing of the Patan Durbar complex which itself consists of five annexes. Its galleries are situated on the upper levels of the main north-most chowk around which the museum's collection of mostly Nepali bronze, stone, and wooden icons are now housed.
Here, Hagmüller has taken inspiration from the great, but surprisingly not that well-known, Italian architect and restorer extraordinaire, Carlo Scarpa (1906-1978), who is revered within conservation circles as a rigorous, detail oriented, deeply original visionary who was able to repair and convert some of Italy's most historically important buildings into stunning, almost mind-bogglingly creative, hybrids of the ancient and the modern. Using new materials with old, Scarpa wielded that rare ability to juxtapose and highlight each of these elements.
Scarpa's masterpieces are evident all over his chosen home of Venice, Italy, where the famous Italian Pavilion at the Venice Biennale, along with various other Biennale venues, bears his unmistakeable stamp. It is hard to describe the effect of walking into these old complexes, such as the Fondazione Querini Stampalia, an old mansion on a small canal in Venice, or the Castelvecchio Museum in Verona, and being faced with gardens, greenery, water bodies, and light that are all entirely unexpected. These elements are not traditionally a part of centuries old structures which were all almost certainly, while grand, quite poky and dim in their own ways—for the sake of insulation and protection.
In Venice, the Palazzo Querini Stampalia is inundated with architecture students who inhabit every part of the small but gemlike museum, taking pictures of every thoughtful angle, reinforced step, and perfectly odd door crack; so iconic is Scarpa's work today. The old, venerable Venetian house is built traditionally, but then the contrast of raw concrete, carefully layered steps, and minimalist, almost Japanese gardens (Scarpa was influenced greatly by Japanese architecture and passed away onsite in Japan), delight the wanderer and the novice who doesn't have to analyse the architecture in minute detail to know that they have stepped into something very special.
On a slightly grander scale, the Castelvecchio in Verona is a museum housed within the walls of a fortified old palace, complete with moats and battlements. The entry point through the walkway via the bridge over the Adige river is small, built for defence, but the moment you enter, Scarpa's light and sound and green filled world of minimalism and baroque modernism is there to greet the delighted viewer who must stroll through green garden and minimalist sculptures to enter the now luminous museum.
This combination of old and modern, and garden and complementing edifice, is felt keenly in the Patan Museum restoration, with Hagmüller showing the bones of the original and newer structures, very much a la' Scarpa. This is true, especially in the rear (but main) entrance to the museum where a striking, almost open air staircase has been added, framed by steel columns—a blatant, bold acknowledgement of the hands of the restorer.
Everything in the museum's galleries, from the minimal, almost invisible lighting design to the exposed triangular, steel roof supports are there to showcase the contrast between old and new. Hagmüller worked with the best of the best to get the museum to where it is now, with the great Nepal scholar Mary Slusser (1918-2017) as curator of a collection that contains pieces that are priceless, and seamlessly encased in their light, minimal settings—showing off the now almost extinct craftsmanship that moulded these labours of love just as they should, even outside of their rightful place.
But, it is the garden and the café at the Patan Museum that is almost as much of a masterpiece as the museum's rear façade and interior galleries. The tree and light filled café, with its charming, colourful, yet subtly tiled tables, covered and uncovered areas extending into many levels, and into nooks and crannies, is straight out of Hagmüller's imagination, nuanced by Scarpa's influence and augmented by deep knowledge of Newar architecture.
The glorious Garden of Dreams (restored between 2000 and 2007), with its rather luscious, gold-fish filled water bodies and graceful gazebos is another dreamlike extension of this very particular, very lovely aesthetic that melds nature and artifice with the old and the new.
Perhaps, on the eve of the two decade long anniversary of the complete restoration of the Patan Museum, we can all pay tribute to Götz Hagmüller and his team by visiting, meandering, and delighting in his magnum opus, followed by a visit to the Taragaon Museum. Fairly newly restored by the Saraf Foundation in 2013, Taragaon is another detailed, beautifully constructed space, lovingly designed by Carl Pruscha and even more devotedly restored by the Niels Gutschow and Thomas Schrom, two lovers of Newar architecture who took on a behemoth task and brought back to life a modernist masterpiece on par with any museum complex in the world.
---
---