Tika Pahari marking theatre comeback with Lati ko Chhoro
Upcoming play Lati ko Chhoro is slated to mark a long overdue comeback for veteran theatre actor Tika Pahari.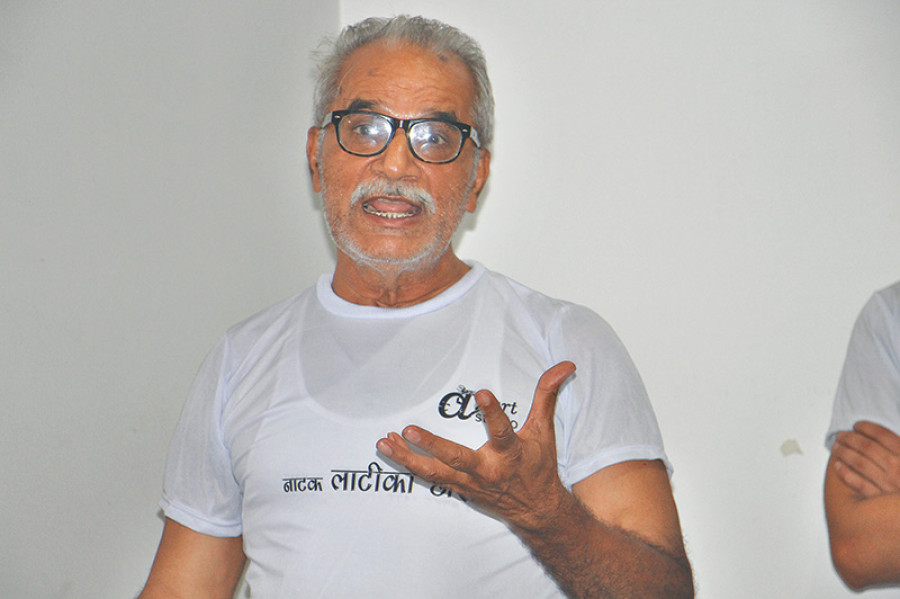 bookmark
Published at : August 13, 2017
Updated at : August 13, 2017 09:44
Upcoming play Lati ko Chhoro is slated to mark a long overdue comeback for veteran theatre actor Tika Pahari. Pahari, a notable actor of his day, is returning to Nepali theatre after a gap of 41 years. Of late, Pahari was based in India, and was performing in plays there.
"Even though I had wanted to return to Nepali theatre for a long time, I wasn't able to for personal reasons. We are currently rehearsing for the drama and I am doing it with the same vigour as I would have done when I was, say, 31," Pahari said.
For the past decades, Pahari has been involved in the Gujarati and Marathi theatre scene.
Pahari expressed his excitement to be a part of the new wave of Nepali theatre. "The seeds of professionalism in Nepali theatre are being sown. Theatre scene in Gujarat was similar to Nepali theatre since a couple of years ago. Lati ko Chhoro, we hope, will be a crucial transition to professionalism in Nepal's theatre renaissance," Pahari said. "The team is rehearsing with great energy."
Lati ko Chhoro, which is directed by Sulakshyan Bharati, is also establishing the department of Production Design, a crucial part of the art form's aesthetics, as an autonomous team. A production designer acts as a bridge between the producer and the director, and handles the sets, designs, lights and customes—integral for a play's aesthetics. In Nepali theatre, the job of production design has always been handled by the director themselves. In Lati ko Chhoro, artist Prakash Dahal will be overseeing the production design.
"From the Tika Pahari's earlier stint in Nepali theatre to now, everyone would complain that there is no money in theatre. Which is true. But no one was willing to invest in seriously commercialising the theatre scene," Dahal said. "Lati ko Chhoro is our humble attempt towards that."
Director Bharati echoes Dahal's sentiments. "Nepali theatre has already taken a step towards professionalism with Lati ko Chhoro. I have been roped in to direct for a certain sum. With the introduction of production design department, the burden in the shoulders of the director has lessened to some extent, a relief that helps one focus on the art of directing," Bharati said.
Lati ko Chhoro, based on the story Abba by Shyam Shah, tells the story of a differently-abled woman in the indigenous Dome community. Once the rumour of the woman's pregnancy spreads across the village, it creates a ripple in the community.
Lati ko Chhoro features actor Kenipa Singh in the titular role, while Pahari plays the community leader. Veteran actress Pashupati Rai will play a village simpleton, Pabitra. The play also features actors Sandeep Poudel, Kundan Tharu, Kusal Pandey, Roshan Subedi and Prakash Dahal, among others.
Lati ko Chhoro will be on stage at Mandala starting September 5.
---