The (sort of) reintroduction of Nirnaya Shrestha, aka NSK
After remaining out of the public gaze for years, Shrestha, one of the biggest names in the Nepali hip hop scene in the early 2000s, is now ready to launch his new album, his second in almost 10 years.

Shrestha launched his debut album, 'For You All', in 1999. Anis Regmi/TKP
bookmark
Published at : June 7, 2022
Lalitpur
The last few years have seen the Nepali hip hop music scene grow in leaps and bounds. Some of the biggest new names in the Nepali music industry are rappers, and almost every few months a new rap battle reality show seems to crop up, producing more rappers.
But two decades ago, this wasn't the case. There was a lot of negative stigma around hip hop music, and rappers were looked down upon by society. It was in such a social reality that Nirnaya Shrestha, aka NSK, launched his first hip hop album in Kathmandu. He went on to become one of the biggest names in the Nepali hip hop music landscape. Such was his popularity that thousands of hip hop enthusiasts across the country emulated his trademark look of a red cap, white durag headwear, and baggy jeans.
"In those days, the kind of rap music the majority of Nepalis were exposed to were the ones from the US, and most of these songs dealt with subject matters like drugs, sex, and violence. Most of the words in the lyrics were profane, all of which made the average Nepali person liken hip hop music as anti-social and rappers as thugs," says Shrestha. "When I decided to make hip hop music, I wanted my music to show the Nepali people that rap songs need not necessarily be profane and vulgar."
Some of Shrestha's most popular songs explored social issues like internal migration, experiences of the civil war, and foreign employment.
"My song 'Hamro Gaule Jiwan' attempted to highlight how the huge scale of migration of people from Nepal's villages to the cities is making Nepalis forget our rural lifestyle," says Shrestha. "Whereas my song 'Din Pani Bityo, Raat Pani Bityo' explored the subject of foreign employment and the sacrifices many Nepali migrant workers make to provide for their families."
Shrestha first became drawn to rap music when he was a grade 4 student in the US. After he finished grade 3 in Nepal, Shrestha's father got an opportunity to pursue his PhD in the US and the entire family moved to Logan, a small town in Utah.
"The first year in the US, I got introduced to rap music and I was hooked to it," says Shrestha. "In those years, MC Hammer used to be one of my favourite artists."
Inspired by the rappers he saw on TV, the young Shrestha started wearing baggy jeans and oversized t-shirts and writing his own rap lyrics.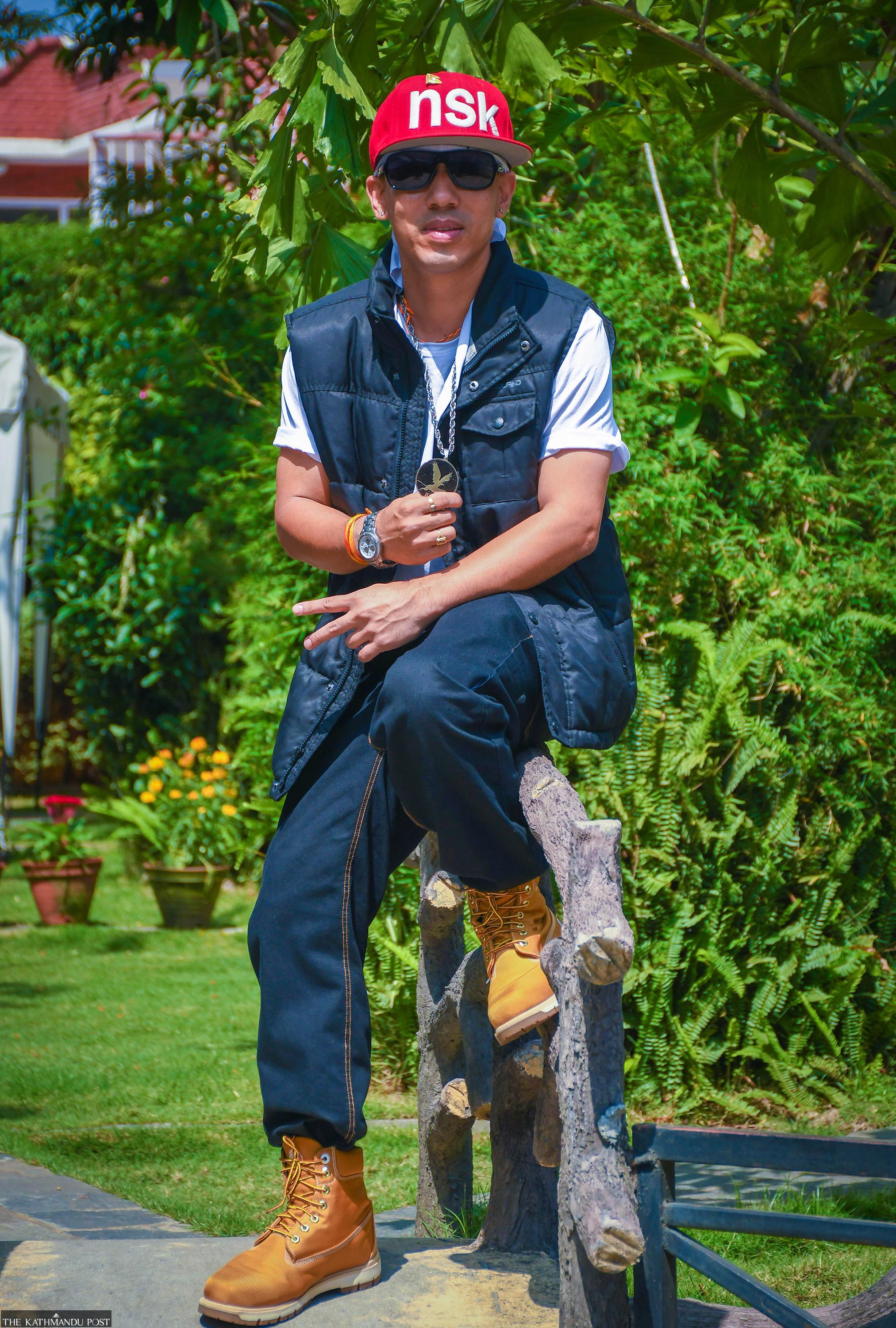 Anish Regmi/TKP
"My friends at the time started calling me the Nepali hammer," says Shrestha with a hearty laugh. "My parents never objected to my growing interest in hip hop because I never let my newfound interest impact my studies."
Five years after arriving in the US, Shrestha's father completed his PhD, and the family returned to Nepal. In Nepal, Shrestha joined a school as a grade 9 student. Moving back to Nepal and adapting to the new school environment, remembers Shrestha, wasn't easy.
"By the time you reach grade 9, you pretty much have your own circle of friends, and as a newcomer, I struggled a lot in making friends," says Shrestha.
In those days, his love for hip hop music, which also migrated with him to Nepal, became Shrestha's escape.
Despite being in Nepal, Shrestha was able to keep track of all the latest hip hop songs coming out of the US because of his brother and MTV.
"My brother found it particularly hard to adapt to his new environment in Nepal and ended up returning to the US for his studies. Once in the US, he started sending me cassettes of rap artists," says Shrestha.
MTV also played an essential role in helping Shrestha keep his love for hip hop alive. The popular music channel debuted in Nepal around the same time Shrestha returned to the country, and Shrestha started spending considerable time glued to the TV watching the songs of his favourite hip hop artists and discovering new and upcoming artists.
In 1999, Shrestha took his love for hip hop music a step further by conceptualising and hosting a radio programme called 'Bring Da House Down', on Image FM. The move, he says, was to popularise hip hop as a form of music in Nepal, and the programme did achieve that with resounding success and made Shrestha a household name. Buoyed by the success of the radio programme, that same year, he collaborated with three of his friends and released his debut hip hop music album 'For You All', which was entirely in the English language.
"A physical copy of our album was priced Rs 500, and we managed to sell 2,000 copies, which I think is a decent number for that time," says Shrestha. "While many genuinely liked our music, there were also a lot of people who criticised the album."
Not the one to let criticism deter him, Shrestha, in 2002, released his album 'The Game Must Go On'. The album, says Shrestha, was his attempt to highlight the changes that the country was witnessing at the time.
"We were in the midst of a civil war, the entire royal family had been killed, and a lot of Nepalis living in villages were migrating to bigger cities and abroad. Even some of my friends with whom I made music had also left the country. That was when I made the album," says Shrestha. "The album went on to do well, and I remember that someone came to me and asked, 'When is the Grammy coming home?' This question made me realise that by making rap songs in English, I was just trying to replicate American hip hop artists."
This realisation became a turning point in Shrestha's musical career. 'The Game Must Go On' was his last English-language album, and he went on to sing all his songs in Nepali. He also started incorporating traditional Nepali musical instruments like Dhime and Damphu in his songs. This decision to make songs in Nepali proved to be the right gamble. His songs started dominating the airwaves and catapulted him to fame, the kind that no other Nepali hip hop artist had ever witnessed.
Shrestha's success helped popularise hip hop as a music genre, and the period saw some of the most popular names in the Nepali music industry make music in collaboration with rappers.
In 2005, after six years of making music and delivering several hit songs, Shrestha shifted his focus from music to social work. The following year, he started his campaign 'Nirnaya-NSK Nepal Tour for Education', an initiative to make education accessible to children in economically and socially marginalised communities. "In 2005, I went to Kurintar in Chitwan for a trip and there I saw so many children who had to discontinue their schooling because of not having access to books," says Shrestha. "It shocked me to see this reality in a place less than 100 kilometres from Kathmandu, and I promised to do whatever I could to help children from similar backgrounds. I am glad that I have been able to give this campaign a continuity to this day."
As part of 'Nirnaya-NSK Nepal Tour for Education', Shrestha holds concerts at schools in various parts of the country and seeks donations of stationery and study materials, which are then distributed for free to students in rural parts of the country. According to Shrestha, the campaign has already distributed stationery and study materials to nearly a hundred schools from Dailekh in the far-west to Khotang in the east.
While Shrestha got busy focusing on the campaign, his music career took a backseat. In 2017, he made his first attempt in more than a decade to restart his music career. That year, he released new music videos for his old songs and new songs. Except for 'Bhanau Nabhanu', which was made in collaboration with Ajay Adhikari Sushil, the other songs failed to gain much traction.
Making another hit song is not at the top of his priority, says Shrestha.
"I am very satisfied with all that I have done in my musical career so far and I think I am at that point in life where I am not really after attaining fame through music," says Shrestha.
But that doesn't mean he is done with making new music. Shrestha has been working on new songs, and if all goes well, he intends to launch a new album this year.
Like most of his previous songs, the songs in his next album will explore Nepali culture and history. This seems like a gamble because rap songs that have gone on to do very well in the last few years all had artists tell deeply personal stories about poverty, substance abuse, mental health, and violence.
Shrestha is quick to point out that he is aware of the changes that have swept Nepal's rap music landscape in the last few years, and that whether his music will still be relevant is the last thing on his mind, he says.
"If you look at my songs over the years, they have always explored themes like culture, history, identity, and patriotism," says Shrestha. "I have stuck to these themes because I believe that my role as a musician is that of a messenger, and I want my music to serve as a platform to talk about what I feel is important."
---
---