Taking it slow in Khokana
Khokana is one of the last remaining traditional Newa towns in Kathmandu Valley, but this could change soon.

Just a 20-minute from the centre of Kathmandu, Khokana is an old Newa town. Srizu Bajracharya/TKP
bookmark
Published at : February 11, 2022
Updated at : February 12, 2022 02:09
Lalitpur
A few minutes after reaching Khokana, I told myself that today I can take things slow and not worry about time or anything else; I can simply enjoy being in the now and exploring this old Newa town.
This is what Khokana does to your state of mind. Even though it's just a 20-minute ride from the centre of Kathmandu, the town feels like a different world. With its vast open fields, traditional buildings, sights of residents milling with their livestock, the town has an unmistakable laid back vibe that is contagious.
I stopped at the hillock that overlooked the town and took in the view of farmlands and the town's elderlies walking with their hands behind their backs. None of them wore masks. Whenever Newa elders in my family would tell me stories of how Newa towns in the Kathmandu Valley used to be like, I would imagine Khokana. While the town has been able to keep some level of its old-town charm intact, a lot is changing, and that has been the case for a few years now.
The roads in the town are paved, there are more vehicular movements, and new housing projects are being undertaken rapidly.
Then there are the five megaprojects (which include two major roadway projects, a power transmission line project, a river embankment project, and a satellite city project) that, if implemented, will forever change the Khokana that we know today. Since some of these megaprojects cut through the town's religious and historical sites like Sikali, Kudesh, Piga, and Depeh, many local residents have protested against these projects. Some of the protests have even turned violent, with the most recent one erupting in 2020. How long the town's residents will be able to keep these megaprojects at bay is something only time will tell, but if you want to see what is perhaps the last remaining traditional Newa town in the valley, the time is now.
As I walked into Khokana's Lachhi square, quacks of ducks ringed in the air. This part of the town is home to some of the town's last remaining traditional Newa houses. Locals say that more than 800 houses in the town got damaged by the earthquakes of 2015.
From the square, I headed to the historic Bijuli Ghar, which was the first house in the country to receive electricity and has now been converted into a museum. When I reached the museum, I found it closed, and I later learned that the management had decided to close it due to insufficient funds.
Slightly disappointed, I walked towards Rudrayani temple, one of the town's most important temples. The 2015 earthquakes severely damaged the temple, and reconstruction started only a few months ago. I hung out at the temple for a while and watched workers construct its base foundation.
Around 9:30 am, I met Govinda dai (Govinda Maharjan), a freelance photographer and a local of Khokana. He had generously agreed to show me around his town. As we began exploring the town's alleys, I realised that Govinda dai was quite an admired figure in the neighbourhood, mostly for his photography skills and his work in documenting Khokana over the years. A few locals we came across asked him about photos he had taken of them during various festivals, and almost everyone asked him if he had his lunch.
In this tight-knit community of Khokana, everyone seemed to know each other. We stopped by a local tea shop and ordered milk tea. As Govinda dai engaged in small talks with the locals present there, I tried to think of the last time I had a cup of milk tea for just Rs 10.
"Ever since the pandemic hit the country in 2020, the number of people (Nepalis and foreigners) visiting town has seen a significant drop," said Govinda dai, in an attempt to explain why my presence drew curious looks from some locals.
The lack of visitors, Govinda dai told me, has adversely impacted restaurants and bhattis that catered primarily to tourists. Despite the town's historical importance, it never fully turned to tourism for economic development. Perhaps this is why many parts of the town still retain the old Newa residential area feel.
As Govinda dai took me into the town's many alleys, I discovered that every lane eventually opened to the famed Chwe Lachhi Square. The square is from where the town's most important festival, Rudrayani Jatra, begins during Kartik Purnima (for one day) and Dashain (for seven days).
Another important site in the town is a pond named Depukhu. Every year, a day after the Gai Jatra festival, the locals sacrifice a female lamb in the pond. This, Govinda dai says, is done to appease the pond's deity. "Legend has it that this sacrifice ritual first started after many people from Khokana drowned in the pond," he said.
During our walk in the town, Govinda dai gave me deep insights about the town and the one that stood out the most had to do with chicken. "In our town, chickens are considered ominous, and that is why nobody raises them here. This is why you see a lot of ducks," said Govinda dai.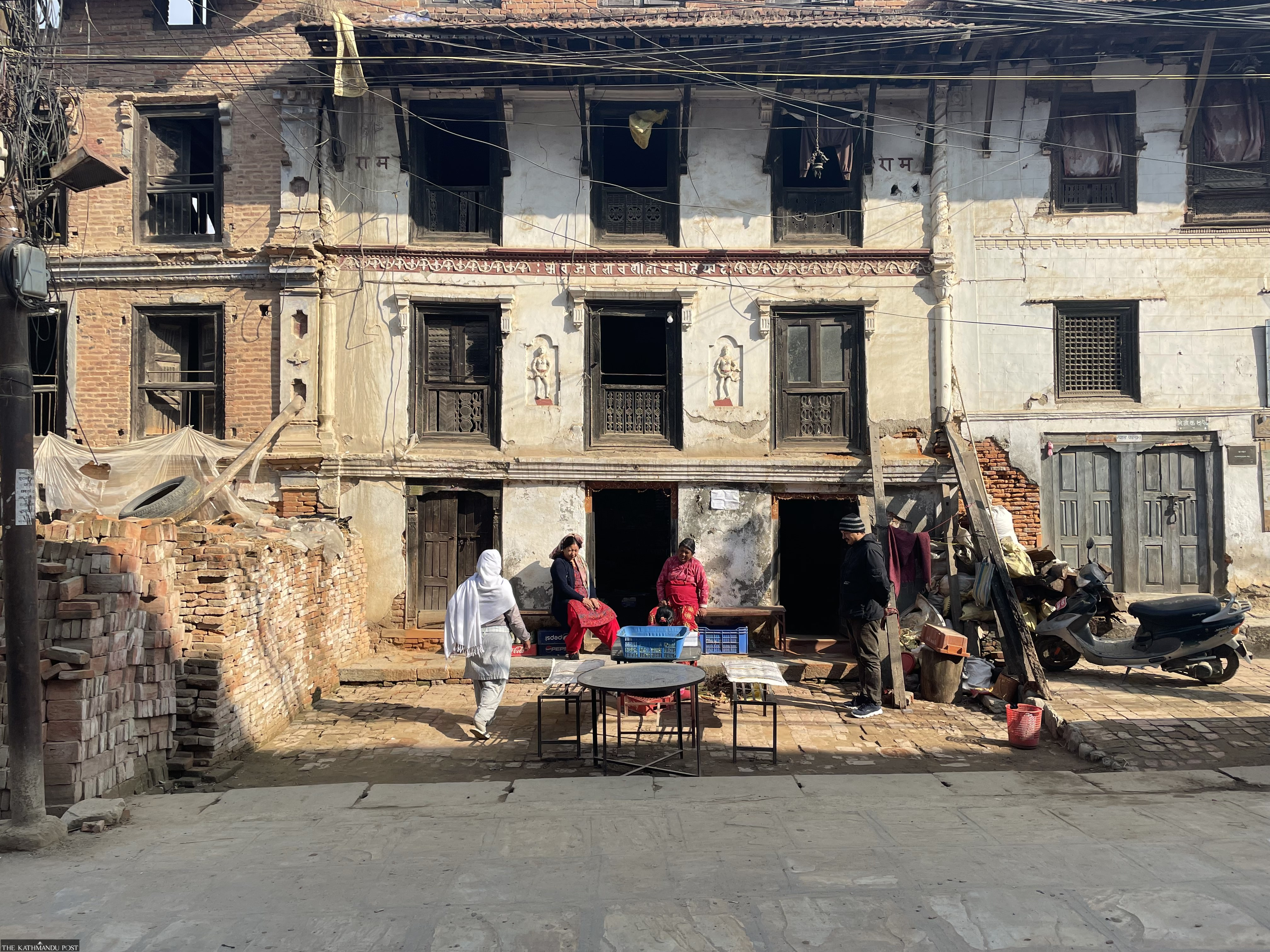 Khokana's Lachi square is home to some of the town's last remaining traditional Newa houses. Srizu Bajracharya/TKP
Until a few years ago, Khokana was known across the Kathmandu Valley as a production hub for mustard oil. The town, back then, had multiple mustard oil processing mills, but now only three remain. We visited the Khokana Tel Nirman Utpadan, an oil cooperative run by locals.
"Mills in the town now import mustard seeds from India as the fields of Khokana no longer produce the huge quantity of mustard seeds that's needed," shared Govinda dai, as we walked out from the oil mill.
However, there are plans in pipelines to revive the oil mills as locals in Khokana are now well aware of the value the tradition has in terms of culture and heritage.
After strolling around all morning, I sat down with 58-year-old Rajmaya Maharjan. When we arrived at her house, Maharjan was cleaning mud from ginger that she had dug out from her farm. Like most women of her age in the town, Maharjan feels more comfortable conversing in Nepalbhasa than Nepali. As she spoke in Nepalbhasa, I felt a tinge of remorse as I struggled to communicate directly with her. Having lived my whole life away from my community, I had lost my ability to converse in and understand my mother tongue.
"We are not against these mega-development projects that the government has planned. But the only problem that we have with these projects is the risk of losing some of our cultural, religious and historically significant sites to the projects. A lot of families from the town are also worried about losing a lot of land to some of the projects. If the FastTrack and Outer Ring Road Expansion project go ahead, my family alone will lose two ropanis and three annas of land," said Maharjan. "Some families who stand to lose their lands to these projects have not gone to get the government-provided compensation because we are hoping that the government will revise their decision and not go ahead with these projects."
As we left Maharjan's house and headed to Dhokasi, Govinda dai shared with me that many families from the town have already taken their share of the compensation. "Everyone has their own situation, and many families have had to make difficult choices," he said. "Times are changing."
Just before noon, we stopped for brunch at Jitapur Newari Khajaghar, probably named after the Jitapur Mandap at Kwe Lachhi. The establishment is one of the many hole-in-the-wall eateries in the town that serve authentic Newa dishes. I sweated while eating baji with extremely spicy nyakhuna, a spicy fish soup jelly. Then there were haku choela, aaloo wali, and spicy bhatmas. The food was as authentic as they come.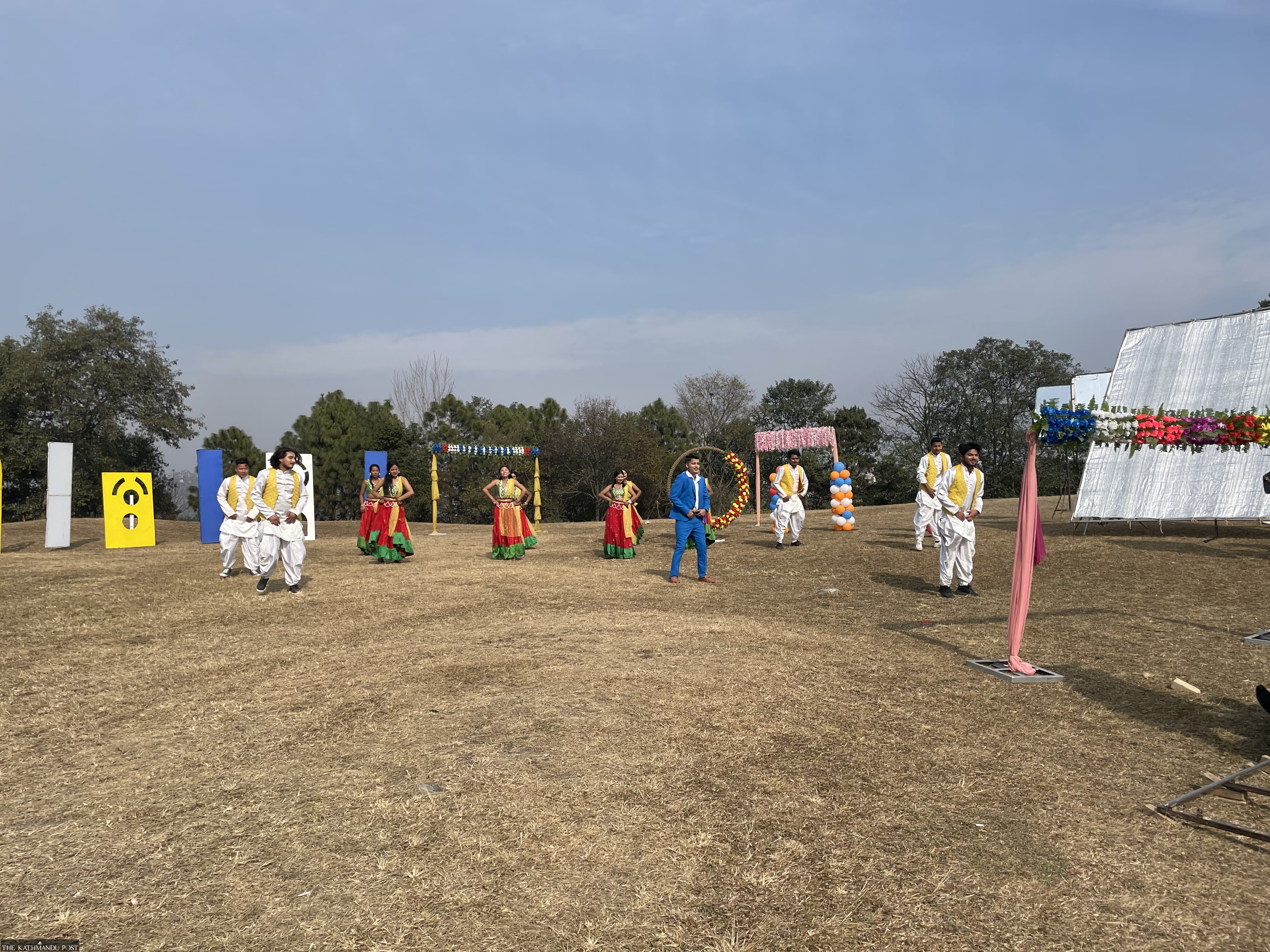 Photo Courtesy: The Terraces Resort and Spa
Later in the afternoon, we headed to the Sikali temple, which is about a 30-minute walk south of Khokana's residential settlement. During Sikali Jatra, the one that falls in October, the locals take out the Rudrayani chariot procession from the town to the temple. On the way to the temple are vast tracts of farmland. Even though it was the mustard season, most fields were barren except for a few patches that had mustard plants. This sight further drove home the point that Khokana no longer relied on agriculture as much as it once did.
When we neared the Sikali temple, there were dozens of small and big groups of picnickers, and popular Nepali songs blared from speakers. The mood was festive. Govinda dai told me that the temple's meadows are a popular picnic spot among Kathmandu denizens.
Not far from the temple was a whole different world unfolding. There was a music video shoot happening. A group of dancers dressed in colourful attires were dancing around a male actor wearing a bright blue suit.
All that was happening around the temple didn't seem to faze Govinda dai.
One of the thorny issues at the heart of the conflict between the residents of Khokana and the government-backed projects, I was told, involved Sikali temple.
"Khokana will lose a large chunk of land around the Sikali temple if these government projects go ahead," said Govinda dai. "Given that the temple's premises are where our most important festival, Rudrayani Jatra, takes place, many residents feel that these projects are a threat to our culture, religion, and way of life."
That evening, before leaving Khokana, I took one last look at the town and couldn't help but empathise with the helplessness many residents feel as they try to navigate the wave of changes that await their dear town.
---
---