How fitness centres are responding to the Covid-19 crisis
Nepal's fitness industry is dealing with an unprecedented crisis as thousands of gyms across the country have remained closed for more than two months.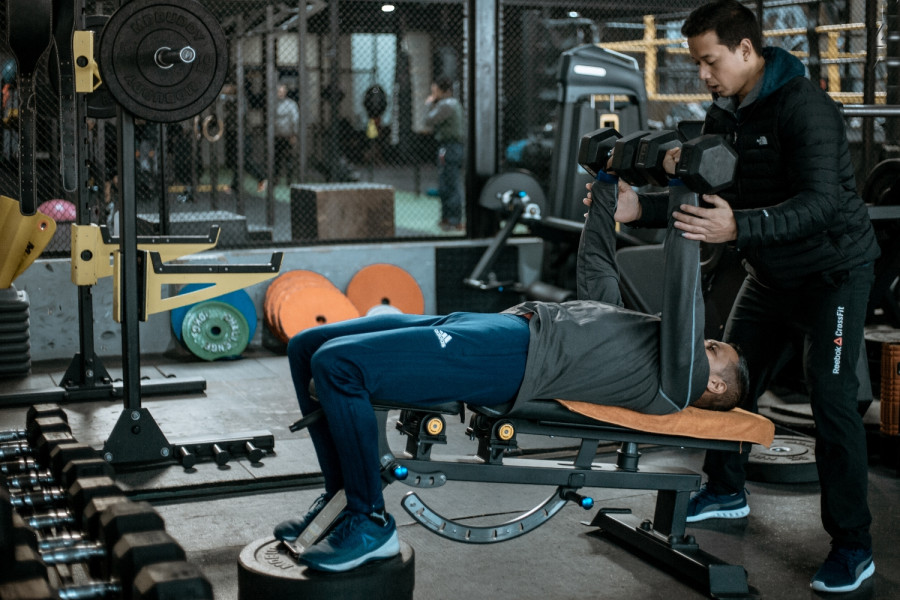 Gyms across Kathmandu, such as Gymkhana (pictured above), are currently closed because of the lockdown. Gymkhana
bookmark
Published at : May 25, 2020
Updated at : May 25, 2020 07:51
Kathmandu
For the past 12 years, Pitbull Gym, in Chuchepati, has opened at 5:30 in the morning. One of the first to reach the gym is Kishor, the gym's owner/chief instructor. By 10 am, which is when the gym's morning shift ends, an average of 60 gym members will have finished their daily workout. The gym's evening session, from 3 pm to 7 pm, sees around 30 to 40 members.
Located on the third floor of a commercial complex, which houses a restaurant, a beauty parlour, and a bank, the otherwise busy Pitbull Gym has remained shuttered since March 24, the day the government announced nationwide lockdown, and Kishor has been out of work.
Thousands of gyms, from the small ones located in neighbourhood alleys to large commercial complexes, across the country have remained shut ever since the lockdown. The network of fitness gyms form the heart of Nepal's fitness industry, and ever since they have closed, the entire industry has come to a grinding halt, with chances of business resuming soon seemingly bleak.
"Before this year, the longest I have had to close the gym was after the 2015 earthquake. My business was badly impacted and it took many months for the business to recover from it," says Kishor. "But looking at the impact that Covid-19 and the lockdown have already had on my business and the uncertain future ahead makes 2015 look like child's play. This one's going to be tough."
It was mid-March when Kishor first began noticing the impact of Covid-19 at his gym. "Even though the virus wasn't widely spread in Nepal then, we realised that our members were concerned by it and we introduced more safety and cleanliness at the gym. But we never really saw a drop in footfall until the day leading to lockdown," he says.
For Nepal's fitness industry, the timing of the virus and the subsequent lockdown couldn't have been worse. "From March to September, gyms in the country see a surge in new memberships, making the period a peak business season for gyms," says Raul Moktan, co-founder/executive director of Gymkhana Muay Thai. "By September, which marks the start of the festive season and winter, memberships begin to drop."
When gyms were closed suddenly, thousands of members were unable to make use of services they had already paid for. Pitbull Gym had more than 100 such members, and Gymkhana had more than 300 members. "One of the first things we decided to do was freeze memberships effective from the day we closed the gym, which means they won't be charged until the gyms reopen, which is when their membership will be automatically reactivated," says Moktan.
At Pitbull Gym, Kishor has come up with a slightly different plan. "Clients who had less than seven days left in their monthly membership when the gym closed will be charged for the whole month, and those who had more than a week left on their membership packages can make use of the gym for that period when we resume operations," says Kishor.
For many gym owners like Kishor and Moktan, the bigger challenge they face now is the operational costs that they continue to incur despite being closed for more than two months. "Even though revenue has been zero for the past two months, we continue to pay rent and staff salaries," says Moktan. But many gym owners say that a protracted lockdown will make covering operational costs a huge challenge.
To adapt to the changing times and to still stay relevant, many gyms have started giving online fitness classes to their members. In Kathmandu too, gyms like The Pump and Gymkhana have followed suit—providing classes through social media and video conferencing apps like Zoom. According to Moktan, Gymkhana started providing online classes for its members from March 30, just a week after the lockdown. "We conduct four online classes a day, two in the morning and two in the evening. These classes are free of cost and our aim is to provide the best workout experience under the current circumstances," says Moktan.
At Pitbull Gym, Kishor hasn't started online workout classes but he provides over-the-phone consultation to the members of his gym. "I receive more than five calls on a daily basis from my gym members asking questions ranging from homework out tips to dietary tips," says Kishor.
The closure of gyms after the lockdown has had a domino effect on every aspect of the fitness industry. Fitness equipment stores in the country, which mainly rely on bulk orders from gyms, have seen a huge drop in business since the lockdown. "Bulk orders from gyms make up 75 percent of our revenue, but with gyms closed for more than two months, business has hit rock bottom," says Uttam Silwal, managing director of Fitness Choice, a Kathmandu-based fitness equipment store. "We also haven't been able to dispatch existing orders to our clients. We have gym equipment orders worth Rs 75 million put on hold due to the lockdown. So far no one has cancelled their orders yet, but if the lockdown prolongs you never know what might happen."
However, while orders from gyms have dropped, fitness stores have seen a surge in demand for home exercise equipment. "Sales of home exercise equipment like treadmills, cross trainers, dumbbells have doubled since the lockdown, but it is still very negligible compared to the bulk sale we do," says Silwal.
An uncertain future awaits for gyms even if the lockdown is lifted or eased. Globally, gyms have been the last of the businesses to reopen after lockdown. In many places in India where the lockdown has been eased and some businesses have been allowed to resume, fitness centres still remain shut. In the US too where gyms have been the last of businesses to resume.
In Nepal, even if the gyms are allowed to resume, many gym operators are aware that it won't be business as usual. Since gym members, even at the most high-end gyms in the country, have to share equipment, which increases the chances of indirect physical contact, it is likely to discourage people from going to gym at a time when social distancing has become the norm. "Not everyone is going to be comfortable going back to gyms as soon as they open. New memberships are likely to drop," says Kishor.
How fitness centres fare when they resume will also depend on the kind of safety and hygiene measures they adopt.
"Most gyms that charge low fees and rely on a high footfall will find it very difficult when they resume. Those gyms will find it impossible to maintain social distancing in the gym, adopt strict safety and cleanliness measures and still cover costs," says Silwal. "Compared to them, high-end gyms, most of which have less members and take safety and cleanliness seriously, will find it relatively easier to gain their members' confidence."
At Gymkhana, to ensure that the members feel safe and comfortable coming back once it reopens, Moktan says that they have created a new standard operating procedure. "When we reopen, we will now be doubling down on our already stringent cleanliness and hygiene measures," says Moktan. "Maintaining strict cleanliness and hygiene standards at the gym are the only way to convince people to start visiting again, otherwise the road ahead it's going to be extremely challenging."
---
---