South Asian leaders welcome Modi proposal to revitalise SAARC to fight Covid-19
While many leaders and foreign policy experts welcome Modi's statement, others were more circumspect, given India's past actions regarding the regional bloc.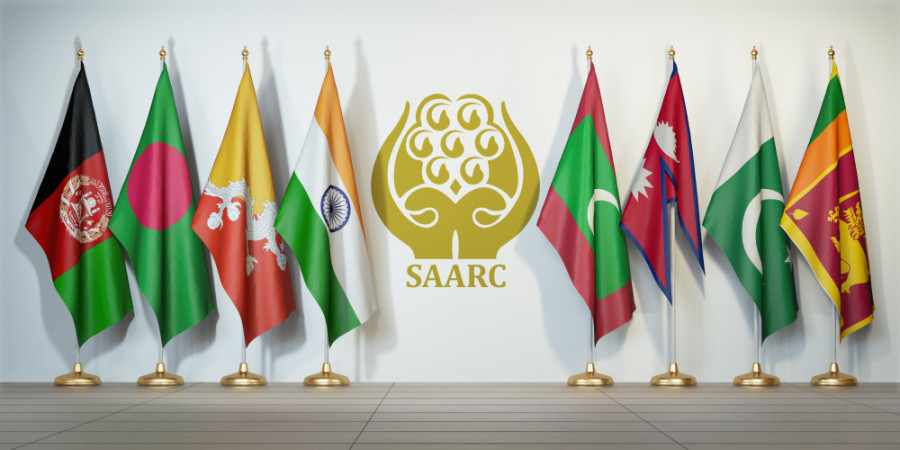 Shutterstock
bookmark
Published at : March 14, 2020
Updated at : March 30, 2020 12:21
Kathmandu/new Delhi
A new proposal mooted by Indian Prime Minister Narendra Modi on Friday raises hopes for the South Asian Association for Regional Cooperation as leaders struggle to revive the ailing bloc.
For some, Modi's call for a regional strategy to fight the coronavirus outbreak, rekindled hopes of reviving SAARC, others were not as optimistic, given the Indian prime minister's past actions.
"I would like to propose that the leadership of SAARC nations chalk out a strong strategy to fight Coronavirus," Modi tweeted on Friday afternoon. "We could discuss, via video conferencing, ways to keep our citizens healthy. Together, we can set an example to the world, and contribute to a healthier planet."
Modi further wrote, "Our planet is battling the COVID-19 Novel Coronavirus and at various levels, governments and people are trying their best to combat it."
"South Asia, which is home to a significant number of the global population should leave no stone unturned to ensure our people are healthy," said Modi.
A number of leaders from Afghanistan, Bhutan, Nepal, the Maldives and Sri Lanka, quickly responded to the call, hailing it as positive and terming it as an opportunity to resuscitate the stalled SAARC process.
Prime Minister KP Sharma Oli replied to Modi from his bed at the Tribhuvan University Teaching Hospital, where he was recuperating after a kidney transplant.
"I welcomed the idea advanced by Prime Minister Modiji for chalking out a strong strategy by the leadership of the SAARC nations to fight Coronavirus," Oli tweeted. "My government is ready to work closely with SAARC Member States to protect our citizens from this deadly disease."
SAARC, once touted as a grand forum for South Asian solidarity, has long been stymied by rivalry between India and Pakistan. The 18th SAARC Summit was held in Kathmandu in 2014. Six years later, it is yet to hold its 19th Summit as India attempted to bypass the regional bloc by forming smaller sub-regional groups, such as BBIN (Bangladesh-Bhutan-India-Nepal) and BIMSTEC (The Bay of Bengal Initiative for Multi-Sectoral Technical and Economic Cooperation).
But the ongoing Covid-19 crisis could act as a catalyst for member states, Nepal in particular, to revive SAARC, foreign policy experts said in response to Modi's statement on Friday.
Among the member states of SAARC, India has the highest number of positive cases of coronavirus, and the country has taken some tough measures to contain it.
Former Foreign Minister Ramesh Nath Pandey said that Modi's proposal presents a vision for closer cooperation at a time when mutual cooperation among member states weakens.
"As Nepal is home to the headquarters of SAARC, and Nepal is its current chair, Nepal should tap this positive development as an opportunity," said Pandey. "To revive the stalled SAARC process, we have to capture its spirit. That doesn't mean that we have to hold the summit."
Bhutanese Prime Minister Lotay Tshering, President of the Maldives Ibrahim Mohamed Solih, Sri Lankan President Gotabaya Rajapaksa, and the Office of the President of Afghanistan also welcomed the initiative and said they looked forward to working with each other to share and learn best practices.
Meanwhile, in his meeting with the new SAARC Secretary-General Esala Ruwan Weerakoon, on Wednesday, Foreign Minister Pradeep Gyawali underscored the need to convene the SAARC Summit as soon as possible. The meeting came as Nepal, the current chair of SAARC, holds consultation with other member states on convening the summit meeting, supposed to take place every two years.
Other analysts, however, said Prime Minister's Modi's record on SAARC leaves little to cheer about.
Suhasini Haider, national editor at The Hindu, a leading English language Indian newspaper, tweeted that the [Indian] government has "mocked the concept of Saarc so many times, and hyped alternative formations so much, the big question remains whether the PM is serious about reviving the South Asian grouping this time."
"Would be a shame if false expectations are raised in the neighbourhood," she said.
Constantino Xavier, a research fellow at the Brookings India, also pointed out that Modi has not called on SAARC as an institution.
"He has not spoken about SAARC as an institution or an organisation," Xavier told the Post. "So it is not right to say that he is in favour of reviving the organisation."
According to Xavier, there could be two reasons behind Modi's statement. One is that the spread of Covid-19 in Pakistan and other SAARC nations could be more serious than imagined, and Modi wants to cash in politically on cooperation in the health sector. Second, he could be planning to revive SAARC in six or seven months, depending on how public health cooperation pans out.
SAARC, as an institution, does not work in the field of communicable diseases, except for HIV/AIDS and tuberculosis.
Nepal has made several attempts to forge consensus among member states, even on the sidelines of events such as the United Nations General Assembly, New York, to resume the stalled SAARC process. But concrete results have yet to be seen.
Modi's proposal was welcomed by the SAARC Secretariat in Kathmandu. "The Secretariat in Kathmandu has welcomed the timely proposal of Prime Minister of India, as well as the support of other SAARC leaders and stands ready to work with all Member States towards a strong strategy to fight the Coronavirus in SAARC region," the Secretariat said.
Commenting on Modi's proposal, former ambassador Shambhu Ram Simkhada said that the South Asian leadership is finally waking up to the contradictions of globalisation when it comes to human activities, economics, environment and health. But politics and policy responses to such challenges are increasing localised, he added.
"Can the current SAARC chair and the Secretariat spring into action to follow up on Modi's recent initiative?" he asked.
Frequently asked questions about the coronavirus outbreak
UPDATED as of September 22, 2020
What is Covid-19?
Covid-19, short for coronavirus disease, is an illness caused by the coronavirus SARS-CoV-2, short for severe acute respiratory syndrome coronavirus 2. Common symptoms of the disease include fever, dry cough, fatigue, shortness of breath and breathing difficulties. In severe cases, the infection can cause pneumonia, severe acute respiratory syndrome, kidney failure and even death.
How contagious is Covid-19?
Covid-19 can spread easily from person to person, especially in enclosed spaces. The virus can travel through the air in respiratory droplets produced when a sick person breathes, talks, coughs or sneezes. As the virus can also survive on plastic and steel surfaces for up to 72 hours and on cardboard for up to 24 hours, any contact with such surfaces can also spread the virus. Symptoms take between two to 14 days to appear, during which time the carrier is believed to be contagious.
Where did the virus come from?
The virus was first identified in Wuhan, China in late December. The coronavirus is a large family of viruses that is responsible for everything from the common cold to Middle East Respiratory Syndrome (MERS) and Severe Acute Respiratory Syndrome (SARS). After an initial outbreak in Wuhan that spread across Hubei province, eventually infecting over 80,000 and killing more than 3,000, new infection rates in mainland China have dropped. However, the disease has since spread across the world at an alarming rate.
What is the current status of Covid-19?
The World Health Organisation has called the ongoing outbreak a "pandemic" and urged countries across the world to take precautionary measures. Covid-19 has spread to 213 countries and territories around the world and infected more than 31,405,983 people with 967,505 deaths and 22,990,260 recoveries. In South Asia, India has reported the highest number of infections at 5,557,573 with 88,943 deaths. While Pakistan has reported 306,304 confirmed cases with 6,420 deaths. Nepal has so far reported 65,276 cases with 427 deaths.
How dangerous is the disease?
The mortality rate for Covid-19 is estimated to be 3.6 percent, but new studies have put the rate slightly higher at 5.7 percent. Although Covid-19 is not too dangerous to young healthy people, older individuals and those with immune-compromised systems are at greater risk of death. People with chronic medical conditions like heart disease, diabetes and lung disease, or those who've recently undergone serious medical procedures, are also at risk.
How do I keep myself safe?
The WHO advises that the most important thing you can do is wash your hands frequently with soap and water for at least 20 seconds or use hand sanitizers with at least 60 percent alcohol content. Avoid touching your eyes, nose and mouth with unclean hands. Clean and disinfect frequently used surfaces like your computers and phones. Avoid large crowds of people. Seek medical attention if symptoms persist for longer than a few days.
Is it time to panic?
No. The government has imposed a lockdown to limit the spread of the virus. There is no need to begin stockpiling food, cooking gas or hand sanitizers. However, it is always prudent to take sensible precautions like the ones identified above.
---
---