What comes first—electric cars or charging stations?
Without a sizeable mass of EVs on the road, operators may not be ready to invest in putting up charging stations across the country.

Elite Joshi/TKP
bookmark
Published at : August 28, 2019
Updated at : August 28, 2019 07:46
Kathmandu
Governments throughout the world are implementing new regulations, incentives and subsidies to push electric vehicles in order to address climate change, pollution and offset fuel imports but all policies and no actions hold Nepal back from its electric vehicle future while it continues to spend billions on fuel imports.

In 2018, the government introduced an ambitious 'National Action Plan For Electric Mobility' in which it set a deadline of 2020 to increase the share of electric vehicles up to 20 percent from 2010 but despite the import duty and Value Added Tax waivers in place since 2016, the progress is slow and haunted by a familiar 'chicken and egg' conundrum—charging infrastructure—when it comes to electric vehicles.
Charging infrastructure, the plan points out, is one of the main reasons that could discourage consumers from switching to electric vehicles. Charging station operators too may not invest unless there is a sizeable mass of electric vehicles on the roads.
"The provision of public charging stations is critical for widespread uptake, especially along intercity routes (for example, between Kathmandu and Pokhara), and at key locations in and around major cities," states the plan. "Greater public-private initiatives need to be taken for this to progress. For example, the public sector could provide land and the private sector install facilities, for joint investment and development of charging centres."
A year and four months since the ambitious plan was launched with much fanfare by Prime Minister KP Sharma Oli, electric buses are yet to run on the streets of Kathmandu or major highways in Nepal. It was only in 2019 that the government moved to provide Rs3 billion to Sajha Yatayat to procure electric buses.
To meet targets and deadlines and to overcome the main challenge of charging infrastructure so specifically pointed out in the plan, significant charging stations that are on par with traditional fuel stations need to be built. And charge tariffs must be set.
Four months before the deadline, the electric vehicle future of Nepal has finally gained some momentum with a new policy in the making, one that will open doors to public and private investments in setting up charging stations throughout the country as per demands.
"A task force has submitted a report on provisions to be included in the charging station guidelines and ministry officials are in the final stage of evaluating the report before implementing necessary rules," said Prabin Raj Aryal, spokesperson at the Ministry of Energy. "We are all geared up to introduce a policy on operating charging stations within a week."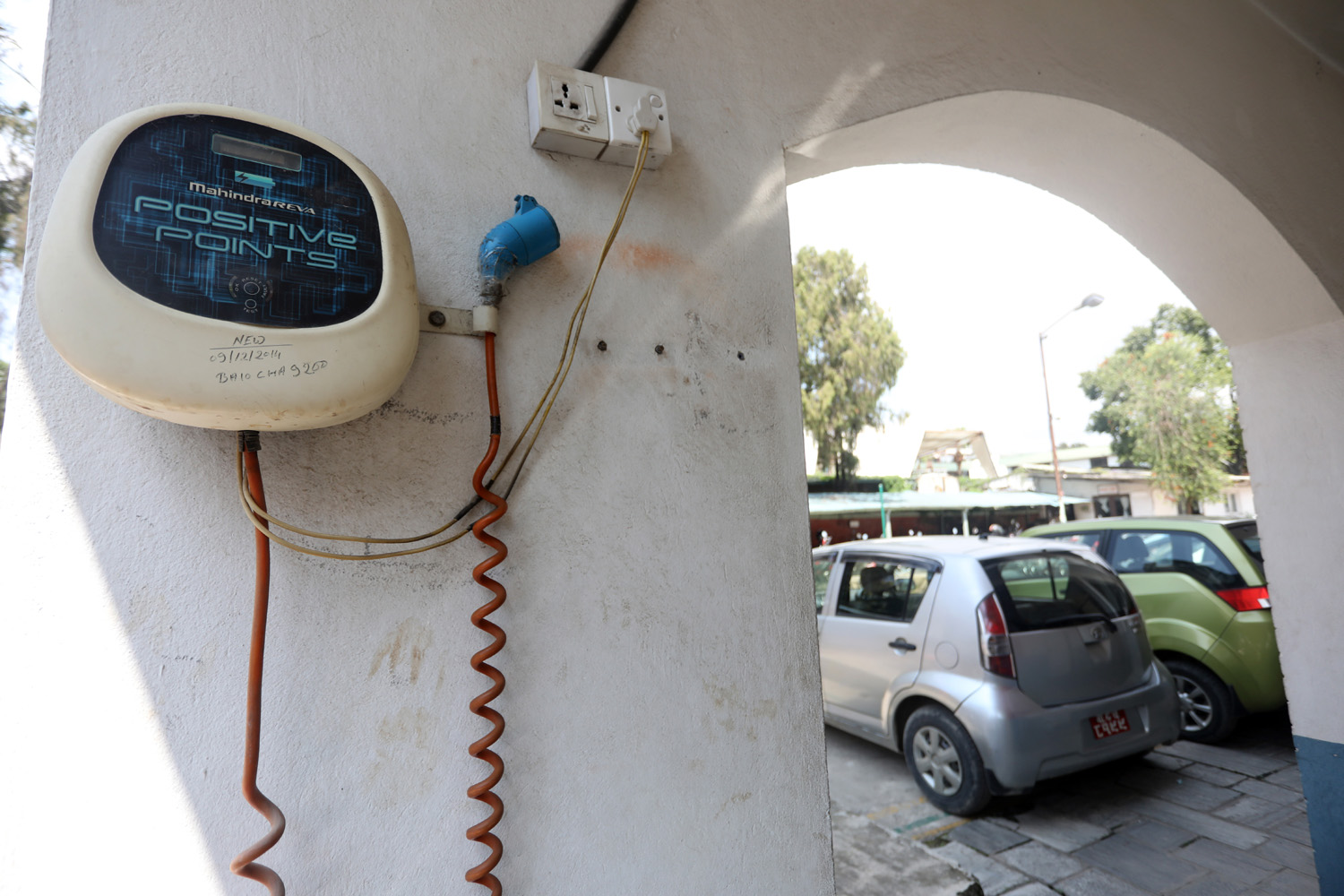 Elite Joshi/TKP
A prerequisite study to build and operate the charging infrastructure has also been concluded by the Nepal Electricity Utility and officials say we are now one step closer to equipping town centres and public spheres with charging stations.
"The plan to install the fastest Level 4 chargers, which will be able to power the batteries around 80 percent in less than 30 minutes, have been put on paper," said Sagar Gyawali, assistant manager at the Energy Efficiency Department of the Nepal Electricity Authority. "We plan to install a charging station in Labim Mall and in the public space outside Jawalakahel football ground and in other locations. The department has also received proposals from hotels in Kurintar and Chitwan."
All charging stations will have a Combined Charging System equipped with Mode 3 DC charging ports in sync with the interface of the new range of electric vehicles in the market. According to a US study, the fastest charging stations relay 480 volts of direct power to lithium-ion batteries, enabling commuters to gain 96 to 128km of additional mileage within 30 minutes after plugging in.
While this is welcome news for existing electric vehicle users who have no option but to charge their car batteries at home while facing volt issues, the cost of installing one such charging station has been estimated at a staggering Rs800 million and sans policies in place, it is not clear how these stations will be built and operated. Meanwhile, the state-owned power utility intends to install 15 such charging stations which can charge three cars at one go.
Earlier in May, the power utility had started a study on the financial and technical aspects to setup 10 charging stations in the Valley and had also invited proposals from government offices, hospitals, hotels, and business complexes interested to offer space for charging stations.
"The power utility will initiate tender processes to begin once there is a policy level clarity on the pricing of per unit of electricity and procedures which must be followed to set up and operate the stations," said Kulman Ghising, managing director of Nepal Electricity Authority.
---
---