5 best-dressed celebs of the month
From airport look to international events to vacation outfits, find out who wore what this past month.

bookmark
Published at : February 27, 2020
Updated at : February 28, 2020 07:45
The onset of Spring is a confusing time; the season where some are still holding on to their chunky knits while others are already going light and breezy. We have some of our favourite actors and models step up their fashion game, despite the challenging weather. Sandhya KC and Anoop Bikram Shahi look comfortable in their layers while Muna Gauchan and Barsha Siwakoti are ready to embrace summer. But Swastima Khadka stands out as she challenges the weather with her bold look.
Sandhya KC
Sandhya KC was spotted at Suvarnabhumi airport looking super chic. She hasn't compromised in comfort or style with her flared slit trousers and a basic tee. Her comfortable boots give her all the freedom to rush from one departure gate to the other while her structured blazer keeps her safe from the controlled temperature inside the airport. "I like to be comfortable during flights and these pants are the most comfortable pair I have," she said.

Swastima Khadka
The Kutu Ma Kutu star Swastima Khadka was in Paris recently and was seen setting one of the hottest trends for the season. In a boilersuit, a baker boy cap and sunnies, her look is already the talk of the town. "I'm a big fan of the camouflage prints and I incorporate it into my look whenever I can," she said.

Anoop Bikram Shahi
Anoop Bikram Shahi was recently spotted at Asia Model Festival Face of Nepal in a semi-traditional attire. The Bir Bikram actor was wearing a royal blue kurti over a pair of white trousers, a dhaka topi, classic loafers and a woollen overcoat. "I prefer wearing traditional outfits during events. I let my clothes speak for me."

Muna Gauchan
Muna Gauchan channelled major luxe vibes in a delicate satin dress. Silky smooth with high sheen, it looks stunning on her. The dress brings out a boldness that chiffon or organza just can't match. "I'm in love with satin. It gives off a very classy look," said Muna. She turned up dressed to the nines at an event in Chhaya Centre, Thamel.

Barsha Siwakoti
Barsha Siwakoti wore a pale pink oversized shirt over a pair of sheer stockings on her recent trip to Pokhara. She's taken her fashion game up a notch by completing her look with a pair of silver metallic booties.

"This outfit is sophisticated, chic and comfortable," she said, "and such an eye-catcher."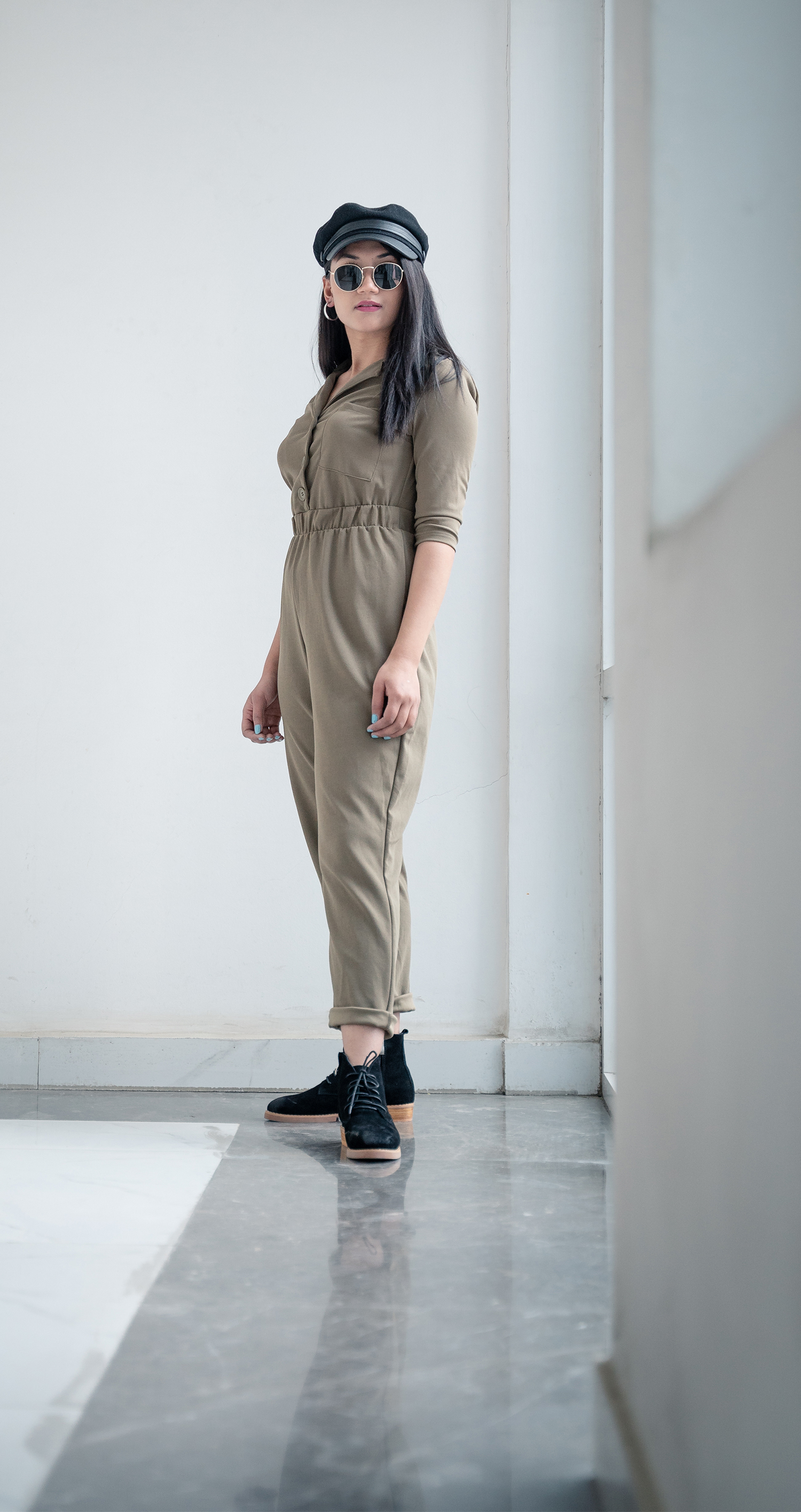 Comfortable fashion
Being one of the biggest stars of Nepali film industry, Swastima Khadka has made a name for herself in the style department. Whether she's on a magazine cover or walking down the street, her bubbly personality and effortless beauty create outfits that are worth taking notes from. If you're after a bit of inspiration or you need to update your wardrobe, this is the look that you'll want to copy.
Swastima shows how fashion can be both comfy and chic at the same time in a perfect Parisian ensemble. The actress says that the boiler suit instantly grabbed her attention during a shopping spree in Spain as she loves jumpsuits. This outfit combo proves that comfort does not mean compromising with style or fashion.
Starting off with the star of the show, that is, the boilersuit, this close relative of the much-loved jumpsuit is one of the hottest trends of the new season. The throwback jumpsuit is not only the key ingredient of the outfit but also a recipe to a full proof outfit as it is just one piece letting one free of the hassle of pairing. The olive green boilersuit from KDA Fashion Home paired with classic sunnies from Lookscart already sets the tone of the chic outfit. Breaking the elusive colour of the outfit, pair it with contrasting accessories like these black faux suede lace-up boots from Ketaketi Store and matching black baker boy cap from DS Collections. Roll up the bottom of the jumpsuit for a relaxed and casual look and finish up with some go-to earrings.
Pro tip
Versatile pieces such as this boilersuit can easily be styled in numerous ways just by playing up with the accessories.
For makeup:
Go for some subtle and natural makeup for the base. Add some blush for a natural flushed look and a tad bit of highlighter for the glow.
Put on a few coats of mascara to open up the eyes. Pop on your favourite shade of lipstick and you are good to go.
---
---