2020 in photos
Some of the best photos taken by Post photographers in 2020.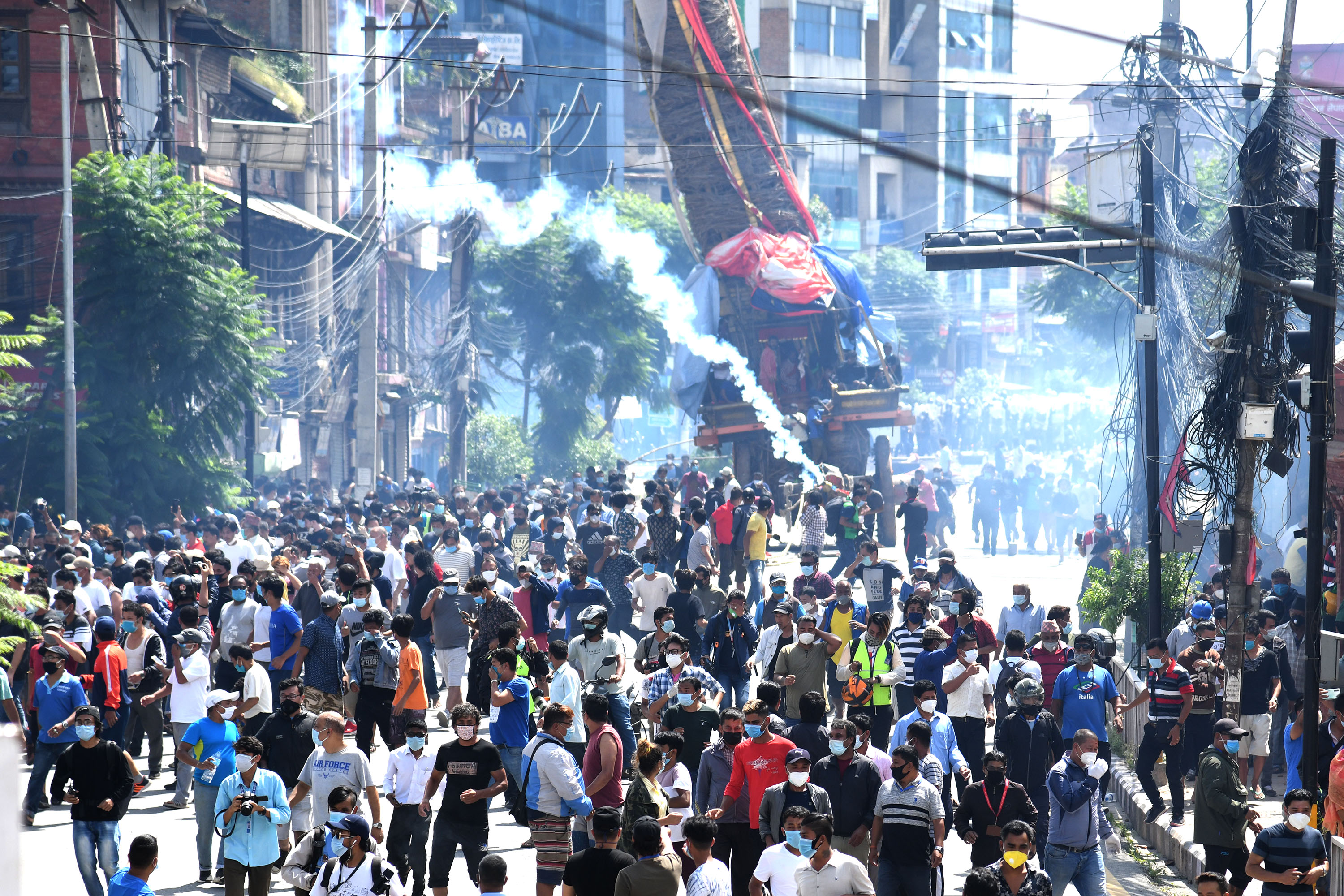 People defy the Covid-19 prohibitory orders and gather in Pulchowk, Lalitpur, to pull the Rato Machhindranath chariot in September. Clashes between the police and the people ensued and police fired tear gas and water cannons to disperse the crowds. Deepak KC/TKP
Published at : December 31, 2020
Updated at : January 1, 2021 14:49
2020 won't be fondly remembered. It actually was a year of the pandemic which upended almost every aspect of human life.

Face masks and social distancing became the new normal. People lost jobs after the economic sector was hit hard by restrictions imposed to contain the coronavirus. Educational institutions remained closed.
Nepal reported its first Covid-19 case in the third week of January. When the year ended, 1,856 people had died of the virus. The number of Covid-19 cases stood crossed the 250,000 mark by the end of the year.
The year was also marked by different kinds of protests. While youths took to the streets demanding actions to control the virus, some groups demanded restoration of the monarchy and Hindu state.
As the year came to a close, different political parties held demonstrations against the KP Shama Oli's decision to dissolve the House of Representatives.
As we bid farewell to 2020, here are some of the best photos taken by Post photographers.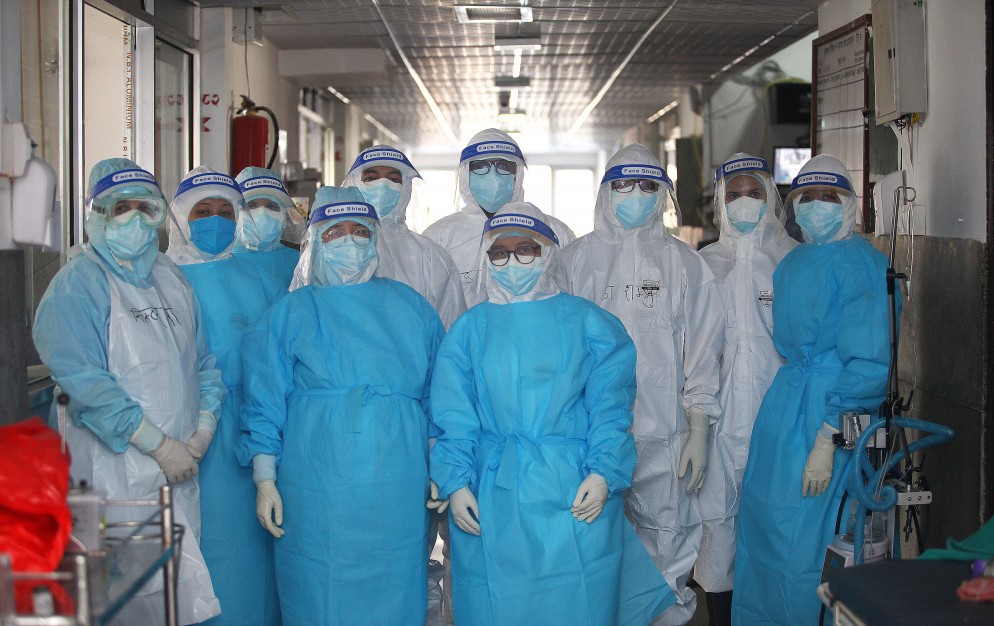 Health workers of the Covid ward at Sukraraj Tropical and Infectious Disease Hospital in Teku, Kathmandu. Kiran Panday/TKP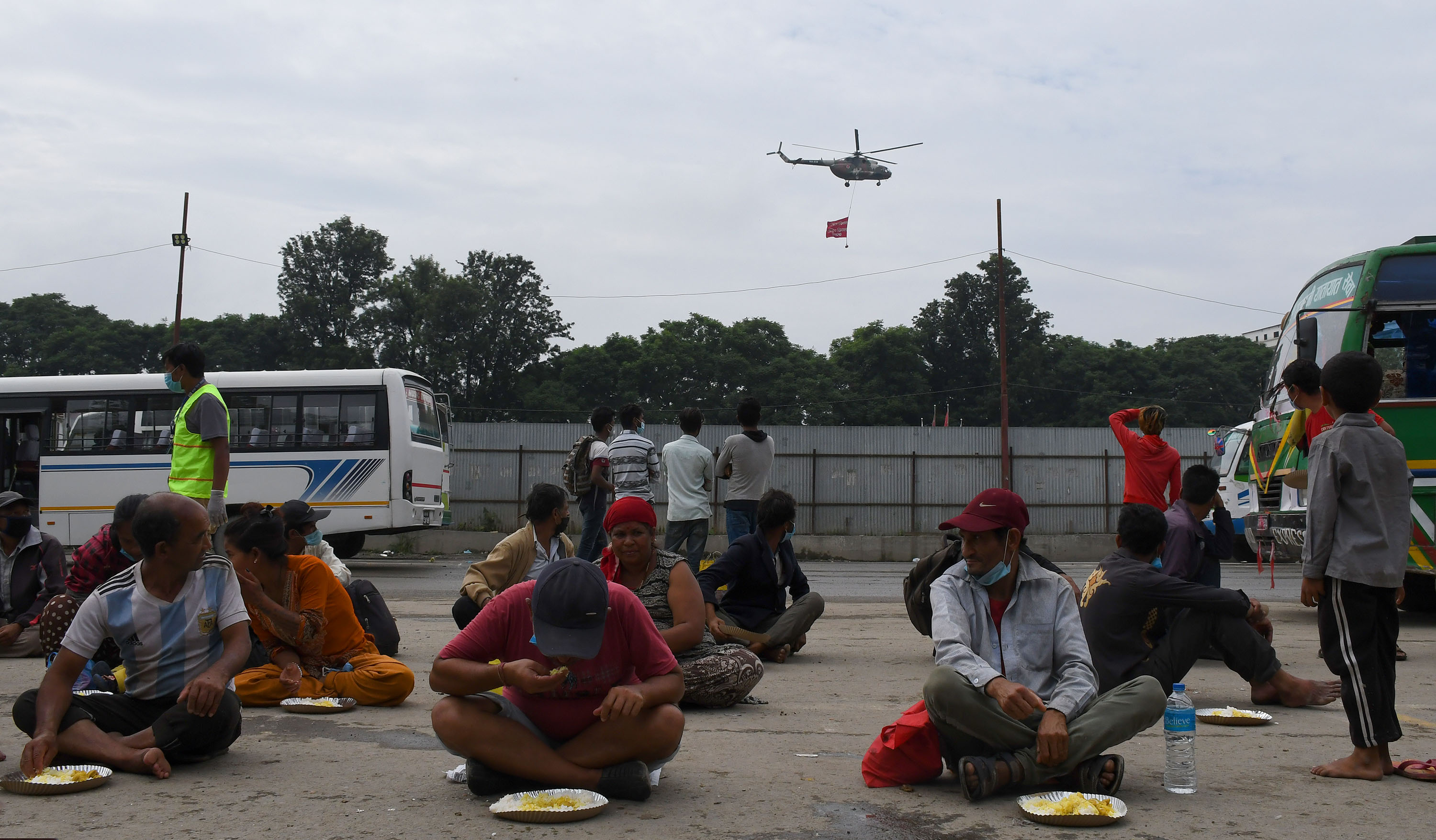 People eat free meals provided by volunteers at Khula Manch in Kathmandu, as a Nepal Army helicopter flies over the adjacent Sainik Manch, where an official ceremony was taking place to mark the Constitution Day. Anish Regmi/TKP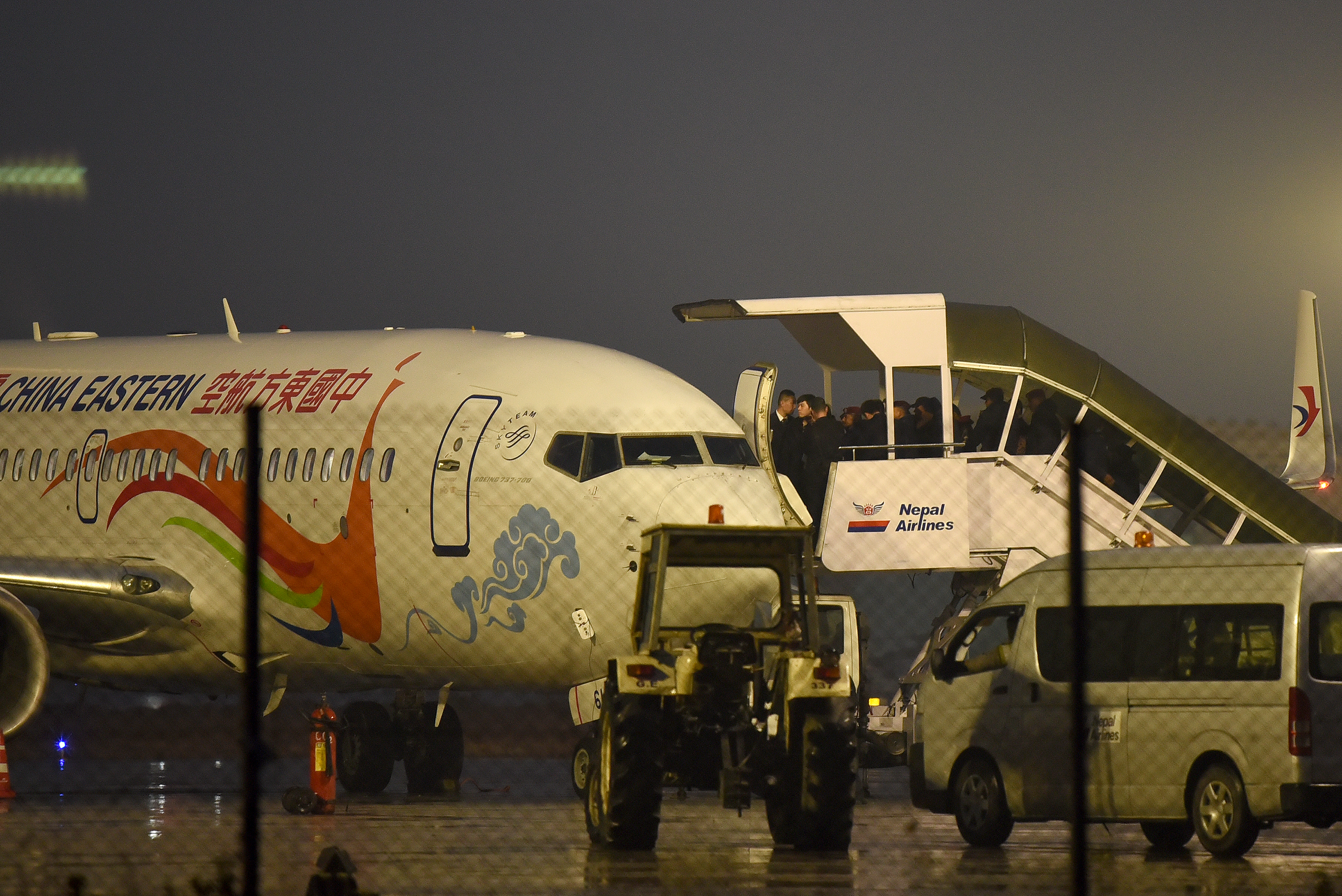 As many as 122 Chinese nationals arrested from various parts of Kathmandu for their involvement in "suspicious activities" are deported in January. Angad Dhakal/TKP
Nepalis leaving their country in search of work cross the Jamunaha boarder with India past Nepalgunj soon after the major festivals were over this autumn. Prakash Chandra Timilsena/TKP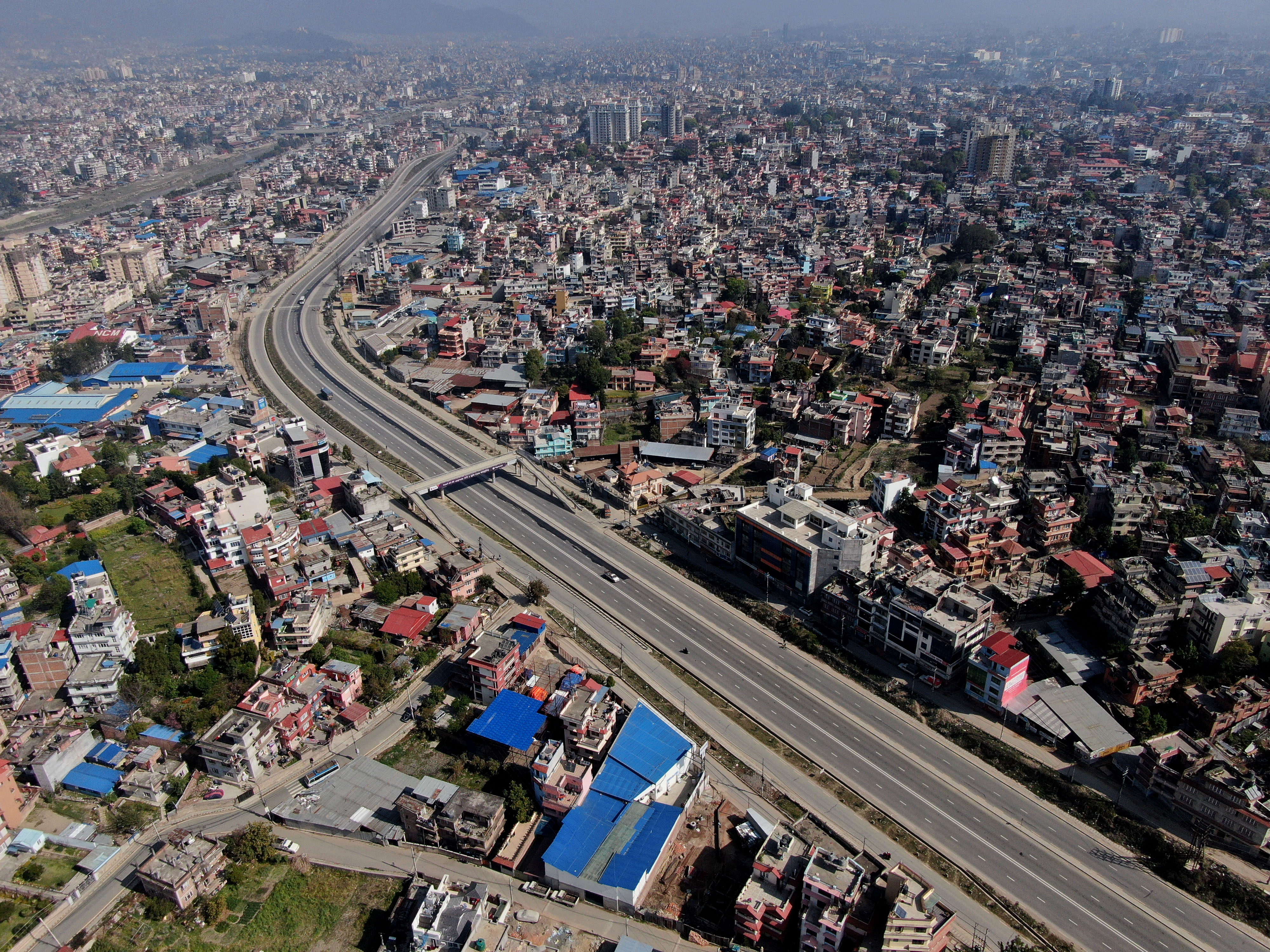 An aerial view of the Ring Road in Lalitpur on March 24, the first day of nationwide lockdown. Post Photo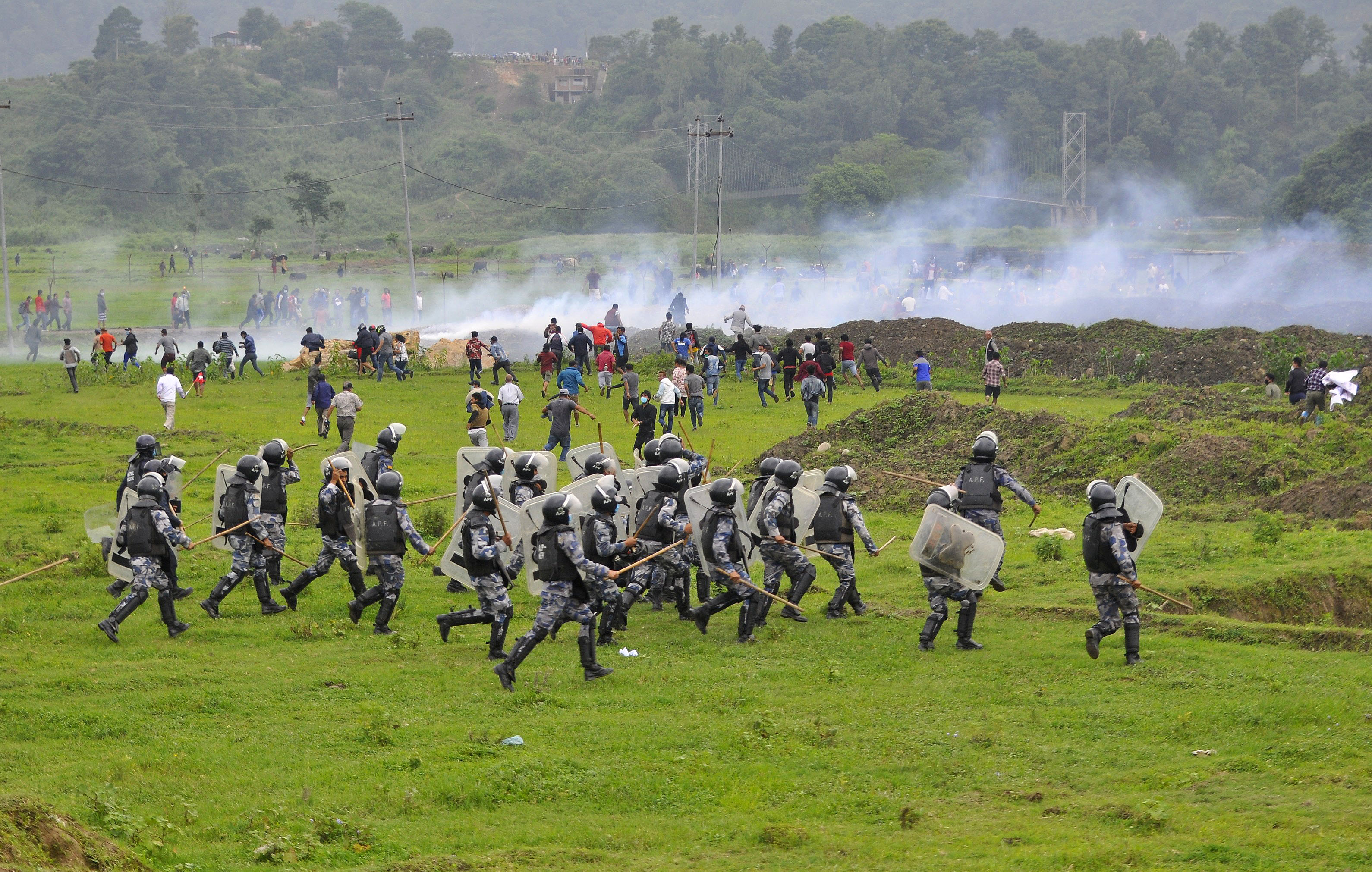 A clash erupts between locals of Khokana and police when the authorities intervene in a "paddy transplantation protest" in Sudol, Khokana on the outskirts of Lalitpur, the gateway to the Kathmandu-Nijgadh expressway, in July. Beeju Maharjan/TKP
Students sit for in-person final examinations for grade 12 at Navodit High School in Kapurdhara, Kathmandu, in November. Elite Joshi/TKP
Miss Nepal 2020 contestants wearing face shield during the Sash Ceremony at Park Village in Budhanilkantha, Kathmandu, in November. Sanjog Manandhar/TKP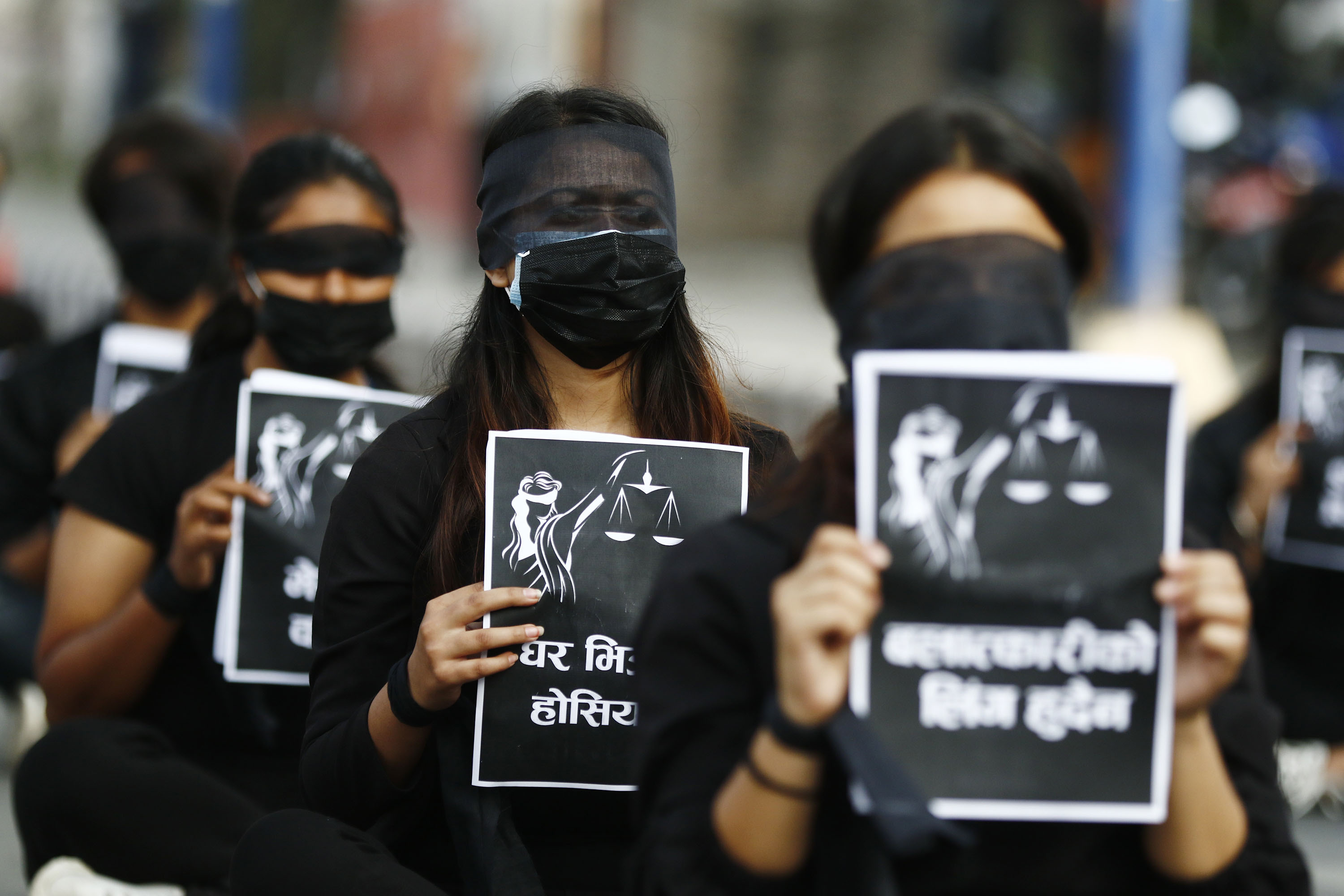 Participants of a flash mob organised by 'Ajhai Kati Sahane?' campaign to draw attention to the rising number of rape and sexual violence cases in the country. Keshav Thapa/TKP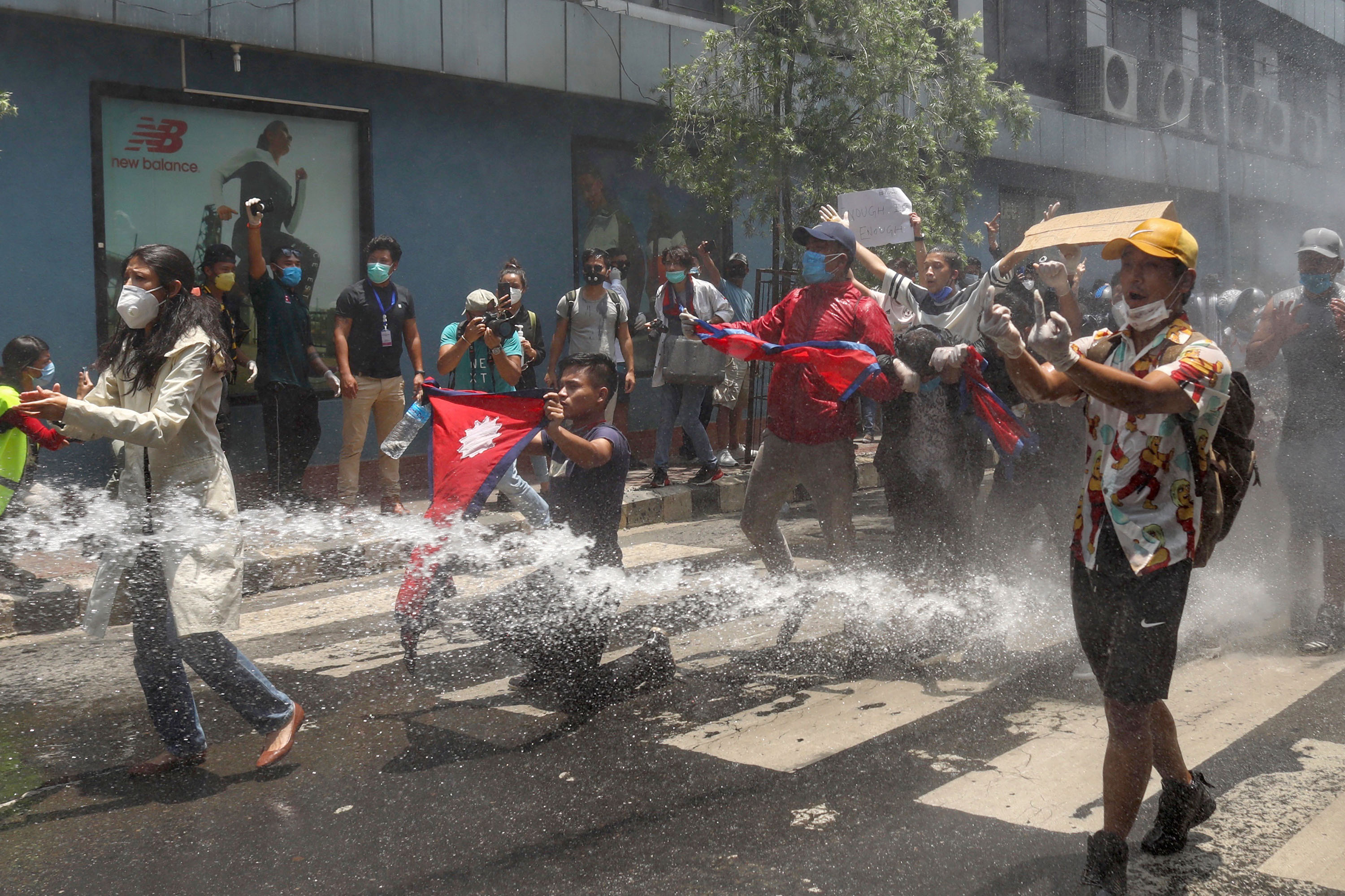 Dissatisfied with the government's inadequate response to the pandemic, youths took to the streets in protest. Police restrained them with tear gas and water cannons. Elite Joshi/TKP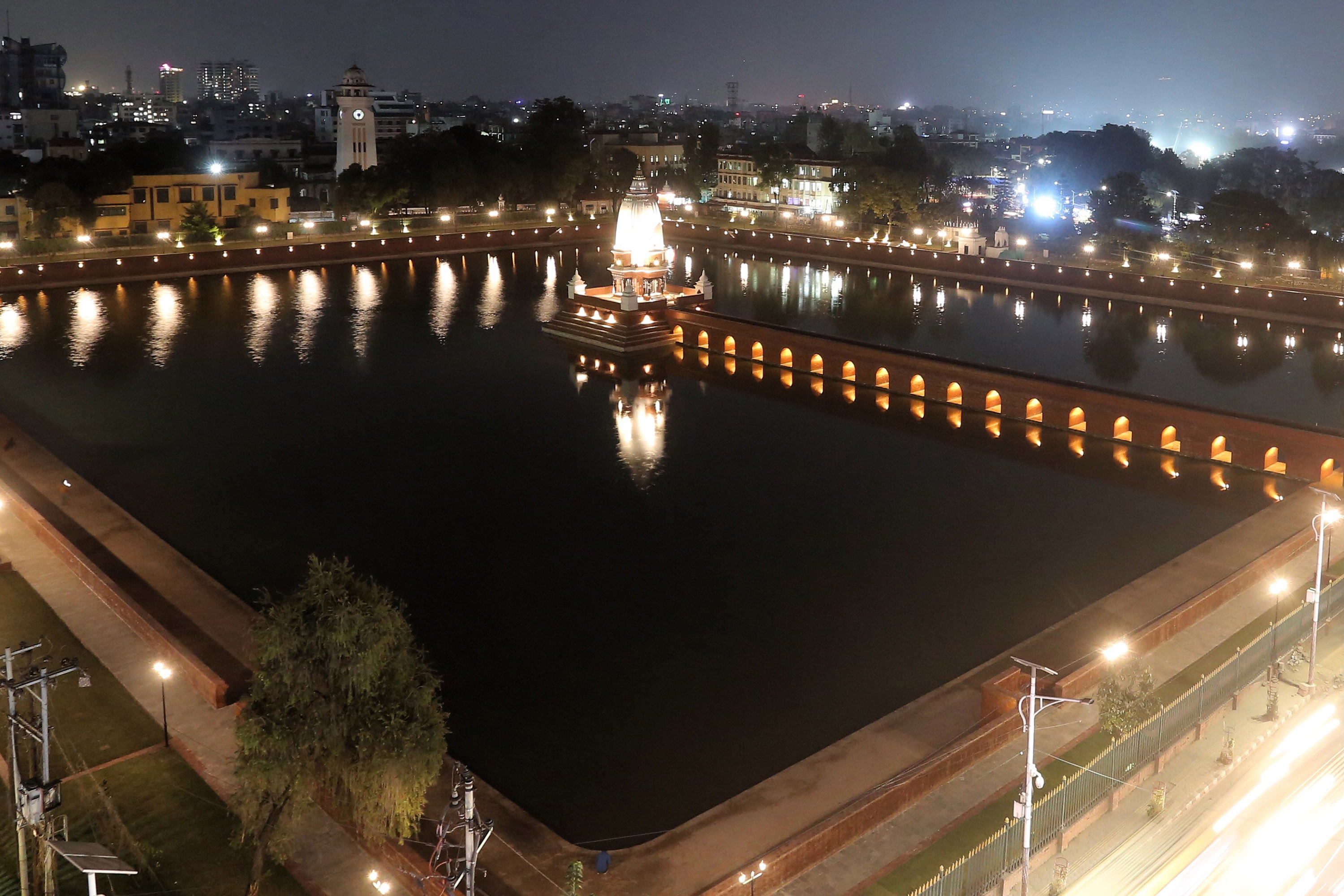 A night view of the Ranipokhari at Jamal in Kathmandu in October. The restoration of the historic pond, damaged in the 2015 earthquakes, took four years to complete. Balgopaleshwor temple, in the middle of the pond, has been restored in its original form, in Shikhara style, as King Pratap Malla had constructed it in 1670 AD. Elite Joshi/TKP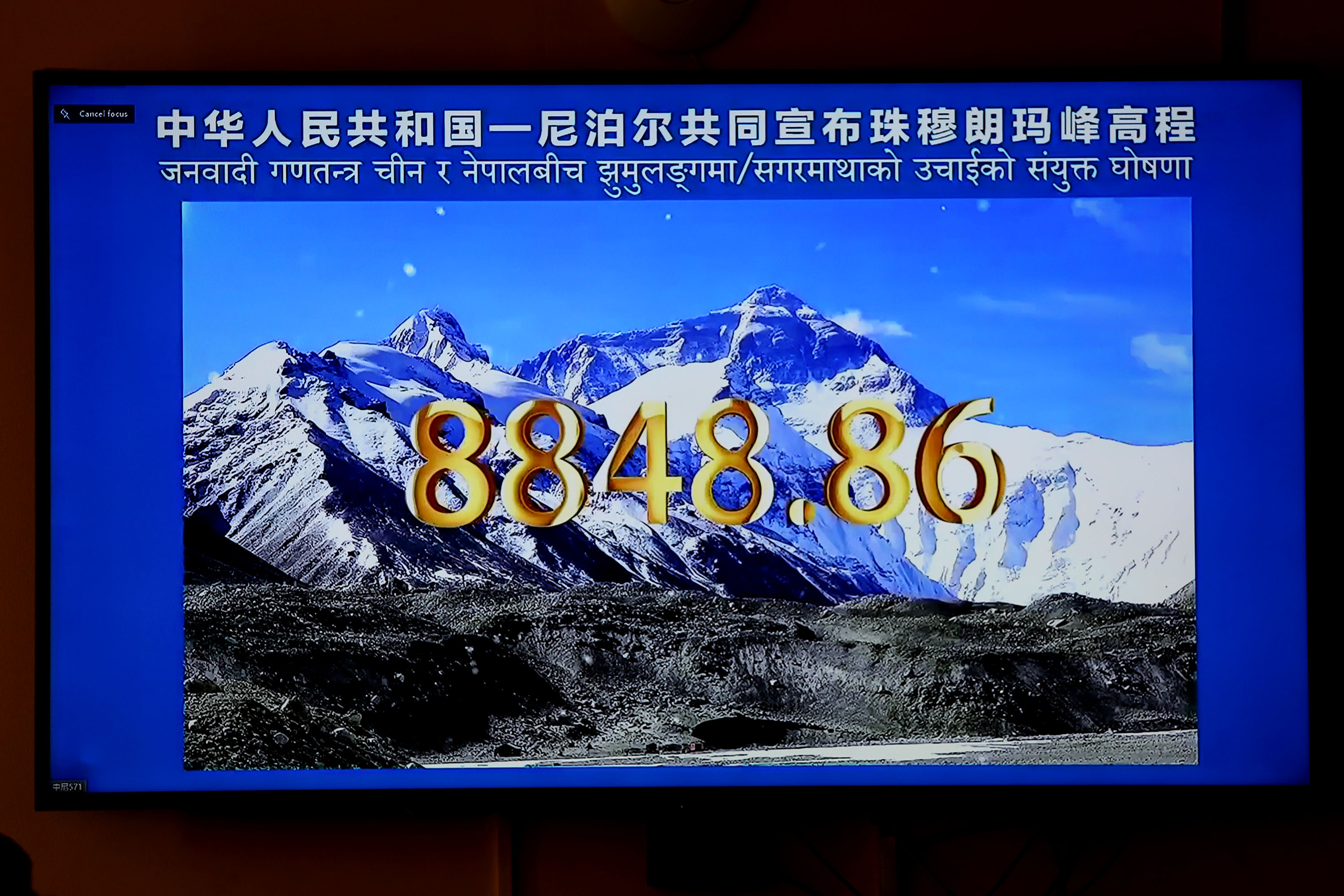 Nepal and China jointly announce the new height of Mt. Everest, 8,848.86 metres, in December. Kiran Panday/TKP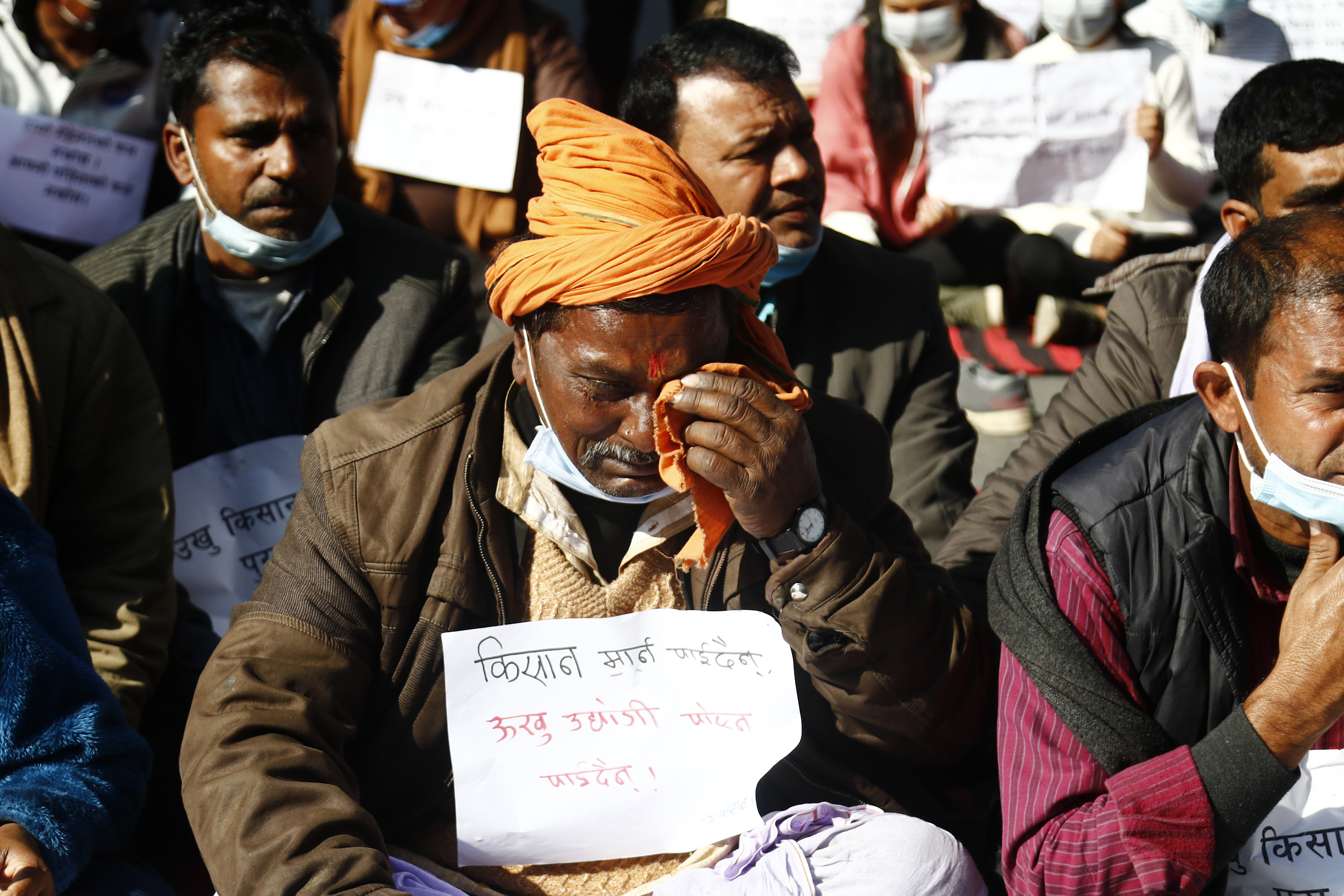 A sugarcane farmer, who came to Kathmandu from Sarlahi to claim his dues, breaks into tears during a protest in Maitighar. Keshav Thapa/TKP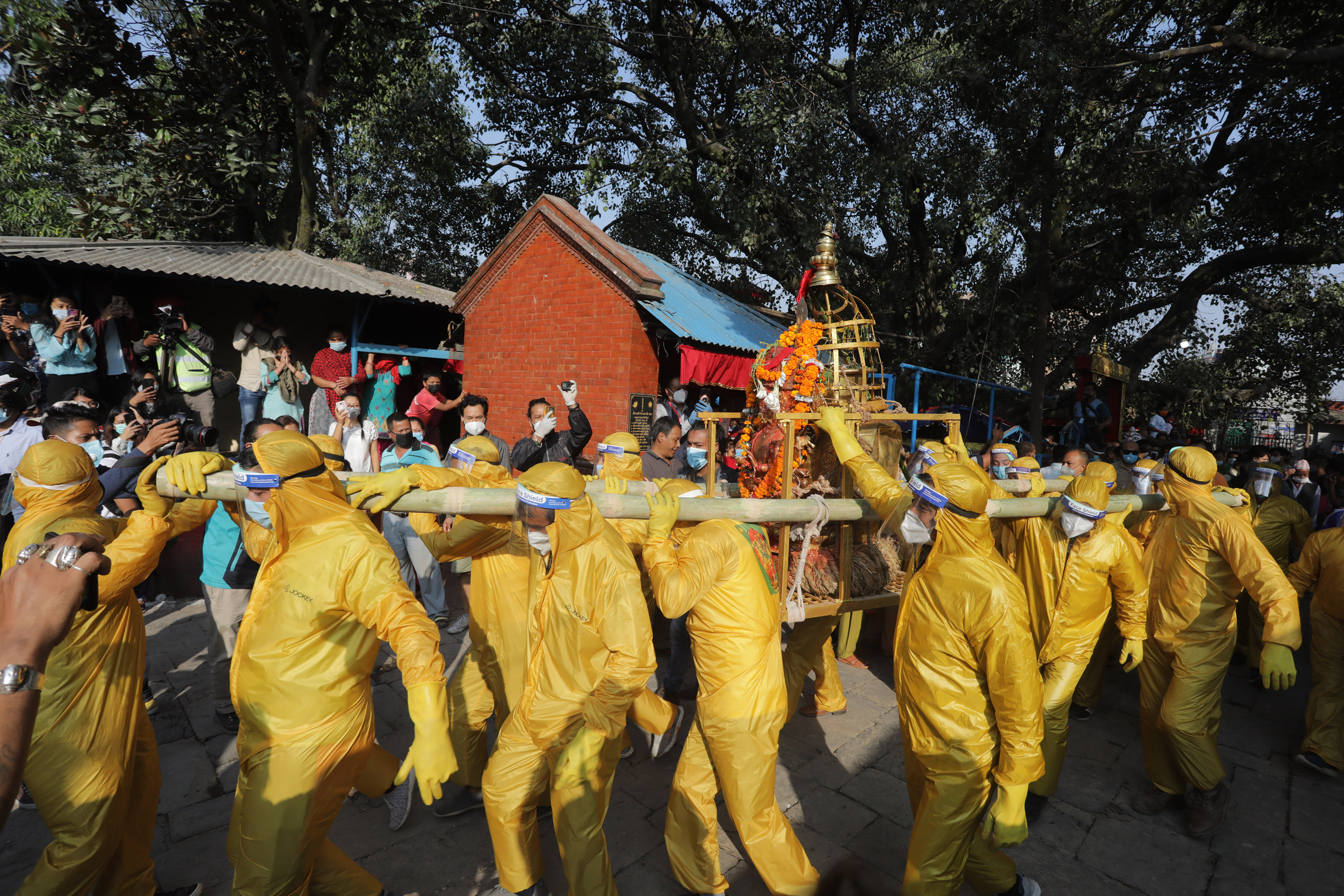 Devotees in personal protective equipment (PPE) carry the idol of Lord Bhairav during a procession held to celebrate Pachali Bhairav festival in Kathmandu. Elite Joshi/TKP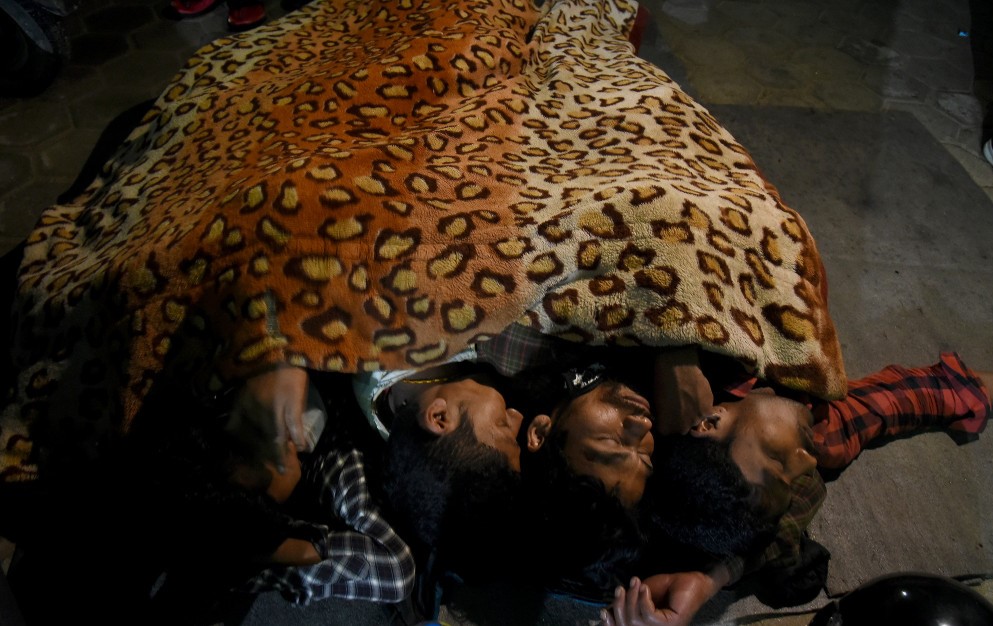 People, who have come to get tested for Covid-19, sleep at the Sukraraj Tropical and Infectious Disease Hospital premises in Teku, Kathmandu. As the hospital carried out a limited number of PCR tests in a day, people in an overwhelming number stood in queue for hours. Angad Dhakal/TKP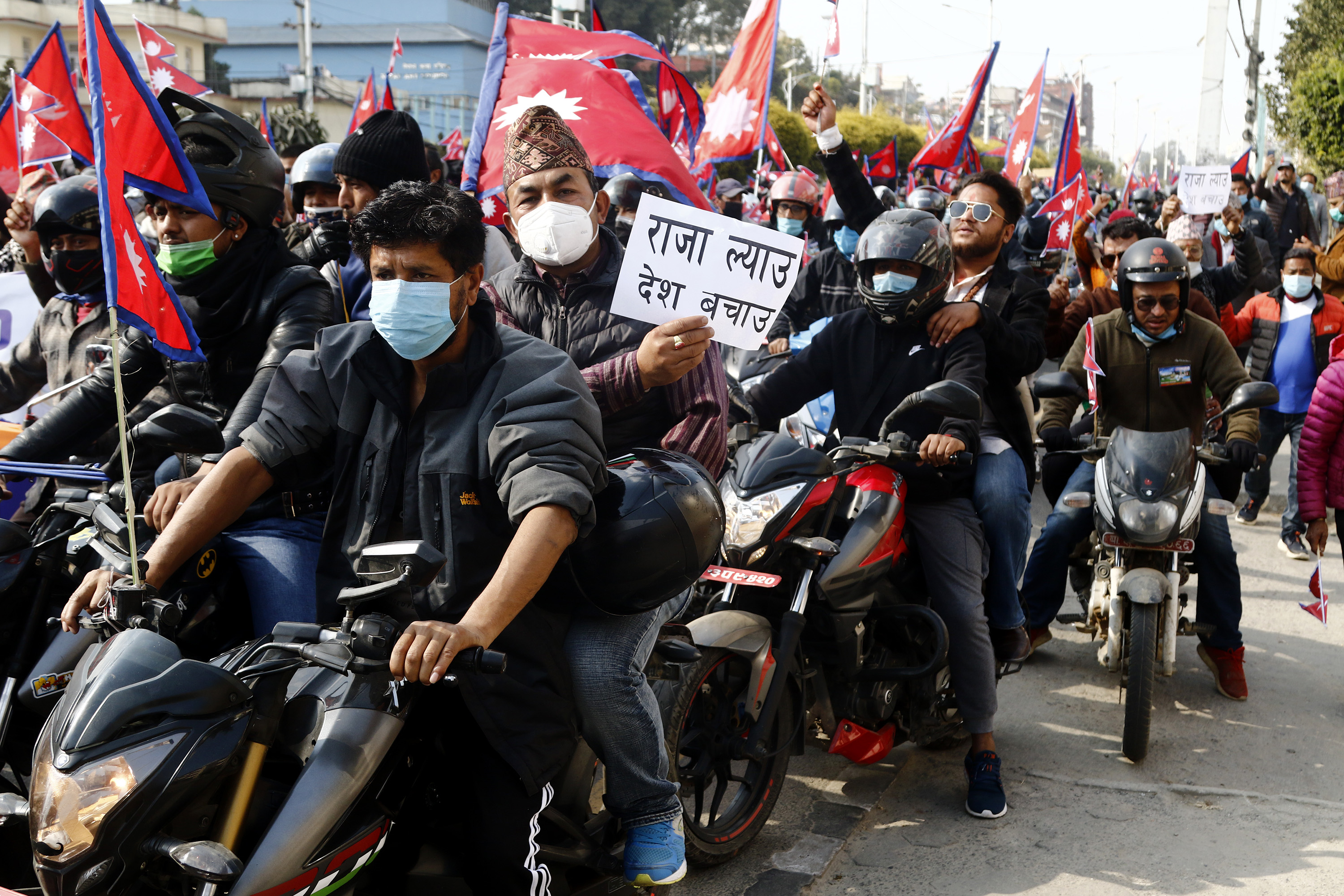 Pro-monarchy, pro-Hindu campaigners hold a rally in Kathmandu demanding reinstatement of the monarchy and Nepal as a Hindu state and scrapping of federalism. Keshav Thapa/TKP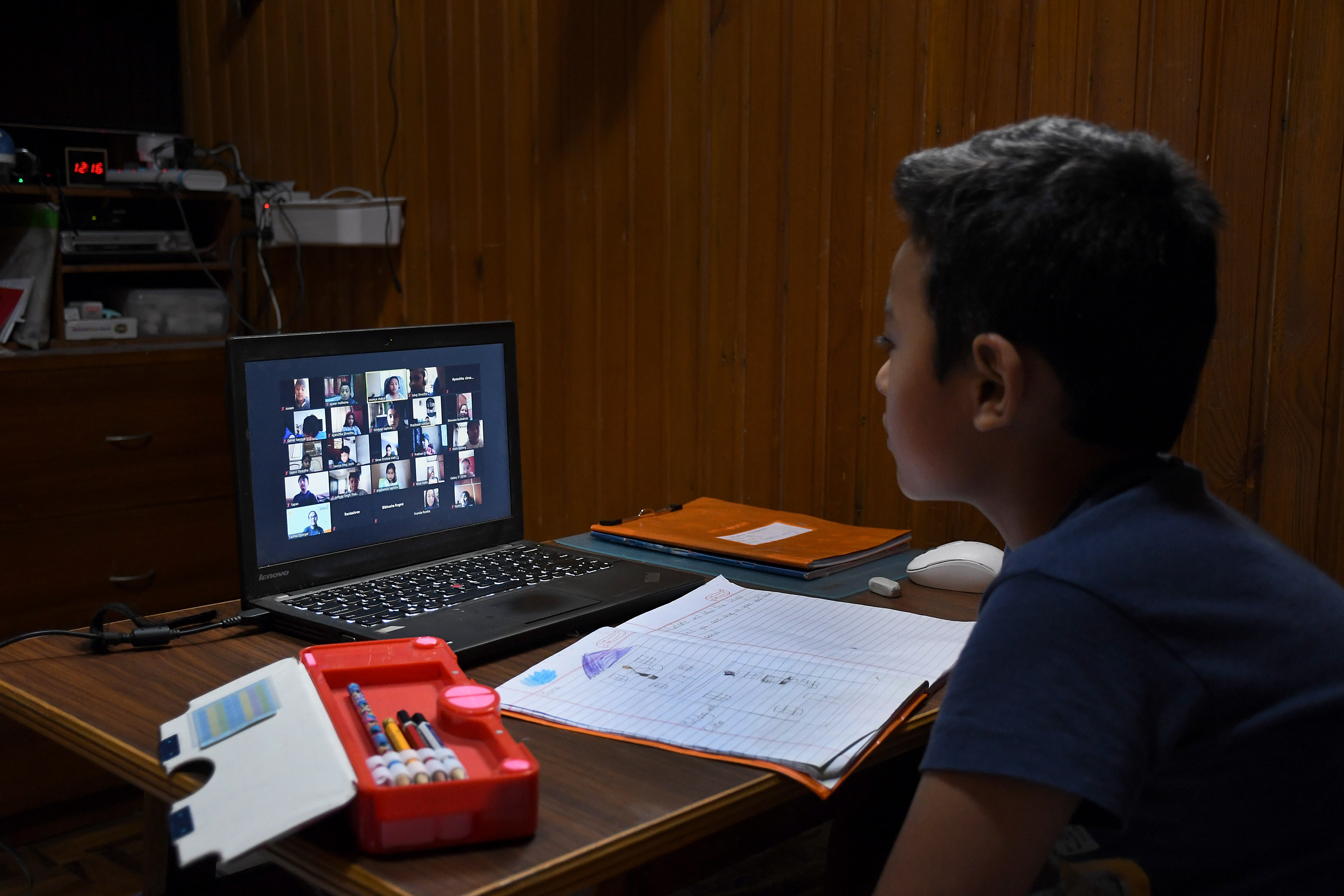 A student participates in an online class conducted by his school from his home in Om Bahal, Kathmandu. Anish Regmi/TKP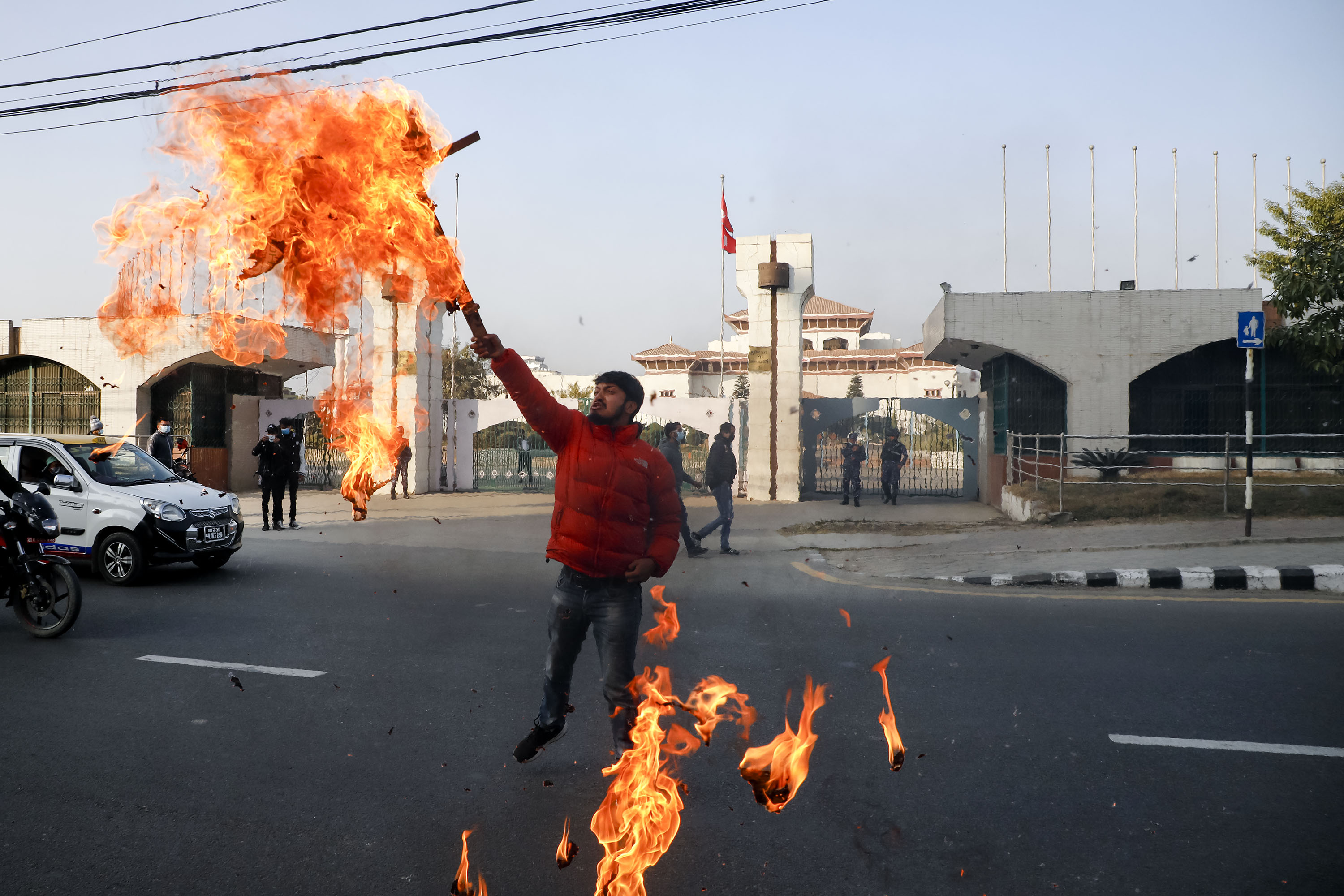 A protester burns the effigy of Prime Minister KP Sharma Oli outside the Parliament building in Kathmandu to protest the dissolution of House of Representatives on December 20. Hemanta Shrestha/TKP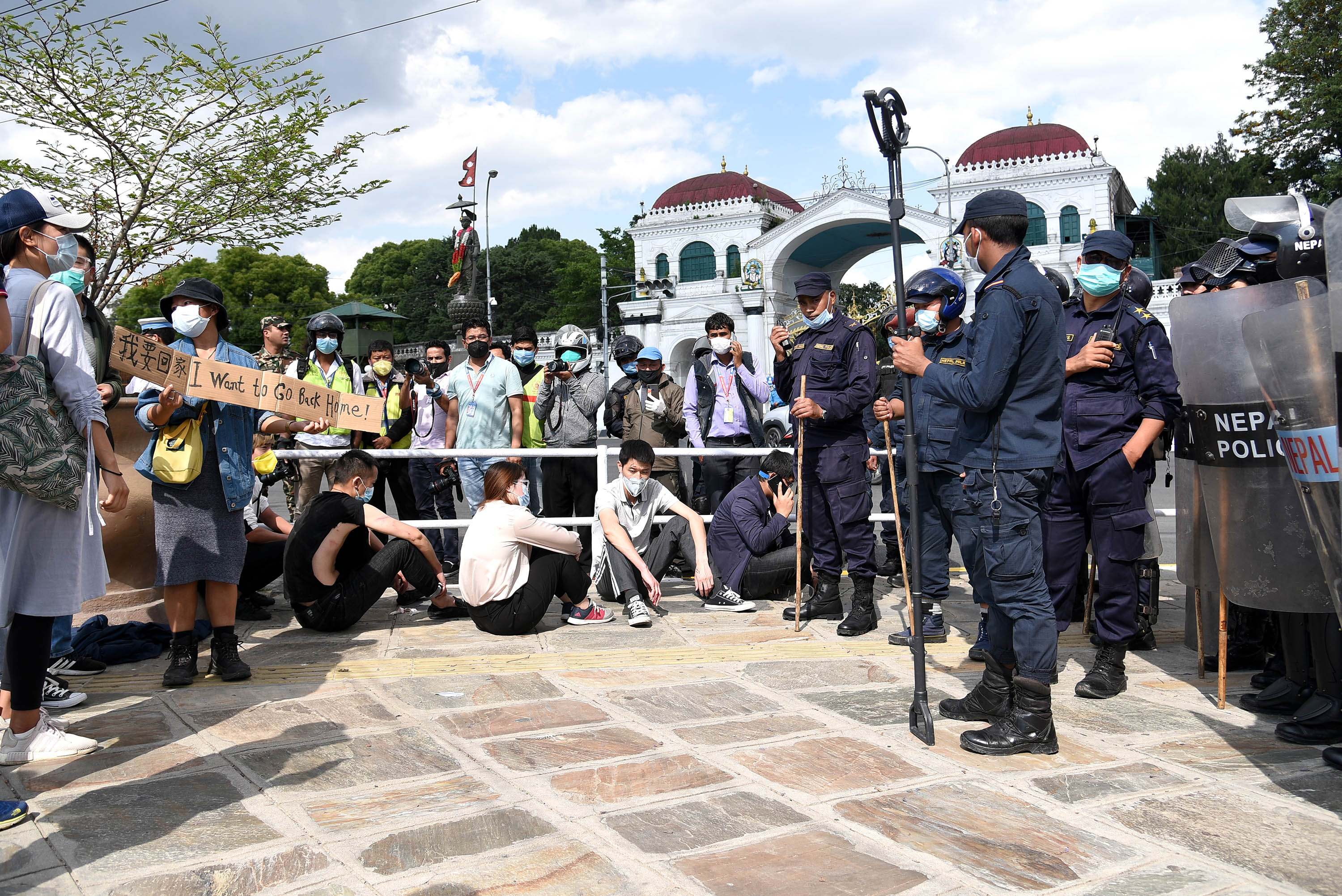 Six people were injured when a group of Chinese nationals, gathered for a sit-in outside Singha Durbar demanding that they be allowed to leave for home, clashed with police in May. Angad Dhakal/TKP
---