The week in 21 photos
Here are some of the best photos taken by our photographers and reporters between March 14-20.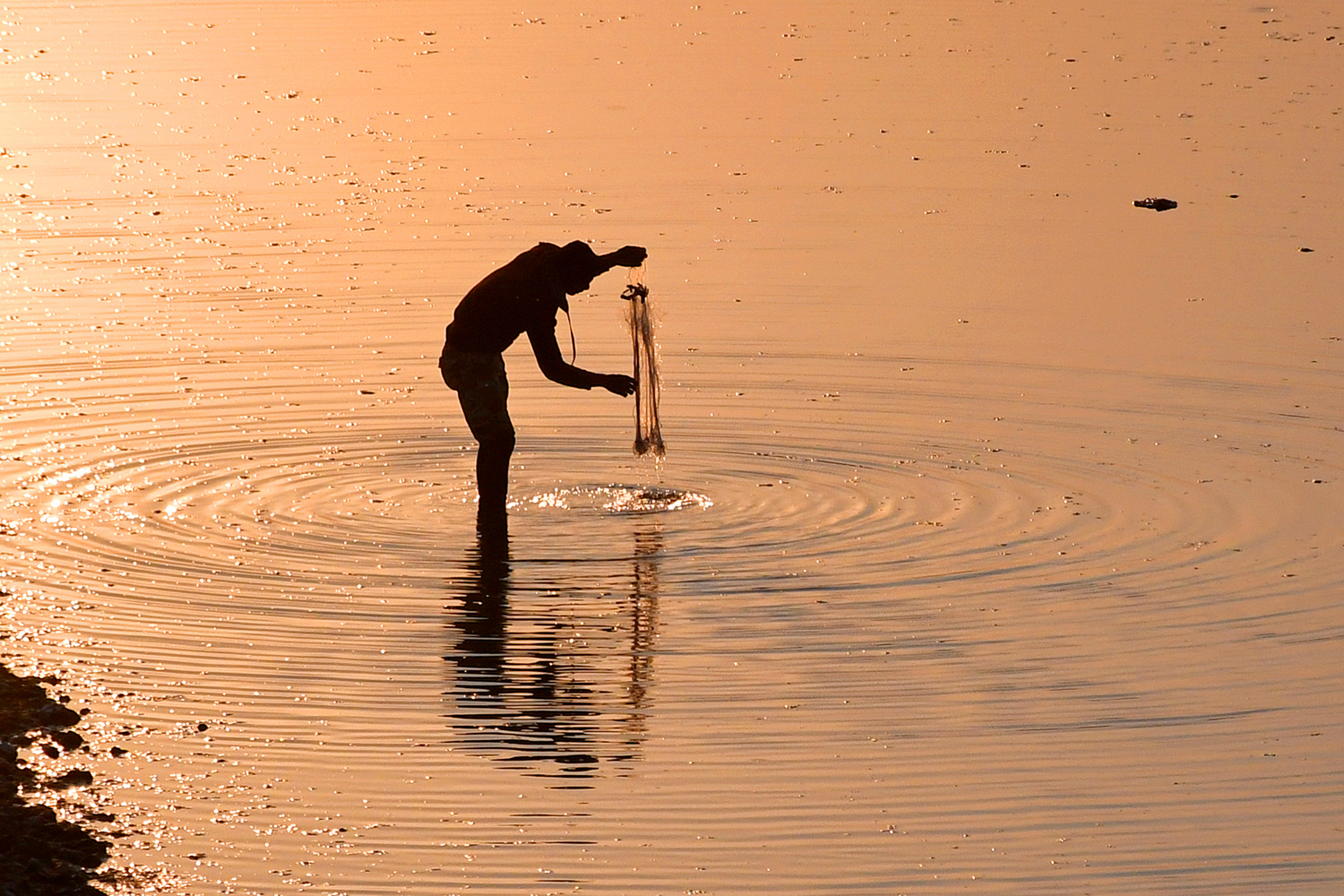 A fisherman checks his net for a catch while fishing in the Gwar Stream at dusk in Dang. Anish Regmi/TKP
Published at : March 21, 2020
Updated at : March 21, 2020 14:52
Some of the best shot of the past week.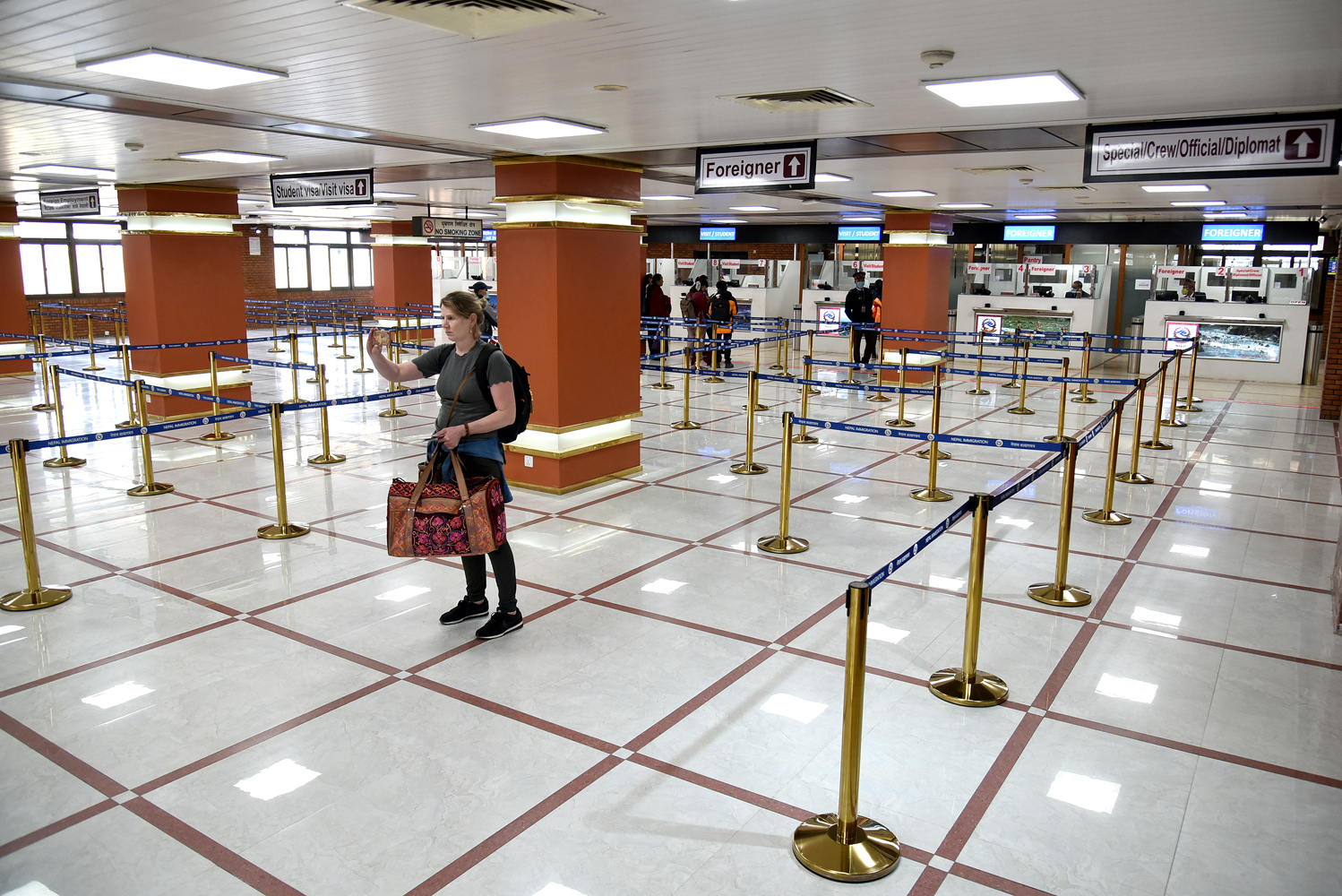 The departures terminal of the Tribhuvan International Airport wears a deserted look as the air traffic slowed down due to the Covid-19 outbreak. Angad Dhakal/TKP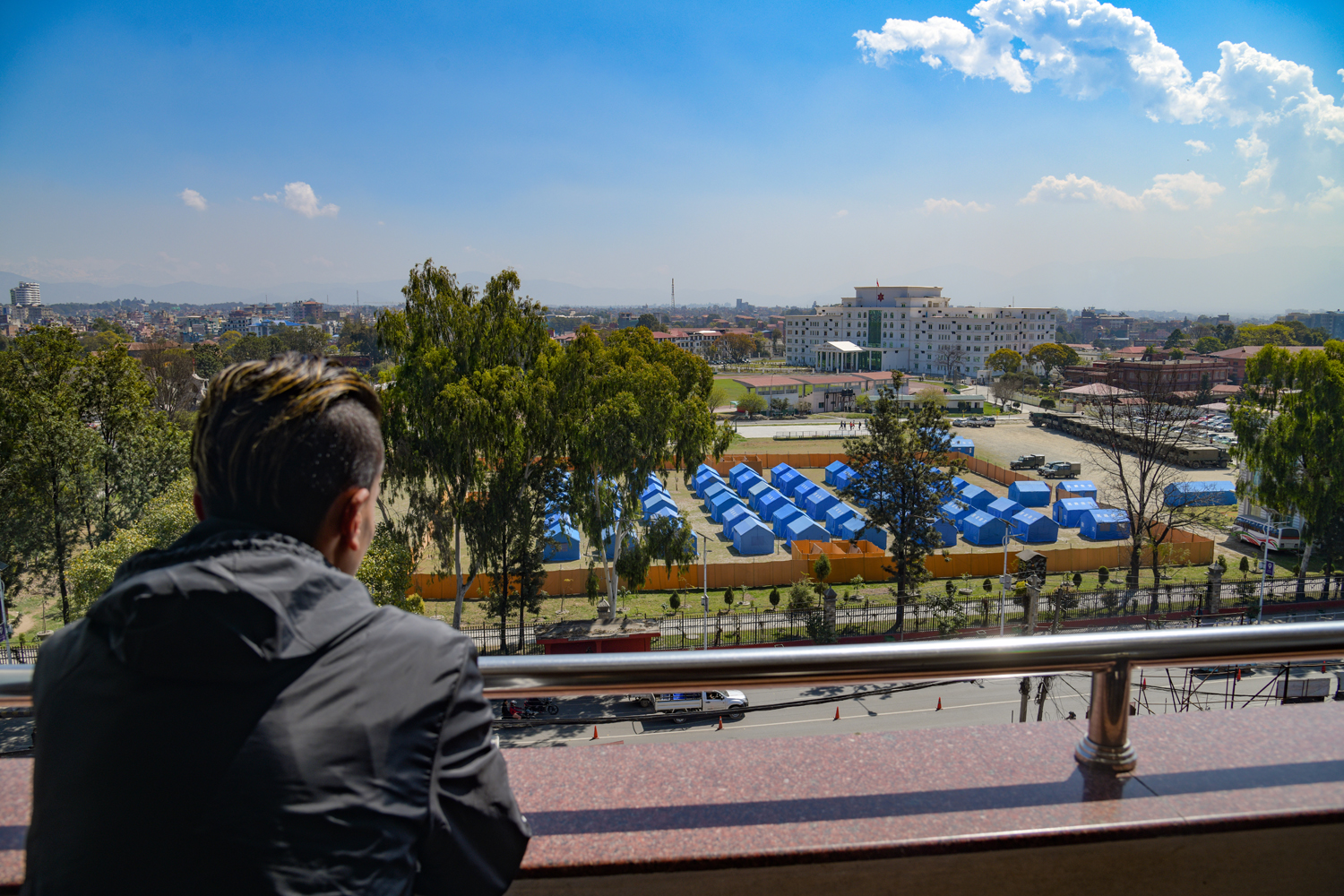 A man looks at the temporary tents set up by the Nepal Army to quarantine Covid-19 suspects in Bhadrakali, Kathmandu. Deepak KC/TKP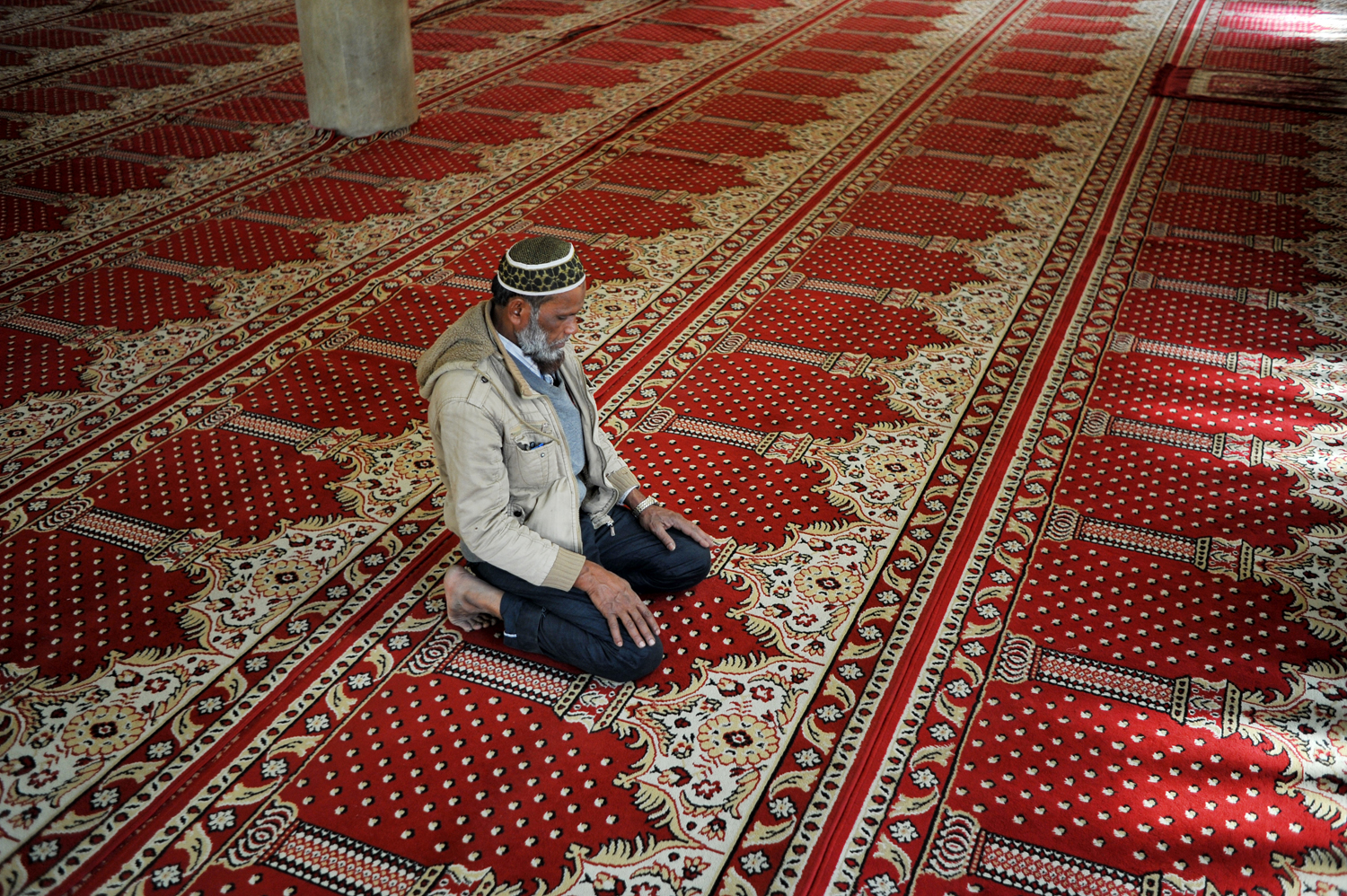 A Muslim man prays at an empty Mosque in Kathmandu on Friday. Sanjog Manandhar/TKP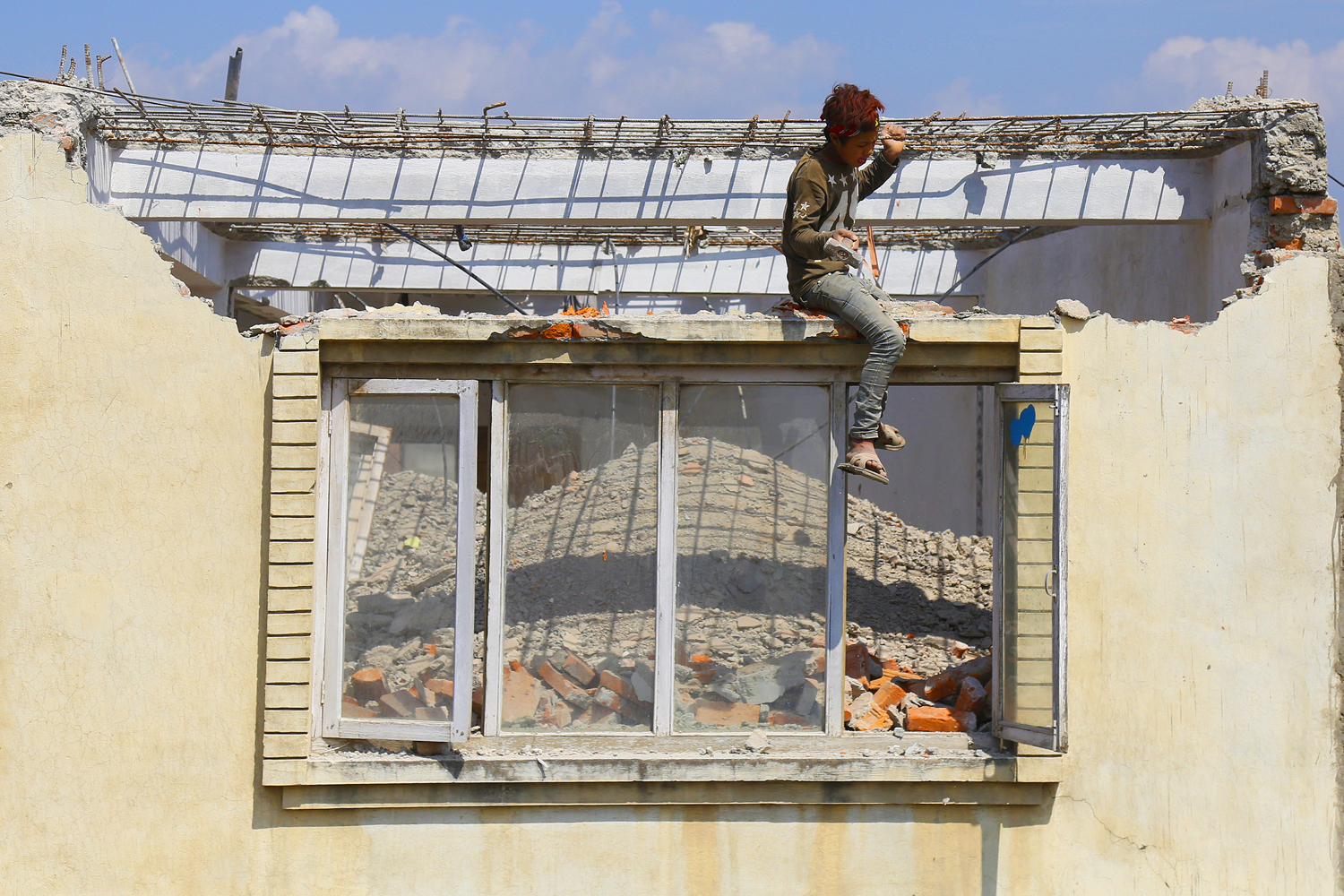 A worker demolishes a house in Balkhu, Kathmandu. Kabin Adhikari/TKP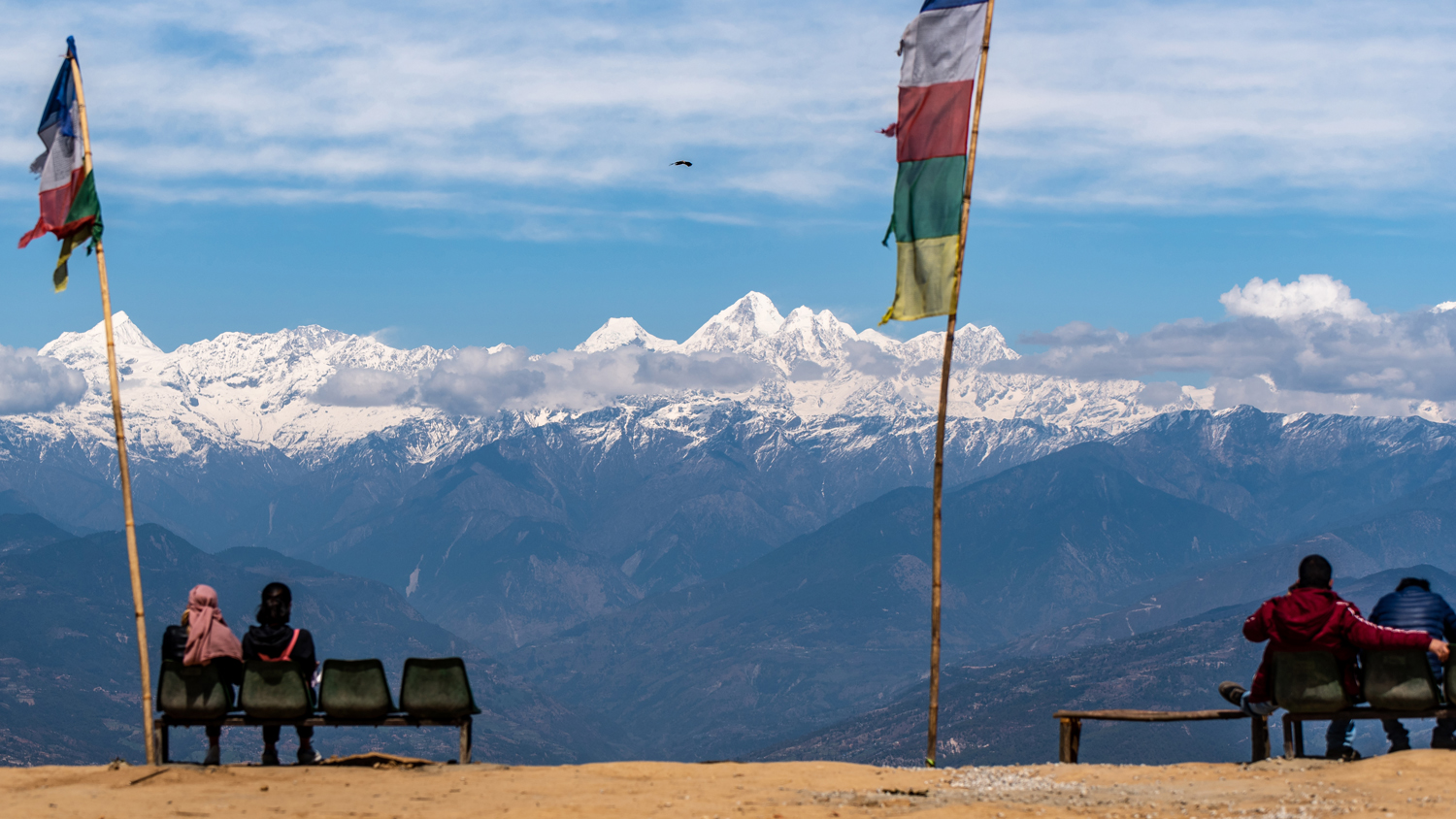 People enjoy a view of mountains from Nagarkot, Bhaktapur. The number of tourists visiting the popular hill station has witnessed a sharp decline due to the Covid-19 pandemic, hoteliers say. Dipendra Rokka/TKP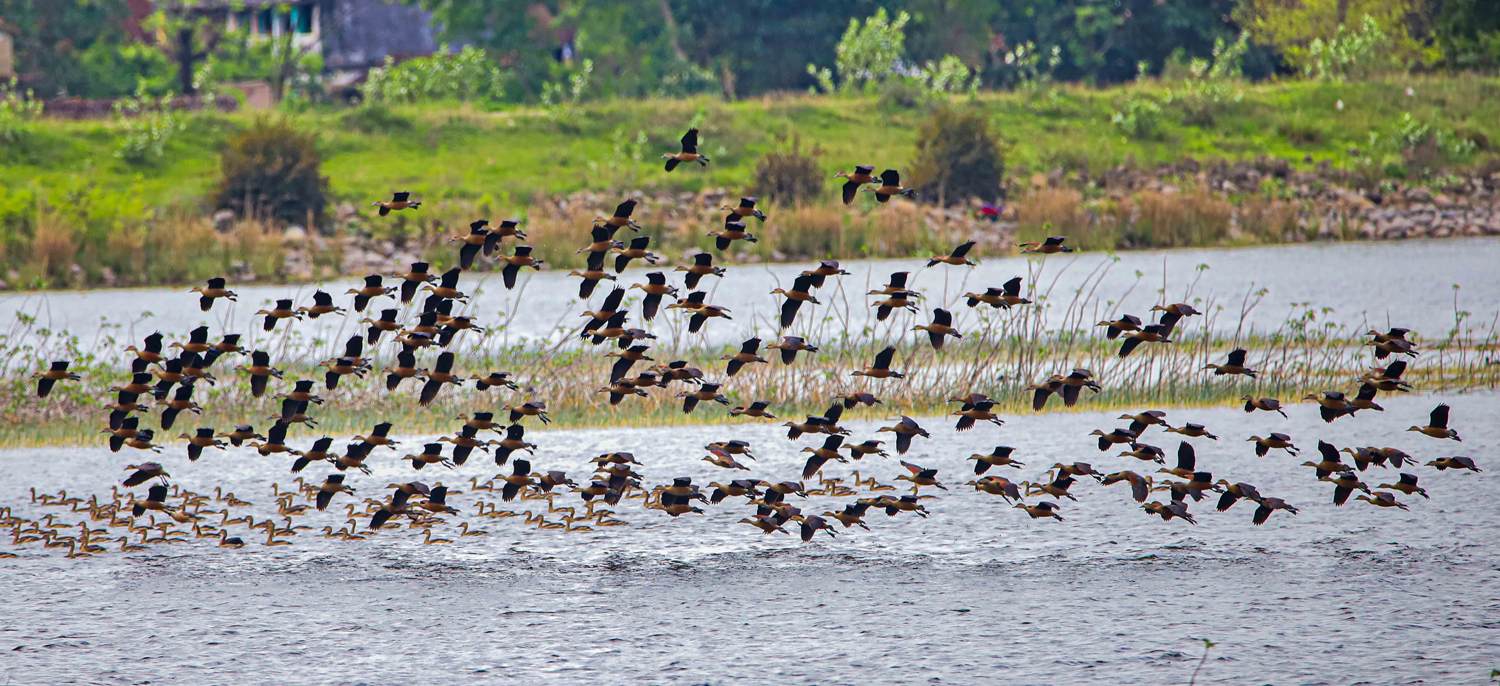 Birds fly over Jagdishpur Lake in Kapilvastu. Manoj Poudel/TKP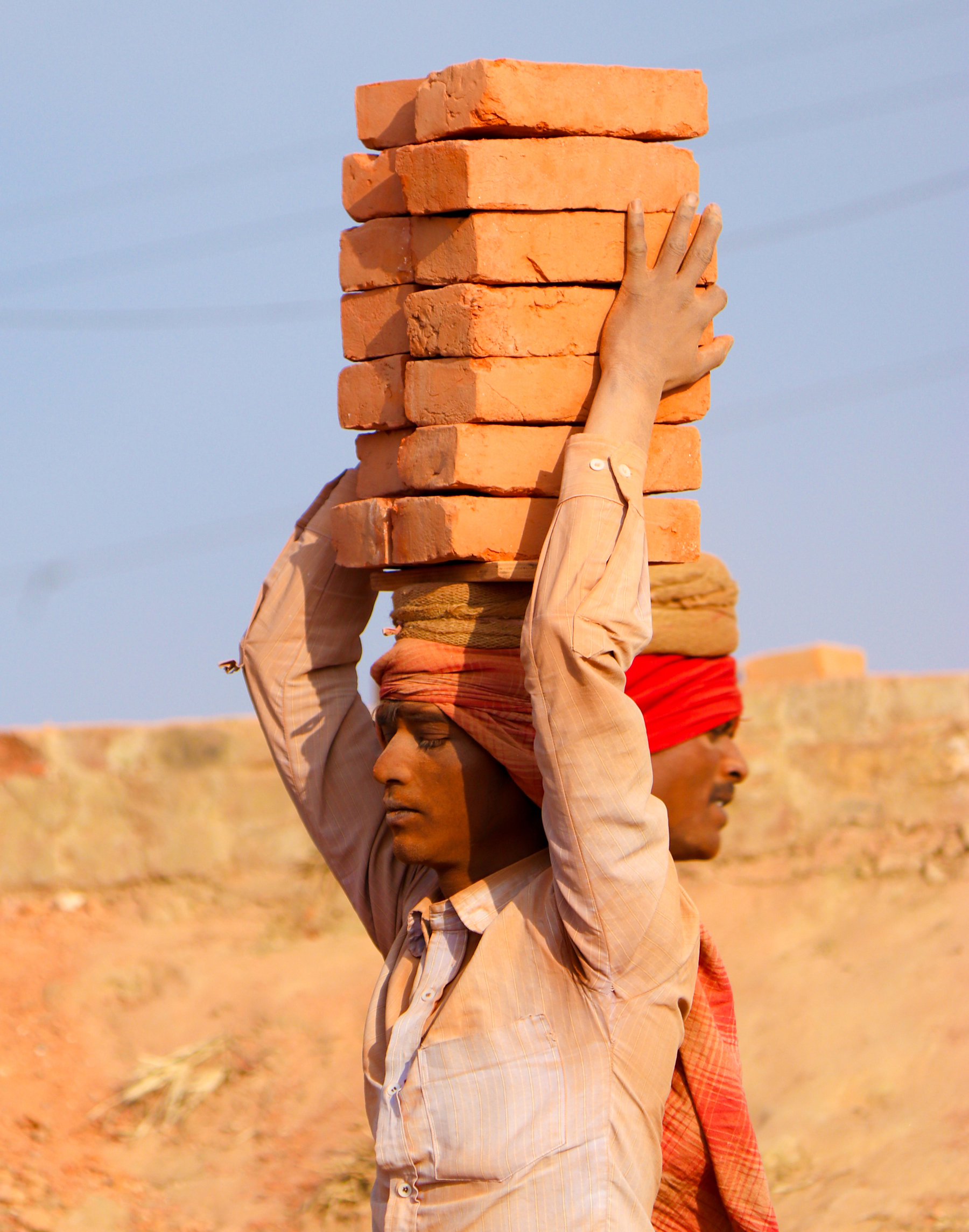 A worker carries bricks at a kiln in Imadol, Lalitpur. Pratham Bista/TKP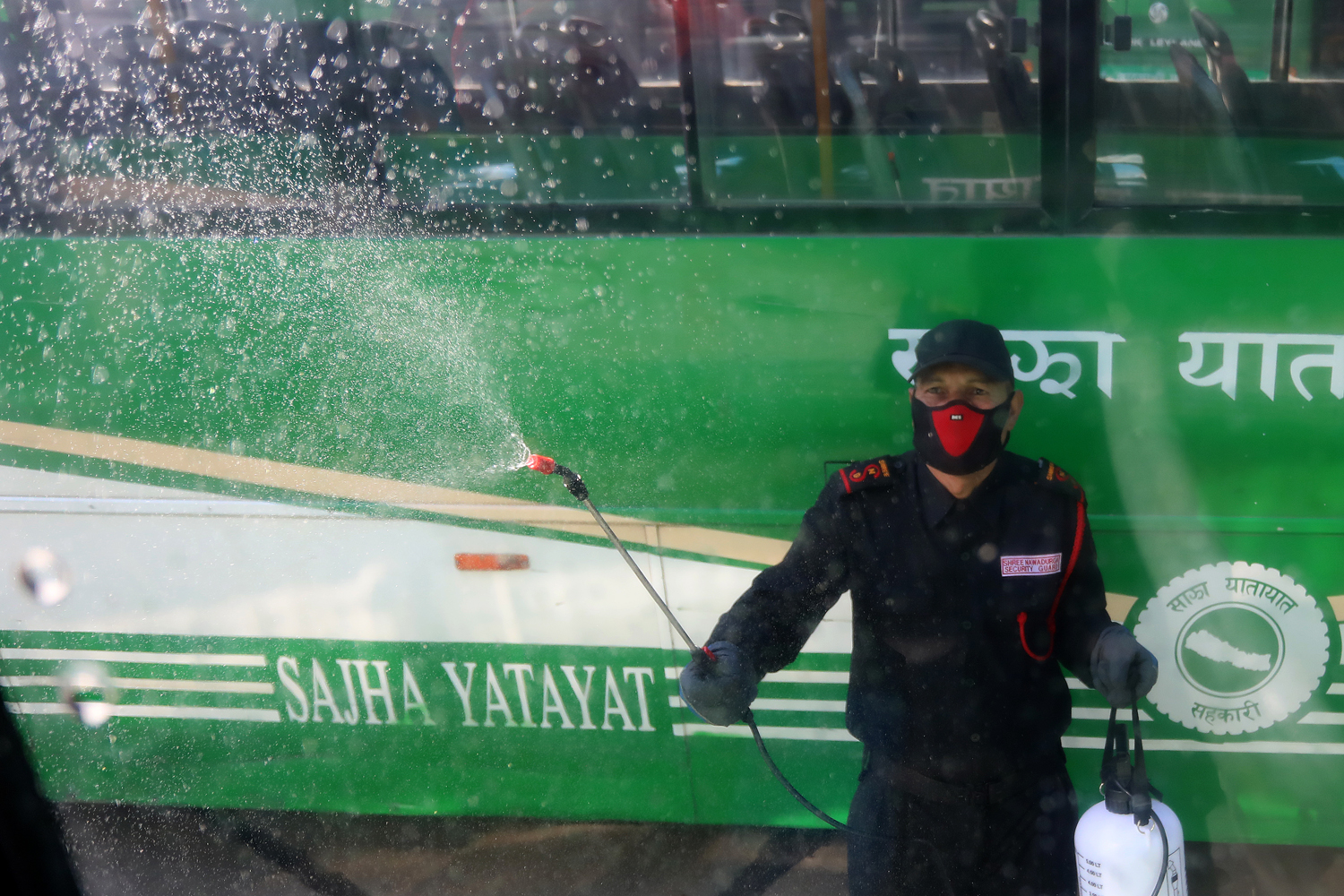 A worker of Sajha Yatayat sprays a disinfectant solution on a bus as a preventive measure against the spread of coronavirus in Lalitpur. Elite Joshi/TKP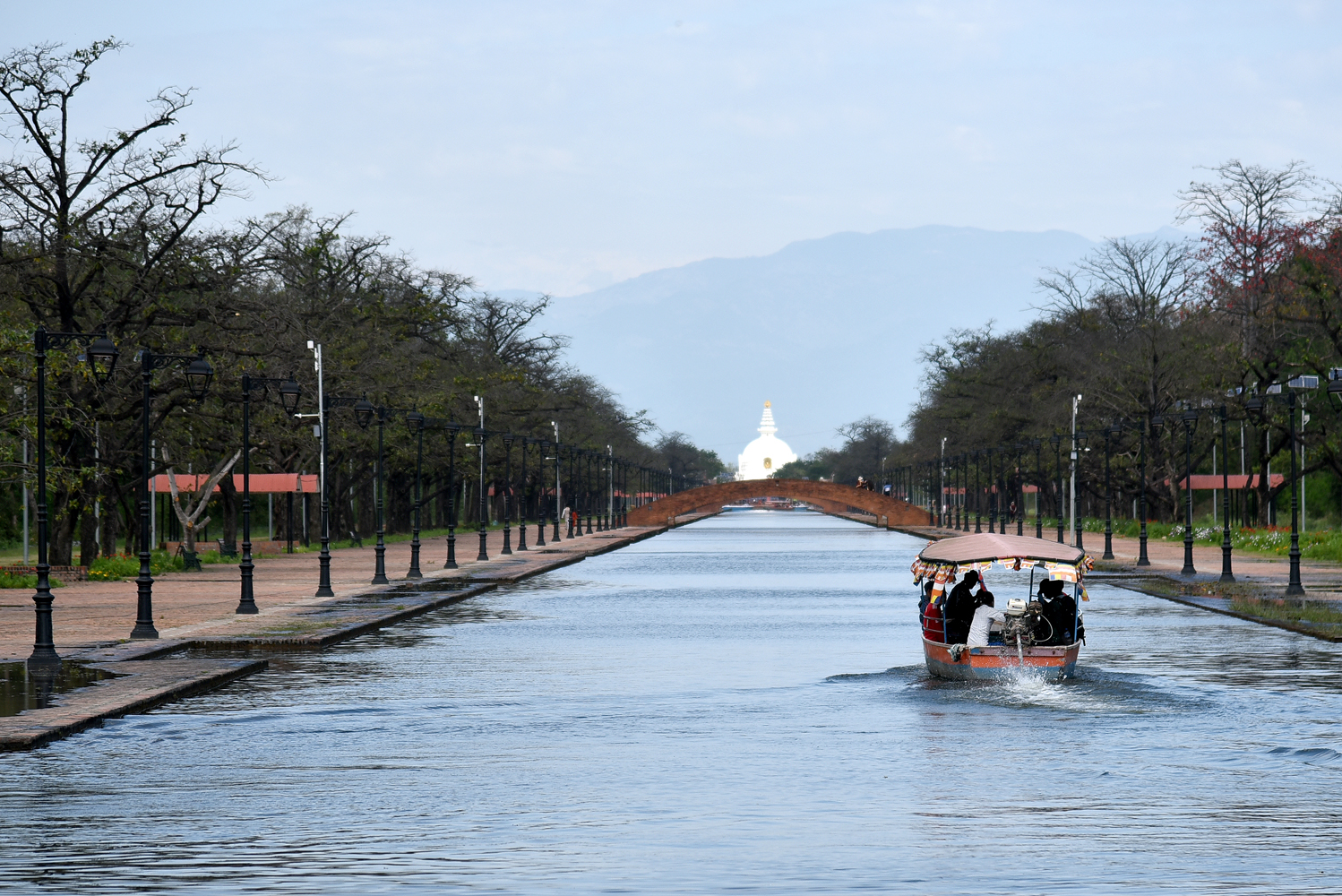 Domestic tourists take a boat tour in Lumbini. The coronavirus pandemic has severely hit the tourism industry in Nepal. Angad Dhakal/TKP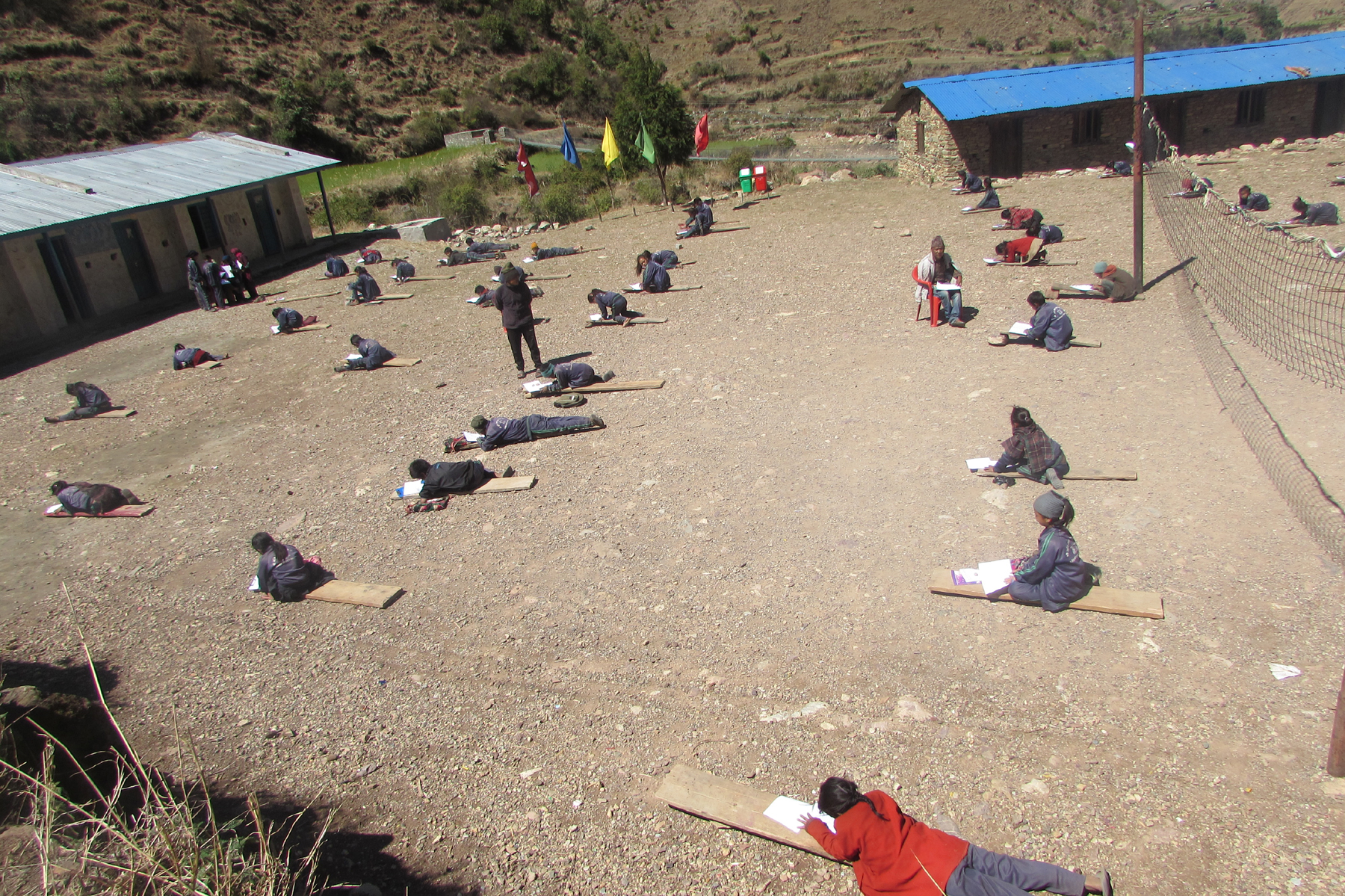 Students of Bhumi Basic School in Bhume Rural Municipality Ward No. 1, Rukum (East), participate in their exams. According to the school, the exams were not conducted inside the classroom as it was warmer outside. Hari Gautam/TKP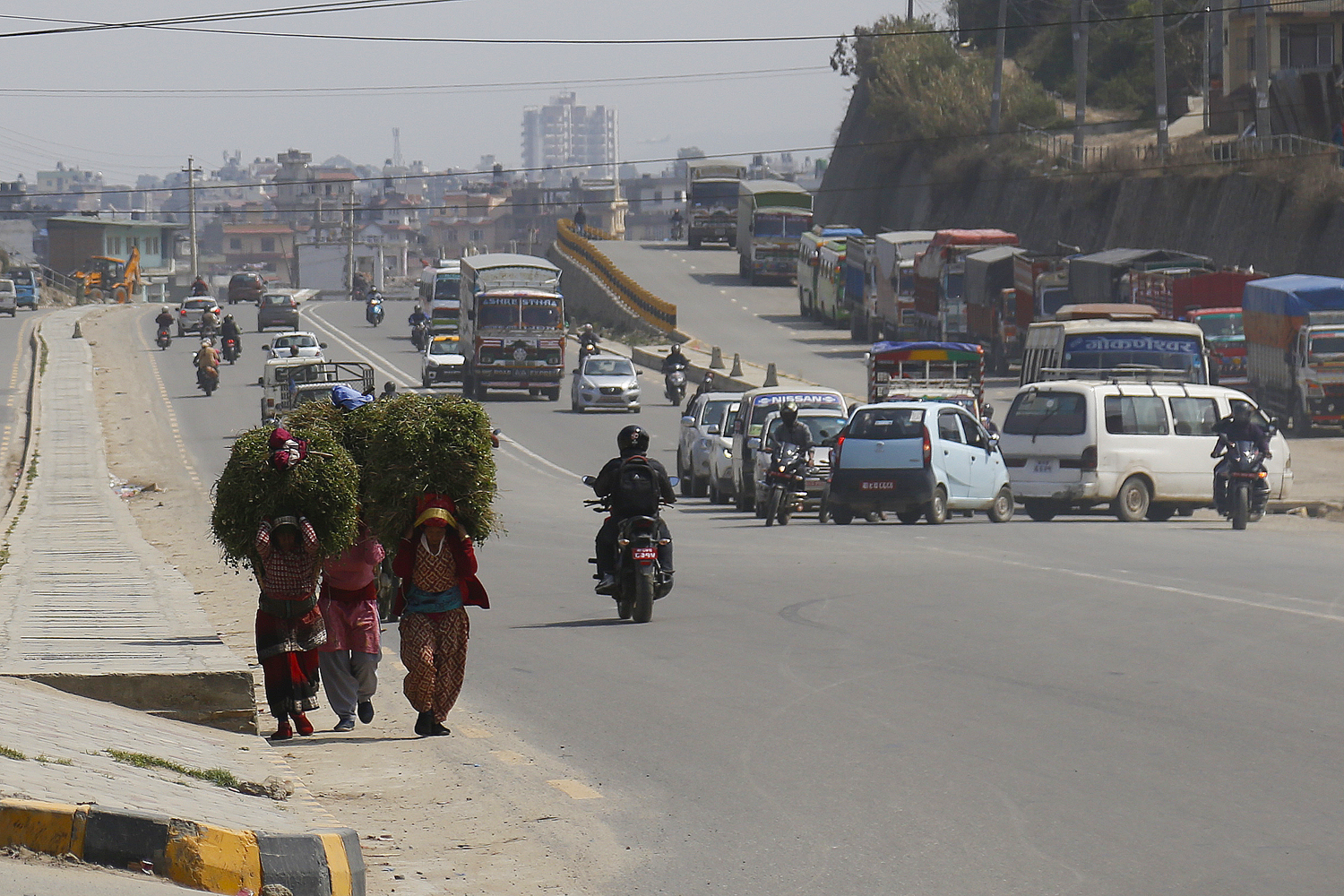 Women carry loads of grass on their back along the road in Kalanki, Kathmandu. Kabin Adhikari/TKP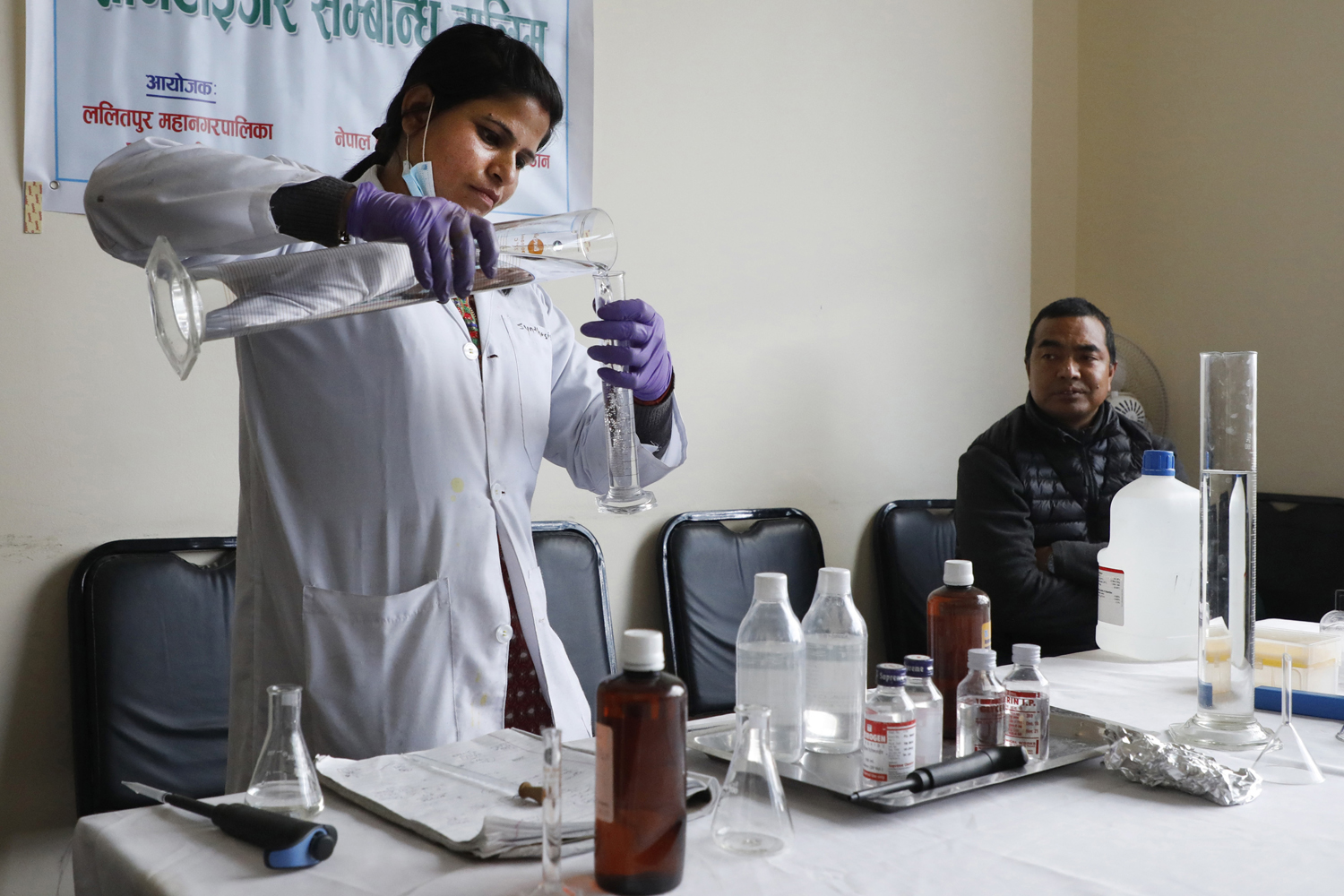 A scientist from the Nepal Academy of Science and Technology shows the way to prepare hand sanitiser using home-brewed alcohol at a training organised by the Lalitpur Metropolitan City. Hemanta Shrestha/TKP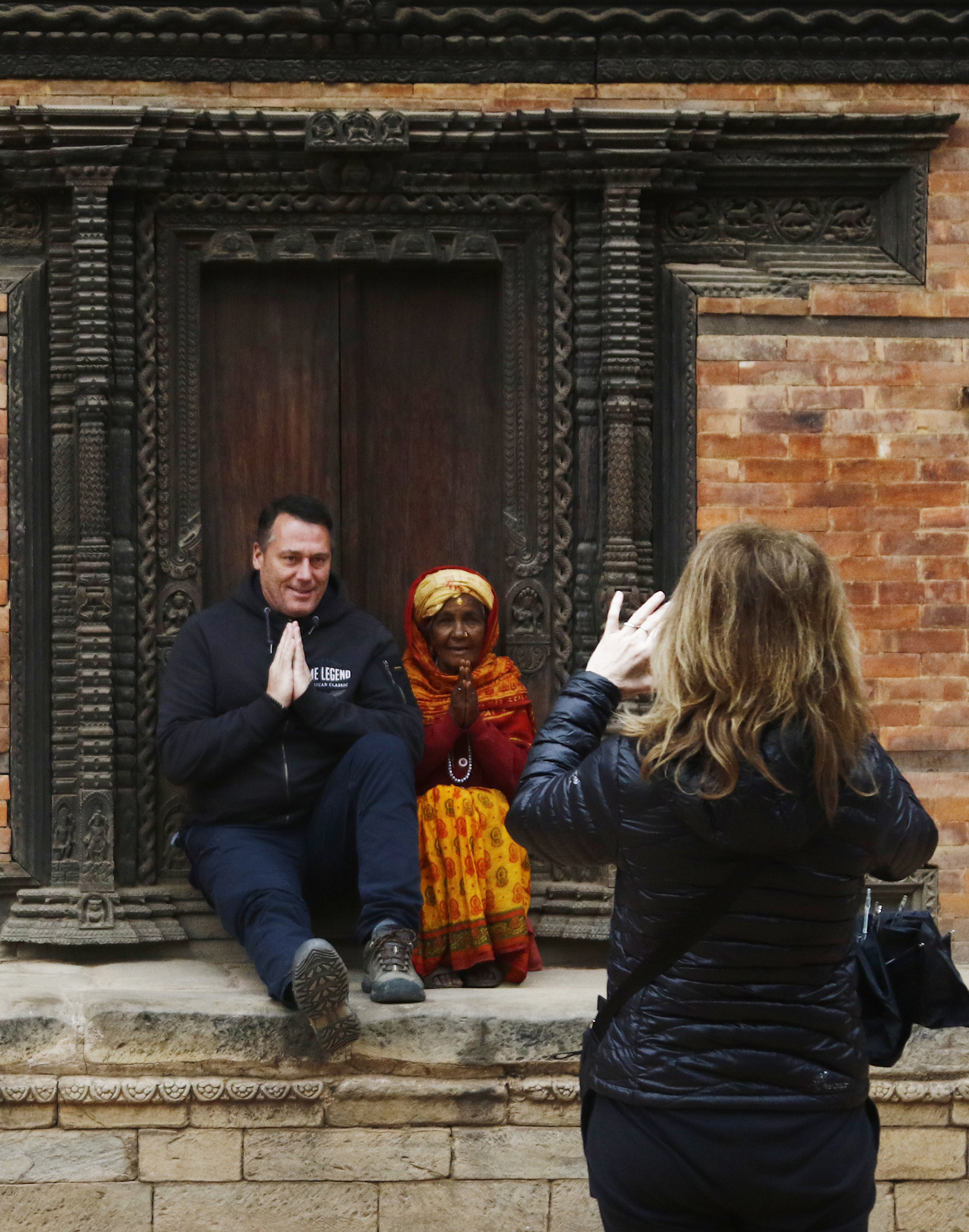 A foreign tourist poses for a picture with an old woman at Bhaktapur Durbar Square on Saturday. Keshav Thapa/TKP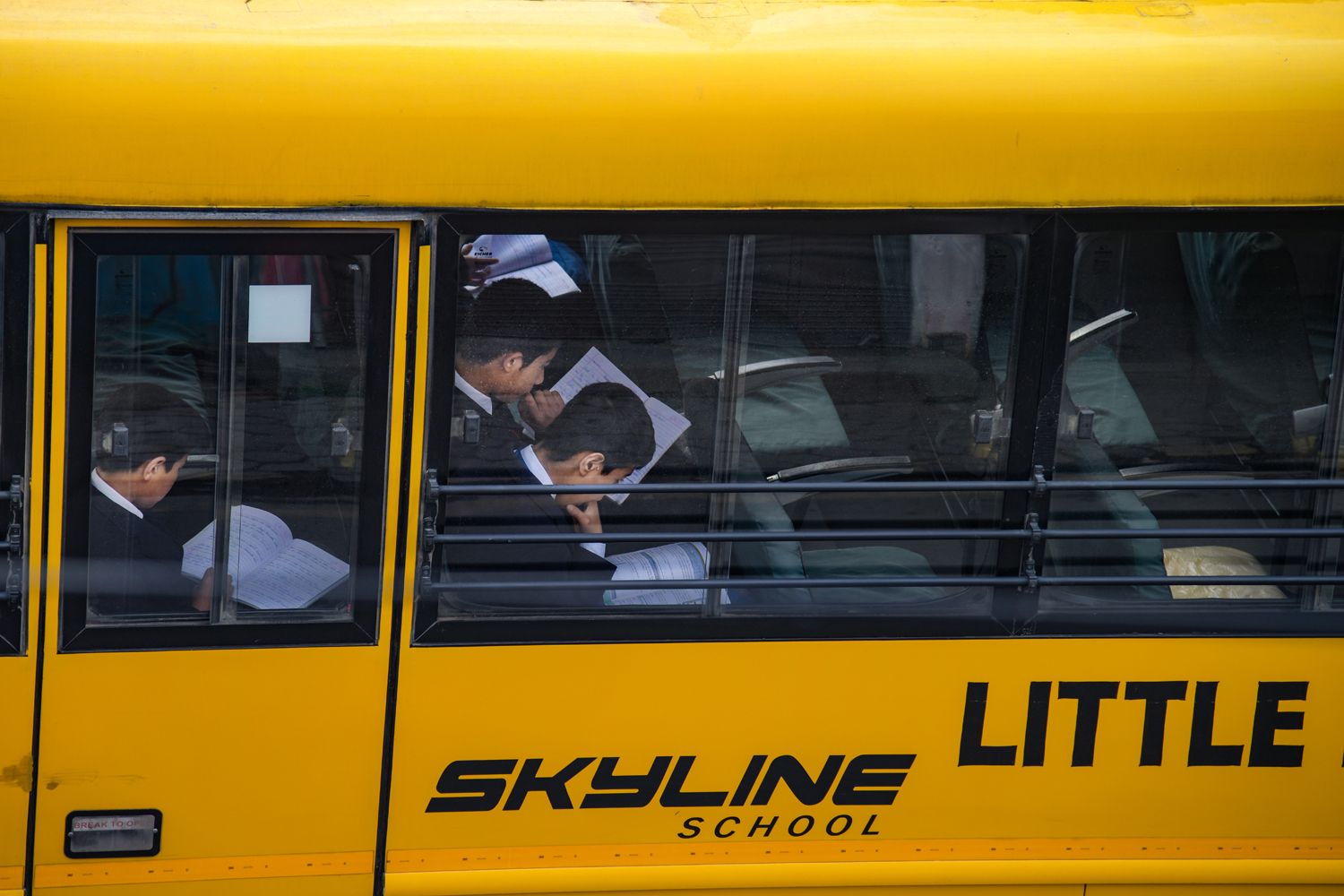 Students study on their way to school ahead of an examination on Saturday. Deepak KC/TKP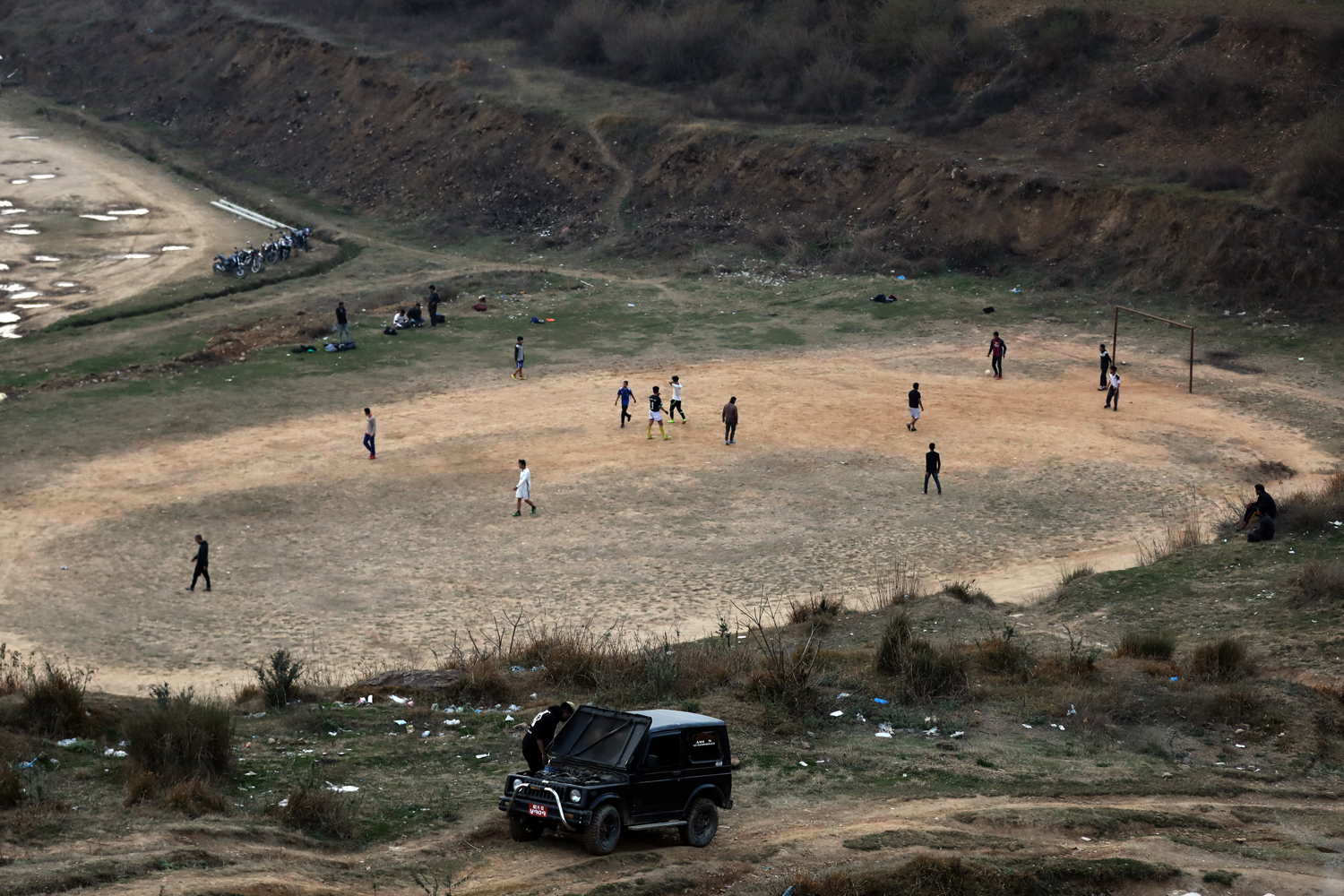 Youths play football on a ground at Chobhar in Kathmandu. Elite Joshi/TKP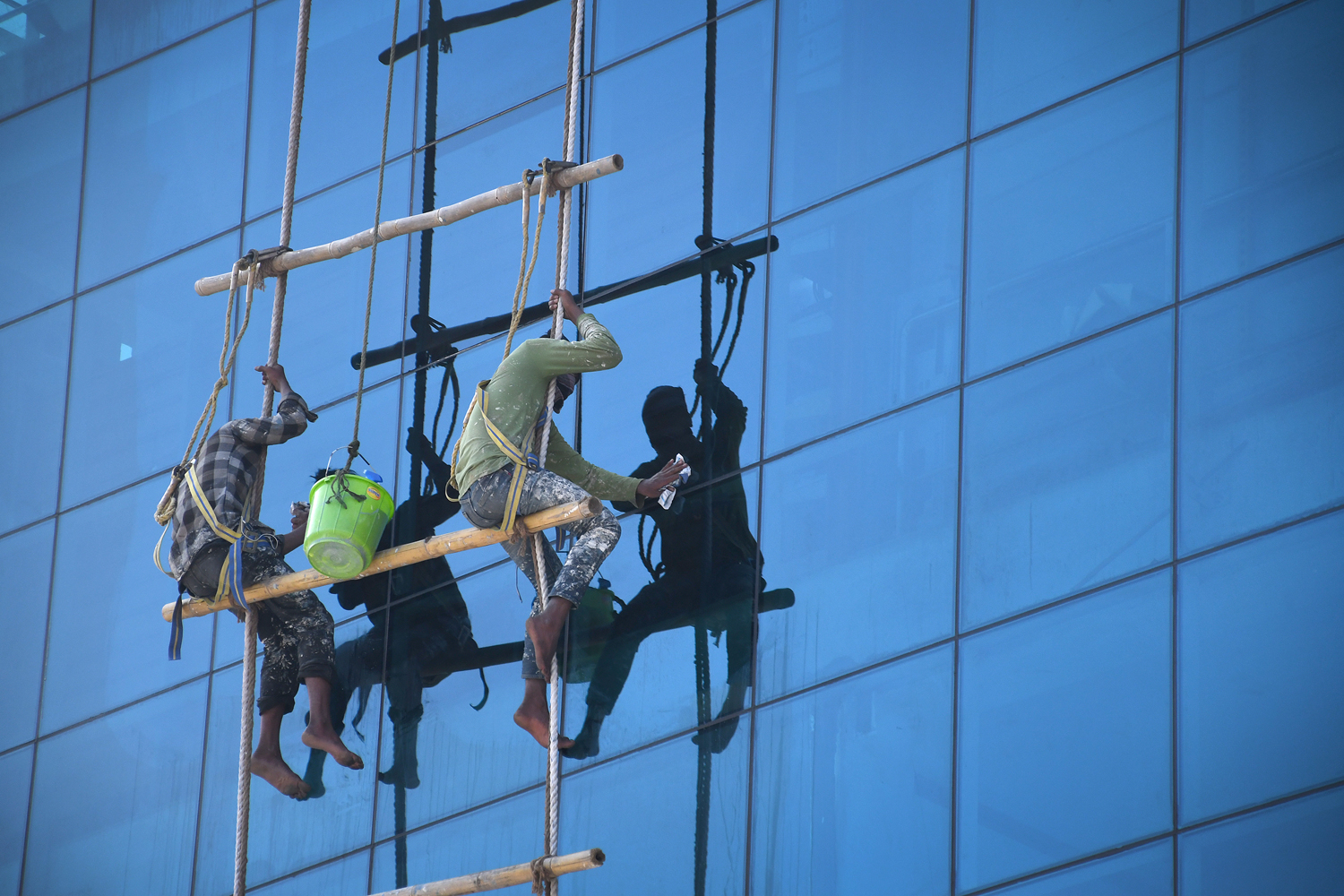 Workers clean the exterior of a commercial building with minimal safety in Anamnagar, Kathmandu. Anish Regmi/TKP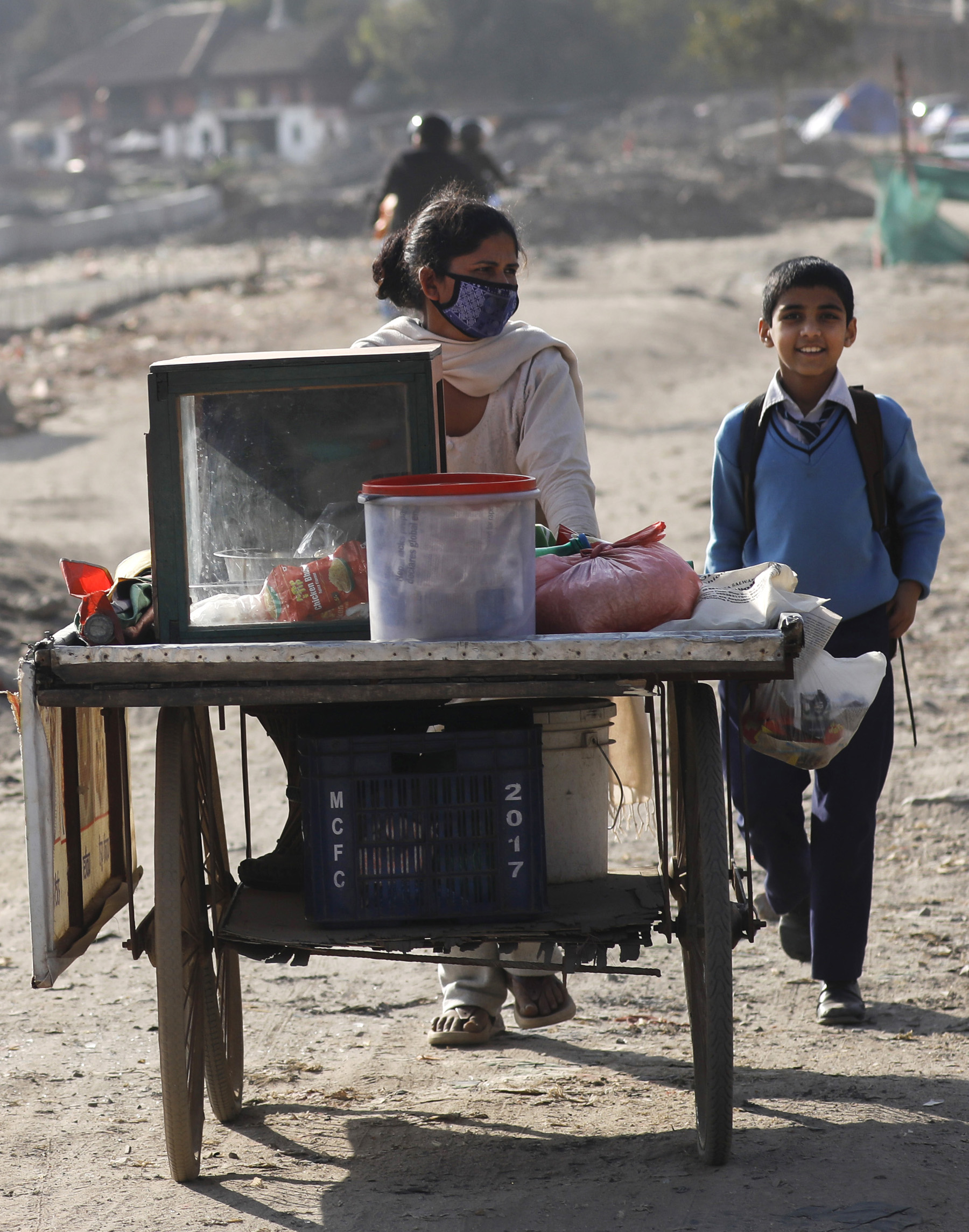 A woman and her son take their food cart to the market in Teku, Kathmandu. Hemanta Shrestha/TKP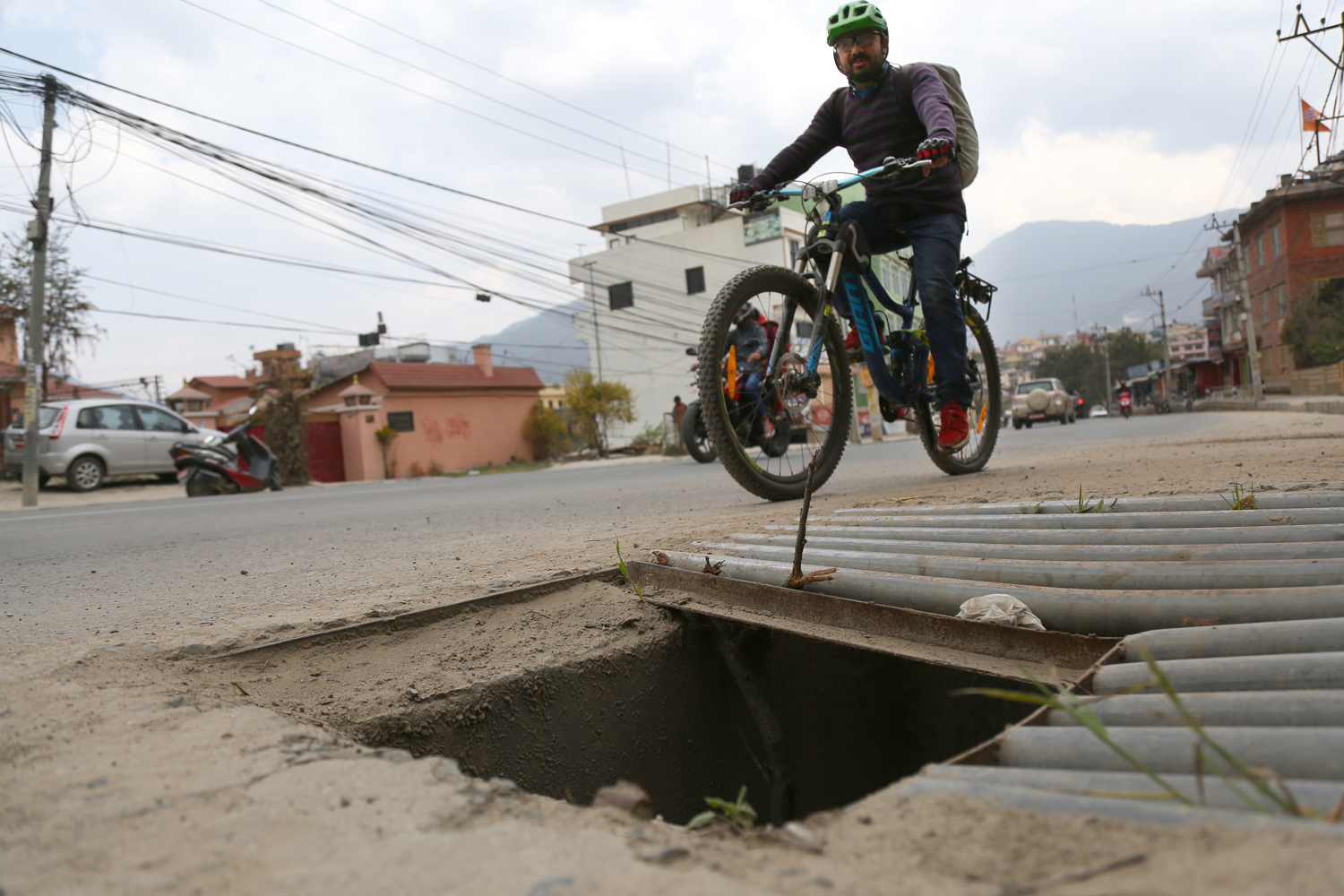 A rider cycles close to a manhole on the road in Budhanilkantha, Kathmandu. Uncovered holes pose danger for riders especially at night. Kabin Adhikari/TKP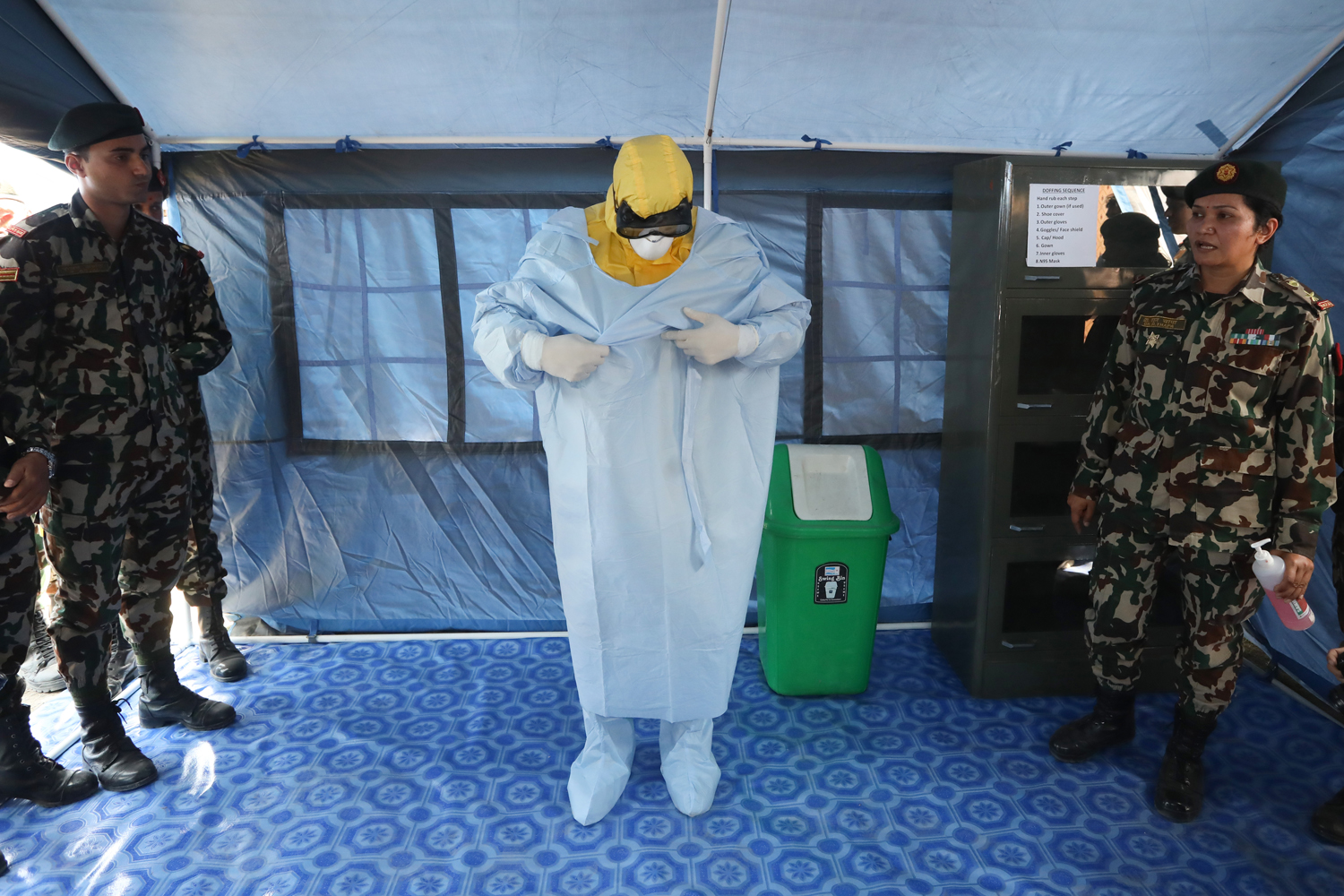 An official puts on protective gear inside one of the 54 tents that the Nepal Army has set up at the Bhadrakali grounds in Kathmandu, during a drill in preparation for a possible coronavirus crisis in the country. Elite Joshi/TKP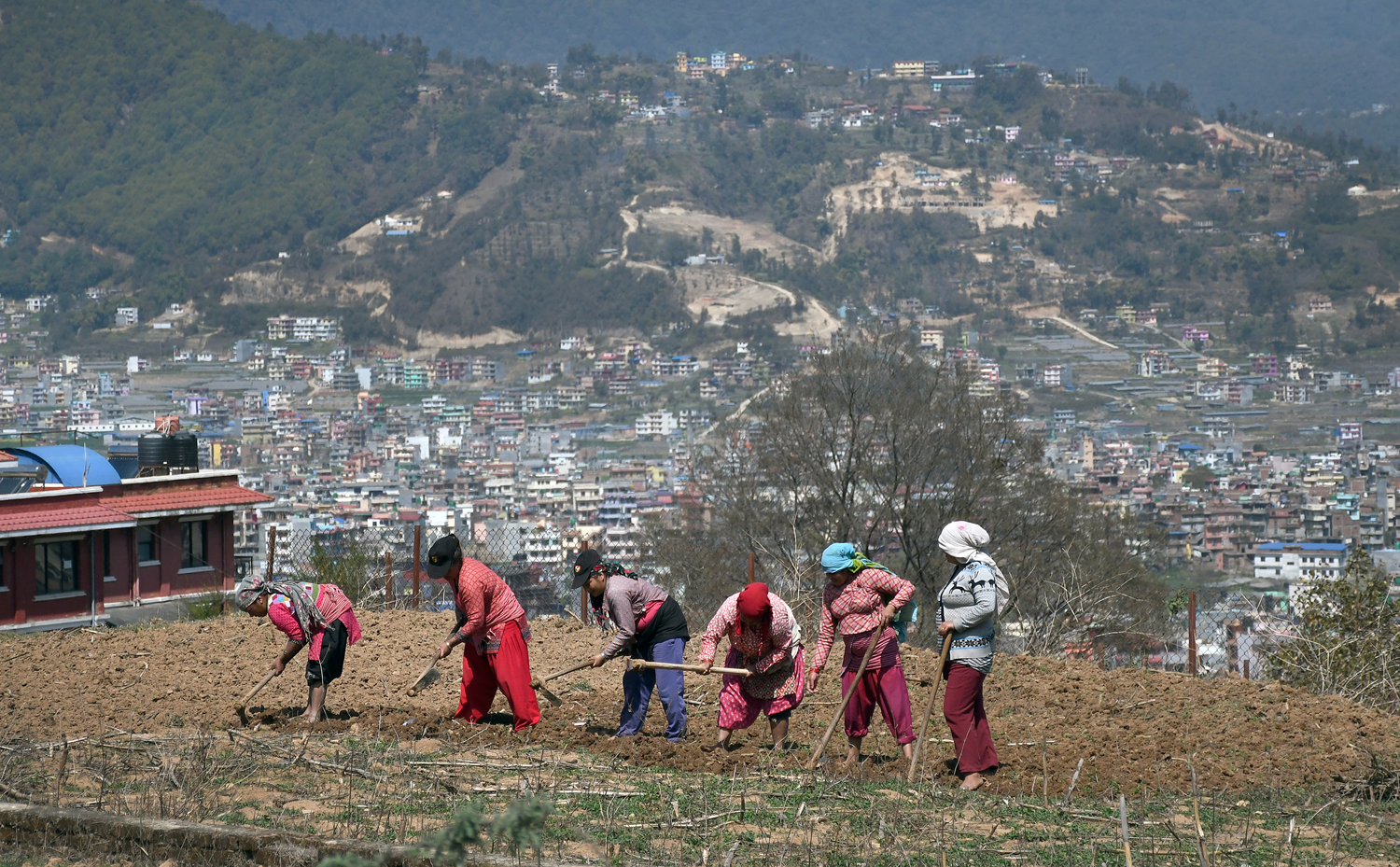 Farmers prepare the field for maize cultivation in Matatirtha, Kathmandu, on Thursday. Most of the arable land in the Valley has been lost to rampant urbanisation over the years. Anish Regmi/TKP
---